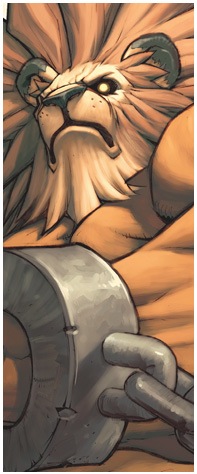 Video game giant Capcom is putting out a tribute book of art, called Capcom Fighting Tribute. And it's open to artists fan and pro:
This collection will offer a chance for hundreds of professional and fan artists to show off their artistic skills and pay homage to their favorite characters, settings and moments from the fighting games of Capcom!

All styles of art are welcome – digital painting, traditional media, anime, cartoon, pixel-based, even sculptures – whatever best expresses the artist's love for this timeless collection of beloved video game franchises.

Properties included in the project are Street Fighter™, Darkstalkers™, Rival Schools™, Red Earth™, Star Gladiator, Power Stone™, Cyberbots, Capcom Fighting Evolution™, Puzzle Fighter™, Pocket Fighter™, Final Fight™, Battle Circuit, Captain Commando, Armored Warriors, Knights of the Round, The King of Dragons, Avengers (Hissatsu no Buraiken), and Capcom original characters Ruby Heart, Son-Son, and Amingo!
Sounds cool right? Sort of. BUT on the submissions rules, it states:
There is no payment to artists for artwork used in the Capcom Fighting Tribute book. All selected artwork becomes the property of Capcom.
Accepted artists can however makes up to 200 prints of their piece and sell those, I suppose. But this is yet another example of the "no pay" model that
seems to be getting more and more normal.
Artist
Reilly Brown
noticed this and
sounded off on his Deviant Art page
:
I'm a professional, I get treated like a professional, paid like a professional or I don't do the job.
All this really is is an attempt to get free content (that they will own forever) for a high-priced product.
I know what you're thinking– "but I love Capcom games!  Even though I'm a professional working on another property, I want to draw a Capcom character too!"
Well shit, bro, I love Capcom too, and I'll tell you, nothing's stopping me from drawing those characters all damn day if I wanted to.  But I'm not going to give those drawings– that time and labor– to a company who plans on making money off of them FOR FREE.  Until I give them that art, I still own that art and can do whatever I wish with it, or at least whatever I'm able to with characters that I don't own the trademark for, such as put it on my website, which the rules for this "contest" bans.
A lot of us are so numb to the plethora of free content on the web that this seems almost normal—is this any different than what you see on Tumblr every day? but remember, Capcom is a PROFESSIONAL company and charge money for their games. I know that if they actually PAID for all the submissions the book would probably be too expensive to even put out, but…is that really where we are these days?
The continuing devaluation of art is going to be one of the big stories of 2015 and beyond. I'm not sure what the solution is, but as Brown suggests, artists should "have more respect for your profession."
Display Comments
Add a Comment