We all noticed that J.K. Rowling changed her Twitter header recently. When asked by a follower to explain her previous header "woman," Jo replied that it was a collection of scrap paper from her desk, typical tea cup, and gum wrappers sprawled onto her bathroom floor and photographed.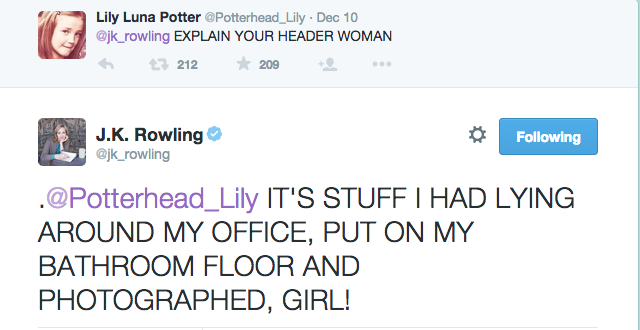 Why the bathroom floor? Because her office is too full of clues. Well, most of us thought (rather naively) that her change in Twitter header was just cool; that maybe she just did it for kicks. Oh, no. Does J.K. Rowling ever do anything for kicks that doesn't involve being incredibly clever? Almost every Harry Potter fan will remember the immense fun that was involved in finding secrets hidden in the folds of her website pre-2012 (when it was a virtual representation of her messy desk, much like her Twitter header). As Hypable noticed, it appears that J.K. Rowling fashioned her new Twitter header to be very similar to her old website. It is once again "stuff" from around her office, probably put on her bathroom floor to be photographed, but, in addition to notebooks cut into the shape of her initials, this "stuff" appears to hold clues to her recent projects.

Under the initial "R," lies part of what appears to be the Fantastic Beast screenplay. Jacob, rumored to be a character who functions as Newt's arch nemesis, is mentioned in what appears to be a gruesome scene.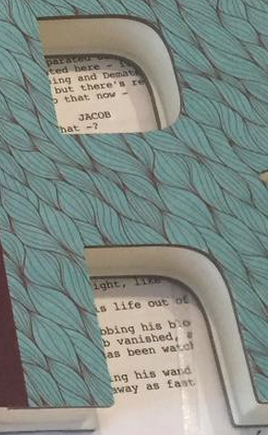 There is mention of something taking a "life out" of something else, and possibly robbing(?) "his blood" before something or someone "vanished." Somebody is injured (Newt? Jacob) by something (a fantastic beast? a person? Newt has been hurt by Jacob? or Jacob has been hurt?).
Next to the "R" in the upper right hand corner, appears to be a draft of J.K. Rowling's acceptance speech from when she was awarded the very first Hans Christian Andersen Literature Award. Compare the transcript here.
Lying on top of the speech is ordinary print outs of articles and encyclopedia/wikipedia entries from the internet on "limb prosthetics," with "Introduction and Definitions." As Cormoran Strike is a well known for his limp and bothersome prosthetic leg, we can only assume that Jo had been helping her friend Robert with is next mystery novel.
Under the "K" appears to be old bits of paper that carried rough drafted ideas for the Sorting Hat song, with notes in the margins about "ready minded" people belonging to Ravenclaw.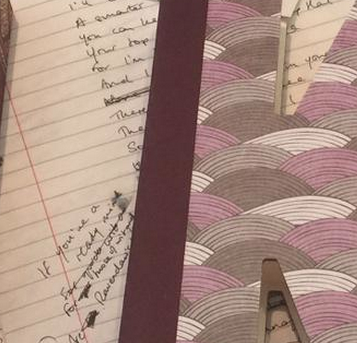 But what is under the "J" other than a list of page numbers? It is hard to make out what Rowling is writing about in her famous half-print half-cursive longhand notes. Any guesses? Do you suppose the notebooks (or books) that her initials are carved out of hold any other significance?
Add a Comment