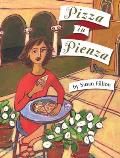 I have a deep appreciation for family food traditions. From my mother's side (Irish American) we don't have many. (The most enduring is easting Entenmann's Coffee Cake which I don't think really counts but we love it.) On my father's side (French Canadian) there are many because he was a great cook and my memere was as well (especially baking). But in terms of ethnic food, I don't know that anyone really sees something and yells "Oh, look! French Canadian food!" (If you can name any French Canadian food other than syrup right now, you deserve an award.)
About now you probably understand that I spent a large part of my childhood wishing I was Chinese, Mexican or Italian solely for the food.
All of this explains why when I received a copy of the picture book Pizza in Pienza by Susan Fillion, I was delighted by each and every page. It's a very simple story about a girl in Pienza, Italy, who takes readers through her day and across her town. Along the way she shares her love of pizza, ("Even while I'm eating spaghetti, I'm dreaming about the next pizza pie."), and her research into the history of pizza which, as we know it, comes from Naples, Italy. The story comes around to America, where the first pizzeria opened in NYC in 1905 and the final spreads show people enjoying pizza both in the U.S. and Italy which is all kinds of wonderful.
Everyone would like to be a member of the ethnic group that invented pizza, don't you think?
Fillion both wrote and illustrated Pizza in Pienza and the illustrations are large and colorful, with a folk art feel. The story reads as a picture book travel essay and the dual text, with a single line on each page in both English and Italian, fits well in this narrative design. In the final pages the author includes a pronunciation page, a history of pizza and a recipe for Pizza Margherita (including the dough).
This is a decidedly quiet book but it provides a nice lesson about a well known topic while introducing a foreign country in a very accessible way. (That's the part that will appeal to folks looking for educational reads.) For me, it was quite reminiscent of all those delightful Italian memoirs for adults (paging Frances Mayes). It's one of the better ways to bring Italy home to kids and it will likely also spur them to appreciate their pizza even more which is always a good thing. Call this one a nice delightful and tasty trip for younger readers. :)
Add a Comment