Dan Radcliffe may not have been at this interview with MTV, but that didn't stop Now You See Me 2 co-stars Jesse Eisenberg & Dave Franco talking about his role in Harry Potter, after discussing the many intricacies of the film's title!
After being asked how many Potter films there were, Jesse Eisenberg replies 'There were several', and clarifies that he didn't grow up with the books or films as many did, but that he was 'enamoured' with Dan's acting. Eisenberg also says that Dan will be playing a villain in this movie, and is 'phenomenal' as his character, predicting that audiences who are fans of his acting in Potter will be pleasantly surprised with this refreshing reminder of his great talent (along with his other great films, of course!).
Dave Franco also comments, saying that Dan is a hard worker, always striving to achieve his best performance. Franco tells us that Dan nailed a 5 page monologue in every take, admiring how 'professional' Dan is, and echoing Eisenberg's comments on the change in his acting in this film
Watch the interview below:
Mark Ruffalo also tweeted a new poster for the film, saying that they've channelled 'Where's Waldo' for this one – Dan is seen above Ruffalo (centre):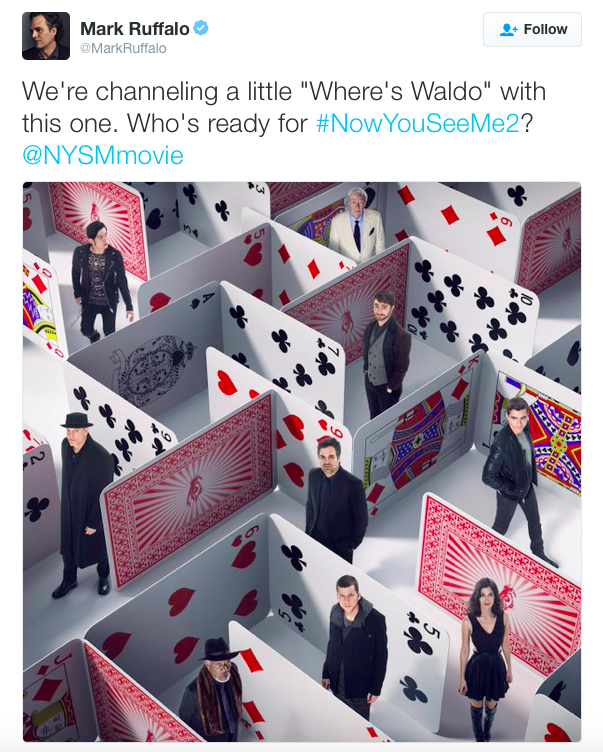 Watch the newest trailer below, and read more about the film here!
Add a Comment