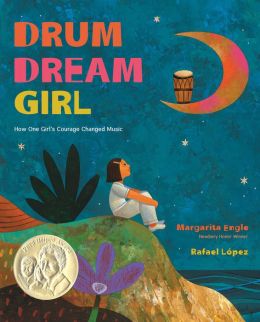 Drum Dream Girl: How One Girl's Courage Changed Music. Margarita Engle. Illustrated by Rafael Lopez. 2015. Houghton Mifflin Harcourt. 48 pages. [Source: Review copy]
On an island of musicin a city of drumbeatsthe drum dream girldreamedof pounding tall conga drumstapping small bongo drumsand boom boom boomingwith long, loud stickson big, round, silverymoon-bright timbales.
Margarita Engle's Drum Dream Girl is a picture book biography of Millo Castro Zaldarriaga. Millo and her older sisters formed Cuba's first all-girl dance band. (The historical note adds that she performed at a birthday celebration for FDR.)
She grew up at a time and in a place where women were not allowed to play drums, or professionally play drums. The book highlights her ambitious dreams, her diligence and perseverance. It is a beautifully written biography. I've always been a fan of Margarita Engle's narrative style, her rhythmic way with words. Drum Dream Girl did not disappoint!
I loved the bold, colorful illustrations by Rafael Lopez. This one is easy to recommend!
© 2015 Becky Laney of
Becky's Book Reviews
Add a Comment