The release of the illustrated edition of Harry Potter and the Philosopher's/Sorcerer's Stone is nigh–in fact, it's tomorrow (October 6th)! Four glorious new illustrations have been bestowed upon us ahead of the book's release, thanks to an exclusive post made by EW. Steady yourselves:
There's this striking illustration of the quidditch hoops, set against a backdrop of Hogwarts, with some very dramatic, Halloween-y colouring: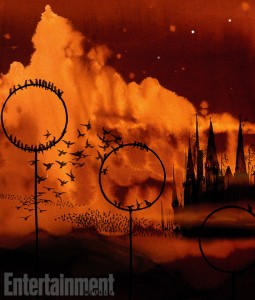 A drawing of Harry, presumably at platform 9 3/4: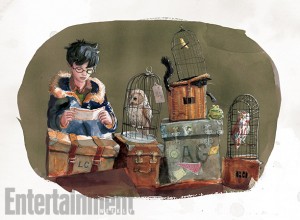 along with this fascinating glimpse into the birth of Kay's depiction of Harry:
"I was looking at all these photographs of evacuee children from the 1940s — in England, you'd call them 'blitz kids' — who have been taken away from their home during the blitz. They had sort of thick, scruffy hair, and round glasses, and looked sort of underfed and malnourished, from really tough East End parts of London as well. I wanted that real character coming through, some adversity. But also slightly fragile, because he's thin, and he's smaller than usual."

Luckily, Kay spotted the perfect young model while riding the London Underground, and told the boy's mother he'd like to photograph her son as a character to work from. The boy, Clay, is a stage performer, so he's fantastically skilled at interpreting the spectrum of emotions Kay asks him to project.
This illustration and discussion of Dumbledore, which reveals that Kay has strewn easter eggs throughout his artwork (another thing to look forward to!):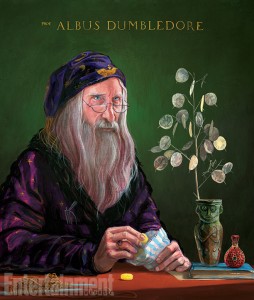 "What I like about early portrait painting," Kay says, "is that you have objects in them that are representative of that person. So the dried plant there is honesty — but on the honesty is also a little camouflaged praying mantis. It's sort of saying, there is honesty with Dumbledore, but with a catch. There's also a little bottle of dragon's blood because he wrote a book on dragon's blood. And knitting because, of course, he likes to knit."

Dumbledore's likeness has a special place in Kay's heart: "He's based on an amazing illustrator I know, who I absolutely idolize. He's been an inspiration for years for me, so it's a huge deal that he's lent his face to Dumbledore."
And his portrayal of the perilous wizard's chess game: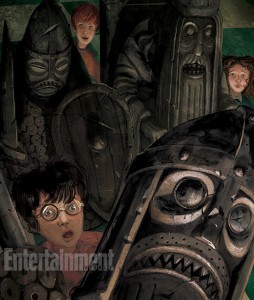 And there's yet another thing to marvel at: Pottermore has released a video of Kay discussing his creative process, along with a peek into his studio! Click here to watch it, or see it below!
Add a Comment