Cartoon – AAP ke Vidhayak चाहे AAP के 21 विधायक  हो, जीतेंद्र तोमर हो या  सैक्स sex स्कैंडल मे फसे महिला विकास मंत्री संदीप कुमार AAP के विधायक , आप की सरकार के सितारे आजकल गर्दिश में चल रहे है. हर रोज कोई न कोई विधायक अपना रंग दिखा रहा है पंजाब चुनाव मे लगे […]
The post Cartoon – AAP ke Vidhayak appeared first on Monica Gupta.
By:
Gayle C. Krause
, on 8/31/2016
Blog:
The Storyteller's Scroll
(
Login to Add to MyJacketFlap
)
JacketFlap tags:
Add a tag
WINNER OF TWO LIES AND A TRUTH with LAMAR GILES. Two are lies and one is the truth:    A world-renowned wildlife photographer consulted on Endangered.  TRUE      Lamar explored an unfinished skyscraper with a real Urban Explorer as part of his research. FALSE All of the Virginia locations in the book are fictionalized to allow greater flexibility in plotting.   FALSE
By:
Becky Laney
, on 8/31/2016
Blog:
Becky's Book Reviews
(
Login to Add to MyJacketFlap
)
JacketFlap tags:
Add a tag
Stand-Out Books Read in August 2016
5 Decades "Visited" in August 2016:
1950s
1960s
1970s
1780s
1910s
Picture books:
Early readers and early chapter books:
Contemporary (general, realistic) fiction, all ages:
Weekends with Max and His Dad. Linda Urban. 2016. HMH. 160 pages. [Source: Review copy]
Ms. Bixby's Last Day. John David Anderson. 2016. 320 pages. [Source: Library]
23 Minutes. Vivian Vande Velde. 2016. Boyds Mills Press. 176 pages. [Source: Library]

Speculative fiction (fantasy, science fiction, etc.) all ages:
Historical fiction, all ages:
Mysteries, all ages:
The Circus Mystery (The Whodunit Detective Agency #3) Martin Widmark. Illustrated by Helena Willis. 2003/2015. 80 pages. [Source: Library]
The Cafe Mystery (The Whodunit Detective Agency #4) Martin Widmark. Illustrated by Helena Willis. 2003/2015. 80 pages. [Source: Library]
Classics, all ages:
Testament of Youth. Vera Brittain. 1933. 688 pages. [Source: Library]
Nonfiction, all ages:
Christian fiction:
Where Hope Prevails (Return to the Canadian West #3). Janette Oke and Laurel Oke Logan. 2016. Bethany House. 320 pages. [Source: Review copy]
A Changed Agent. Tracey J. Lyons. 2016. 229 pages. [Source: Library]
To Follow Her Heart. Rebecca DeMarino. 2016. Revell. 352 pages. [Source: Review copy]
Christian nonfiction:
© 2016 Becky Laney of
Becky's Book Reviews
By:
My sandwich came on toasted rye;
Without much thought, I sent it back
My husband said had it been his,
He surely would have kept it,
My obligation to accept it.
Perhaps I should have mentioned
That I like my toast real light,
But serving some approaching burnt
Seemed far from close to right.
When paying money for a meal,
Is to be presented with a plate
By: Jerry Beck, on 8/31/2016
Blog:
Cartoon Brew
(
Login to Add to MyJacketFlap
)
JacketFlap tags:
Add a tag
This festival favorite is headed to North America thanks to GKIDS.
The post GKIDS Acquires Swiss Oscar Contender 'My Life As A Zucchini' appeared first on Cartoon Brew.
By:
Carrie Jones
, on 8/31/2016
Blog:
Carrie Jones
(
Login to Add to MyJacketFlap
)
JacketFlap tags:
Add a tag
By:
Title: A Tangle of Gold
Author: Jaclyn Moriarty
Published: 2016
Source: Edelweiss
Summary: People from the parallel worlds of Earth and Cello scramble to find Cello's royal family on Earth, but anarchists stand in their way - including, maybe, one of their own.
First Impressions: For me, this would have been better off being the only book. I had a really hard time remembering what happened in the others but all the good stuff happened in this one.


Title: A Darker Shade of Magic
Author: V.E. Schwab
Published: 2015
Source: Local Library
Summary: Kell is one of only two Travelers left - magicians able to step between three different versions of London, with three different magics. When danger threatens his own version of London (Red), he finds himself working with con-woman Delilah Bard from Grey London to save all the worlds.
First Impressions: I was disappointed that the villains were so obvious from the beginning. However, when she turned up, Lila was kickass. I'll be reading the rest of the series for more of her.


Title: A Hundred Hours of Night
Author: Anna Woltz, translated from the Dutch by Laura Watkinson
Published: 2016
Source: Edelweiss
Summary: When shy, anxious Emilia runs away, she does it in grand style, all the way from the Netherlands to New York City. In the shadow of Hurricane Sandy, she'll discover new friends and reserves of strength she never knew she had.
First Impressions: This was pretty damn good! Snapshot of NYC during Hurricane Sandy as the backdrop of upheaval. Her OCD was handled a little too cavalierly though. I couldn't tell if she had a diagnosed condition or she was merely calling her many anxieties OCD.
By: Abigail Nusbaum, on 8/31/2016
Blog:
Asking the Wrong Questions
(
Login to Add to MyJacketFlap
)
JacketFlap tags:
Add a tag
It's been a little quiet on this blog over the summer, mainly because I've been busy with various projects for other venues (for example the Clarke shortlist review).  But also, because I've been busy reading.  A lot.  2016 is shaping up to be one of--if not the--most prolific reading years of my life.  Quality-wise, it's also been very rewarding, and though my other writing prevented me from
By: DIWAKAR, on 8/31/2016
Blog:
POETRY FOR THE SOUL
(
Login to Add to MyJacketFlap
)
JacketFlap tags:
Add a tag
By: Jerry Beck, on 8/31/2016
Blog:
Cartoon Brew
(
Login to Add to MyJacketFlap
)
JacketFlap tags:
Add a tag
The series will premiere in late-September followed by the launch of an interactive app that allows users to collect their own Magiswords.
The post Cartoon Network Expands Interactive Property 'Mighty Magiswords' With A TV Series appeared first on Cartoon Brew.
By: Cate Gardner, on 8/31/2016
Blog:
The Poisoned Apple
(
Login to Add to MyJacketFlap
)
JacketFlap tags:
Add a tag
I've been rather quiet on the publication (and writing) front of late, but like buses I have two books out within the space of a month. First off is this e-chapbook, which contains two of my short stories -
We Make Our Own Monsters Here
(a tale of puppetry) and
Blood Moth Kiss
(nuclear war and betrayal). One may be darker than the other. And, it comes complete with an introduction by
Simon Bestwick
. I have no idea (wink-wink) how I got such an amazing author to write the introduction for me. For those who don't know -
reader, I married him
.
It's available from
Amazon UK
and
Amazon US
.
Here's a video of the song that inspired one of the stories. I'll leave you to guess which...
By:
Monica Gupta
, on 8/31/2016
Blog:
Monica Gupta
(
Login to Add to MyJacketFlap
)
JacketFlap tags:
Add a tag
Waterlogging  in Delhi due to  heavy rains Cartoon – Heavy rain in Delhi caused traffic jam पिछ्ले दिनों गुडगांव में भयंंकर ट्रैफिक जाम हुआ था और आज भारी बारिश के चलते दिल्ली ही मानो डूब गई. चारो तरफ पानी ही पानी नजर आ रहा था और रेंगते हुए वाहन !! वही अमेरिका से आए US Secy […]
The post Cartoon – Heavy rain in Delhi caused traffic jams appeared first on Monica Gupta.
By: LAURIE WALLMARK, on 8/31/2016
Blog:
Just the Facts, Ma'am
(
Login to Add to MyJacketFlap
)
JacketFlap tags:
Add a tag
To perfect your pitch, think of it as a verbal query letter.

http://bookendsliterary.com/index.php/2016/07/14/advice-on-perfecting-your-pitch/
By: Sandy, on 8/31/2016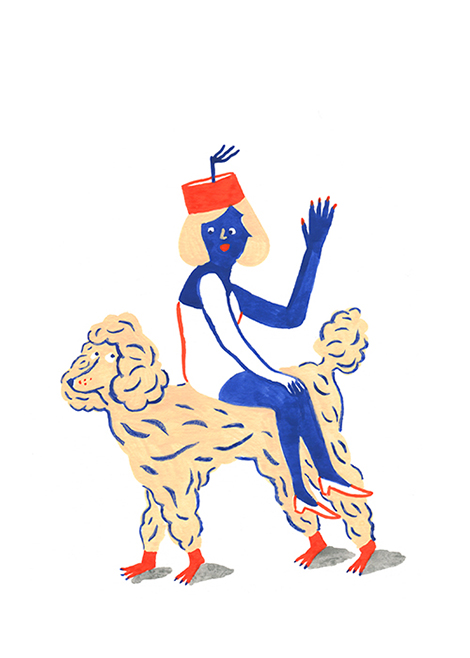 Brooklyn-based French illustrator, Marie Assénat, creates paintings and drawings that have a charming and naive essence. Although her characters are often humorous, her work has a sophisticated flair that has led to collaborations with Le Chocolat Des Français and the French Open. Whether it's a GIF of a dancing poodle or a painting of a roller skating kitty, her drawings are bound to put a smile on your face.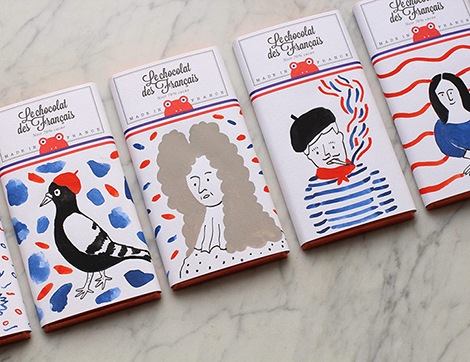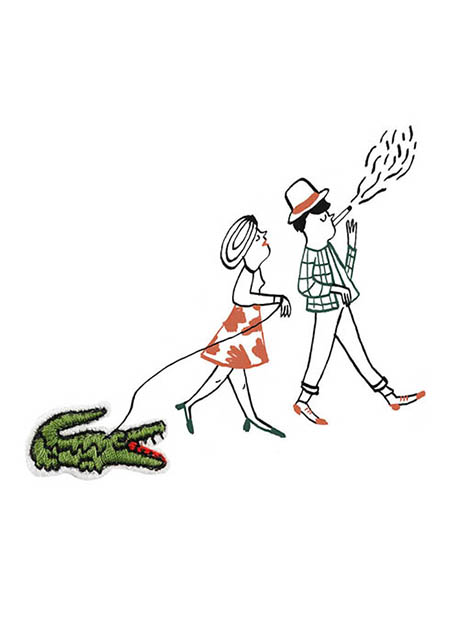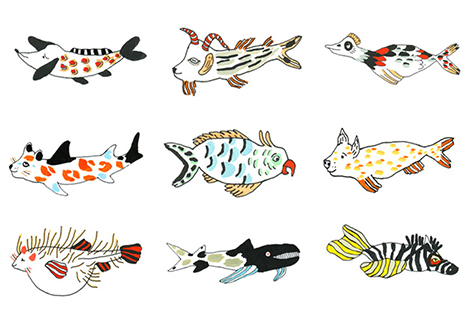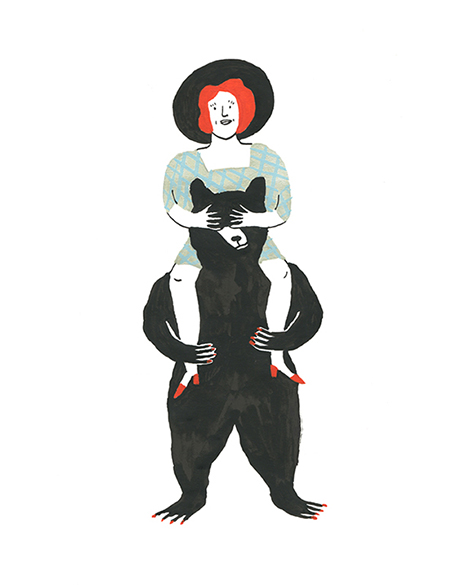 ——————–
Also worth viewing:
Sindy Ethel
Bendik Kaltenborn
Damien Poulain
Follow us on RSS, Instagram, Pinterest, Wanelo, 

——————–

Share on Facebook
Thanks to this week's
Sponsor // Yana Typeface by Laura Worthington
By: James Preller, on 8/31/2016
Blog:
James Preller's Blog
(
Login to Add to MyJacketFlap
)
JacketFlap tags:
Add a tag
-
When writers are fully engaged in their work — not just writing, but actively (or unconsciously) thinking about the writing — it tends to create a state of unique receptivity. Everything we see, hear, read, or smell becomes fodder for the work. A face we see in a coffee shop becomes exactly the face we need for a minor character. Someone's small gesture — the way a girl crosses her arms and squeezes the skin of her elbows when she's nervous — soon worms its way into our writing.
We have our antennas up. We're sticky like flypaper, catching the signals in the atmosphere. I've heard it described as a time of being particularly "spongey," a state where writers are especially absorbent, like quality paper towels. The song in the elevator becomes the key song in the book, and so on. The whole world feeds into the writing in unexpected ways.
I suppose I was in that sticky/spongey condition when I began casting about for ideas for a new Jigsaw Jones book. After a while, I figured out that it would revolve around a note stuck inside a book, found at a Little Free Library (because I love them). Without disclosing too many spoilers, the found note would lead some to believe that aliens were coming from outer space. Spoiler #1: They are not. Coincidentally (or not), Jigsaw and Mila's teacher, Ms. Gleason, has been talking about the planets in class. Spoiler #2: She was even planning a surprise Skype visit from a real, live astronaut.
I was eight years old on July 20, 1969, sitting before my television watching grainy, black-and-white images of Neal Armstrong walking on the moon. At the same time, "Star Trek" was the most popular show with my older brothers. "Lost In Space" was also on television, feeding that fascination. The idea of space, the final frontier, has always loomed large in my imagination.
Below is a photo of the only twelve people who have ever walked on the moon. This is what the astronauts looked like:
Notice anything about them? Go ahead, study hard; this might take some time. Hit the buzzer when you are ready.
BUZZZZZZZZ!
Yes, correct, they are all white men! Good work. I don't recall questioning it at the time. But times do change, and many things do get better, even though it doesn't always feel that way. Even so, this concept of what an astronaut looks like had been planted deep inside my brain. It just . . . was. Then one day the internet coughed up this image on my Facebook feed:
Beautiful, perfect. This was just what I needed. One of the tricks with plotting mysteries is to run counter to assumptions, gender or racial or otherwise. The reader leans one way, you go the other. Also, politically and personally, I want to celebrate the diversity in our world. I want to jar readers a little bit, perhaps. Remind them to rethink those assumptions. Or, maybe, help them see themselves reflected from a new distance . . . under a new light . . . maybe even a world away.
From the book:
A gasp filled the room.
We were meeting a real live astronaut.
"Hello, boys and girls!" the astronaut said.
I heard Lucy whisper, "Major Starmann is a woman."
"And she looks like my mom," Danika said.
NOTE: One of the primary missions of this blog is to provide readers with a glimpse behind the scenes into the writing process and a writer's working life. If you go to the Jigsaw Jones page and scroll through, you'll find links to many other "Stories Behind the Story" posts. This new book will come out in the summer of 2017, along with the repackaging of four more titles that are currently out of print. I'm happy about that.
By:
Debbie Reese
, on 8/31/2016
Blog:
American Indians in Children's Literature
(
Login to Add to MyJacketFlap
)
JacketFlap tags:
Add a tag
On Monday, August 29, 2016, I wrote about the Standing Rock Sioux and the actions they are taking to protect water. Thousands of Native people are gathering there, standing with them. Over one hundred other Native Nations and organizations have issued letters of support of Standing Rock.

Although most of what you see in the news is adults, there are children there, too. On Monday, people at the camp opened a school for the children. They named it Mní Wičhóni Nakíčižiŋ Owáyawa, which means Defenders of the Sacred Water School.

Among the Facebook pages that you should read to keep up with the school is that of Alayna Lee Eagle Shield. Below are links to her public posts.

She is posting many photos, but please do not repost her photos without permission. Because her posts are public, I believe you can share them on your own pages, but please ask permission to use the photos.



August 28, 2016: A photo of the daily schedule
August 29, 2016: A series of photos of the kids at the school, taken on Monday August 28. Note that it includes a list of supplies they need, but they've since received some of that and are working on a new list.
August 30, 2016 at 8:56 PM: More photos, and, an overview of Tuesday's activities that demonstrate this is an Indigenous gathering of people. Maori people are there, too. The children of the school were able to welcome the totem pole that arrived there yesterday from the Lummi Nation.
This morning I had email with Joseph Marshall III, author of the outstanding
In the Footsteps of Crazy Horse.
He has been at the camp and will return there. He's taking copies of his book to the school and will ask about sending other books. For now, here's an option: The Standing Rock Sioux tribe's website has a link to
donate
to their work if you want to do that.
By: Jarrett J. Krosoczka, on 8/31/2016
Blog:
the JJK blog
(
Login to Add to MyJacketFlap
)
JacketFlap tags:
Add a tag
Every day I post a sketch to social media, this is my favorite this week!
To see more visit
http://www.studiojjk.com/dailysketch.html
By:
Faith Pray
, on 8/31/2016
Blog:
SACRED DIRT
(
Login to Add to MyJacketFlap
)
JacketFlap tags:
Add a tag
Here is a little something I wrote for
Puddle Jump Collective
about magic and art-making:
My twins just read the Harry Potter series -
seven books and one play.
My whole rabble of wildebeests is now running through the house with pointy sticks, saying, "Wingardium Leviosa!" and "Expelliarmus!"
Aside from the bad parenting of letting children run with pointy objects,
I myself would not mind a wand for a few things in life.
1. The dishes. (A den full of four hungry wildebeests and their keepers can be very full of dishes)
2. The laundry. (Again with the den analogy.)
3. The writing and the art.
Wouldn't it be fun to flick a pointy stick
and magic oneself into a brilliant writer and/or illustrator?
So, really, where is that magic spell?
Wouldn't it make everything easier?
So, I once had the opportunity to hear picture book illustrator
Renata Liwska
and her husband Mike Kerr
speak at a SCBWI conference in Seattle.
Wide eyed and wonderstruck,
I wanted to know the tricks and magic spells
that would turn me into a picture book illustrator exactly like Renata Liwska.
Ever do that?
Well, maybe not. But I did.
So, we all of us watched thirstily as Renata and Mike unpacked for the talk.
They pulled out a motherlode of black sketchbooks and laid them in a mountain in front of us.
Each sketchbook was filled with perfect illustrations.
Perfect! Pristine in skill and finish!
How was there not even one scratched out, loopy mess up in the entire collection? How?
Renata is soft-spoken, humble, and has such a kind smile.
Her husband Mike pointed to the pile of books and told us Renata's magic spell:
"This!"
Sketch every, every day.
That's it?
W-w-w-work?
Just work?
Where's the magic in that?
Two years later, it's beginning to sink in.It isn't an instant change, but each drop in the bucket is a spell of sorts.
Each drop is a growing of your eyes and ears and hands,
every sketch is an observation, a study of the world,
each page is a honing of your vision -
and therein you find the transformation!
So, my friends, let me share some magic spells for improving your craft in a nutshell:
1. Show up. Every day.
(Writers also call this "butt-in-chair.")
2. Sketch. Sketch. Sketch.
(Or insert your passion here. Bake cakes. Practice soccer. Juggle fruit.)
3. Write. Write. Write.
(Especially important for aspiring authors.)
4. Read. Read. Read.
(Observe and learn from the world relating to your craft. If you want to be a picture book illustrator, by golly, read picture books like a sieve!)
5. Repeat.
6. Every, every day.
Once more:
And the thing is?
The more I do it, the more I love this daily rite.
It's like magic.
Books!
Harry Potter and the Sorcerer's Stone by J.K. Rowling
Tuesdays at the Castle by Jessica Day George
Withering-By-Sea by Judith Rossell
Half Magic by Edward Eager
The Magic Half and Magic in the Mix by Annie Barrows
A Snicker of Magic by Natalie Lloyd
Sylvester and the Magic Pebble by William Steig
Strega Nona's Magic Lessons by Tomie de Paola
Books on Writing and Art:
Writing Magic: Creating Stories That Fly by Gail Carson Levine
Rip the Page: Adventures in Creative Writing by Karen Benke
Spilling Ink by Anne Mazer & Ellen Potter, illustrated by Matt Phelan
Ed Emberley's Drawing Book of Animals
20 Ways to Draw a Cat by Julia Kuo
Let's Draw a Story by Sachiko Umoto
By:
Becky Laney
, on 8/31/2016
Blog:
Becky's Book Reviews
(
Login to Add to MyJacketFlap
)
JacketFlap tags:
Add a tag
Amigo. Byrd Baylor. Illustrated by Garth Williams. 1963. 48 pages. [Source: Bought]
First sentence: His mother said, "Come Francisco, my son. Tell me why your eyes are sad, my little one."
Premise/plot: Amigo is written in verse. It is historical fiction--about a boy longing for a dog. His family can't afford an actual dog, but, his parents encourage him to tame something wild, something that can take care of itself, something like a prairie dog. So Francisco sets out to tame a prairie dog, and, he knows just what he'll call it: Amigo. That's half the story. Amigo is a prairie dog that is curious and longs for adventures. He's drawn to humans, and he longs to tame a boy. Amigo picks out just the boy to tame, and, surprise, surprise, it's Francisco. Readers in on both sides of the stories can predict where this one is heading. It's cute.
My thoughts: I'll be honest: I bought it for the art. The illustrations are by Garth Williams. I thought if the text was nice, it would be an extra bonus. But really, I was just happy to see more of Garth Williams' work. I did enjoy the text. Do I think it's the most wonderful, amazing story ever? Probably not. I would have enjoyed more prose and less verse. But it's not awful.
© 2016 Becky Laney of
Becky's Book Reviews
By:
Amy Schimler
, on 8/31/2016
Blog:
Red Fish Circle
(
Login to Add to MyJacketFlap
)
JacketFlap tags:
Add a tag
Love seeing my fabrics turned into a variety of products. Here is an inspiring page of photos with all kinds of sewing projects....


Jump Into Fun
Animal Party Too
Fly Away
By:
Monica Gupta
, on 8/31/2016
Blog:
Monica Gupta
(
Login to Add to MyJacketFlap
)
JacketFlap tags:
Add a tag
खेल, पदक और पहलवान की मानवीय संवेदनाए Yogeshwar Dutt not keen to collect upgraded silver medal, wants Besik Kudukhov's family to keep it ओलिंपिक ब्रॉन्ज के बदले सिल्वर नहीं चाहते योगेश्वर . बोले जीतने वाले जिस रेसलर की हादसे में हुई मौत, उसी का परिवार रखे पदक पहलवान का नाम सुनते ही दिमाग में एक […]
The post खेल, पदक और पहलवान की मानवीय संवेदनाए appeared first on Monica Gupta.
By: Mary Ann Scheuer, on 8/31/2016
Blog:
Great Kid Books
(
Login to Add to MyJacketFlap
)
JacketFlap tags:
Add a tag
In
Full of Beans
,
Jennifer Holm
pulls me into her story from the very first page:
"Look here, Mac. I'm gonna to give it to you straight: grownups lie.
Sure, they like to say that kids make things up and that we don't tell the truth. But they're the lying liars."
Holm creates a character full of sass and resilience--he isn't afraid to tell it like it is. Grownups lie, life is hard, friends are key. I'm also really looking forward to talking with kids about how Beans grows and changes throughout the story.
I'm fascinated by the way that Holm pulls modern kids into a time and place so far away. Life wasn't easy for Beans--the Great Depression has the Florida Keys and all of America in its grip.
Jennifer Holm
was kind enough to answer a few of my questions about
Full of Beans
, her research and what struck her during the writing process.
Beans' voice rings so distinctive and true. How do you get into character as you write?
Beans was always such a clear character to me. It sounds silly, but I could totally hear him in my head. I mostly try to get outside to get in the writing zone—away from my desk and computer. For some reason, if I'm taking a walk or jogging, the ideas come more easily.
What are some images of Key West from the 1930s that show how hard life was during the Great Depression?
The website Florida Memory from the state library archives has an incredible collection of historical photographs. At the height of the Great Depression, Key West was in dire straights. The majority of the inhabitants were unemployed and on public relief. This photo from 1935 shows garbage cleanup in a Key West neighborhood:
As part of President Roosevelt's New Deal, the Federal Emergency Relief Administration created a plan to revitalize Key West, renovate houses and hotels and turn it into a tourist destination. These before and after pictures of a school teacher's house are amazing. My great-grandmother grew up in a house like that.
What are a few of your favorite sayings from this time period? Did you make them up get them from your research?
I love the phrase "mind your own potatoes." That just says it all.
All of the sayings except for one were rooted in the time period. My daughter, Millie, made the lone modern contribution with her own personal phrase: "What in the history of cheese?" It's become a household saying around here.
What was something astonishing you learned doing your research for this book?
The whole leprosy storyline sucked me in pretty fast. It seemed quite far-fetched at first when I started to track down some of the rumors, but the more research I did, the more I discovered. In retrospect, the idea that people would hide family members who had leprosy (Hansen's Disease) was very understandable. There was no treatment available at the time and quarantine was how the public health service managed the disease. People with leprosy were commonly "sent" (exiled is a better word in my opinion—there was not much choice involved) to leper hospitals, a notable one being in Carville, Louisiana. Even children were sent away. It was quite a heartbreaking situation all around.
Can you share one of the recollections of a family member that helped you bring this story to life?
My favorite memory was shared with me by a distant cousin. She had grown up across from the cemetery—which is in the middle of an old part of the city. The houses in Key West are made of wood and built quite close together. She told me how when she was a child and there was a fire, all the neighbors near the burning house would take their belongings – from pots and pans to pianos – to the cemetery for safe keeping. They would just kind of camp out there because it was the only place that wouldn't catch fire.
That's pretty amazing, and shows how fire was such a threat in this community. This photo from the Great Fire of 1923 shows just how vulnerable the wooden houses were:
What connections do you make between the hard times Beans and his friends faced in the Great Depression and challenges kids might be experiencing today?
Having a parent lose their job and the fear of having to move is something that kids of any era can relate to. In our own family, we have had a lot of up-and-down times. Kids always know what's going on even if the parents aren't discussing the problems with them.
Thank you so much for taking the time to share with us about Key West, your research and your wonderful story.
The review copies were kindly sent by the publisher, Random House Books. If you make a purchase using the Amazon links on this site, a small portion goes to Great Kid Books. Thank you for your support.
©2016 Mary Ann Scheuer, Great Kid Books
By: Lizzie Furey, on 8/31/2016
Blog:
OUPblog
(
Login to Add to MyJacketFlap
)
JacketFlap tags:
Add a tag
Those who have followed this series will remember that English kl-words form a loose fraternity of clinging, clinking, and clotted-cluttered things. Clover, cloth, clod, cloud, and clout have figured prominently in the story.
The post "Clown": The KL-series pauses for a while appeared first on OUPblog.
By: Erik Brooks, on 8/31/2016
Blog:
E is for Erik
(
Login to Add to MyJacketFlap
)
JacketFlap tags:
Add a tag
The first day of polar bear school!
By:
Monica Gupta
, on 8/31/2016
Blog:
Monica Gupta
(
Login to Add to MyJacketFlap
)
JacketFlap tags:
Add a tag
व्यक्तिगत स्वच्छता और स्‍वास्‍थ्‍य Importance of Cleanliness / Personal Hygiene "व्‍यक्तिगत स्‍वच्‍छता"  दो शब्‍दों से मिलकर बना है "व्‍यक्ति"  एवं "स्‍वच्‍छता" हमारा  स्वास्थ्य हमारे स्वच्छ हाथों में है… hand wash पर तो बहुत बातें हैं पर कुल मिला कर हमारा स्वास्थय हमारे हाथों में ही है. व्‍यक्तिगत स्‍वास्‍थ्‍य में शरीर की स्‍वच्‍छता,  दॉंतों की सफाई, नाखूनों […]
The post व्यक्तिगत स्वच्छता और स्‍वास्‍थ्‍य appeared first on Monica Gupta.
By: Lisa Keeler, on 8/31/2016
Blog:
TWO WRITING TEACHERS
(
Login to Add to MyJacketFlap
)
JacketFlap tags:
Add a tag
What teacher of writers superpower would you like to develop this year?
By: Alex Guyver, on 8/31/2016
Blog:
OUPblog
(
Login to Add to MyJacketFlap
)
JacketFlap tags:
Add a tag
Poverty can be defined by 'the condition of having little or no wealth or few material possessions; indigence, destitution' and is a growing area within development studies. In time for The Development Studies Association annual conference taking place in Oxford this year in September, we have put together this reading list of key books on poverty, including a variety of online and journal resources on topics ranging from poverty reduction and inequality, to economic development and policy.
The post Poverty: a reading list appeared first on OUPblog.
By:
Elizabeth O. Dulemba
, on 8/31/2016
Blog:
Elizabeth O. Dulemba
(
Login to Add to MyJacketFlap
)
JacketFlap tags:
Add a tag
Is now over. Happily, I took advantage of a good bit of it. I told you about the SCBWI events the first week here. For the second week I attended three events. The first was Vivian French's discussion on The Hook of Visual Literacy.
Per the
website
, "Author and
Picture Hooks
founder
Vivian French
discusses how the format can be adapted for classroom use, and the resources available to develop visual communication in children. She is joined by Aurelie Norman from Wardie Primary, Edinburgh, who has worked with Picture Hooks." (Picture Hooks co-founder
Lucy Juckes
is to the left.) The good works Vivian is doing for illustrators and students here in the UK is truly remarkable. She's changing lives, and I'm so proud to call her a friend and mentor.
The next event I attended was a panel of illustrators.
Emily Gravett
,
Alex T. Smith
, and
Lydia Monks
talked about their careers, breaking in, their methods, and their projects. It was moderated by the chair for the
Kate Greenaway Award
, Joy Court, and was truly enlightening. These are all award-winning illustrators at the top of their field here in the UK.
The third event I attended was
Judith Kerr
, author of the Mog series and
The Tiger Who Came to Tea
, which is a classic here in the UK like
Goodnight Moon
or
Where the Wild Things Are
are in the US.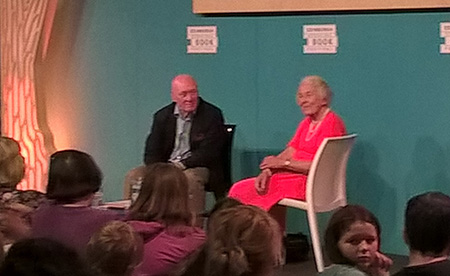 She's 93-years-old and a beloved treasure. The theatre was packed! She also happened to be very funny and entertaining.
What I've found so interesting about the book festival this year is how different the UK market is from the US market. Yes, there is crossover, but the UK is definitely its own sandbox. In fact, I'll be doing my dissertation this fall (in the US it would be called a thesis) on the topic: "Comparing and contrasting the Randolph Caldecott and Kate Greenaway Award winners to identify trends, similarities and differences between the US and UK picture book markets." The book festival was a wonderful addition to my research! There was also this - a twig-woven sculpture of the BFG.
By: Estefania Ospina, on 8/31/2016
Blog:
OUPblog
(
Login to Add to MyJacketFlap
)
JacketFlap tags:
Add a tag
There has lately been something like an arms race in literary studies to name whatever comes after postmodernism. Post-postmodernism, cosmodernism, digimodernism, automodernism, altermodernism, and metamodernism rank among the more popular prospects.
The post The last -ism? appeared first on OUPblog.
By: Tanya, on 8/31/2016
Blog:
Children's Book Reviews and Then Some
(
Login to Add to MyJacketFlap
)
JacketFlap tags:
Add a tag
It's a very good time to be an emerging reader, especially because

Tom Angleberger

and

Cece Bell

, c
elebrity super couple of the kid's book world, have teamed up again! This time, the duo bring their weird, wacky senses of humor to

Inspector Flytrap

, a series of books featuring a hard boiled detective who just happens to be a Venus Flytrap.
Being a detective - and a plant - has its challenges. Happily, Inspector Flytrap (who is constantly correcting people who refer to him as Mr. Flytrap) has an assistant, Nina, who puts him on a skateboard and does all the driving whenever they need to get to a crime scene quickly. Nina is a goat, which has a few drawbacks since she will eat anything. As the Inspector says, "it's scary to have an assistant who eats everything, especially for a plant like me." Nina also has a standard flip response to almost everything, which is, "Big deal."
The first Big Deal case (no
small deal
cases for him) readers get to see Inspector Flytrap tackle comes from Lulu Emu, a museum employee who take the Inspector and Nina into the Top Secret Art Lab to help solve the mystery of the strange yellow blob on a newly discovered, extremely rare painting by Leonardo Da Vinci. In fact, this happens to be the only flower painting Da Vinci every created. Nina, being Nina, licks the yellow blob and notes that it tastes salty. The Inspector soon cracks the case, the solution of every case getting a full page, multi-panel comic strip. Turns out, Da Vinci sneezed on his own painting, leaving a booger on the canvas. Lulu Emu is disappointed as she thought it was a secret message, a la a Don Brown novel, but her coworker in charge of the museum's Gallery of Mucus is thrilled!
The gags and goofiness in

Inspector Flytrap

continue throughout the four chapters of the novel in which the Inspector solves three cases and spends one chapter eating lunch at the restaurant where he first met Nina. Inspector Flytrap takes a lot of calls, and one of my favorite jokes in the book comes when he gets a call or two from a fly with a case. Also, Nina usually eats evidence or missing items that have been found, which is also hilarious. There is also a really great range of animals in the

Inspector Flytrap

series, including a sloth and a dodo, two favorites of mine. I ordered this series for my library before I even read them and now, having read the first book, I plan to order a couple more sets - the

Inspector Flytrap

books are going to be hot, hot, hot!
Book 2 in the
Inspector Flytrap
series:
By: Heather Saunders, on 8/31/2016
Blog:
OUPblog
(
Login to Add to MyJacketFlap
)
JacketFlap tags:
Add a tag
The recently published 'guidelines' on police undercover operations prove to be just 'business as usual'. The guidelines consist of 80 pages in which a new 'alphabet soup' of abbreviations describes each of a set of roles to be fulfilled by officers of given ranks.
The post Is undercover policing worth the risk? appeared first on OUPblog.
By: Bowie Style, on 8/31/2016
Blog:
print & pattern
(
Login to Add to MyJacketFlap
)
JacketFlap tags:
Add a tag
After posting an exciting competition yesterday from UPPERCASE to design a collection for Windham Fabrics I thought I would showcase their very latest designs. The competition is open to anyone who has not designed a fabric collection for a company before (not including Spoonflower), You can see the full entry details here and designs have to be in by September 12th. We start our look at
By: Bowie Style, on 8/30/2016
Blog:
print & pattern
(
Login to Add to MyJacketFlap
)
JacketFlap tags:
Add a tag
Tresillo is the new, fashion-inspired collection of eclectic fabrics and wallcoverings from Harlequin. Released this month Tresillo is a modern collection of "soft, geometric motifs, subtle but statement patterns and effortless organic designs" that have been inspired by Latin America. It has a lively and imaginative colour palette, grouped together in combinations that are vibrant and
By: 25kati, on 8/30/2016
Blog:
Jagged Edge
(
Login to Add to MyJacketFlap
)
JacketFlap tags:
Add a tag
Publisher: Adaptive Books
Publication date: February 21, 2017
Summary:

After being a key figure in the exposing of government corruption, Max Stein has spent a quiet semester abroad in Paris, studying, staying off the Internet, and looking for his long-lost mother. But just as he is about to fly back to the United States for the holidays, trouble manages to find him once again.



Max receives a call from Penny, his on-again-off-again girlfriend who is part of the expert hacking duo DoubleThink. She wants him to meet with Ada Kiesler, a high-profile whistleblower hiding out at a foreign embassy in Berlin. Max has no interest in getting drawn into another corporate conspiracy. But when airport security suddenly detains him on suspicion of cyber-terrorism, he has little choice but to get involved. Soon Max and Penny are tangling with a new group of shadowy figures who are determined to control how the world shares its information. And some figures from Max s past resurface, including his own mother, whose life has mirrored his own in more ways than he'd realized.
In this action-packed follow up to "The Silence of Six," Max and his hacker friends must fight to expose a corrupt corporation that has been systematically taking control of the Internet."
Review:
I liked this book. I feel like I may have started the first book when that came out but I was unable to find it. I liked this book, oh wait I already said that! It took me a little bit to get through it. It was not a book that had me holding on to the edge of my seat the entire time. However, the ending did have me trying not to fast read through to see how it ended. Once you get past the first two hundred pages you kind of question why you had such a hard time in the first place. The only thing I can compare it to would be when I went to the Smoky Mountains this last week. On the first day there I walked up Rainbow falls trail. It was exhausting but once you got there it was worth the view and the walk down was very enjoyable. At the end you are happy you had that experience. That perfectly describes this book for me. I was really worried about Penny for a long time. Not for her, my concern was always for Max. I loved Risse, I would love to hear more about her. Maybe her own adventures. I like Risse over Penny. It's hard not too! There are something's in this book I question. Bits of it even remind me of George Orwell's 1984. I would recommend you check this book out for yourself!
By:
I couldn't be happier to post today. My daughter, Ayla, received her paperback proof of her first book, The Secret Sister, yesterday and it's gorgeous! I'm so proud of all the hard work she put into this book. She spent her summer writing and reading as much as she could, and she really learned a lot—including how to overcome writer's block.

Together, we decided that she's going to keep her amateur status and make the ebook free. Print copies will be made for family and friends, but she won't make any money from them. This experience is about learning to write well, sharing her love of stories, and being proud of the accomplishment of writing a book. And that's a HUGE accomplishment. Did I mention she's only nine?

And yes, she's my new favorite author.
So without further ado, check out the gorgeous cover of The Secret Sister!
And here are some pictures of the paperback.
The ebook is already up on Smashwords and ready for download. And once again, it's FREE, so grab your copy here.
By:
It's nice to fill the calendar
With plans for lots of dates,
Assuming that on most of them
A day with friends, a dinner out,
Some tickets to a sports event,
Soon there'll be a fun event
And anticipation is enough
By:
Cinzia
, on 8/30/2016
Blog:
Gilliflower
(
Login to Add to MyJacketFlap
)
JacketFlap tags:
Add a tag
Studios a mess. Just finished a painting. Going out for some summer fun!
By: Jerry Beck, on 8/30/2016
Blog:
Cartoon Brew
(
Login to Add to MyJacketFlap
)
JacketFlap tags:
Add a tag
An appreciation of Caroline Leaf's powerful and significant film "Two Sisters," a momentous celebration of the work of women's hands.
The post Ottawa Animation Festival 40th Anniversary Look-Back: 'Two Sisters' appeared first on Cartoon Brew.
By: Erik Brooks, on 8/30/2016
Blog:
E is for Erik
(
Login to Add to MyJacketFlap
)
JacketFlap tags:
Add a tag
By: Brian Bowes, on 8/30/2016
Blog:
Studio Bowes Art
(
Login to Add to MyJacketFlap
)
JacketFlap tags:
Add a tag
By: Brian Bowes, on 8/30/2016
Blog:
Studio Bowes Art
(
Login to Add to MyJacketFlap
)
JacketFlap tags:
Add a tag
By: Mary Nida Smith, on 8/30/2016
Blog:
Life's Beautiful Path
(
Login to Add to MyJacketFlap
)
JacketFlap tags:
Add a tag
https://docs.google.com/document/d/1lg9MoWIklPGlsbiyP8cwYK_8WiAdelnV-cmqhdXQVRQ/edit
By: 25kati, on 8/30/2016
Blog:
Jagged Edge
(
Login to Add to MyJacketFlap
)
JacketFlap tags:
Add a tag
Genre - Romantic Suspense
One last chance.
That's all Luke Collins, local bad boy and motocross champion, has to not only find his redemption, but win back the girl he lost. He'll stop at nothing to make her his, even if it means playing dirty.
Lara Jacobs doesn't want her heart broken again and refuses to give Luke a second chance. After he left her after their one night stand, she ran right into the arms of her close friend, Grayson Moore. He's always loved her, and he's determined to make her see he's what she needs.
However, in life nothing goes as planned and tragedy strikes. After a fatal accident nearly claims Lara's life, she's left inside a world she can't remember. Her memories are gone, including those of the men vying for her heart. Grayson sees her loss as a possibility to forget her love for Luke, but Luke sees it as an opportunity to start over. All he wants is one last chance to show her that she's the one he's been in love with all along.
*** An updated version of One Taste (prequel to Last Chance) has been included at the beginning of the book with all new scenes. ***
By: Jerry Beck, on 8/30/2016
Blog:
Cartoon Brew
(
Login to Add to MyJacketFlap
)
JacketFlap tags:
Add a tag
Five animated shorts are competing for Europe's top prize for animated short films.
The post Cartoon d'Or 2016 Nominees Announced for Best European Animated Short appeared first on Cartoon Brew.
By: tanita✿davis, on 8/30/2016
Blog:
Finding Wonderland: The WritingYA Weblog
(
Login to Add to MyJacketFlap
)
JacketFlap tags:
Add a tag
Welcome to another session of Turning Pages!One of the uses of exploring new people, places, and things in fiction is to understand and normalize them. As I stated a few months back in my review of Marike Nijkamp's THIS IS WHERE IT ENDS, I struggle... Read the rest of this post
By: LAURIE WALLMARK, on 8/30/2016
Blog:
Just the Facts, Ma'am
(
Login to Add to MyJacketFlap
)
JacketFlap tags:
Add a tag
Use your rejections to improve your manuscript.

https://nerdychicksrule.com/2015/03/12/marcie-colleen-how-rejection-leads-to-stellar-revision/
By:
Paintgranny
, on 8/30/2016
Blog:
Middle of Nowhere
(
Login to Add to MyJacketFlap
)
JacketFlap tags:
Add a tag