Douglas Florian is a poet and artist who has created poetry picture books that explore a wide variety of subjects. Over the years I have greatly enjoyed reading these books, and it is interesting to see how he applies his considerable talent to take on a new topic that interests him.
On the wing
Douglas Florian
Poetry Picture Book
For ages 6 to 8
Harcourt, 1996, 978-0152023669
Birds truly are remarkable animals. They come in a dazzling array of colors, live on every continent, and make their homes in all kinds of places. In this wonderful picture book Douglas Florian pairs short poems with his artwork to give readers a true celebration of birds.
Over the millennia birds have evolved to suit many kinds of environments. Some birds, like the egret, sail on water and then rest on the beach making it seem as if there is a "feathered hat" lying on the sand. Dippers love to dip and dive in waterfalls. They are so aquatic that one wonders if they would be happy to "trade / Their oily wings for flippers." They are such good swimmers that it is possible that the little birds might "think that they are fish."
Birds come in all shapes and sizes. The spoonbill is tall and thin with a beak that does indeed look like a long-handled spoon. In his poem about this rather odd looking species, Douglas Florian wonders if the spoonbill uses its bill "for stirring tea" or does it "use it as a scoop / For eating peas and drinking soup."
The stork has a bill that is perfectly suited for the environment it lives in. Wading through shallow water, the bird uses it rapier like bill to stab frogs and other creatures. Woodpeckers also have beaks that are perfectly adapted so that they can get to their chosen food - insects that live in wood and sap that runs through wood. Not only are these beaks perfect for creating holes, but woodpeckers also use them to communicate.
With clever touches of humor and insightful descriptions, this collection of poems will give young readers a colorful picture of twenty-one bird speci
By:
Chris Grabenstein is an award-winning author of books for children and adults, a playwright, screenwriter, and former advertising executive and improvisational comedian. Winner of two Anthony and three Agatha Awards, he is also the co-author with James Patterson of The New York Times bestseller I FUNNY.
Posted on 7/30/2014
Blog:
the Literary Saloon
(
Login to Add to MyJacketFlap
)
JacketFlap tags:
Add a tag
The most recent addition to the complete review is my review of Richard House's The Kills.
Man Booker-longlisted last year in the UK, it is now coming out in the US; I'm curious how it will do. House does have his American connections, and the novel(s) feature many American characters and much of it deals with aspects of the American occupation of Iraq. But do US readers want to be reminded of the tremendous amount that was lost there ? (In terms of: lives, souls, cash, idealism, principles, credibility.)
Interesting, too, that, after initially being released in a digital version in the UK -- 'digitally augmented' with a variety of video clips -- the US publishers have chosen to focus on The Kills-as-literary/printed-text (i.e. are pretty much ignoring the digital frills and not pointing readers towards them -- though they are available online).
Posted on 7/30/2014
Blog:
the Literary Saloon
(
Login to Add to MyJacketFlap
)
JacketFlap tags:
Add a tag
The Brazilian literary festival, Festa Literária Internacional de Paraty, runs today through 3 August.
Always a good line-up -- including what they're billing as their first Russian visitor (Vladimir Sorokin -- or, as it apparently is in Portuguese, Vladímir Sorókin). And I like how some of the local talent only goes, footballer-like, by a single name (Claudius, Hubert, Jaguar, Reinaldo).
Posted on 7/30/2014
Blog:
the Literary Saloon
(
Login to Add to MyJacketFlap
)
JacketFlap tags:
Add a tag
Yeah, I'm not really sure about that name, but this initiative of the Singapore Writers Festival, Utter 2014, sounds reasonably interesting.
As they explain:
Utter is a special SWF initiative which showcases the best of Singapore writing and celebrates its potential to be adapted into different media and across languages, giving audiences fresh perspectives and a deeper understanding of our home-grown authors.
In this case it involves four works that have been adapted into short films, which are being screened today, as well as 3 and 6 August.
Personally, I like writing best as ... writing, and figure if you have to sell an audience on it by presenting it in cinematic form something has gone slightly/terribly wrong. On the other hand ... alternate interpretations in alternate media ... sure, why not ?
See also Genevieve Sarah Loh on the
Best of Singapore literature - onscreen
at
Today
.
By:
Do you guys know what today is?

Well, yes, you're right, it is Would You Read It Wednesday.

It also happens to be the day before my granddaughter's 3rd birthday (which coincidentally falls on the same day as Harry Potter's, Neville Longbottom's, and J.K. Rowling's! :))

It also happens to be National Cheesecake Day, which I intend to honor in a moment...

But it is also the last day of posting here until September!

It's true. In order not to be disowned by my family I am taking August off from blogging. I promised I would, and so I shall. But it's going to be hard and I'm going to miss you all terribly!

Let's have Something Chocolate to lift our spirits, shall we? In honor of the day, I'm thinking Chocolate Cheesecake!


Death-By-Chocolate Cheesecake!
Recipe here: http://hotpolkadot.com/2013/02/10/death-by-chocolate-and-the-birth-of-a-blog/
I think I speak for all of us when I say I may not feel that much better about not seeing you for a month but boy is that good! :)
And now, how about Straight From The Editor for May? Hearing from Erin Molta, our wonderful and helpful visiting editor, always perks us up, doesn't it?
You will recall that the May Pitch Pick was won by Todd with his pitch for
Orville Wright's Final Flight
.
Here is his winning pitch:
Orville Wright's Final Flight by Todd Burleson (NF PB ages 7-12)
Orville Wright may be best remembered for his first flight, but it was his final flight 41 years later would completely change the world of aviation.
And here are Erin's thoughts:
This sounds somewhat intriguing but in the crowded nonfiction picture book market you need to give us a little bit more.. Is there any way you can give us a little hint about what made his last flight so special?
That could make or break whether an editor will ask you for the whole manuscript.
As always, I find her thoughts insightful! Thank you, Erin :)
And now, it's time for the July Pitch Pick, which is always so exciting :) Here are our 4 fabulous pitches:
#1 Michelle -
Escalators Don't Bite! - Picture Book (ages 2-6)
Salim, world traveler, worries about whether he's packed enough crayons. He worries his backpack will come unzipped. But with his whole family on its way to see Grandma and Grandpa, he's worried most about his little sister Malika, who never does what she's supposed to do. On her first trip to the airport, Salim knows that if it's sticky, Malika will spill it. If there's an escalator, Malika will get stuck on it. And if there's a red button, Malika will push it. Desperate to ensure his family gets to the gate on time for their flight, Salim has started work on a Little Travelers' Guide to Airports. But while he's busy writing, the irrepressible Malika is busy exploring. When Salim's sage travel advice comes up against Malika's infectious sense of adventure, both siblings learn something important from each other about airport travel safety and fun.
(And Michelle adds: Many thanks to all who gave their revision advice. I hope I've gotten closer with this version!)
#2 Lavanya - How Not to Be a Monster Meal - Picture Book (K-3)
Posey has a brand new room. But something lurks within the gloom -- A monster with a riddle dare! And he's hungry as a bear. If Posey can't outwit the cretin, little Posey will be eaten...
#3 Brandie - The Trouble With Keeping Vikings - Picture Book (ages 4-6)
A boy opens his front door and comes face-to-face with a startling surprise. A Viking horde has come for a visit, and they REEK of mischief. From snot-snakes to clashing swords, the outrageous antics of these pesky pillagers are never-ending. That is until the boy makes a certain phone call that will leave these manner-less brutes quaking in their Viking-boots.
#4 Erin -
Love, Emmett -
Picture Book (ages 4-8)
Emmett loved books so much that he eventually loved them to pieces…literally. After his favorite one falls apart, Emmett saves the last remaining page, only he can't remember the story quite right. When his teacher asks the class to share their favorite books, Emmett must decide how to tell the story. But his love for the book might just say everything.
Please vote for the one you think is best and deserves a read by editor Erin Molta by Sunday August 3 at 5 PM.
July Pitch Pick 2014
Thank you so much!
Please send YOUR pitches for the coming weeks! For rules and where to submit, click on this link
Would You Read It
or on the Would You Read It tab in the bar above. There are openings in September so you've got a little time to polish up your pitches and send yours for your chance to be read by editor Erin Molta!
And now, my poppets, I bid you happy August. I hope you all have tons of fun with your families and your writing and reading, swimming, sailing, sunning, hiking, biking, kayaking, riding, playing volleyball, tennis, baseball, or whatever floats your boat - generally enjoying all summer has to offer!
See you September 10 for the return of Would You Read It, and September 12 for the kick off of Perfect Picture Books Year 3!
By: Rene Colato Lainez, on 7/29/2014
Blog:
La Bloga
(
Login to Add to MyJacketFlap
)
JacketFlap tags:
Ariadna Sánchez
,
Bogeyman
,
Coco
,
Honorio Robledo
,
Joe Hayes
,
review
,
¡El Cucuy!
,
Add a tag
Review by Ariadna Sánchez
The Bogeyman is one of the most iconic figures in the Latin culture. In addition,
La Llorona
(The Weeping Woman) and El Chupacabras are folkloric characters that seduce old and new generations into a mysterious and magical world. The legends, myths, and folk stories about these unique figures gave birth to a legacy that will last forever in Mexico's villages and cities as well as the rest of Latin America.
¡El Cucuy!
A Bogeyman Cuento in English and Spanish as told by Joe Hayes and phenomenally illustrated by Honorio Robledo is a must read during the summer break.
In Oaxaca, México El Cucuy is best known as el Coco.
Hayes description of El Cucuy matches the one my abuelita used to tell me "a gigantic old man with a humped back and a large, red left ear that can hear everything. And he comes to town for lazy and disobedient girls and boys."
The tale gives young readers a bittersweet experience as the two girls are carried by El Cucuy towards the mountain. The two sisters are afraid and sorry for their behavior with their father and younger sister. One day, a boy losses one of his goats. The goat starts to bleat louder and louder right above El Cucuy's cave. The girls plea the boy for help. He takes his jacket and uses it as a rope to rescue the girls. The girls climb up. Once free and safe the three children walk to the valley. At last, the girls reunite with their father and sister. Since that day, the two sisters are the most helpful and polite girls in town. The good news is that El Cucuy never appears again.
Joe Hayes adds at the end of the book a special note to readers and storytellers about ¡El Cucuy! Visit your local library for more amazing stories. Reading gives you wings. Hasta Pronto
Joe Hayes Narrates El Cucuy! - YouTube
By:
Heidi MacDonald
, on 7/29/2014
Blog:
PW -The Beat
(
Login to Add to MyJacketFlap
)
JacketFlap tags:
Conventions
,
Top News
,
Dark Horse Comics
,
naughty dog
,
Neil Druckmann
,
sam rami
,
The Last of Us
,
The last of us american dreams
,
Add a tag
By David Nieves
Few stories have truly transcended the bounds of their original media in meaningful ways. Sure movies have become games and vice versa, even we comic book faithful are no stranger to our favorite stories becoming cannon for Hollywood. The catch is few of these attempts ever delivered something that can truly be called an experience, or at least one we'd like to remember. In order for a multiple form story to thrive there has to be a unifying vision. Someone who can traverse the minefield of different studios or individuals trying to take something and change it beyond something fans can recognize, all in the name of mass consumption.
Dark Horse Comics figured out that being successful in bringing a story over from another part of the entertainment industry really only requires one thing, the person who knows it best. In short just call Naughty Dog creative lead Neil Druckmann and let him do anything he wants with whomever he pleases.
SDCC Friday, I got some one-on-one time with one of the best storytelling minds in any medium. We talked a bit about his initial story that would spawn one of the best games of all time, The Last of Us. Along the way he told us about his deeply rooted passion for comic books and revealed a new book coming this Fall. Of course we found time to rave about his collaborator on arguably one of Dark Horse's best books The Last of Us: American Dreams, Faith Erin Hicks.
His new book, A Second Chance at Sarah will be in comic book stores this Fall through Dark Horse Comics. It's an occult story involving time paradoxes, regret, and sacrificing for what you love most.
You can hear the full interview below.
After talking with Druckmann, it's hard not to buy into his magnanimous amounts of  love for the comic book industry. Dude's got legit comic cred, even before ever writing for Dark Horse.
Don't count out The Last of Us as being done yet, according to Druckmann himself from our interview it was apparent there's at least one more story to tell. Of course you can find The Last of Us Remastered out now for PlayStation 4, and the absolutely necessary The Last of Us: American Dreams can be found in comic shops and digitally through Dark Horse Comics.
Featured Image: Naughty Dog Twitter
By:
Lari Don
, on 7/29/2014
Blog:
An Awfully Big Blog Adventure
(
Login to Add to MyJacketFlap
)
JacketFlap tags:
diana wynne jones
,
Edinburgh International Book Festival
,
Lari Don
,
Add a tag
One of the most wonderful but most troubling things about being a writer is that books become work.

Not just writing books, but reading them too.

This can be wonderful, when I tell myself that wasting (spending, investing) a whole day reading a novel that I'm desperate to finish, is in fact legitimate work. But it can also be troubling, when I realise that something I used to love is now something I HAVE TO DO.

This changes my relationship with books. Having to read books, having to think about and talk about books, not because I want to, not because that's the book I want to spend time with, but because I've committed myself to an event or an article or a blog post which makes reading that particular book right now a necessity.

I live in Edinburgh, and I'm doing various events at the Edinburgh International Book Festival next month, mostly in the children's and schools programme. But I'm also leading a reading workshop on Diana Wynne Jones, a writer whose books inspired me as a child, whose books still inspire me now, whose books I love to read.

But this summer, I have HAD to read them. I have had to reread the ones I am committed to discussing. (Books that, to be fair, I suggested and wanted to discuss, but even so…)

And suddenly I found myself resisting rereading them. I love rereading my favourite books. Mostly because I enjoy them, and am happy to reenter their worlds. And partly because, especially with books by Diana Wynne Jones, Neil Gaiman and others who are inspired by tales of old magic, I recognise more references every time I read them. But that's when I choose to reread. When a book calls to me and says, come on over here and visit me again…

This summer, there's been a pile of DWJ books on my study floor, which I knew I had to reread, but which I kept stepping round. Even though The Power of Three is my favourite ever children's book, and Howl's Moving Castle is in the top five, and Fire And Hemlock radically changed my relationship with my favourite Scottish fairy tale, and Chrestmanci is the most perfect wizardly wizard ever created… I've been resisting. Because I felt that I had to read them, that it was my job, that it was homework.


a small fraction of the DWJ pile!
And this has made me consider how, to some extent, every book I read is work. That everything I read leaves something behind, like a wave on a beach, which changes and inspires and shapes everything I will subsequently write. That I learn from every book, whether I love it or not. That the reader I am creates the writer I am.
But I also know that if I am conscious of what I'm learning from a book, then I haven't truly lost myself in it. And the books that I just thoroughly enjoy, that I don't read as a writer, that I just read as a wide-eyed reader, desperate to find out what happens next (and not noticing how the writer is making me care) those are the books I love the most. Probably those are the books that influence me most. And certainly those are the books I happily and enthusiastically reread.
And so. I took a deep breath. I started with Dogsbody, and The Ogre Downstairs, and Howl and those castles. And I have had the most glorious weekend rereading Diana Wynne Jones. To be honest, most of the time, I forgot why I was rereading them (workshop, what workshop?) and just lost myself in the wonderful magical world of her imagination.
Lari Don is the award-winning author of 21 books for all ages, including a teen thriller, fantasy novels for 8 – 12s, picture books, retellings of traditional tales and novellas for reluctant readers.
Lari's website
Lari's own blog
Lari on Twitter
Lari on Facebook
By: wako_bill@hotmail.com, on 7/29/2014
Blog:
Perpetually Adolescent
(
Login to Add to MyJacketFlap
)
JacketFlap tags:
Book Reviews - Fiction
,
book review
,
Books
,
fillory
,
lev grossman
,
magic
,
the magician king
,
the magician's land
,
The Magicians
,
Add a tag
I think I loved this even more than The Magicians (which if you haven't read beware spoilers ahead). The first half of The Magicians was like an adult Harry Potter and full of the wonder of discovering magic was real. The second half was an exploration of what happens to people who discover a new power. It was much darker, which I really liked, and you really got to know the negative sides of the books characters which is not something many books of this genre do.
The Magician King picks up where The Magicians ended. Quentin, Elliot, Janet and Julia are now the Kings and Queens of Fillory but Quentin is growing restless. He wants a purpose, a quest, an adventure and he will do anything to find or create one. Interspersed with Quentin's story are flashbacks to Julia who went down a very different (and much darker) path to gain her magical knowledge. And as before there a dues to be paid for gaining this power.
Grossman again finely balances a story that doesn't take itself too seriously, referencing other familiar stories, while slowly turning what seems to be an innocuous and manufactured quest into something far more important. We explore more of Fillory and the expanded universe and (much to some characters' shock and horror) revisit Earth and the 'real' world. I also felt I reconnected to the characters after becoming detached from them after some of the questionable decisions they made in the first book.  Loose ends from the first book are also nicely tied up and the ending is both highly satisfying as a reader and nicely sets up the third and final book in the series.
This truly is a brilliant series and while I'm late to the party in discovering it I get the advantage of reading all three books in the trilogy close together with the final book, The Magician's Land due out next month. And I will be reading that one straight away!
By: Kathy Temean, on 7/29/2014
Blog:
Writing and Illustrating
(
Login to Add to MyJacketFlap
)
JacketFlap tags:
authors and illustrators
,
Book
,
demystify
,
How to
,
list
,
need to know
,
Publishing Industry
,
reference
,
2014 NJSCBWI Conference
,
Amazon Ranking vs. Daily Book Sales
,
How to Sell More Books
,
Add a tag
Thought you might be interested in the information I presented at the "How to Sell More Books" Workshop I gave at the NJSCBWI Conference in June. You might want to use it as a general rule of thumb when checking out your book (on other books) on Amazon.

Talk tomorrow,
Kathy
Filed under:
authors and illustrators
,
Book
,
demystify
,
How to
,
list
,
need to know
,
Publishing Industry
,
reference
Tagged:
2014 NJSCBWI Conference
,
Amazon Ranking vs. Daily Book Sales
,
How to Sell More Books
By: Lisa Taylor, on 7/29/2014
Blog:
ALSC Blog
(
Login to Add to MyJacketFlap
)
JacketFlap tags:
Blogger Lisa Taylor
,
Books
,
Children's Literature (all forms)
,
Slice of Life
,
Summer Reading
,
Add a tag
I write book reviews.  I write them for magazines, my blog, my co-workers. I also spend quite a bit of time crafting them — tweaking this sentence, editing that.  Well, apparently, I've been doing it all wrong.  Perhaps it's best just to shoot from the hip and tell it like you feel it, as the following children have done.
Enjoy this selection of entertaining book reviews. All appeared online and were written (without byline) by children participating in New Jersey's Collaborative Summer Reading Program, "Fizz, Boom, Read!"
"Most Honest"
SpongeBob Sqaure [sic] Pants

Review

I hated it…!!!!!!!!!!!!!!!!
Rating
(Don't hold back, tell us what you really think!)
"Best Use of a Spelling Error"
Olivia The Princess

Review

It wasn't the best book ever but it's okay. I enjoyed it and it interested me a lot. I just can't help to say I love that it retaliates to princesses and castles. I know kindergarten and 1st graders will definitely enjoy this magical princess book and the rest of the series. It was sort of challenging but with some help I can read it just fine.
Rating
(Take that, princesses and castles!)
"Sounds Kind of Creepy to Me"
Baby Unicorn
Author

Jean and Claudio Marzollo

Review

Read to me by big brother. I like that she lets all the other unicorns, even her father, touch her horn.
Rating
(I don't know what to think about this one.)
"Yes, You can Judge a Book by its Cover"
At the Beach, Postcards from Crabby Spit

Review

This book was funny because of the silly title!
Rating
(I'm guilty of choosing a book by its title, too!)
"Most Complimentary"
The Goose's Gold

Review

I liked this book a lot. It was very real to me.
Rating
(What author wouldn't appreciate this review?)
"Biggest Spoiler"
Two Bad Ants

Author

Chris Van Allsburg

Review

Those ants shouldn't have made that decision.
Rating
(Guess I don't need to read that one.)
"Highest-rated"
I'd Really Like to Eat a Child

Review

I like this one. It was really funny. This book is an 8.
Rating
(On a scale of 1-5, this one received an 8.  I'll put it on my TBR pile.)
I hope you enjoyed them!  I'll keep an eye out for other gems.
By:
Setting goals is a great thing because it gives us something to strive for and holds us accountable. I've seen a lot of writers posting their daily or weekly word count goals online. It's a great tactic because by telling people what you want to achieve, you have someone other than yourself to answer to. It's easy to say you're going to write 5,000 words, but doing it is another story. You know the drill. You sit down, open your document, crack your knuckles a few times, check your email, make that cup of tea or coffee you forgot to get before you sat down, walk the dog who is giving you those sad eyes, come back, down your tea or coffee, take a bathroom break… You see where this is going.
If you post your word count goal online for others to see, you feel obligated to hit that goal or at least come close. The downside to this is that when you don't hit your goal, it hurts more than if you didn't announce to cyberspace that you were going to finish that chapter or reach the 10K mark. And to be honest, there are times when life intervenes for legitimate reasons. So what do you do?
I say you post the goal. Yes, I realize I just said it can backfire, but if you have a real reason for not getting your goal, your followers will understand. On the other hand, if you are making excuses… ;) See, it's a great way to stop making excuses and get to work.
Do you post your goals online for all to see? Does it help you?
By: Andye ReadingTeen, on 7/29/2014
Blog:
Reading Teen
(
Login to Add to MyJacketFlap
)
JacketFlap tags:
Author Interviews
,
Giveaways
,
Add a tag
Check out the tour page HERE The coronation is over. But the battle has just begun. Nerissa Marin has won her crown. But can she keep it? Already, her ties to the human realm are driving a wedge between Nerissa and her people. When word arrives that her part-human prince consort, Lo, has been poisoned, she makes the difficult choice to leave Waterfell and return landside. As the
By: Dain Fagerholm, on 7/29/2014
Blog:
Art & Drawings by Dain Fagerholm
(
Login to Add to MyJacketFlap
)
JacketFlap tags:
Add a tag
By: Dain Fagerholm, on 7/29/2014
Blog:
Art & Drawings by Dain Fagerholm
(
Login to Add to MyJacketFlap
)
JacketFlap tags:
Add a tag
By: Dain Fagerholm, on 7/29/2014
Blog:
Art & Drawings by Dain Fagerholm
(
Login to Add to MyJacketFlap
)
JacketFlap tags:
Add a tag
By: Dain Fagerholm, on 7/29/2014
Blog:
Art & Drawings by Dain Fagerholm
(
Login to Add to MyJacketFlap
)
JacketFlap tags:
Add a tag
I have been detained twice in the past month by the FASCIST organization known as the Seattle Police Department. THey must not like me for some reason because they actually broke a few of my ribs. Good thing I went to Group Health on Capitol Hill and got x-rays immediately after being held prisoner for over 24 hours. FUCK COPS. ALL COPS FUCKING SUCK. They must not think I am very smart.
By: Robert Lee Brewer, on 7/29/2014
Blog:
Guide to Literary Agents
(
Login to Add to MyJacketFlap
)
JacketFlap tags:
Poetic Forms
,
Robert Lee Brewer's Poetic Asides Blog
,
What's New
,
Add a tag
The madrigal originated as an Italian form, actually as a pastoral song. The Italian madrigal is written in lines of either seven or 11 syllables and is comprised of two or three tercets, followed by one or two rhyming couplets. Just as variable as the lines and line lengths is the rhyme scheme. In fact, there's so much variability that I'm going to focus more on the "English" madrigal.
For the English-version of the madrigal (developed by Geoffrey Chaucer), the rules are much more defined. Here they are:
Usually written in iambic pentameter.
Comprised of three stanzas: a tercet, quatrain, and sestet.
All three of the lines in the opening tercet are refrains.
The poem follows this rhyme pattern:
Line 1: A
Line 2: B1
Line 3: B2
Line 4: a
Line 5: b
Line 6: A
Line 7: B1
Line 8: a
Line 9: b
Line 10: b
Line 11: A
Line 12: B1
Line 13: B2
******
Pre-order the Latest Poet's Market!
The 2015 Poet's Market is now available for pre-order at a discounted price. Get the most up-to-date information for publishing your poetry, including listings for book and chapbook publishers, magazines and journals, contests and awards, and more!
Plus, this edition includes information on poetic forms, poet interviews, articles on the craft and business of poetry, and so much more!
******
I'm no master of meter–by a long shot–but…
Here's my attempt at an English madrigal:
"dead heat feet"
another gun fired & children are dead
the official claims he'll turn up the heat
he says the earth will burn beneath their feet
but the gunman shot himself in the head
& those kids still alive avoid the street
another gun fired & children are dead
the official claims he'll turn up the heat
blame all the guns & the games & the meds
blame the police who are working the beat
try to place blame so they'll make it all neat
another gun fired & children are dead
the official claims he'll turn up the heat
he says the earth will burn beneath their feet
*****
Robert Lee Brewer is Senior Content Editor of the Writer's Digest Writing Community and author of Solving the World's Problems (Press 53). He loves reading poetry, writing poetry, and studying poetry–but he especially loves sharing poetry and is happy that Poetic Asides is a place that accommodates just that.
For those new to the blog, Robert tends to share a new poetic form just before he announces a new WD Poetic Form Challenge, which is a free challenge in which the winning poem and poet are featured in a future issue of Writer's Digest magazine. The next challenge will probably be announced within the next week.
Robert is married to the poet Tammy Foster Brewer, who helps him keep track of their five little poets (four boys and one princess). Follow him on Twitter @robertleebrewer.
*****
Find more poetic goodness here:
By: Candy Gourlay, on 7/29/2014
Blog:
Notes from the Slushpile
(
Login to Add to MyJacketFlap
)
JacketFlap tags:
Alexis Deacon
,
Helen Stephens
,
Picture Books
,
SCBWI
,
Add a tag
By Candy Gourlay Writing novels is an honourable way to make a living, but sometimes you can feel like you're so deep in the cave of your imagination there is no such thing as real life. To stop my brain turning into a cow-pat from spending too much time in the writer's cave, I've been trying to diversify a little bit. Last year, I attended a graphic novel course where I made comics. That was
By:
Kerry Aradhya
, on 7/29/2014
Blog:
Picture Books & Pirouettes
(
Login to Add to MyJacketFlap
)
JacketFlap tags:
Bonjour Camille
,
Book to Boogie
,
Children's Yoga
,
Creative Dance
,
Dance
,
Dancing to Freedom
,
Flora and the Flamingo
,
Here Are My Hands
,
I Got the Rhythm
,
Picture Books about Dance
,
Yoga
,
Yoga Piccolo Picollo
,
Add a tag
Welcome to the first bimonthly Read & Romp Roundup. Thanks to those of you who submitted posts this time around. I also happened to stumble across a few additional posts related to picture books and dance, so I've included those as well. Hope you enjoy the roundup!
Danielle at
This Picture Book Life
shares a post about the picture book
Bonjour Camille,
which will be released in August from Chronicle Books. Dressed in a tutu and a top hat, Camille is a little girl with a whole lot of things to do! Check out Danielle's post to learn more about these "things" and to see several bold and energetic illustrations from the book.
Atelierstorytime shares a blog post by
Anna Forlati
-- the illustrator of the Italian picture book
Yoga Piccolo Piccolo.
Translated as "Small Small Yoga,"
Yoga Piccolo Picollo
may not be available in an English version, but the gorgeous illustrations in this blog post will speak to everyone!
At
Maria's Movers
, Maria explores the wordless picture book
Flora and the Flamingo
by Molly Idle, which won a Caldecott Honor in 2014. Read her post to see how she used the book in a workshop for 6-year-olds about creating new dances!
Maria was also featured in the
June Book to Boogie post
at the Library as Incubator Project, where she shared movement ideas to go with the picture book
Here Are My Hands.
A month earlier, the
May Book to Boogie post
featured movement ideas to go with the picture book
SPLASH!
by Ann Jonas.
At the
Dirigible Plum
, Elizabeth reviews the nonfiction picture book
Dancing to Freedom: The True Story of Mao's Last Dancer.
The book tells the story of Li Cunxin, who grew up in rural China and was selected as a boy to move to Beijing to train as a ballet dancer. Interestingly, the book is written by the dancer himself. The illustrations by Anne Spudvilas, some of which you can see in Elizabeth's post, help tell his emotional story.
And last but not least,
Reading Today Online
shares a fun interview with Connie Schofield-Morrison and Frank Morrison -- the husband-and-wife team who created the new picture book
I Got the Rhythm
. They actually interview each other about creating the book. You don't want to miss it!
By:
How likely are you to talk to a stranger?
Of course, it may be determined by the time of day, where you are, and how relaxed you are. But for some people it's just not natural for them to be chatty, especially with strangers. The good news is that those who are shy talkers can overcome their fear of speaking. It's a matter of increasing one's confidence in the fine art of communicating one-to-one.
Gaining confidence
Gaining confidence is the key to being in one's comfort zone while sharing verbal thoughts with another person. You should strive to act as natural as possible. You don't want to memorize what you're going to say. That would be too artificial. Talking about the weather is always a good icebreaker. Be sure to take an interest in the person who you are talking to, and really listen to what they have to say. Good listeners are as important as good talkers.
Practice Small Talk
You can practice making "small talk" in the mirror until it starts to feel more natural. People enjoy genuine compliments about what they are wear. (So be observant and kind when in the presence of friends or strangers.) We all want to be appreciated. When I was teaching, I used to cut through the library to get to my classroom faster. Invariable I would cross paths with the librarian. She was a very pleasant lady. Periodically I used to compliment her on her smile, new outfit or on having good hair day. When she retired, she said that she always enjoyed running into me because my compliments "made her day."
Be Yourself
Be authentic. Be real, and people will like you wherever you go. Look people in the eye when you talk to them. Your eyes speak volumes when you are talking. Be sure to have smiling eyes. It will make everyone feel comfortable and interested in your presence among them. Laugh, if something is truly funny. Just be yourself, and others will want to hear what you have to say, even if it doesn't spill out as smooth as honey.
Be a Risk-Taker
When I was in college taking my first speech class, I was nervous as heck about giving my first speech. It was an introductory speech, and you had to write your full name on the board. I wondered how I was going to relax my audience, and get them thinking positively about me. I knew that humor is like a gust of fresh air in a stale room. So I went up to the board, and I spelled out my last name in twenty wrong versions. By the time I turned around most students in the class were laughing hysterically, and they did pay keen attention to my speech.
By: Melody Rhodes, on 7/29/2014
Blog:
Bedbug Books
(
Login to Add to MyJacketFlap
)
JacketFlap tags:
Add a tag
"Night, night, sleep tight..." More pictures have come in of children enjoying the Bedbug book and toy. What adorable children and it's great to see the merriment on their faces. Kids in different countries have enjoyed the bedbug toy and as I've related in other posts, "Bedbug" has turned up in unlikely places, such as in a dryer and peeking out at a mother from a clothesline.  With his
By:
Aaron Starmer
, on 7/29/2014
Blog:
The Indubitable Dweeb
(
Login to Add to MyJacketFlap
)
JacketFlap tags:
Books
,
The Riverman
,
The Whisper
,
Add a tag
It seems like only yesterday I was telling you about The Riverman. If you're one of my Twitter followers, then it probably was yesterday. Be thankful. Because I've given such shameless promotions a rest.
So I can shamelessly promote this bad boy!
That's right. The Whisper is in the can and has a gorgeous cover created by Yelena Bryksenkova. Do you want to hear more about it? Well…SPOILER ALERT! If you haven't read The Riverman, then you might not want to read the following description of its sequel. Or maybe you hate surprises. I respect your strange decisions.
Twelve-year-old Alistair Cleary has washed up on shore. But where? It seems to be Aquavania, the magical realm where children create entire worlds from their imagination. There's something wrong, though. The creators have disappeared and the worlds are falling apart.
All Alistair wants is to find his friend Fiona Loomis and go home. Easier said than done. Animals made of starlight, a megalomaniacal boy king, and astronauts who peddle riddles are hard enough to outwit, but they're only the beginning.
To find Fiona, Alistair must travel from world to world. He must confront the mistakes of his past. And he must face countless monsters, including the soul-stealing stalker that some people call the Riverman, the merciless but misunderstood servant of Aquavania who refers to himself as the Whisper.
Pretty rad, right? My parents think so. If you're one of the few to come across an ARC, then read it and sing praises or air grievances. As for the rest of you: wait until March 17, 2015. All good things…
By:
Heidi MacDonald
, on 7/29/2014
Blog:
PW -The Beat
(
Login to Add to MyJacketFlap
)
JacketFlap tags:
Cartoonists
,
Conventions
,
Indies
,
Bone
,
Jeff Smith
,
Rasl
,
SDCC14
,
Shazam
,
Tuki
,
Add a tag
By David Nieves
If you're a lifer, comics have always been the cool thing. Certain people personify what's "out there" and distinct about comics more so than any other industry; and at the very top of that list is Bone creator Jeff Smith. On SDCC Saturday afternoon, moderated by his friend Tom Spurgeon(The Comics Reporter), Jeff talked about all things Jeff Smith during his spotlight panel.
Opening with the news from Scholastic, Bone vol 1 will see a special Scholastic Anniversary edition of the book with colors and an eight page poem about the Rat Creatures alongside a whole bunch of pinups from Scholastic artists like Kate Beaton. Scholastic is set to release it in the Spring of next year.
You could tell by Jeff's laid back demeanor and rocking back and forth in his seat that Tom held the opening talk with Jeff as if they were just having lunch together looking over comic books.  Jeff enlightened his buddy, along with the room 9 audience in attendance, about off-the-wall character design, getting older in comics, and meeting a larger age ranges of fans.
Jeff praised about the Rasl sculpture that was at his booth. A group of art students 3D built it for him, they took the little hints in the darkness of the engines to build something that resembles a Tesla Coil and an alternating engine. Seeing the final piece astonished Smith because he himself never knew what the inside of the engines never looked like because they were always draped in shadows, only showing hints of what was inside.
Smith was asked if SDCC was a better place to present your projects than when he started? "it's a very different landscape then when I came into it. In 1991 there was only two kinds of comics; the mainstream Marvel and DC, then there were the alternative comics," Smith explained. He defended the extravaganza known as Comic-Con for its potential to attract new readers.
His latest work, TUKI, is out first digitally with a print version available shortly after. What's great about the print version is that it's still read horizontally true to its digital roots. Unlike other digital to print books that have to crop pages in awkward ways. Jeff took the simple notion of keeping things the way they were meant to read.
One question he hears a lot was asked during this panel. Other company owned characters he'd like to do?
DC Comics said he could come do the second half of Shazam and the Monster Society of Evil whenever he wants but has no plans to do so in the near future. Unless he gets, "really bored or really broke." The Rocket Raccoon 1 cover was also shown and he chalked that one up to it simply being, "up his alley."
A fan asked Jeff, "when did he decide to make Bone more epic?
According to the cartoonist, the moment happened organically when he decided to turn the jokes it was based on into story. Particularly the stories he liked such as the works of Tolkien. It was a time where he couldn't hide behind the Donald Duck style comics purely laced with jokes and running gags. In his words, "he had to come out."
The last question was about how Smith transitioned Bone from college comic strip to real comic book. He had opportunities to bring bone to publishers but it would have required him changing or eliminating things like the Rat Creatures and selling his copyright. Before that time he'd never been inside a comic book store and during his first time inside one, saw that there were people self-publishing their own comics. It gave him the epiphany to create his own company and all the stories he's done in his career.
With that the panel came to an end. You can listen to the full spotlight below (note: delay at beginning starts at 0:09) full of all Smith's quips and insights about the industry. You can find Rasl, Tuki, and all things Bone on his website Boneville.com
By:
Carrie Jones
, on 7/29/2014
Blog:
Carrie Jones
(
Login to Add to MyJacketFlap
)
JacketFlap tags:
Add a tag
So, I have a lot of author friends who are super cool and amazing writers. They are pretty much across the board awesome. I read their books. I read strangers' books. I pretty much love books.

But every once in awhile, I come across a book that makes me sick.

It doesn't make me sick because it's bad or naughty or full of death. Books that make me sick are the kind of books that are such freaking page turners that I do one of two things:

1. I skip to the ending. When I do this, I imagine my mom (who is dead) yelling at me and basically appearing in ghostly form to tell me that I am now going straight to hell because you should never-ever read a book's ending no matter how badly you want to know what happens.

2. I stay up all night reading, resisting the urge to read the ending, and avoiding my mother's ghost. (I only avoid her ghost when it is cranky).

Anyways, when I take option #2, the staying up all night option, I tend to get sick because I am a person who needs sleep to function. You know a book is pretty freaking spellbinding if I sacrifice my health for it.

Yet, I occasionally do.

And I totally did with Jen Maimone's first book in her Alpha Wolf Series, Demon's Prize.




THIS IS THE COVER! Sorry, that isn't the best image of the cover. But it looks amazing in real life. I don't have a kindle because I just, um, don't. But the in-your-hands-book looks super good. Also, it does not smell like a kindle. It smells like a book.


This is from the website:
The Alpha Wolf Series is a work of paranormal fiction that is centered around a group of paranormal beings who are either trying to find acceptance among their people, peace from their tormented thoughts, or trying to cope with the murders they had committed in the past. There is magick, history, horror, love and betrayal.
There are werewolves, witches, vampires and demons (oh my!), all of whom are connected to Doctor Brent Carson, a person who is more than he seems to be.
The series is expected to range between 5-7 books.

This book is sexy and funny and awesome. It worries you. It cracks you up. It is way too much fun in a scary/good way. Plus, it has cats in it. Cats are cool. So, if you want to read it there are a bunch of options listed below, but be warned. If you need sleep? You should NOT read this book. Unless you can skip to the end because your mom isn't as tough as mine and isn't a ghost.

Book Website: www.alphawolfseries.com
Etsy Merchandise page: https://www.etsy.com/shop/alphawolfseries
Amazon Kindle and Softcover: http://www.amazon.com/Alpha-Wolf-Series-Demons-Prize-ebook/dp/B00KVUK6I0
Goodreads: https://www.goodreads.com/book/show/22043864-alpha-wolf-series
By: Stefanie, on 7/29/2014
I read a review in the Los Angeles Review of Books the other day about a collection of essays called Xylotheque by Yelizaveta P. Renfro. I had no idea what xylotheque meant and I had never heard of the author before but before I even got to the part of the review that began to explain the title I had already decided I was going to buy the book. Why? I had no idea what the book was about, I still don't really because I never actually finished reading the review, but the reviewer hit so many key words and phrases that had my synapses buzzing I had to have the book.
What had me so worked up? Let's make a list!
lyrical essays
borderland between prose and poetry
sure-footed in their gamboling
revel in the gap between knowing and unknowing
provoking meditation
I was caught hook, line, and sinker. The book is now sitting next to me on my reading table and I still don't know what it is about. for the record though, xylotheque is a collection of wood.
Then I got to thinking about other words that pop up in reviews that make me pay attention and want to read a book. And that led to words that make me not want to read a book. The words on both lists aren't always the same (sometimes they might change lists depending on my mood) and they aren't even words I would necessarily use when describing a book, but they are words that trigger a reaction in me when someone else writes them.
For future reference, if you are writing about a book and want me to read it, these words will serve you well:
thought-provoking
provocative
meditative
lyrical
complex/difficult/challenging
quirky
unusual/different
darkly funny
mind-blowing
Also, if anyone ever calls a book a good mind-fuck I will squeal in delight. I love it when a book messes with my head and such a description is so rarely encountered even when expressed less crudely that I will pretty nearly come close to dropping everything to read that book. Unless it is horror. When messing with my head turns into nightmares, won't go there.
Words describing a book that usually turn me off wanting to read it:
cozy
simple
part of a series (I will sometimes make exceptions for this)
romantic
in the style of *famous author* (unless you say "this book could be the love child of Virginia Woolf and David Foster Wallace" or something equally as odd, then you'll have my interest)
if you liked X then you will like Y (though it is ok to say "this book reminded a little bit of X")
Hmm, I thought the turn off list would be longer. I will very likely think of more words for it after I click the "publish" button.
So what about you? What words trigger an "OMG I have to read this!" reaction in you and what words immediately convince you a particular book is not for you?
Filed under:
Books
,
Reading
By:
I hate when someone says I snore
And then I hate it even more
When it is said with mirth and glee
To poke a little fun at me.
We can't control our sleeping sounds
So ridicule is out of bounds
And that is why I should not tell
My husband that he snores as well!
By:
Jack O'Rourke
, on 7/29/2014
Blog:
gael writer
(
Login to Add to MyJacketFlap
)
JacketFlap tags:
Add a tag
Like a book, someone, somewhere, might be
interested in it if they knew it was available, and where?
There has been much discussion in this blog over the past seven or eight years about concepts and guidelines for writing fiction that were collected from academic studies, years of reading essays by published writers, reviews by literary critics, and interviews or biographies of favorite writers. As I read new fiction, the acquired palette and toolbox of writing often hovers in my thoughts as I pause to reflect on the twists and turns a story has taken, where it may be going, and how well the author has crafted his art thus far. Am I locked in yet to where I must find out how this tale ends? Or, am I now close to bailing out on the author? It's a terrible disappointment when I decide to abandon a book, and I usually feel a bit guilty.
Since I live in a remote, rural location, the books I select to read are often the result of reading book reviews in email feeds from online sources, or hearing brief radio reviews of books and their authors. There is only one bookstore within a 35 mile radius to peruse the shelves and make any selections.
Since independent bookstores are a dwindling species these days, even in cities, and considering that chances of my getting regional/national reviews are pretty limited, I thought I'd use this month's post to feature chapter one of my recent YA novel, "Leaving Major Tela," and invite comments from any of my readers who might care to comment. I think the first chapter sets up the story well enough that the usual bookflap description meant to attract the casual shopper isn't really needed. A link to the description, the chance to read additional chapters, and opportunity to purchase is given in the blog sidebar on the top right side. I hope you might find the story interesting and would appreciate any comments. See the comments link at the bottom of the blog.
They stood at the edge of a wide lawn of brilliant green fescue flanked on three sides by walls of kudzu-draped sycamores. A diminutive, dark-haired woman wearing battle fatigues and a major's insignia spoke to a girl standing at least a head taller than she. "You have often asked to spend a year with your father and I've always turned down that request. Now I have little choice."
"I didn't ask for it to be like this," Caitlin said.
"Yes," Tela replied, momentarily breaking eye contact and glancing away. "But I never thought it would be my karma to return to the land of my birth in a foreign army. "
"So, that's not any sort of betrayal; you grew up in this country."
"And loyal to it, always, though I think I might still be viewed by many here as an alien."
"I think I am, too. Especially after you exiled me back there for a year."
A flicker of emotion tugged at the corner of Tela's mouth. Her composure was less certain when she resumed speaking, "So, we return to that catastrophe before we part. I can only repeat, much was expected of a first child, but to have my own daughter become so combative and disobedient after I had to send your father away—I was astonished. Then, when you dishonored yourself, there was no other way. You knew that."
"Did I?" Caitlin was agitated and swept the air with her hand. "You were supposed to be the strong, unshakable one. My father had his faults, the drinking maybe, but you could have turned that around. You just couldn't tolerate any stupid weakness in him or in me. Maybe we weren't the only failures around here."
Tela's hand shot from her side in a blur. Caitlin staggered back with the force of the slap. It took minutes of shallow breathing and a silent brimming over of tears before she could regain composure.
"I've had to take total responsibility for this family almost from the beginning," Tela said. "That, and being your mother, allows me--binds me--to deal with failures, lapses in honorable character, and in judgment. Whether your father's, yours, Kevin's, Samantha's, or my own. My seventeen-year-old daughter does not now have, nor ever shall have, a station in life to presume censuring her mother as a failure. Do you understand?"
It was hard to get anything out or to yield. But what could she do? Paused in autopilot now, she read the tensions and stresses in her mother's features and posture. A thousand karate lessons with her had alerted Caitlin to her mother's qi when it was ready to explode and from where the attack might spring. Now she spotted the slight tremor of Tela's hand that she'd missed before but she had already made her decision.
"Understood, yes, got it," she said, hurriedly.
Tela gave herself a few seconds to calm down. Such an openly hostile confrontation with Caitlin was rare. Her daughter's body language had even shown a contained attack reflex. She was always so obvious to read. Perhaps she'd never become a top martial arts competitor.
"If we can now lay your rebelliousness to rest, we might get on with the matter at hand," Tela said. "You know the drill best and what I expect." Her eyes locked with Caitlin's. "You will be in charge and accountable for yourself and your siblings while I'm away."
Caitlin caught her breath. "Everyone? Kevin, too? I'm only a year older than him. I shouldn't have to be held accountable for him," she said. Her voice trembled, "I was even a year younger than he is now when you made me responsible for my own mistake." Her face reddened. Why did she have to keep bringing it up? It had to be some sort of demented parting shot at her mother for that open wound.
Tela's brows arched. "I thought we'd finished with that? It's been more than a year since you've come home and you never once asked to discuss your so-called exile in all that time. Now you wish to assert I acted too harshly?"
"Being shipped off to live with strange relatives on the other side of the world, not knowing when or if I'd be allowed to come home again? Yes, I thought it a bit harsh."
Tela drew out the silence before replying. "The vulnerability of a girl is much greater than a boy in such matters," she said, "and the best remedies for her mistakes come down on the side of being harsh. Nonetheless, whatever the response I chose, I'm disappointed you nurtured it as a wound over all this time. It demonstrates a certain weakness."
Caitlin's shoulders sagged. Fine, all right, the past was done and over and tomorrow would begin a whole new world.
"Go back to the house and get Kevin and Samantha out here, so we can finish our discussions before joining your father for dinner."
The three siblings lined up facing Tela. Caitlin, the lightest in complexion, slight, with choppy hair of madrone red; Kevin, 16, an inch or two taller than Caitlin, thin, with long, black hair; and Samantha, 13, the closest to Tela's dusky complexion, and with long, burnished brown hair.
Tela stepped forward and pushed at Kevin's slouch till he straightened.
"I'll make this as short as possible," Tela said, standing back from them. "While I am away, you will accept Caitlin's directions in all important matters. You may assume she will consult with me when necessary."
"Oh no, why must I clear anything with her?" Kevin said. "You're sending us to live with father and he can tell us what we should or shouldn't do—can't you just talk things over with him when that's needed?"
Tela stiffened. "Did I ask for advice on setting protocol for our situation?" She waited. Kevin held back and his jaw muscles twitched. Tela shook her head and moved a few steps to the side to stand before her youngest daughter, Samantha—Sam—a taller edition of her mother, a single, thick braided pigtail reaching to her waist, shoulders back and standing to attention, whatever it took.
Tela bent close to examine a small, enameled pin on the girl's blazer.
Sam seemed pleased: "Track, 440m relay in last month's academy meeting," she said.
"So, I don't recall you telling me about this—but it appears to be for second place?"
Sam hesitated and when she spoke a little of her enthusiasm had wilted. "Our team took second but I ran anchor and I was fast enough to make up more than half the winner's lead. Just a little longer and I'd have nailed her for sure and we might have won."
Tela stiffened. "A relay," she said. "Second. And you were proud of doing your personal best but your efforts went for naught?"
"Well, second, but what could I do about that?"
"That? Nothing, of course, but learn from it. Be aware of your team's abilities and shortcomings for future contests. Encourage better training and improvement, and if it doesn't happen, move on. Don't tolerate mediocrity, strive to win, and don't be satisfied with less."
Tela stood to the center again and surveyed her glum rank of warriors. "I have a deep sense of foreboding for what the future may bring for us," she said. "I am going to try to stay on top of things and see that you fulfill your karma with the warrior ethic of your forebears. Nothing less will do. We can go back to the house now and join your father for dinner and a farewell."
A wizened old man in a white turban and uniform jacket entered the room pushing a cart. Tela signaled everyone to sit. The children waited until their parents took chairs at each end of the table. The old man set out wheat chapattis, rice, curry, and pakoras, and filled the cups with a milky, sweet tea.
Cyrus—Cy—was a lean, tall man with a long, ruddy face and a shaggy mop of wiry, reddish hair, rather like bronze wool. "I suspect our school won't measure up to the level of your academy," he said, ignoring the bowls of food being passed about.
Tela shrugged, "They can seek advanced placement classes and do some additional studies after school. The academy provided them a schedule of targeted learning."
"Caitlin is already in her senior year," Cy said, elbows propped on the table as he tore at a chapatti. "Complicates her situation. She should be applying for college scholarships, right?"
"Hardly. She's already been granted a full scholarship in the cadet program at the Military Institute," Tela said.
Cy's murmur was almost inaudible, "Oh, our dear Alma Mater." He ladled curry onto his plate and used a piece of chapatti to mop it up. "Well, you loved it and the school did have its charms. I suppose it was the active duty part afterward that failed to impress me," he said.
"Apparently the marriage part did, too," Tela said, wrapping her fingers around the smooth-sided tea cup."
"Well, I did struggle to make the military our shared career afterward, whatever you thought, but that life just wasn't for me. And it might not be for…" he stopped. Maybe he'd gone too far.
Tela pushed her cup away and clasped her hands on the tabletop. "Exactly what was the life for you, Cy? I never could quite make that out. Military life too severe? Social outlets a bit limited? Money not enough?"
The children stopped eating and stared at their plates. A painful, distant battle had resurfaced.
"Check all the above, I guess, for a kid raised on a hardscrabble tobacco farm," Cy said. "Granted, you had a rough hoe of it as a kid, too, but maybe you figured you owed the Institute more than the minimum active duty commitment afterward."
"They offered a noble career for a lifetime—for both of us. You degraded your promise with drinking," Tela said.
Cy leaned back in the chair, arms folded on his chest. Uncompromising slip of a woman, probably plowed a mountainside with a sharpened stick when she was a girl, somehow got the idea she was an heir to a warrior ethic. She was partly right about his burnout, though; too much drinking had undone him.
Caitlin put down her fork, moved a water glass, adjusted her plate, and addressed her father. "Well, our career counselor has been talking to me about applying to a couple of other universities, too." She shot a wary look at Tela. "In literature, yes, literature and poetry, a major, and she particularly mentioned Eastern literature. Thought I might do well in that field."
All attention was on her. Kevin huffed and rolled his eyes. Tela sat rigidly, hands opened and pressed flat to the table. Cy smiled, "Why not Celtic literature?"
Caitlin's face reddened. "Well, we had discussed stories I'd written in my creative writing class, about the Kalash culture and fighting off foreign invaders—the Scythians, Alexander the Great, the Mughal armies. All the epics mother had told us about. But you never spoke much about Celtic history. Well, there were the laments of lost battles against the English that you sang." Her face flushed. He'd been plastered on all those nights.
Tela pushed back her chair and stood, tossed her napkin onto the table, and said, "Caitlin will enter the cadet officer program at the Institute when she graduates. If she wishes to pursue minors in literature and history, whether they be Kalash, Celtic, Jewish, or any other, I think the Institute will accommodate her." She turned and left the room.
They started out early in the morning, Cy driving, Kevin seated beside him, Caitlin and Sam in the rear. Halfway across North Carolina a late summer squall lashed the car with rain. Kevin and Sam passed a travelers' chess game between the front and rear, with the miniature pieces pressed into peg holes on the board. Sam stared at the board in her lap, flummoxed at the desperate situation she was in. Seeing Kevin absorbed in looking out the rain-streaked window in front, she nudged Caitlin and pointed to the game board. Caitlin studied it, nodded, pointed out a preferred move, and with a finger traced a strategy for the following moves.
"Why would you want to help her cheat like that?" Kevin said. He'd turned around and was watching.
"It's not cheating," Caitlin said. "It's just—tutoring. Is there some rule against that?"
"You know what the major would say, right? It was cheating."
"Well, Sam is young enough to be allowed some leeway."
"But that isn't how we were taught. You've reminded me how you weren't much older when you broke the major's rules about cheating. A bit more serious than our little chess game but your penalty definitely shocked me. I knew she had higher standards for you but I sure tried to be a little more careful about my own failings after that. Even if I wasn't always so successful."
Caitlin's eyes got filmy and she leaned back on the seat, head turned away, hands crossed in her lap. She said, "we never really talked much about that time, you and I, Kevin, about the real reason I got sent away. I was so embarrassed and I couldn't discuss it with you. It was so much less painful to let you believe it was just something like, Caitlin has become defiant so we're just going to ship her off to improve her karma with family and ancestors for a while."
"I knew what it was all about," Kevin said. "We went to the same school, remember?"
"Why didn't anyone ever tell me what happened?" Sam said.
"What did you know, Kevin?" Caitlin said.
"That you were involved, really involved, with that senior, Joel Kensie, and the major wanted it checked, and quick."
"Did you also know I'd gotten pregnant?"
Sam dropped the chessboard case to the floor, spilling the loose pieces. Kevin groaned and turned away without answering. Rain sluiced across the windshield and the wipers slapped back and forth.
Cy heard and watched his daughter's face in the rear-view mirror. "We never talked much about that time," he said. "You, your mother, and I. I didn't know how to deal with it. Maybe we need to talk more now, just you and I?" he said.
"No, father, you and I can't ever talk about that," Caitlin said. "It's past."
By: Shannon Hale, on 7/29/2014
Blog:
squeetus blog
(
Login to Add to MyJacketFlap
)
JacketFlap tags:
Squeetus summer book club
,
The Books of Bayern
,
Add a tag
"So she laughed." I remember a moment in Hero & the Crown where Aerin is so distracted by a rash on her neck from plant sap that her wizard uncle can't quite make her afraid or enchanted with his words. That real detail stuck with me. A physical thing. A mundane thing in the midst of magic and drama. Those are good story choices. I can't remember now if I was thinking of that when I wrote this scene, but perhaps. Here what keeps Enna grounded is a laugh. A realization of the absurd. That works for me in real life too.
"Enna-girl": This is the nickname Razo calls her. In this scene, I think it's interesting that she gets strength by thinking of herself the way that Razo sees her, not the way Sileph sees her. Or even Isi or Finn. The laugh. The ridiculous. The absurd. And...I think I just broke a rule about not trying to interpret my own story for you. Hopefully you'll forgive me this once. As much as I don't want to place myself as the Voice of Authority, it might be interesting to know that writers like me think very, very carefully about word choices, connotations, layers. That stuff English teachers make us analyze.
Sileph: I wouldn't mind if some readers fell in love with him a little bit. Some don't like him from the beginning (my husband always thought he was a douchebag) but some, like Enna did, might fall for him. I don't think Sileph is pure evil. I do think he loved Enna in his way. I think it's tough to have people-speaking. I can understand and feel for him, but I also wouldn't want him anywhere near me or my daughters. I hope some readers did fall for him and when they got to this point, were able to take a step back with Enna, and say, that was an abusive relationship. That is not the kind of person I want in my life.
"Then there was wind." Gives me chills. I know I wrote it, but if my own writing doesn't affect me emotionally then it fails. I work at it till it does.
The other day we were outside. The weather was uncanny, dark and crackling. The wind was blowing. My hair beat around my head and rose up. I turned to my husband and said, "This is what I am, Sileph! This is what I am!" (teehee) But I honestly love dramatic moments. If I could paint, this is the scene I would paint, Enna in this moment.
Finn!: as I recall, this wasn't in the original draft. I believe it was my husband's suggestion. He thought Sileph was a douchebag. And he always identified with Finn. I think he wanted to vicariously punch Sileph in the face.
Rebecca says, "I feel like this chapter specifically juxtaposes Isi's trip from Kildenree to Bayern. The betrayal she experienced on the first trip versus the bonding and growth of their friendship in the second." Yeah that's a nice thought. I wrote Forest Born in contrast with The Goose Girl too. I hope any of my books can be read alone, but I think FB means so much more if paired with GG.
Nicole asks, "I read that you weren't going to write another book of Bayern, but if or hopefully when you do, do you think you would write it about a character we already know or introduce someone new, like Rin?" I currently have no plans to write another book of Bayern. If I came back to this land one day, perhaps it would be in the future and tell the story of Tusken when he's grown.
Anna asks, "I've always wondered how you pronounced Anidori." However you like! Most say "Ah-ni-dorry" or "Annie-dorry"
By: wako_bill@hotmail.com, on 7/29/2014
Blog:
Perpetually Adolescent
(
Login to Add to MyJacketFlap
)
JacketFlap tags:
Book Reviews - Non-Fiction
,
Fiona Crawford
,
Destroy the Joint
,
Jane Caro
,
literacy
,
Add a tag
I was fortunate enough to attend a literacy forum yesterday at which Jane Caro was the keynote speaker. I've long admired her from afar (mostly through my TV as she appeared on The Gruen Transfer and through the recently released Destroy the Joint: Why Women have to Change the World book she steered to great success).
Caro is, as I was discussing with my colleague at morning tea, the kind of woman I'd love to grow up to be. That is, incisively intelligent, pragmatic, and cutting a firm but fair line between warm and fuzzy and necessarily angry (an extreme too many of us are at either end of, rather than combining the two for best effect). Oh, and she's funny. Just when we were deep into theory, Caro lightened the mood and drove her point home with some brilliantly timed humour.
But I'm getting ahead of myself. Caro was there to discuss literacy and, in a wide-ranging speech, managed to blow our metaphorical socks off. I'm still grappling with getting my ahead around much of it, but here were my favourite parts and takeaways:
'a life live literately leads to a well-stocked mind' (this may be Caro's quote or someone else's, but either way I like it)
equity and wellbeing are key to ensuring literacy. Put another way, before children can perform well in school, they need to feel a sense of wellbeing
our current system sees children as 'vases you stuff with information'; the one who regurgitates it best wins. Caro advocates subversion rather than compliance will see people succeed in the long run
a 'user pays' society is more aptly expressed as 'youse pays'
literacy acts as the 'keys to the kingdom' in an increasingly information-led society
Australia is the third-lowest funder of public schools (only Chile and Belgium are behind—and Chile's working to change that now)
we've created a 'publicly funded arms race' whereby private schools must do ever-increasing peacocking to attract desirable parents and students. It doesn't equate to better education
it's important to know the business you're in. Her message to the largely librarian audience was that they weren't in the business of loaning books, but one of providing ideas, imagination, information, learning, and inspiration. She also showed us this brilliant, brilliant add by The Guardian, a newspaper that understands it's not in the business of selling newspapers, but instead providing the whole story, information, analysis, and more.
That list doesn't do her eloquence and inspiration justice, and I'd recommend seeking her out to hear her speak on this topic and, frankly, any other. I'm not sure how soon that will come about again for me, but I am inspired to pick up a bunch of her books and devour them, stat.
That includes the aforementioned Destroy the Joint: Why Women have to Change the World and fresh-off-the-printing-press The Stupid Country: How Australia is Dismantling Public Education. Two light reads they won't be, but invaluable ones that strike the right balance between outraged and incisively witty they will be, I'm sure.
By:
I take all the credit for my husband realizing his dream. No, but really, I met this lovely girl named Kate through prison book club. She was not an inmate but a volunteer. I met her for coffee to prep for her first steps into Perryville Prison, and she mentioned she worked at an organic farm.
My husband, Jake, was totally into farming at the time. Well, I mean, he liked growing things in our backyard. I even bought him a couple classes at Desert Botanical Gardens just so he could see, for sure, what he thought of this whole planting things in the ground thing.
I asked Kate if I could bring Jake by to see Blue Sky Organic Farms, just for a visit. Jake started volunteering out there: Jake, the nuclear engineer who worked at a huge facility called Palo Verde Nuclear Generating Station. The reason I have power to use my computer? Yeah, Palo Verde.
Jake was Navy for nine years. Then, he came to Charleston, South Carolina, met me, and um, married me. (Grin.) We moved together to Phoenix, because he got the job offer at Palo Verde, and he seemed fine, for awhile, until he found Blue Sky.
Blue Sky Organic Farms is a family-owned small business in the West Valley of Phoenix, right at the base of the beautiful White Tank Mountains. Jake loved volunteering out there. He loved his coworkers: David, Sara, RJ, and of course, Kate—the one who opened the door in the first place.
It took several months for total discontent to set in. My husband, who had done the same thing since the age of eighteen, suddenly didn't want to be in the nuclear business anymore. He wanted to be a farmer.
We started small: five chickens in our backyard. Veggie garden. Then, he took the leap and, while still working at Palo Verde, raised and slaughtered over a hundred pasture-raised, organic chickens. (You may recall this, via The Chicken Incident.)
The talks began soon after, the questions for me: What if I quit my job and become a farmer? What if we sell our huge, unnecessary house? Do you think your parents are going to freak out? Yadda yadda yadda … until it became real.
Sunday night was Jacob Bauer's last night at Palo Verde Nuclear Generating Station. Our house is under contract, and we're looking at rentals near Blue Sky. His first official day as "Farmer Jake" was Monday, and I'm thrilled that my husband has finally found his dream. He not only found it, but he is going after it.
People ask me if I'm nervous: less money, less stability, my loving husband possibly infringing on my OCD writer routine. Yes, I'm nervous. I'm a depressive introvert with an anxiety disorder who needs structure. (Wow, embarrassing when I write it out like that.)
There are times when everything is fine, when I have complete faith that God is running things and I have nothing to worry about. There are nights, though, when I can't sleep. There are days when I feel like I can't breathe.
Then, I remember: I've had the pleasure of spending most of my adult life living my dream, being a writer. Jake has been trapped in a job out of habit. How amazing that he has finally, at thirty-three, found exactly what he wants to be. He deserves this, and this brings comfort, because when I see Jake smile, I smile, too.
Will there be the occasional panic attack from his dear wifey? Yes. This is huge. This is terrifying. Still, Jake has felt all along that God was leading him. God is leading him; it's what God does. Jake and I just have to have faith and love each other.
Whatever happens—however many meltdowns I may have—I am now a farmer's wife, and I have never been more proud of the man I married.
By:
Heidi MacDonald
, on 7/29/2014
Blog:
PW -The Beat
(
Login to Add to MyJacketFlap
)
JacketFlap tags:
Breaking News
,
Comics
,
Image
,
SDCC '14
,
Image Comics
,
Add a tag
by Zachary Clemente
Sometimes, it's the smaller details that stand out most. Sure, Image Comics is pushing for changes in the comics industry and has really been an a great example of how different publication platforms bolster the climate for making comics. Sure, they're making new programs for retailers to make it easier to manage Image's extensive line of new comics when shelf-space is at a premium. But the fact that they put together an all-artist panel composed of a 4:3 women-to-men participants speaks volumes.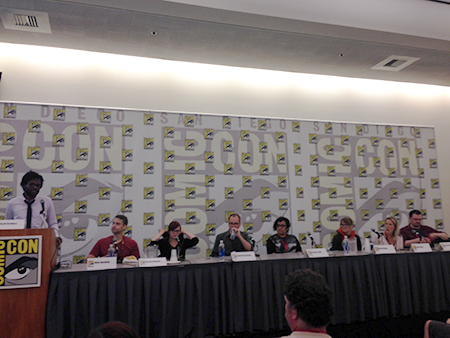 The features artists were Chris Burhman (Nameless), Becky Cloonan (Southern Cross), Gabriel Hardman (Invisible Republic), Sloane Leong (From Under Mountains), Amy Reeder (Rocket Girl), Tula Lotay (Supreme: Blue Rose), and Declan Shalvey (Injection).
Image Comics' David Brothers started off with some questions about process and approach.. Burnham, working on Nameless with previous collaborator Grant Morrison found himself being stretched as he develops a working method of "strange geometry" and "super tangents" where he makes bizarre choices in representing perspective on a page. Hardman, asked about his process of storytelling, enjoys utilizing the available poetry to the limited amount of panels he's able to use.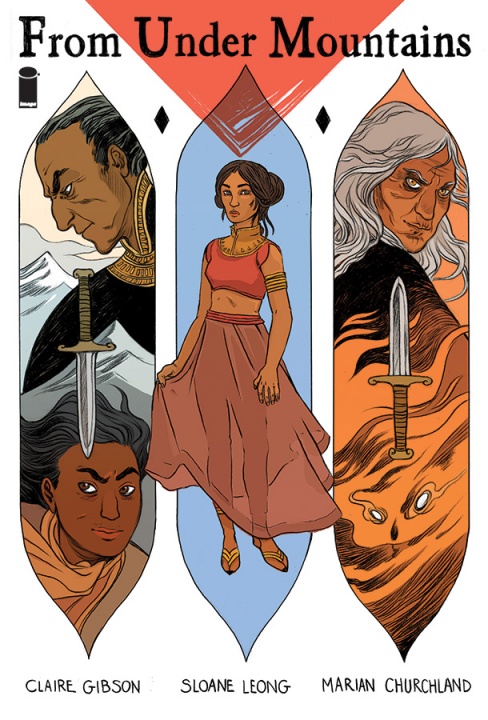 Leong, collaborating with artist Marian Churchland (co-writing From Under Mountains with Claire Gibson) discussed the division of labor on the book. All of the internal art is her, while she and Churchland will work together on the covers. She then went on to touch on coloring in comics, a role she is often in.
Color depends on the art, too many comics have color because someone says "we need a color product." – Sloane Leong
Reeder, when asked about her approach to coloring her own art on Rocket Girl, finds that her palette is very wide a single page can contain a wide variety. She draws from different influences when coloring the two time periods that are portrayed in the book, which create very different palettes.
Cloonan, who has previously self-publishers comics with her own writing and art, drawn for scripts will now be writing for Andy Belanger on their newly-announced Southern Cross. She went into the differences of roles, but ultimately iterated that it comes down to the sorts of challenges her working style will have to adapt to not being in charge of the visual narrative of the book. She will be doing all the covers however (which I am thrilled for) so it's clear she and Belanger have a collaborative working relationship.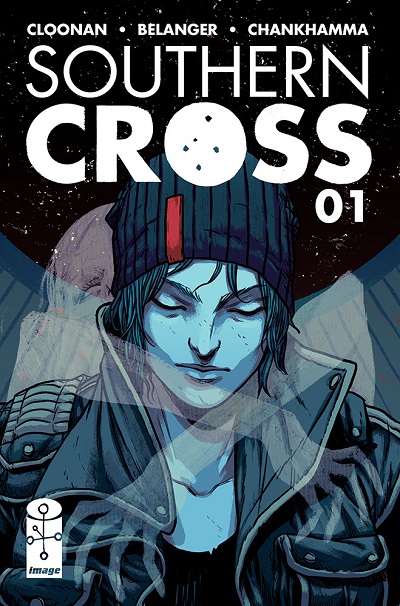 Burnham and Hardman, two of the most technically-minded artist I've heard talk, discussed the different approaches to leading the readers' eyes along the narrative of the page in an intuitive way – even though they approach with vastly different techniques. Burnham bounces the eye with dynamic movement, often breaking borders and panels out into a more fluid visual, mimicking the cadence of the story, while Hardman typically uses a static page layout, moving the eye panel to panel instead of using crazy compositions.
The panel was then opened up to the Q&A from the audience. A couple of younger fans asked about how the Image platform functions and what sort of work best fits with the publisher and it seemed that all the panelists were excited to discuss the ins and outs of the company's breadth of published work and how the submission and ownership process works. Brothers, moderating, summed it up best.
We work for the creators [...] we want to do what you want to do. – David Brothers
One of the most interesting questions for the panelists was one about using photo-reference. All of the panelists had different approaches to it, some seeing it as a stage in their process, others seeing it as a sometimes-useful tool; a couple reluctantly seeing as almost "cheating." Many credited photo reference as extremely useful for figuring out how cloth would drape and hand motion is captured – finding that portraying credible subtle movement as something worth succeeded at even through photo reference. As the topic was bounced about, critiquing the use, Shalvey had a good take on the process.
There's a difference between reference informing the drawing and reference dictating the drawing. – Declan Shalvey
In the end, the panelists essentially agreed that reference can be a supremely useful tool, but when too heavily depended on, you just end up drawing a photo, not a panel. Additionally, the point that the drawn characters need to be viewed as "actors" and basing them directly off of photo-realistic reference undercuts the credibility of the visual acting and artistic ability.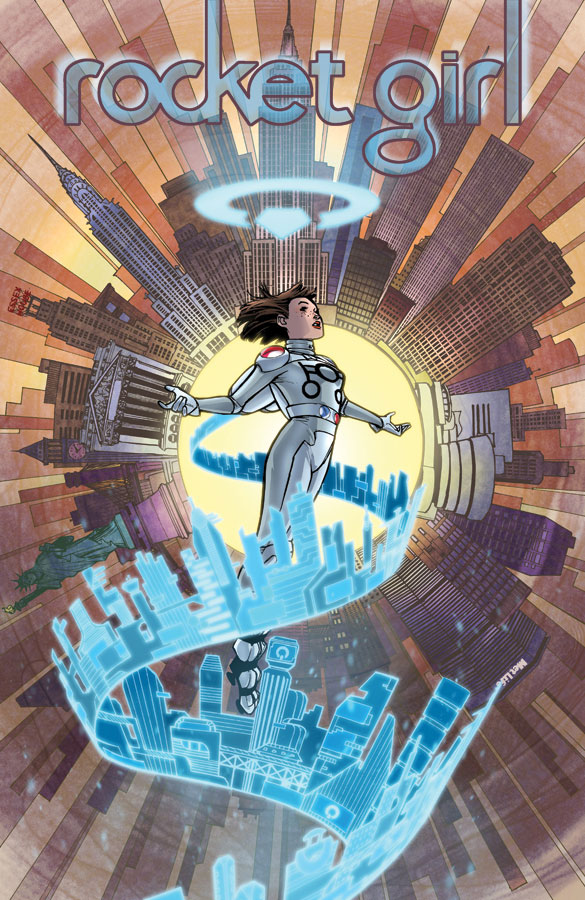 Lastly, an interesting question was their feeling on how people read their comics digitally, since many readers, such as ComiXology allow panel-by-panel reading. The resounded response was no – they don't care at all. Most suggested that people are going to read they want to read and they just have to make the work speak best to all readers, digital or print.
Thanks for joining us for our Image Comics coverage! We'll hopefully be right back at it in October for New York Comic-Con in October.
<3 – The Beat Staff.
By:
Beth Kephart
, on 7/29/2014
Blog:
Beth Kephart Books
(
Login to Add to MyJacketFlap
)
JacketFlap tags:
Astonish Me
,
Maggie Shipstead
,
Add a tag
I ache this summer for stories that move me. I have a nearly insatiable need.
Prove yourself to me,
I dare each book that I encounter.
Prove to me that fiction, literature, this whole business matter
.
Maybe it's the news. Maybe it's my age. I am looking for something particular in books. Urgency, not casual entertainment.
I went in and out with
Astonish Me,
Maggie Shipstead's second novel about dancers, love, entanglements, second generations. In because Shipstead's command of the ballet seems pressing and real. Out because the story itself seemed perhaps too small, too familiar, too readily anticipated. In because Shipstead can write so beautifully. Out because of my own selfish need, just now, for more. In and out, for the writer in me knows how terribly difficult it is to craft a book, to finish one.
I choose, on this blog, to celebrate the good. To whisper back, over these silent airwaves, the sentences or emotions that appealed to me. Here, then, is Shipstead writing of a young woman, Joan, who is an incomplete ballerina—good enough, but not great. It is early in her life. She has discovered, on a stage, a young man who dances like she never will. She leans across the aerie and thinks:
The choreography is old-fashioned, but as Rusakov circles the stage doing high, perfect coupes jetes en tournant, his technique is not fusty but pure. His movements are quick but unhurried, impossible in their clarity and difficulty and extraordinary in how they seem to burst from nowhere, without any apparent effort or preparation. But the beauty of Arslan's dancing is not what moves Joan to cry in her red velvet aerie: it is a dream of perfection blowing through the theater. She has been dancing since before her fifth birthday, and she realizes that the beauty radiating from him is what she has been chasing all along, what she has been trying to wring out of her own inadequate body. Forgetting herself, she leans out over the railing, wanting to get closer. Etonnez-moi, Diaghilev had said to his dancers in the Ballets Russes. Astonish me.
I feel that chase. I understand it.
By: Martina Boone, on 7/29/2014
Blog:
Adventures in Children's Publishing
(
Login to Add to MyJacketFlap
)
JacketFlap tags:
Craft of Writing
,
Martina Boone
,
YA Fiction Giveaways
,
Add a tag
Today, I'd like to make an introduction. Friends, meet the brand-new COMPULSION microsite. Do you love it like I do? Like the cover, it's atmospheric, magical, and a bit surreal, not your usual Southern Gothic, but still subtly so.

COMPULSION, on the other hand, is not subtly Southern Gothic. I
went
there. I embraced my favorite over-the-top Southern Gothic elements and then I twisted them.
So what makes a Southern Gothic?
Well, the famed Southern author Pat Conroy, who I'm suddenly reminded once offered to read back when it never occurred to me that I would ever write a Southern book, provided my favorite definition of the genre.
"My mother, Southern to the bone," he said in a speech to the American Booksellers Association, "once told me, "All Southern literature can be summed up in these words: On the night the hogs ate Willie, Mama died when she heard what Daddy did to Sister."
Got all that? :) That definition gives you almost all the elements: setting, eccentric characters, grotesquerie, and a voice that seeks a bit of light amid the darkness.
Let's break it down a little more. The elements of a Southern Gothic include:
A Southern setting that becomes a character in the book.
That takes more than looming cypress trees hung with Spanish moss, decaying mansions, and seemingly friendly neighbors who aren't what they seem. A great setting in any book has to show us somewhere new and unique, or something familiar from a fresh perspective. That place must contain specific values and characteristics that impact the people who live there and change them for better or for worse. Most importantly, the setting in a Southern Gothic creates the plot by forcing change upon the characters.
Deeply flawed, damaged, bigger-than-life characters with a heaping dose of crazy.
The purpose of these characters isn't simply to create sympathy for the innocent heroine who has to live with their misdeeds. Nor is it just because nearly every Southern family has a crazy uncle Bobby Joe in the woodpile or the county jail. These characters are broken, and for the most part, they're finding their way through their lives and navigating among the people around them as best they can. Their flaws and poor choices serve to highlight questions of morality, gender roles, inequality, corruption, violence, racism, poverty versus wealth, and other weaknesses in society.
An innocent plunged into the mix
. Because the genre derives from the pure gothic genre, there is usually an innocent: a young woman, young man, child, or outsider who serves to examine, heal, and redeem.
Powerful family histories, traditions, myths, folklore, and magic that serve up unique, supernatural, or ironic events.
These derive from the setting and the deeply torn history of the South itself, the push and pull of pride and shame, of love for the past and the need to escape it. This in turn created the characters, which in turn feeds the process of change.
Narrative choices that add humor, lightness, or irony to play against the darkness.
I went with swoony romance and a dramatic style, and I love the freedom within this genre that lets me play with extremes. But the range of options writers choose for this element of the Southern Gothic is among the widest. You get gorgeous writing, or very sparse prose. There's the tongue-in-cheek narrator, or one with a subtle hint of humor. There's the gamut from Poe, to Faulkner, to Conroy, to Eudora Welty.
I love that a wealth of Southern Gothic tradition is developing in young adult literature. And just as young adult authors have stretched the boundaries with every other genre, there are many different flavors of Southern Gothic evolving.
In
COMPULSION
, I lean toward a star-crossed romance with a mix of magical realism and outright fantasy. Maggie Stiefvater expertly blended Southern Gothic elements with Welsh mythology and romanticism to create a complex examination of friendship, wealth, and poverty. Kami Garcia and Margaret Stohl build an elaborate paranormal world and a memorable romance in their
BEAUTIFUL CREATURES
series. Melissa Marr created a heart-pounding Southern Gothic thriller in her upcoming MADE FOR YOU, and Delilah S. Dawson and Natalie S. Parker are leaning toward chilling horror in SERVANTS OF THE STORM and BEWARE THE WILD.
It's a fabulous fall y'all. Are you looking forward to heading down South?
PREVIOUS GIVEAWAY WINNER
Congrats to Debra Chavana for winning HEXED by Michelle Krys
CURRENT GIVEAWAYS
I promised I'd brought some great things back from ALA, right? Well here's the first of many giveaways featuring my finds. Click the links to get instructions for how to enter (it's SUPER easy this time around!), and if you'd like, leave a comment below and share what you like!
By: Jerry Beck, on 7/29/2014
Blog:
Cartoon Brew
(
Login to Add to MyJacketFlap
)
JacketFlap tags:
Internet Television
,
Interviews
,
Amazon
,
Amazon Prime Instant Video
,
Annebots
,
Annedroids
,
Dino Dan
,
J.J. Johnson
,
Add a tag
"Annedroids" creator J.J. Johnson talks to Cartoon Brew about science-based kids programming, the challenges of making live-action/animation hybrids, and why not understanding the animation process can work to a producer's benefit.
By:
KidLitReviews:
Originally posted on heylookawriterfellow:
Last week, the lovely and talented Kid Lit Reviews won my second Win a Doodle Contest. So she gets a doodle on the subject of her choice.
Kid Lit, who, it turns out, is a devoted animal rights activist, gave me her request:
How about a Great Dane standing guard over a few dogs that are behind him? The Dane is the rescuer and has rescued these other dogs from the mean streets and bad homes and now refuses to let anyone else harm them.
Okee doke, Kid Lit; your wish is my command.
Filed under:
Children's Books
By:
Heidi MacDonald
, on 7/29/2014
Blog:
PW -The Beat
(
Login to Add to MyJacketFlap
)
JacketFlap tags:
Conventions
,
SDCC '14
,
Top Comics
,
Top News
,
channel conflict
,
Add a tag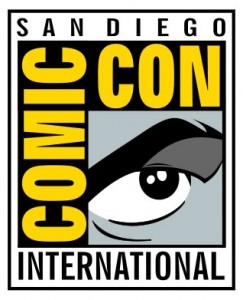 It seems like every time SDCC rolls around, there's a referendum on the state of comic conventions in the mainstream media and in the comics media.  Sure enough, Comic Con '14 rolls around and the same old song repeats.  Let's break the state of things down into the two components that get most of the dander up.
#1: A consumer convention is different from a trade show.
This year it was the New York Times that issued an article that didn't really have a clue that there are two different type of conventions.  It's always somebody.  I don't think enough of it to link to it, but I'll link to one of the responses here at The Beat.  Before I go over the differences between the two, let me drop some credentialing on you.  I've produced interactive exhibits for trade show booths.  In the medical industry.  Where they think nothing of spending $250K-$500K on trade show booth materials and staffing.  Oh, they'll use the booth and elements of the booth at multiple shows, but that's there to illustrate the vast difference  in budgets involved (although the TV and movie folks spend a bit more on their marketing than the publishers).
Convention centers usually have a little bit of government oversight.  Not always, but usually.  They'll be partially funded with an eye on "economic impact."  How is this measured?  Hotels around the convention center, bars and restaurants around the convention center.  Taxis.  Car rentals.  Bonus points for things that can have a tourist tax on them.  As I understand it, part of the problem with WonderCon and San Francisco is that the "economic impact" doesn't hold a candle to a medical show or a tech show.  Hold that thought, we'll come back to it.
With a trade show, most people are staying in the hotels near the convention center or in a designated corridor of business class hotels.  There will be all kinds of after hours activities.  Multiple restaurants/bars/clubs rented out for the evening with open bar.  20-50 person steak dinners for extended sales pitches.  Most of those people not getting their meal bought for them will have a decent expense account and go to the GOOD (read: expensive) restaurants either around the convention center or in that business class hotel district.
SDCC is unusual in that it does have tradeshow levels of private events.  I'm not sure if the head count invited to those private events is the same (and the venue gets paid by head count), but they have them.  It completely misses out on the expensive meals, though.  That said, I've often wondered if the inflated hotel prices have really been taken into account in the SDCC economic impact studies.
Now, if we step away from SDCC and just talk about conventions in general.  A regional convention, where the bulk of attendees aren't staying overnight, loses out on all of the above.  Maybe a slight a hotel room bump and some casual dining dollars.  A national show – one where you have a lot of attendees flying in – is going to get a hotel bump (but possibly more action for the tourist hotels, which may not be valued as much) and a casual dining bump, but not the big dining dollars.
The per attendee dollars spend in the community can't touch a trade show.  Period.   If the show is big enough, it can even out, but consumer shows are more of a "fill in the open dates"  scheduling item in the greater scheme of things.
Don't kid yourself, though.  SDCC is big enough, Anaheim and Las Vegas were drooling over getting that kind of attendence in town.  Nothing wrong with full planes, hotels and taxis.
Wonder Con, though, that's another story.  No steak dinners.  Barcon might not be at a hotel bar.  You'll have more people staying in different neighborhoods.  Lots of locals.  It's just not going to track.  Should there be a Wonder Con in SF?  Absolutely.  Do they have a fight with Moscone over economic impact?  Yeah, that's probably legit from an oversight perspective.  It would be nice if the tech industry leaned on some politicians for that.  Locals can be served too, not just out of towners.
#2 The new <insert here> is ruining conventions
Comic conventions, by and large, are pop culture conventions.  There, I said it.  There have always been celebrity autographs at all the shows I've ever been at.  I remember the Chicago Comicon, under the original management, would have huge crowds for the Babylon 5 and Kevin Smith panels.  I was even part of that with a "Mystery Babylon Theater 5000″ panel (before the pirated the idea at SDCC, thank you very much).  This is not a new thing, so much as it's been more fully integrated.  It's also part of conventions opening up to a wider audience.  Sorry, the audience is less focused than it used to be and commerce patterns have changed.
The person shouting the loudest about the changes this year seemed to be Chuck Rozanski of Mile High, who's gotten a lot of PR by declaring he wasn't bringing his retail booth(s) back to SDCC.  Rozanski is taking the position that he's lost too much business to the publishers selling convention exclusives at their own booth.  He's not the only one making complaints.  I've seen some complaints on the social channels that cosplayers are taking up space that could be occupied by comics fans who might buy something.
These are old trends that get brought up every year like they're new things.  One of the consequences of comic shows being more of a pop culture convention is that you have a wider demographic.  Wizard World Chicago morphed into an autograph show where pretty much all the comics activities were in Artist's Alley.  Some cosplayers come to convention for the comics and just enjoy dressing up.  Some come for the anime or movies and like dressing up.  And yes, some of the cosplayers are just there to dress up.  So what?  I know people who like to wear bow ties, too.  There's also a growing trend of conventions as primarily a social experience.  You go to meet friends you see at conventions and to meet new people with common interests.  This seems particularly big on the anime side of the aisle.
There's also been a looooooong developing story on the changing face of commerce at conventions.  It seems like the comics portion of shows is moving towards the direction of high end/rare back issues and hot books or deep discounts.  And perhaps a slice of "things to get signed by convention guests."  Back issues are now something of an online shopping item.  And Rozanski ought to know about that.
To be honest, the Chicago shows – particularly Wizard – turned into such a deep discount flea market at one point that I started getting an attitude about paying $5 for tpbs.  I mean, a couple places were selling them for $4.  That's the nature of the beast and I expect you really can't pull that off at a national show.   (And we all have a friend who only goes to a convention the last day of the show to see what kind of fire sale prices he can get, right?)
With the more diverse crowd, you have increased opportunities to sell stuffed animals, t-shirts and novelties to people who aren't there strictly for comics.  Nothing wrong with that, either.
Ever notice that nobody complains that the bootleg video booths aren't nearly as prevalent as they used to be?
Is the complaint about the publisher booth having exclusives and diverting dolloars valid?  That's a complicated question.
Are attendees spending money there instead of at retailer booths?
Are the exclusive item lines so long attendees  don't have time for retail shopping?
Since it's not weird somebody would buy a convention exclusive instead of a back issue they could order online, is this an argument about who should be the one selling the convention exclusive?  (Comics should be the textbook case study of "channel conflict.")
Are the consumers spending more time in Artist's Alley instead?
Yes, Artist's Alley and the retail section are in conflict.  If I'm buying something and the person is in Artist's Alley, unless the retailer has a pretty big discount, I'm buying it from the artist every time.  Supporting the artist directly is a full-on trend these days.  See Kickstarter.  See Patreon.
Do the publisher's exclusives detract from Artist's Alley sales?  I'm not sure.  I know a few people who swear by shows like Wizards put on because they don't have much by way of publisher's booths, so the comics fans at the show can go straight back to Artist's Alley.  Sometimes they mention not having to compete with the exclusives, more often just that Artist's Alley is where the comics part of the show is at.
As these conventions get bigger, more vendors want to get in and the price for the booths keeps going up.
But you know what else is absolutely true?  The booth prices are getting more expensive for the publishers, too.  And comics is not exactly a high margin business.
The demographics of the attendees are getting broader.  Exhibition costs are going up.  Buying patterns are changing.  Direct to consumer sales anger is flaring up again.  Alas, very few things in this world stay exactly the same.  This seems like a few different heads all coming to a head and it's been a few years in the making.  Whether this extends down to the next layer of conventions – your NYCC, Emerald City and Wonder Con — remains to be seen.
By: wheelerwrite, on 7/29/2014
Blog:
wheelerwrite
(
Login to Add to MyJacketFlap
)
JacketFlap tags:
Add a tag
SHALLA: Writers Conferences | hello
By: Viviane Schwarz, on 7/29/2014
Blog:
Letters From Schwarzville
(
Login to Add to MyJacketFlap
)
JacketFlap tags:
drawing
,
drawings
,
how to find gold
,
ink
,
paint
,
watercolour
,
Add a tag
I won't have much time at all to do the artwork for this book, but that's fine. I know how I want it to look, and it will be a lot of fun.
At the moment I am painting with brushes made from horsehair. It seems to suit it. - I'll need to dig out my lightbox so I can follow my roughs a bit more closely. This drawing was made free-hand on top of a rough colour sketch, which explains why the crocodile is skipping more than he usually would - I was following the jaunty watercolouring I'd put down first.
By: Aaron Polson, on 7/29/2014
Blog:
The Other Aaron
(
Login to Add to MyJacketFlap
)
JacketFlap tags:
family stuff
,
thoughts on life
,
thoughts on writing
,
Add a tag
My kids give up too easily. I'm not sure if it's their generation's epidemic or anything, but I notice it with some of the kids at school, too. The district where I work even had a school improvement plan a year or so ago focused on trying to build perseverance in our students.

We gave up. I wonder what that says...

Seriously, though, kids raised on the world at the click of a mouse quit easily. For example (I'm always armed with them): my ten-year-old and video games. I can imagine the groans. "Video games? Really? I came here for a reasonable discussion about an important topic." Work with me. Video games have been a significant part of our modern tapestry, and love them or leave them, they aren't going anywhere. Owen loves to play games. He spends a quite possibly unreasonable amount of time in front of his computer, a television, or his 3DS. Yes, he plays plenty of games. Most modern games have built in learning curves to keep kids playing at a relatively simply level until they're really good. It's one of the major advances behind the scenes--face it, graphics and sound take all the glory, but a game's artificial intelligence has taken big strides.

Where Owen stumbles, however, is when he attempts anything with a lengthy quest or story or--Zeus forbid--a retro game. He wants to love The Legend of Zelda, but it's hard. He's started several games and given in when the going is tough from "start."

Okay, I'm being a bit harsh. I remember the hours Owen spent trying to conquer various shortcuts on Mario Kart Wii... the kid will stick with something, sometimes. But you go back a little further, Zelda, Mega Man, even Earthworm Jim or Ghouls and Ghosts for Sega Genesis, and he's done. And it isn't just Owen. I do see it at school, as both a teacher and a counselor. Kids give up when any task is too hard. Instead of trying again. And again. And again.

Maybe our tools, like the AI on those new video games, are just too powerful. Why work hard when a machine will do the heavy lifting? Why think and muddle through a problem when Google can probably cough up 10,000 solutions within a fraction of a second?

What I want here is good, old-fashioned stubbornness. I crave the kind of tenacity which kept me and my buddies up all night, stumbling through Hyrule's dark dungeons without the benefit of dozens of online walk-throughs and wikis. Anyone of my generation who played the original Metal Gear on NES will remember how damn hard it was just to get Snake to the first building without dying.

As a writer, perseverance has been my greatest ally. I set out to qualify for active status in the Horror Writers Association about seven years ago. It took a few years to sell my first professional rate piece, and this summer, I've been able to finally make that third qualifying sale. Seven years. Technology has made "success" as a writer far to easy to achieve. Someone turns down your story? Simply self-publish through the miracle of ebooks or the InterwebTM. But none of these quick fixes will ever help a writer hone his or her craft. Perseverance is priceless.

I want my kids to stick with difficult tasks. I want them to ask tough questions and solve challenging problems. I want them to never, ever quit. And I'll work all the rest of my days to make sure they know the value of perseverance.



By:
Heidi MacDonald
, on 7/29/2014
Blog:
PW -The Beat
(
Login to Add to MyJacketFlap
)
JacketFlap tags:
Legal Matters
,
Top News
,
Cosplay
,
Add a tag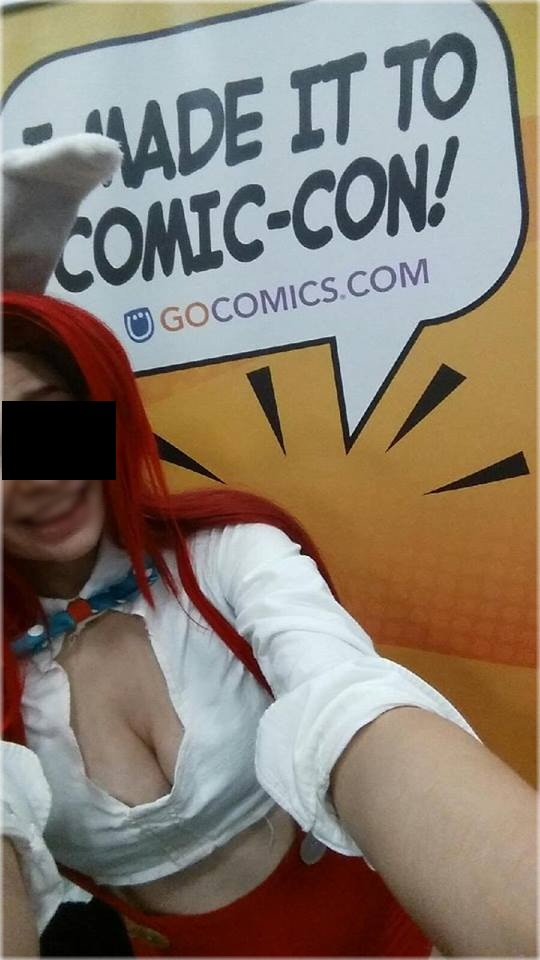 With Comic-Con winding up there has been a smattering of word on Tumblr and Reddit about a young female cosplayer dressed as Rgoer Rabbit being attacked and left bleeding by the side of the road. The story has been reported on Tumblr and Reddit, and after speaking with the girl's parents, I have ascertained that it is unfortunately true. The SDPD is currently investigating the crime. I have removed the names from this, but if you have any more information, please do not contact the family directly. Call the San Diego Police Department at (619) 531-2000. I repeat, DO NOT CALL THE FAMILY. Several people have already spoken with them and with their daughter in the hospital they do not need any more distress fielding phone calls.
According to the girl's mother, her injuries are severe, and indicate a vicious beating. Here is the account of what occurred from Tumblr:
IF YOU WENT TO SAN DIEGO COMIC CON OR KNOW ANYONE WHO HAS, PLEASE READ.

One of my dearest friends was found on the side of the road, unconscious and bloody. She was wearing this cosplay on the day it happened. She was last seen with friends when she ran off after a disagreement. Please, please, please, if you have ANY information or saw her anywhere, contact her mother. The full information is down below. This isn't okay and it's sickening to know that this happened at a place people truly can enjoy themselves. Please spread the word.

 "I just received a call from the San Diego Police Department and my daughter REDACTED aka REDACTED was found on the side of the road covered in blood with no ID unconscious. They are unsure what happened to her. My husband is on his way to the police station and then the hospital. If you have any information on what happened to her please send me a facebook message or call me at REDACTED. Thank you in advance". -REDACTED
Obviously this crime is going to be added to the current discussion of all the issues regarding Comic-Con, harassment, cosplay, crowds and more. It's a stark and heartbreaking reminder that even if Comic-Con is a wonderful fantasy world brought to life, there are real life predators out there. Have fun but play safe and sane. My heart goes out to this girl, who was an experienced cosplayed who had recently been to Anime Expo, and her family. Her mother says it was her dream to go to Comic-Con. Let's hope that her attackers are caught and when she's recovered she can come back in style as a heroine.
Display Comments
Posted on 7/29/2014
Until I read the August issue of Watch, I hadn't known that they'd killed off Linda, the deputy and one of the most interesting characters, in Under the Dome 'cause I'd given up watching it. The producers had already killed off most of the interesting characters! It reminds me of the original V towards the end. They got rid of the characters with character and kept the kinder even though they had to give the youngest a growth hormone--or something...

The article explained--as I've read in similar articles--why they love this practice... I think it's because they have the power to do so. They think they're gods...

Speaking of kids, how is Robot-Boy going to grow up in Extant? Are they planning to tranplant his his head every year or so?
By: Julie G, on 7/29/2014
Blog:
Book Hooked
(
Login to Add to MyJacketFlap
)
JacketFlap tags:
Add a tag
From Goodreads:
A high school music festival goes awry when a young prodigy disappears from a hotel room that was the site of a famous murder/suicide fifteen years earlier, in a whip-smart novel sparkling with the dark and giddy pop culture pleasures of

The Shining

, Agatha Christie, and

Glee

.
Writing
Incredibly well done. I have absolutely no complaints in terms of the writing. I felt like the author took a setting I'm unfamiliar with (high school music festival) and made it something immensely relatable, through characters that I had nothing in common with. If that sounds like a feat, it's because it is. My high school experience and myself as a high-schooler was so far removed from these teens, but they are written in such a way that I found myself connecting with them regardless of our differences. I particularly fell in love with Rabbit, one of a set of twins. While his sister is the outgoing star of the show, Rabbit is more serious and reserved. I loved that the twins roles are reversed right away and the way that their character dynamics shift when Rabbit is suddenly the popular twin.
Entertainment Value
Yes, yes, yes! Such a fun story to read! Things move along at a fast pace, the characters are compelling, and I loved the plot twists and turns. Several delightfully unexpected events occur that left me particularly stunned/moved/thrilled. It was definitely a pleasure to read and something that I had a hard time putting down.
The one negative in terms of entertainment value for me is a bit of a spoiler - nothing major, but I'm going to type it in white to avoid spoiling anyone who wants a totally pure reading experience. Highlight from here to see the spoiler:
Two characters engage in a "happy" affair, which is one of my pet peeves in books. I don't like affairs that we're supposed to root for, that are "romantic", or that don't show any of the devastating consequences. So that took away a bit from my ability to enjoy.
Overall
I highly recommend giving this one a try. The coming of age aspects reminded me a lot of Tell The Wolves I'm Home, so I'd recommend it to fans of that one for sure. I also think anyone who participated in vocal or instrumental music will love it, as will fans of twisty, delightfully dark and funny mysteries.
Thanks to Netgalley for providing me with a copy to review.
By: Jerry Beck, on 7/29/2014
Blog:
Cartoon Brew
(
Login to Add to MyJacketFlap
)
JacketFlap tags:
Animators
,
Fine Art
,
Figure drawings
,
Jesse Marsh
,
Make Mine Music
,
Melody Time
,
Add a tag
A collection of rarely seen drawings by former Disney artist Jesse Marsh, who drew the "Tarzan" comic books for nearly twenty years.
By:
Heidi MacDonald
, on 7/29/2014
Blog:
PW -The Beat
(
Login to Add to MyJacketFlap
)
JacketFlap tags:
Top News
,
Add a tag
By Hannah Lodge
Evangeline Lilly has made a name for herself by starring in classic portrayals of good vs. evil. Whether she's eluding the Man in Black as Kate in Lost, fighting Orcs in The Hobbit Trilogy, or taking on new roles – such as Hope Pym in Marvel's upcoming movie, Ant-Man – Lilly's work is part of large legacies followed by devoted fan bases.
Lilly, who was a self-described loner in high school with a penchant for listening to Beethoven and writing, has an affinity for this fan base. "These are my kind of people, and they get me," she said. "They don't want me to be some kind of boring pin-up, girl-next-door type. They like the more eccentric, strange side of me."
And so this year Lilly attended San Diego Comic Con in hopes of sharing more of that darker, eccentric side, by telling her own story: The Squickerwonkers. A children's story that Lilly describes as a "graphic novel for beginners" with a chilling band of marionette puppets and the little girl who becomes a part of their world, The Squickerwonkers moves away from the stories of good vs. evil that Lilly's characters are often associated with.
"It's your actions that come to define who you are and can create negative consequences in your life, but that doesn't make you innately unlovable," she said. "Because all of the characters in these books have vices and do things that are naughty, but they're all really loveable."
Lilly wrote the first draft of the story when she was only 14 years old, and through collaboration with Illustrator Johnny Fraser-Allen, whose design credits include The Hobbit Trilogy and Tintin, was finally able to realize her dream of becoming a published author. Lilly said that the heart of the story has remained the same all of these years, but that through Fraser-Allen's artistic vision, she was finally able to realize what her story should look like – and 40 re-writes later, has come up with the final version, which will be published by Titan Books in November.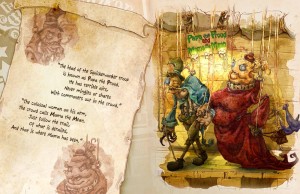 "The thing I had always known about the Squickerwonkers was that they were human, but not human," she said. "So when he [Fraser-Allen] painted me a picture of marionette puppets on that stage, I went 'Oh my god. That's it. That's exactly it. They're human, but they're not human.'"
In her personal time, Lilly does her fair share of both writing and reading. She connects with her fans by holding virtual book discussions over Facebook and Twitter. Over time the same core set of fans tends to show up, many of whom Lilly recognizes – and in a way the discussions have evolved into her very first book club, in electronic form.
"I was a very reluctant social media person. I thought it was something that disconnected people more than connected them," she said. "I got very frustrated being in the public eye for so many years and not ever being able to actually speak directly to my fans, always having a second party be in the middle of that communication. So nine times out of ten I would read something or see an image of myself and think: but that's not me. I felt frustrated at being generally misrepresented. So I finally decided OK, well, this is a way I can have direct access to the people who are interested in my work. And I can say this is who I am, so at least if I'm going to be perceived by the public, I can have some sort of control over that perception."
Lilly said she recognizes that moving into literature can be an uphill battle, pushing against the notion that The Squickerwonkers is the product of a vanity project. But for Lilly, being a famous actress was never a goal; rather, an unexpected detour on her path to being a writer. In fact, Lilly said that her rise to stardom was exactly what she expected – and that she had very low expectations.
"It actually was everything I thought it would be, and I thought it would be pretty hellish. So that's disappointing," she said. "I never dreamed about being a movie star. I never dreamed about that kind of life, and never envied it. When I'd be at the grocery store and line up, I'd see tabloids and think: those poor people, what a miserable life… Acting is a fantastic creative outlet for me, and it's a way of telling stories, which is what I'm really passionate about. I just happened to get a great opportunity to do it for a good amount of money, and at the time I was one of the brokest people I knew… And for me me this has been a sort of roundabout way to get to my dream, which is writing."
And now that she's pouring her passion into her own writing project, Lilly said she has an easier time looking at movie scripts through a less critical lens.
"By the end of Lost, I used to throw scripts across the room when no one was looking," she said. "Now that I've started writing my own stories, I've surprisingly let up a lot when it comes to the acting side of things. Where now instead of being obsessive about it being a good story, I just want to go and have fun."
Lilly said The Squickerwonkers will be a series of books, with the next releases each focusing on one character from the Squicker-world and how his or her vice led to the character's demise. Lilly also plans to personally put out an interactive edition of the book, complete with voice acting from actor Sylvestor McCoy, known for his roles in The Hobbit Trilogy and Doctor Who.
In spite of her recently-announced role in the Marvel movie Ant-Man, Lilly said she's reaching a point in her life where acting will likely become a smaller part of her world than writing.
"In a week, I'll be 35. So the reality of being a female actress who is nearing 40 means there will be less and less work available, and that suits me just fine," she said . "I hope that it'll be more 25/75."
Lilly's still readily available to snag her dream role, though, which she said would be a part in a Wes Anderson film.
"He is right up my alley. He is quirky and strange but beautifully and incredibly aesthetic," she said. "I would kill to do a Wes Anderson film."
The Squickerwonkers is available online and in stores November 18.
By: DIWAKAR, on 7/29/2014
Blog:
POETRY FOR THE SOUL
(
Login to Add to MyJacketFlap
)
JacketFlap tags:
Add a tag
<!--[if gte mso 9]>
Normal
0
false
false
false
EN-IN
X-NONE
X-NONE
<![endif]-->
United rainbow,
Dismiss discrimination,
By: Michelina Ouellette, on 7/29/2014
Blog:
Michelle Can Draw
(
Login to Add to MyJacketFlap
)
JacketFlap tags:
snt
,
santa
,
children
,
children's book
,
childrens book
,
childrensbookart
,
Picture book
,
Picturebook
,
Illustration
,
book launch
,
book illustration
,
earth friendly
,
cute
,
christmas
,
reindeer
,
Add a tag

Picturebook Complete: 1,000,000 points! 
Super exciting announcement! As some of you might have heard, the picturebook I have been working on from Feb- June has been printed and is (almost!) available for purchase. I just received my hardcopy this weekend, and it is beautiful!
When I was contacted by Plymouth Puzzles about creating a storybook to accompany their upcoming line of Christmas reusable gift bags I was thrilled! The book, Santa's New Tradition, follows the story of a little girl as she discovers the waste caused by wrapping paper and decides to make a positive change. 
I really enjoyed working on this book and am super excited to see it up for sale (looks like late August/ Early September release).
More coming on my process of idea to final later- and thanks for reading!
By:
Brooke Boynton
, on 7/29/2014
Blog:
Brooke B.
(
Login to Add to MyJacketFlap
)
JacketFlap tags:
Add a tag
This morning I put the finishing touches on a new portfolio and tomorrow I head to L.A. for the
SCBWI Summer Conference
. I hope to see you there!! :)
By:
Heidi MacDonald
, on 7/29/2014
Blog:
PW -The Beat
(
Login to Add to MyJacketFlap
)
JacketFlap tags:
Conventions
,
Fashion
,
Legal Matters
,
SDCC '14
,
The Legal View
,
Top News
,
Add a tag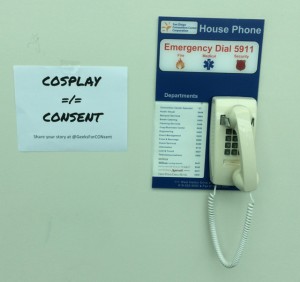 Comic-Con hit TMZ after America's Next Top Model winner and media personality Adrianne Curry, dressed as Catwoman, chased down and whip-punched a man who thrust his hands down the tights of another model dressed as Tigra. As horrible as Sunday's attack was, could this incident help us deal with such harassment more effectively?
Curry's superheroic response to the sexual attack on her friend Alicia Marie underscores the importance of taking sexual harassment at comic conventions seriously. Comic conventions have experienced exponential growth in recent years, filling not only convention venues but downtown city streets into volatile vectors for sexually inappropriate behavior. And contrary to the stereotype-ridden TMZ video, dorky fanboys are not necessarily the only culprits – downtown San Diego has become a five-day Festival, with the Red Hour striking anew each time you walk out the Convention Center doors.
How to deal with the problem of harassment within and without Comic-Con was attracting the attention of multiple media outlets even before the attack on Alicia Marie — in fact, after I scheduled this post for publication on The Beat, even Perez Hilton found the Adrianne Curry incident to be a source of moral outrage. Over the next couple posts I want to add a legal perspective, since this happens to be an area in which I have clocked a few villains of my own, albeit with words instead of a whip.
Before we do, however, I want to address a thought that may have popped into the minds of some readers, namely, the notion that women such as Currie and Alicia Marie are themselves somehow asking for it. I actually witnessed a vivid expression of this mindset when a cosplaying woman outside the Con tried to fend off a guy's come-on by handing him a business card and promoting her own work. The guy responded by  contending that there was no other way for a man to take the way she dressed than as a sign that she was looking to get laid.
This exchange stood in stark contrast to the professional discussion I'd just had with a longtime of the annual Comic-Con Masquerade, the amazing Broadway actress and theme-park entertainment designer Diane Duncan. Last Friday when we were walking through the convention chatting about cosplay she stopped to point out what she thought was a standout example of excellent craft, a woman dressed as Poison Ivy whose costume exhibited a number of characteristics that would have done well for her had she worn it for the Masquerade competition instead. The costume had a sensual vibe, yes, but that was an extension of the workmanship — whether the cosplayer's aim in such artful attention to detail was self-expression, marketing a product, promoting her own business or a combination of all three, baiting men for sex was not the point.
As it turns out, the cosplayer was none other than Adrianne Curry, and as I read up on her and other models who cosplay I found myself in rather familiar territory. In advising on ethics and other legal matters in the fashion industry, it's all too common to run across men who view what women wear as a sign of sexual availability, as opposed to a form of stylized expression that for many women in modeling, marketing, retail and design is an integral part of their professional identity.
The intrinsic connection between cosplay and fashion got me thinking about another connection they share: namely, unfortunate loopholes in current sexual harassment law. Although we often use the phrase "sexual harassment" when speaking of unwanted advances to cosplayers and fashion models alike, from a legal perspective the term typically refers to sexually inappropriate behavior in certain employment contexts. For example, because models are typically independent contractors, not employees, they are often not protected by sexual harassment laws, and a similar principle applies to comic convention cosplayers who are not there in the course of employment — regardless of how egregiously inappropriate the behavior may be, it technically is not a violation of sexual harassment law, nor would it fall under the purview of a typical harassment policy.
Within the fashion industry, this lacuna is being addressed primarily in two ways: through legal reform and private action. New York, for example, recently enacted a law that extends the protections in child labor laws to underage models, and efforts are ongoing to give volunteers and independent contractors new legal protections when sexually harassed. At the same time, the campaign against harassment within the industry is giving rise to new standards and practices that go beyond the limits of sexual harassment law while taking advantage of more general protections that other laws already provide.
We're seeing a similar strategy evolve among cosplayers in regard to private action, most prominently in the work of Geeks for Consent, whose signs could be found throughout the convention center this year. I was glad to meet the group's intrepid director, Rochelle Keyhan, briefly during Comic-Con, and have considerable regard for its efforts to call attention to this important issue. However, it's also clear that a sharp divide persists between those calling for a more rigorous sexual harassment policy and Comic-Con itself, which has taken the position that a sufficient policy already exists. Awareness, as they say, has been raised, but the ideal provisions of a convention harassment policy remain a matter of dispute.
In my next post, we'll take a deeper look at the Geeks for Consent campaign, the Adrianne Curry incident and existing law to see whether we can devise a new policy that will address the concerns of all sides in the ongoing debate. Meanwhile, if you have any opinions or experiences pertinent to this important discussion, please feel to leave them in the comments thread or shoot me an email at jeff.trexler@gmail.com.
View Next 25 Posts