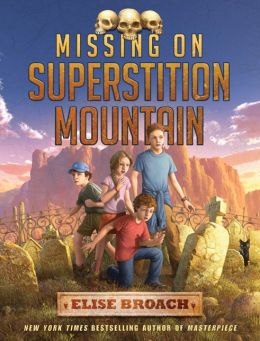 I don't talk much about my son here but he's eleven years old and while he loves a good story (I read all of the Harry Potter books to him several years ago), he is not always patient enough to read them. He prefers graphic novels and shorter nonfiction and so when I caught him up in bed, reading ahead in Elise Broach's Superstition Mountain books, I knew they were something special. He loves these two books and is d-y-i-n-g for the third to come out. I felt it was my duty (*grin*) to make sure everyone knew about them.
In every possible way Treasure on Superstition Mountain and Missing on Superstition Mountain are cut from the cloth of classic middle grade adventure. You have four likeable kids - three brothers and their spunky girl neighbor - the pensive, more bookish child is the narrator, the parents are all decent admirable folks who support these curious active children (while also being busy enough to let them disappear for awhile) and there is a huge mystery - HUGE - that demands to be solved.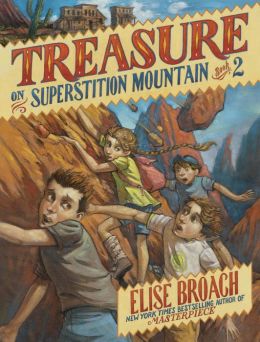 In this case the story is all about the Lost Dutchman's Mine, a very real Arizona legend that Broach discusses in her excellent afterwords. The kids go hiking on Superstition Mountain (a real place), and through an accident discover something sinister. In search of clues about what they've found, the kids hit the library, which adds an unexpectedly creepy character to the story, and the cemetery, which gives us a slightly unhinged character, and to the historical society - where we find a hero! Huzzah! It's all very Nancy Drew/Hardy Boys/Trixie Belden at their best and the scary is just the right amount of scary to keep readers turning the page while not terrifying. My son loves that each chapter ends with you wanting more and even though both books end without cliffhangers, the main story arc clearly continues. Broach is great at pacing and think that is a big part of why these books succeed so much.
We have both titles in hardcover for as my son says, he "NEEDS' them and can't stand the thought of them falling apart at some point. The covers catch the eye of their audience (kids in action!) and the drawings in the text are quite good - though, surprisingly, my son has not relied upon them. The story keeps him moving forward, not the pictures.
I can't wait to see how Broach ends this trilogy. There are some bad guys, and a lot of questions but mostly I'm enjoying how the characters have evolved and grown to ask more questions and think more deeply about what they are finding and learning. Plus she has managed to work a library and ghost town into the narrative - how cool is that?
Highly recommend, of course!
Add a Comment