As of November 20, 2012 (that is, Midnight Eastern Time tonight) I am closed to queries. I will reopen to queries January 7, 2013.

If I already have your work, you should hear from me by January 7. (That's the point of taking the break, I have to catch up!)


I'm sorry to say that I cannot respond to new queries sent during this time.

The exceptions will be: work that I've requested -- conference material -- client or editor referrals -- and people I actually know in real life. If this is you, please be sure you've said so, along with the word Query, IN THE SUBJECT LINE of your email. Otherwise, your query will be deleted.

For all other regular queries, please feel free to try any of my colleagues at Andrea Brown Lit, or else try me again in January.

Thanks again for thinking of me in regard to your work.

Wishing you all the best, and Happy Holidays,

Jennifer Laughran
Andrea Brown Literary Agency
Display Comments
By: Gaby317, on 5/18/2013
Blog:
Starting Fresh
(
Login to Add to MyJacketFlap
)
JacketFlap tags:
Add a tag
The blurb:
London, 1933. Two months after the body of an Indian woman named Usha Pramal is found in the brackish water of a South London canal, her brother, newly arrived in England, turns to Maisie Dobbs to find out the truth about her death. Not only has Scotland Yard made no arrests, evidence indicates that they failed to conduct a full and thorough investigation.
Before her death, Usha was staying at an ayah's hostel alongside Indian women whose British employers turned them out into the street—penniless and far from their homeland—when their services were no longer needed. As Maisie soon learns, Usha was different from the hostel's other lodgers. But with this discovery comes new danger: another Indian woman who had information about Usha is found murdered before she can talk to Maisie.
As Maisie is pulled deeper into an unfamiliar yet captivating subculture, her investigation becomes clouded by the unfinished business of a previous case as well as a growing desire to see more of the world, following in the footsteps of her former mentor, Maurice Blanche. And there is her lover, James Compton, who gives her an ultimatum she cannot ignore.
Bringing a crucial chapter in the life and times of Maisie Dobbs to a close, Leaving Everything Most Loved marks a pivotal moment in this remarkable series.
Review:
This particular book is one of my favorites for these reasons:
-more time spent on the romance between Maisie Dobbs and James Compton. The relationship seems quite modern insofar as Maisie puts a premium on her independence and puts off James's repeated proposals of marriage. Now that Maisie is financially independent, she is slow to exchange her life for the obligations and luxuries that come with marriage to one of the wealthiest men in Great Britain. Maisie plans to travel in the hope that this will help her "come home to herself" and allow her to be ready to build a life with James.
-the novel addresses issues of race, cultural difference, and colonial ties - as Maisie investigates the death of the beautiful young Indian woman, her interviews and interactions with Londoners gives us a better sense of the level of prejudice and isolation that existed at that time.
Jacqueline Winspear delivers another beautifully written mystery with strong characters. I'm looking forward to the next Maisie Dobbs adventure.
ISBN-10:
0062049607 - Hardcover $26
Publisher:
Harper; First Edition edition (March 26, 2013), 352 pages.
Review copy courtesy of the Amazon Vine Program.
About the Author:
Jacqueline Winspear is the author of the New York Times bestsellers Among the Mad and An Incomplete Revenge, as well as four other Maisie Dobbs novels. She has won numerous awards for her work, including the Agatha, Alex, and Macavity awards for the first book in the series, Maisie Dobbs. Originally from the United Kingdom, she now lives in California.
By:
bookkm
, on 5/18/2013
Blog:
Books 'n' stories
(
Login to Add to MyJacketFlap
)
JacketFlap tags:
Better to Wish
,
Ann M. Martin
,
Family Tree
,
book reviews
,
Add a tag
The Prologue of the first book in the
Family Tree Quartet
warns us that sometimes, as the title says, it is
Better to Wish
than to know what is in the future.
Abby's story starts in 1930 when she is 8. We learn that times are tough but that her father works hard. Abby's mother still grieves for the two children she lost. Abby has a good friend, Orrin, that her father doesn't want her to play with. This first chapter sets the stage for the challenges Abby faces as a girl coming to age in the Depression. Her father's intractable ideas about people and their worth, her mother's inability to stand up to her husband, the fact that under it all these are people who are just trying hard to do their best, all these things make Abby's choices hard but understandable.
This book sees Abby from childhood through adulthood, from carefree days to brave decisions. It's a lot for one 200+ page book to do. Martin does it well. Her language does not burden young readers with all the concerns that an adult reader will glean. The book has just enough introspection for the audience which is girls between the ages of 11 and 14.
I look forward to reading the other books in the quartet.
By: Melody, on 5/18/2013
I was in the mood for something light and funny the other day, so I went to see what the internet had to offer in the way of non-Charlie Chan novels by Earl Derr Biggers. I found Love Insurance, which was exactly what I was looking for, except in that it didn't really thrill me in any way.
The premise is kind of excellent, to a point, and if the book had revolved around Owen Jephson, underwriter for Lloyd's of London, I think I would have liked it more. Jephson specializes in insuring incedibly peculiar things: he's insured an actor against losing weight, a duchess against rain at her garden party, etc. I want very badly for Herbert George Jenkins to have written a book about Jephson, but sadly the world doesn't work that way. And Biggers is more concerned first with Allan, Lord Harrowby, who wants to insure his wedding date, and then, more centrally, with Dick Minot, who Lloyd's sends to Florida and protect their assets by making sure that Harrowby's wedding to the beautiful Cynthia Meyrick goes as planned. Minot, inevitably, falls in love with Cynthia almost at first sight, and that's only the first of many complications — there are jewel thieves, long-lost relatives, blackmail, and a society matron who hires a guy to write bon mots for her. And that list barely scrapes the surface.
In general, I really, really like about the first 3/4 of any given Earl Derr Biggers book, but this one felt more consistent. I never liked it as much as the beginning of Seven Keys to Baldpate or The Agony Column, but I liked it pretty much equally all the way through. Possibly that was because it was pretty intensely predictable, but that was okay, beasue it was all pretty silly and fun, too.
This is one of those books I sort of vaguely like but can't work up any enthusiasm about, and I don't know whether that's my fault, or if it's that Biggers didn't expend any effort on characterization, or that the most interesting character disappeared after the first few chapters or what. I suspect a lot of people will enjoy it more than I did.
Tagged:
1910s
,
earlderrbiggers
,
herbertgeorgejenkins
By: George Collingwood, on 5/18/2013
If she could read, Pink would check out the tales of the Ginge Club and make sure she's presented in the best possible light, as the most beautiful, alluring and fashionable pink cat who ever lived.  I've told her that's exactly how she's presented in the stories, and in the blog, but I don't think she trusts me entirely.  That's why she's been staring at my Kindle, trying to see inside it.   She probably thinks it's a mirror.  She knows what mirrors are because she spends hours every day staring into the one in our bedroom, preening herself and showing off to the looking glass.  Alleycat's different.  He says he doesn't care what anyone thinks so long as he can sleep whenever and wherever he wants and demand food at the drop of a hat.  Of course, he's given me a few guidelines.  For one, thing. I'm never to give Snatcher too much attention or importance and for another I've got to impress everyone with Alleycat's fine qualities.  Bamber alone of our three cats has little interest in such matters.  He doesn't care about social media and his heart is set on being a cat and staying a cat and doing the best he can at being that.
By: Jerry Beck, on 5/18/2013
Blog:
Cartoon Brew
(
Login to Add to MyJacketFlap
)
JacketFlap tags:
Disney
,
Ideas/Commentary
,
Pixar
,
Day of the Dead
,
Día de los Muertos
,
Guillermo del Toro
,
Jorge Gutierrez
,
Lee Unkrich
,
Mexico
,
The Book of Life
,
Add a tag
Last week after word got out that Disney was seeking to trademark "Día de los Muertos" in preparation for its 2015 release of a Pixar animated feature inspired by the traditional Mexican holiday, several online communities were outraged. The backlash kicked into high gear when cartoonist and illustrator Lalo Alcaraz shared a poster of a Godzilla-like Mickey Mouse under the words, "It's coming to trademark your cultura." [image above]
Social media has always kept Disney in check, and this time is no different. Latino Rebels, an online community that has done a terrific job of tracking Disney's depiction of Latino culture, helped handle and report on the groundswell of public outcry over the last few weeks. After several petitions and pressure, Disney announced last Tuesday that they would withdraw the trademark filing, claiming that it was no longer necessary since they had changed the title of the fim.
In an interview with Cartoon Brew, William Nericcio, a scholar specializing in the representation of Latinos in American pop culture and author of Tex[t]-Mex: Seductive Hallucinations of the "Mexican" in America
, said, "[Hollywood's] attitude towards culture is like a pelt hunter from the 19th century. They need the skin that people recognize and value in order to sell a project that will yield predictable profits."
Nericcio acknowledges that Pixar and Disney face an uphill battle in producing their Day of the Dead feature, which is to be directed by Toy Story 3 helmer Lee Unkrich: "I think it's wonderful that Pixar is working on a Mexico, cultural-based project. But it's a public relations nightmare. They're not really equipped to talk about other cultures in a way that shows even the slightest sensitivity."
While Nericcio supports the critical eye cast by social media, he does express concerns over extreme backlash. "The downside of it is, companies like Disney could get scared off of projects that might be focused on Latin American culture, just because they got burned," he explains. Ultimately, the appeal of a Dia de Los Muertos film is undeniable; the imagery connected to the celebration is so lush, providing a palette that would inspire any moviegoer. "It's good business to green light a project on la cultura Mexicana. Everybody's loving the wrestlers, the icons, the color, the exoticness," Nericcio says. "But when you have the patent lawyers involved, they come off looking terrible."
Nericcio, a self-admitted Pixar fan would love to see a Dia de los Muertos animated film, as would so many others. Fortunately, there's another film on the horizon—Guillermo del Toro and Jorge Gutierrez are currently producing and directing (respectively) their own Day of the Dead-themed feature at Reel FX called The Book of Life, to be released through Fox in October of 2014, more than a year before the Disney-Pixar feature. There's no word yet whether Mexico-born del Toro and Gutierrez will seek trademarks of their own.
By: TS Rogers, on 5/18/2013
Blog:
Sugar Frosted Goodness
(
Login to Add to MyJacketFlap
)
JacketFlap tags:
Add a tag
A Superman, ravaged not by Lex Luthor or General Zod but by the super villain that is time.
-TS Rogers
Though we picked our winners at random, we want to recognize some of the other very strong research and writing by the students of Lower Gwynedd Elementary School (and kids from other states, too) as part of the Three Fascinating Facts about Sharks contest. Some of the information that you all found is simply too good not to share! Helen, a third grader in Mrs. Salvitti's class, wrote: 1. Some sharks remain on the move for their whole lives. This forces water over their gills, delivering oxygen to the blood stream. If the shark stops moving then it will suffocate and die. 2. A pup (baby shark) is born ready to take care of itself. The mother shark leaves the pup to fend for itself and the pup usually makes a fast get away before the mother tries to eat it. 3. Not all species of shark give birth to live pups. Some species lay the egg case on the ocean floor and the pup hatches later on its own. Photo: Gills of a nurse shark And how about these interesting facts from Shelby: 1. Sometimes they will take a bite out of their prey or just sink their teeth in to get a taste before they start really feeding. 2. A shark attack on a human usually occurs in less than 6 feet 6 inches of calm water, and within a relatively short distance from shore. 3.The Megamouth shark is one of the rarest of the shark species. It was discovered in 1976. Photo: Megamouth Shark We loved all these great comparisons from Zac: 1. Every shark has tiny sensors at the tip of its snout to help it find food like a metal detector finding treasure. 2. Sharks have teeth all over their body. Their skin has really tiny spikes, like a prickle bush. 3. A shark's teeth are in rows like a roller coaster ride. If a shark looses one of its teeth, one will grow back right away and move forward to take the place of the old one. Just like when a person gets off a roller coaster, a new person will take their place for the next ride. Andrew, from 3Go, managed to come up with three unique facts that no one else submitted: 1. Nurse sharks are nocturnal predators. 2. Dogfish are a type of shark. 3. Horn sharks are oviparous. Photo: Horn SharkAnd finally this from fifth grader Cassidy S. This is practically an essay - your information is fascinating, indeed! 1. In New Zealand, there is a shark that barks like a dog. It is called the Swell Shark. It is a catshark of the family Scyliorhinidae. It is found in the subtropical eastern Pacific Ocean. 2. Most sharks give birth to their babies. Only a few sharks lay eggs. Most sharks have six to twelve babies at a time, but a Tiger Shark and Hammerhead can have as many as 40 babies at a time. 3. The Whale Shark is the biggest fish in the world. It has more than 4,000 teeth, but each is less than 1/8 inch long. A shark may go through 1,000 sets of teeth during its lifetime. When a shark loses a tooth, one replaces it. A Whale Shark weighs about 40,000 pounds. We also had two excellent entries from students who do not attend Lower Gwynedd School.Danielle age:11 teacher: Mrs. HavrgraveSchool: Harbins Elementary city: Dacula, GeorgiaFact 1: The blind shark got its name from the habit of retracting their eye balls, which makes their eye lids close.Fact 2: Some sharks don't eat meat, they eat mollusks and clams and live close to the bottom of the ocean to get their food.Fact 3: Sharks eat different amounts depending on the kind of shark they are. Some sharks can eat a huge amount of food and live of the oils in their liver. When the oil gets low they have the instinct to eat again.Jacob age: 9 Teacher: Mrs Backlund School: Independence Elementry City: Big Lake, MN1. A great white shark can weigh up to seven thousand pounds.2. Sharks have existed for over 300 million years. They are older than the dinosaurs.3. The bull shark is the only shark that can live in freshwater and saltwater.Photo: Great White Shark Editor's Note: We have checked all the facts and made a few edits to correct inaccuracies, so that everything you are reading here is true. And fascinating!
Thank you to everyone from Lower Gwynedd Elementry School who entered the THREE FASCINATING FACTS ABOUT SHARKS contest. We enjoyed seeing the choices you made and reading your writing using those words. 85 people entered this contest - that is a lot of excellent research and writing! As promised, we have selected two winners of this contest, and both will receive an autographed copy of the new edition of Seymour Simon'sEXTREME OCEANS, from Chronicle Books. We chose the winners at random, using a very cool random number generator website calledRandom.org. Are you ready? Here are the winners of Seymour Simon's SHARKS contest: Individual Winner: Nathan, from Class 4-O. Nathan's three fascinating facts were: 1: About 90% of the people who are attacked by sharks survive. 2: If sharks stop moving they start to sink. 3: More people are killed by bee stings than shark attacks. Classroom Winner: Mrs. Stapp's Kindergarten Class. They wrote: Our Favorite Shark Facts: 1.Sharks lived before the dinosaurs 2. Sharks can smell a drop of blood a mile away. 3. Sharks don't chew their food. Congratulations to everyone who entered. Be on the lookout for another blog post, because we enjoyed the work you did for this contest so much, we are going to publish some of your writing for everyone to read.
Posted on 5/18/2013
Blog:
the Literary Saloon
(
Login to Add to MyJacketFlap
)
JacketFlap tags:
Add a tag
The 2013 Nobel Prize in Literature will only be announced in October, but previously the Swedish Academy -- who select the winner -- had revealed that 195 eligible names were submitted for consideration, of which 48 were first-timers (see my previous mention). Now, as they've tweeted:
5 candidates have been selected for 2013 #NobelPrize in #Literature according to Permanent Secretary of the Swedish Academy.
The permanent secretary, Peter Englund, goes into a bit
more detail
at his weblog, Att vara ständig -- and apparently the five names have only been submitted; it's not entirely final until the last session before the summer at the end of the month.
A couple of observations here:
- No, they don't reveal the names. Not until fifty (and a half) years from now. In fact, they try very hard to keep them secret.
- As I've repeatedly stressed: you have to be in it to win it -- or to make the shortlist. Which is easier said than done. There's a lot of Nobel/Swedish Academy bashing that misses this point.
Consider, for example,
Forged
-author Jonathon Keats' recent
Wired
piece,
Don't Hate Google for Reader - Award It the Nobel Prize for Books
[sic]. He begins:
When the Nobel Prizes launched in 1901, possible choices for the award in literature, bestowed upon a living writer to honor their entire life's work, included such historical titans as Leo Tolstoy, Edith Wharton, and Henry James.
The thing is, as a search for the
1901
nominees shows, Tolstoy, Wharton, and James were not among the names submitted to the Swedish Academy for consideration -- while eventual laureate Sully Prudhomme was nominated by
three
individuals (including a University of Uppsala professor), as well as a whole gang of French academicians -- i.e. he had a lot of support.
This is relevant, because easy as it is for outsiders to say authors X,Y, and Z are obviously the most deserving, someone still has to nominate them for them to (possibly) make the final cut. So, for example, the information that this year the Swedish Academy tried to reach out to more African academics in the nominating procedure might suggest that there's a higher-than-usual chance of African names appearing in the pool the finalists were selected from. On the other hand, less well-known writers from less widely translated languages -- especially authors not in official favor (in a lot of these countries official writers' bodies do the nominating) -- are disadvantaged.
- The only author whose nomination has widely (and controversially) been acknowledged is Paul Goma, his name submitted by the
Writers' Union of Moldavia
; see, for example, the Mediafax
report
-- and e.g. the
Times of Israel
report,
Author accused of anti-Semitism nominated for Nobel
. (His nomination can't just be dismissed out of hand as (noxious) political posturing, either: he doesn't stand much of a chance of winning -- after
Herta Müller
, it's unlikely another Romanian dissident would get the prize so soon -- but he's not just some two-bit hack (and he had very good dissident cred back in the day); among his books available in English is
My Childhood at the Gate of Unrest
(published by Readers International); (try to) get your copy at
Amazon.com
or
Amazon.co.uk
.)
In any case, now that the list is down to a manageable five, things get more interesting. The Swedish Academy members, who will be reading up on the finalists, will try to be careful, but it's probably pretty hard for all of them to cover their reading-tracks convincingly: it seems pretty clear, for example, that Mo Yan's name cropped up more last summer than they would have liked (which is why he found himself a betting favorite right from the start of last year's Nobel betting-season).
The fact that a finalist or two or all five are identified only gets us so much closer to the actual winner -- who they only decide on in late September/early October, after all, but it's nice to be able to narrow the list down .....
I wonder whether Swedish bookshops (or the various European Amazons -- surely some of the finalists' books will have to be ordered from abroad, as it's unlikely they have all been translated into Swedish) are tracking bigger orders to the Academy or the members ..... And a closer translation-watch is probably also called for: the Academy is apparently willing to commission translations of untranslated works, so if a translator from some obscure language suddenly has a big hush-hush project going .....
At this point, the fact that they're down to five names doesn't get us (immediately) any closer to figuring out who the likely winner is (or, indeed, who is left in the running). Will Chinua Achebe's passing and the nominations from more African academics nudge them towards some continental names -- perennials like Nuruddin Farah or
Ngũgĩ wa Thiong'o
(or, dare I hope, someone like Ayi Kwei Armah) ? Did someone remember to nominate
The Colonel
-author Mahmoud Dowlatabadi, whose work-available-in-translation may have finally hit the critical level where he can't readily be overlooked any longer ? Will they toss it at Philip Roth, now that the old man has promised not to write any more books ?
Here's hoping Swedes everywhere (and anyone in places where these academicians vacation) are keeping a close eye on the reading material the Swedish Academicians are lugging around ..... Sightings and gossip are always welcome here, too, if you have any to offer .....
Read the rest of this post
Posted on 5/18/2013
Blog:
the Literary Saloon
(
Login to Add to MyJacketFlap
)
JacketFlap tags:
Add a tag
In the Asahi Shimbun Mariko Nakamura reports that When it comes to publishing Haruki Murakami in English, nothing is lost in translation, revealing that Philip Gabriel:
is now translating Murakami's latest best-seller, Shikisai o Motanai Tazaki Tsukuru to, Kare no Junrei no Toshi [色彩を持たない多崎つくると、彼の巡礼の年] (Colorless Tsukuru Tazaki and His Years of Pilgrimage).
And:
He plans to complete the translation by the year-end, with publication expected in 2014.
Also:
"It is a very realistic book, like Norwegian Wood," Gabriel said in an e-mail interview. "To me, it seems more serious, even somber, compared to some of his other novels, but one ultimately that is hopeful."
Don't worry, Murakami's other translator, Jay Rubin hasn't been forgotten, and he:
is currently translating Murakami's Ozawa Seiji-san to, Ongaku ni Tsuite Hanashi o Suru [小澤征爾さんと, 音楽について話をする] (Talking with Seiji Ozawa about music), which was published in 2011.
Blog:
The Children's and Teens' Book Connection
(
Login to Add to MyJacketFlap
)
JacketFlap tags:
books that teach a lesson
,
books that teach children a lesson
,
book reviews
,
Kali Stileman
,
books for young readers
,
Animal lovers books
,
children's books
,
Children's picture books
,
Roly-Poly Egg
,
Snack Time for Confetti
,
tiger tales books
,
Add a tag
By: C. C. Gevry, on 5/17/2013
From the author of Roly-Poly Egg comes a story of one hungry little bird on the search for something to eat. Confetti is hungry, so she asks her animal friends what she should eat. But everything they suggest sounds yucky.
Snack Time for Confetti by author/illustrator Kali Stileman is absolutely charming. From the storyline to the artwork the details blend together to create an engaging story that will entertain your child ages 3 – 7. Confetti visits with a giraffe, a zebra, an elephant and more trying to find out what she should eat. The book teaches children what various animals eat, even though it's a story to simply be enjoyed. With a great and funny ending, Snack Time for Confetti will be read time and again.
Rating:





Hardcover: 32 pages
Publisher: Tiger Tales (March 1, 2013)
Language: English
ISBN-10: 158925127X
ISBN-13: 978-1589251274
I received a free copy of this book from the publisher. This review contains my honest opinions, for which I have not been compensated in any way.
By: Colleen Mondor, on 5/17/2013
Blog:
Chasing Ray
(
Login to Add to MyJacketFlap
)
JacketFlap tags:
Fiction Review
,
Add a tag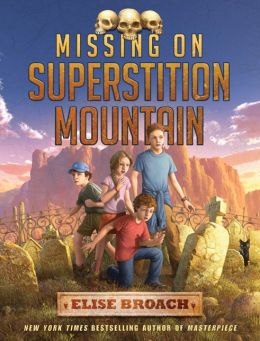 I don't talk much about my son here but he's eleven years old and while he loves a good story (I read all of the Harry Potter books to him several years ago), he is not always patient enough to read them. He prefers graphic novels and shorter nonfiction and so when I caught him up in bed, reading ahead in Elise Broach's Superstition Mountain books, I knew they were something special. He loves these two books and is d-y-i-n-g for the third to come out. I felt it was my duty (*grin*) to make sure everyone knew about them.
In every possible way Treasure on Superstition Mountain and Missing on Superstition Mountain are cut from the cloth of classic middle grade adventure. You have four likeable kids - three brothers and their spunky girl neighbor - the pensive, more bookish child is the narrator, the parents are all decent admirable folks who support these curious active children (while also being busy enough to let them disappear for awhile) and there is a huge mystery - HUGE - that demands to be solved.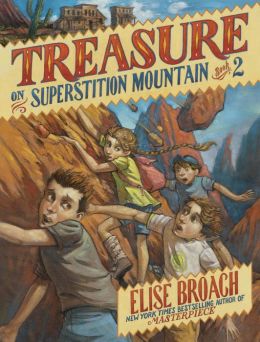 In this case the story is all about the Lost Dutchman's Mine, a very real Arizona legend that Broach discusses in her excellent afterwords. The kids go hiking on Superstition Mountain (a real place), and through an accident discover something sinister. In search of clues about what they've found, the kids hit the library, which adds an unexpectedly creepy character to the story, and the cemetery, which gives us a slightly unhinged character, and to the historical society - where we find a hero! Huzzah! It's all very Nancy Drew/Hardy Boys/Trixie Belden at their best and the scary is just the right amount of scary to keep readers turning the page while not terrifying. My son loves that each chapter ends with you wanting more and even though both books end without cliffhangers, the main story arc clearly continues. Broach is great at pacing and think that is a big part of why these books succeed so much.
We have both titles in hardcover for as my son says, he "NEEDS' them and can't stand the thought of them falling apart at some point. The covers catch the eye of their audience (kids in action!) and the drawings in the text are quite good - though, surprisingly, my son has not relied upon them. The story keeps him moving forward, not the pictures.
I can't wait to see how Broach ends this trilogy. There are some bad guys, and a lot of questions but mostly I'm enjoying how the characters have evolved and grown to ask more questions and think more deeply about what they are finding and learning. Plus she has managed to work a library and ghost town into the narrative - how cool is that?
Highly recommend, of course!
By: Kathy Temean, on 5/17/2013
Blog:
Writing and Illustrating
(
Login to Add to MyJacketFlap
)
JacketFlap tags:
Magazines
,
Tracy Campbell
,
authors and illustrators
,
How to
,
illustrating
,
Illustrator's Saturday
,
inspiration
,
Interview
,
Process
,
3-D wood designs
,
How to Paint
,
Interior Design company
,
Add a tag
Here is Tracy explaining her process:
Below, I've included some of the steps I used to draw and paint the "Watermelon Barrette".
Illustration:
Draw the design, scan it, and then reduce the drawing to fit the surface.
Trace the design onto tracing paper.
Paint/Supplies/Brushes:
DecoArt Americana Acrylics.
DecoArt Matte Varnish Sealer.
Krylon Matte Finish Spray.
Brushes—1/8" and 1/4"      Stipplers, #1 and #3 Round, 3/4" Wash, #2, #4, and a #10 Shader, #6      Filbert, and a #10/0 Spotter.
Wood Surface Preparation:
Sand the wood barrette with 400 grit wet/dry sandpaper.
Remove the dust with a tack cloth.
Apply one coat of DecoArt Matte Varnish Sealer.
Allow to dry, sand, and then wipe clean.
Paint the background with at least three coats of paint.
Center the tracing over the barrette.
Slip the dark blue dress-maker's paper under the drawing, and then
Trace the main pattern lines with a stylus and/or a pencil.
Color Worksheet:
 Drybrush Tips:
Use a 1/8" Stippler to      drybrush small areas.
Use a 1/4" Stippler to      drybrush large areas.
Dip the brush into the      desired paint color.
In a circular motion,      wipe off the excess paint onto an absorbant paper towel.
In a circular motion,      applying slight pressure, begin in the darkest area and move toward the      lightest area.
Follow the above steps      until the desired results are achieved.
 Finishing Touches:
Let the piece cure (I      wait three days).
Apply one coat of DecoArt Matte Varnish Sealer.
Let dry (15 to 30      minutes).
Lightly sand with a      brown paper bag.
Apply at least three      coats of sealer, sanding between each coat.
Spray with Krylon Matte Finish.
Did you go to school for art?
No, not unless you count the "How to Paint" workshops I signed up for in 1991.
What types of things helped you to develop as an illustrator?
In 1994, a published picture book illustrator encouraged me to draw my own designs. So with shaky fingers, I picked up a pencil and gave it a whirl. And voila! The fabric tree and snow mama was my first design, and I painted it on slate.
I continued studying "How to Paint" books, and then with three years of drawing and painting practice under my belt, I designed "How to Paint" pattern packets. During that time, I attended a Tuesday morning group for young moms at a local church. The moms loved my designs, and they invited me to teach on Tuesday mornings. One of the designs I taught them, Noah's Flying Angels, was painted on a wood piece.
My confidence bloomed like the flowers in my garden, and I decided to sell my expanding portfolio. Without access to the Internet, I packed up my car and traipsed all over Southern Ontario, begging and pleading with store owners to stock my designs on their bulging shelves. Krafty Kennedy's, a store in London, Ontario, took a chance and purchased my packets. Wait, it gets better. They even asked me to teach workshops. A few years later, I became a "Big Brush" teacher at national painting shows in Toronto and London, Ontario.
Here is a pattern packet design.
What was the first piece of art you did where someone paid you?
A small marketing company hired me to design thirty cards. I recently revamped "Gone Fishing" to create a Father's Day card.
Did you start out doing interior design work?
It wasn't until 2004 that I received accreditation as an International Design and Decorating Professional. I then obtained my Staging, Color Consulting, and Professional Organizing designations. While I was running my decorating business, QC Design School approached me to tutor students and, later, to facilitate Color and Professional Organizing workshops. I've recently cut back on my decorating services to allow more time to pursue my new love…writing.
What are your favorite art materials?
Hmm…I don't really have a favorite. I paint on many surfaces—illustration board, slate, tin, wood, and canvas.
Here is a "Musical Angel" I painted on a CD box.
Have those material changed over the years?
Yes, I've discovered Copic markers, which I must say are not forgiving. To avoid making mistakes, I test the markers on scrap paper to ensure I choose the correct tint, tones, and shades. The upside, I reduce my painting time in half.
Here is a very rough sketch for the painting below.
Once the idea takes shape, I redraw each figure, scan it, and then enlarge or reduce each element until I'm happy with the placement. I then transfer the final drawing onto Strathmore WindpowerTM smooth finish, acid free Bristol.
How long have you been illustrating?
I seriously began illustrating in 1994, so that means almost twenty years!
I like your note cards. How did you start creating and selling them?
Thank you, Kathy. Some of my three-dimensional wood designs were the inspiration that lead me to produce a line of square-shaped greeting cards, which I submitted to the Thirteenth Uniquely Ontario Creative Arts Show in Toronto, Ontario. My cards were judged on design, workmanship, promotional materials, and saleability. After receiving a score of 92 out of 100, I was invited to participate in the show that assists in the growth of Ontario's best home-based entrepreneurs. I was disappointed I didn't receive 100. 
Kathy, I hope you'll indulge me for a moment. Regal Gifts hired me to create A Country Charm Collection, reproduced on wrapping paper and gift cards.
Here are just four designs.
My confidence soared. I queried a well-known calendar company in Markham, Ontario. Rejected, I sulked, unaware God was still at work. A few months later, I received a call. My name had been passed on to Zebra Publishing. They hired me to design a "baby's first year keepsake" calendar, and the following year, a "twelve-month folk art" calendar. Both calendars sold like hot cakes in mom-and-pop bookstores, Chapter's bookstores in Canada, and Barnes & Noble in the U.S.
It looks like you have written and illustrated a children's book. Can you tell us a little bit about the book?
Our Story—You & Me is much more than a children's book. It's also a record-keeping book sprinkled with quaint quotes that will appeal to mommies and expectant mommies who want to capture the milestones of their baby's first year. The book is unique in that it elevates a record-keeping book to an early-reader storybook a mom can read to her child, and uses a child's natural curiosity about their first year of life to help interest them in reading. In the years to follow, mom and growing child will giggle together, poring over candid photos of things like a toothless grin, wobbly first steps, the ultrasound, and other special moments. This fifty plus page book mirrors my calendar art and will make the perfect baby shower gift.
Do you have plans to self-publish?
I'm on the hunt for an agent.
Is illustrating children's books a new direction for you?
It sure is. 
Have you ever illustrated something for a children's magazine?
I haven't pursued that avenue yet, but I have been published numerous times in American and Canadian "How to Paint" magazines.
Here are two tear sheets.
The drawing and painting instructions for the "Musical Angel CD Box" are similar to the "Watermelon Barrette". Below, I've listed the differences.
Additional Supplies:
DecoArt Walnut Gel Stain.
Krylon Matte Finish Spray.
CD Box Surface Preparation:
Prep the box as per the previous instructions, paint the base Napa Red, paint the lid Antique White, and then paint the edge Deep Teal (apply at least three coats of paint).
Drybrush the Deep Teal area with Blue Green, and again with Deep Teal plus Buttermilk to brighten.
Apply scotch tape 1/4" from the edge, and then paint the border Country Red.
Paint corner squares Lamp Black.
Dilute the gel stain with water, and then apply with a foam brush. Wipe the excess stain with a cotton cloth. Let dry.
Spatter with Burnt Umber and again with Lamp Black.
Trace main pattern lines onto the lid.
Color Worksheet 1:
 Color Worksheet 2:
What have you been doing to get your artwork noticed?
I have an online whimsical shop over at http://www.tracycampbell.net/shop.html and a website over at http://www.tracy-campbell.artistwebsites.com, where Fine Art America reproduces my original whimsical works of art on metal, stretched canvas, and acrylic. You can also buy unframed prints or framed prints that are ready to hang on your wall or on a friend's wall.
Have you made picture book dummies to show art directors, editors, and reps.?
Not yet.
Do you have an agent?
I'm hard at work querying agents.
Do you ever use two different materials in one illustration?
Not materials per se, but here's another style where I used a Micron pen and watered down acrylics.
The above piece was painted on illustration board. The process is the same as painting on wood, except I don't have to prepare the surface. I just transfer the line drawing, ink the design, and then apply watered down acrylics.
I also paint on Paper Mache items.
Have you seen your style change since you first started illustrating?
Oh my, yes! My earlier drawings and paintings were stiffer than my ironing board.
Have you gotten any work through networking?
Yes, from author extradornaire, Susanna Hill. She purchased designs for her online course—Making Picture Book Magic. Take a peek over at http://www.susannahill.blogspot.ca/p/making-picture-book-magic.html.
Do you do any art exhibits to help get noticed?
Not at present.
Are you open to doing illustrations for self-published picture book authors?
Not at the moment. I'd like to concentrate on illustrating my own books.
Do you use Photoshop?
Yikes! I hear the learning curve is steep and I'm not getting any younger. I do scan my artwork, and manipulate my designs with Microsoft Publisher and Paint. Here's one I reconfigured.
Do you own a graphic tablet? If so, how do you use it?
Unfortunately not.
How much time do you spend illustrating?
Not as much time as I'd like. Some days I work on marketing, other days I write and/or paint.
Do you have a studio set up in your house? Where do you live?
I have a second-floor studio in my 1841 farmhouse, nestled high on a hill in a secret location. 
Is there anything in your studio, other than paint and brushes, that you couldn't live without?
My art and writing reference books.
What are your career goals?
My career goals are to find a literary and/or art agent, finish writing two picture books, polish my middle grade novel, and continue creating art that one day will appear on home décor and giftware items. Lord willing.
What are you working on now?
Besides tutoring, I'm querying agents, blogging, writing a rhyming picture book, and adding art to sell on my website.
Are there any painting tips (materials, paper, etc.) you can share that work well for you? Technique tips?
I love dark blue dress-maker's paper. I lay my line drawings over the transfer paper, and then I use a stylus to trace the design onto any surface I like. The beauty of this paper is that as soon as you add ink or water—poof—the lines disappear.
Any words of wisdom you can share with the illustrators who are trying to develop their career?
Don't be afraid to try new things, step out of your comfort zone. As Will Rogers once said, "If you want to be successful, it's just this simple: Know what you are doing. Love what you are doing. And believe in what you are doing."
Thank you Tracy for sharing your artwork and process with us. We will be watching to see how you develop your style to illustrate picture books.
If you want to see more of Tracy's work or follow her in the future, her website is www.tracycampbell.net.  Please take a minute to leave Tracy a comment. It is much appreciated. Thanks!
Talk tomorrow,
Kathy
Filed under:
authors and illustrators
,
How to
,
illustrating
,
Illustrator's Saturday
,
inspiration
,
Interview
,
Process
Tagged:
3-D wood designs
,
How to Paint
,
Interior Design company
,
Magazines
,
Tracy Campbell
Display Comments
By:
PK
, on 5/17/2013
Blog:
Children's Author Artie Knapp
(
Login to Add to MyJacketFlap
)
JacketFlap tags:
Children's Stories
,
Add a tag
LATEST NEWS
The North Carolina Press Foundation is offering four of Artie's serial stories to Newspapers in Education (NIE) newspapers across the United States. This year's theme is Dig into Reading. In addition to the NIE, the foundation will also be offering Artie's work to libraries and other newspapers throughout the United States. To read the stories please click on the NC Press Foundation link listed above.
Two of Artie's children's books will be featured on Ameba TV beginning this summer. Based in Canada, Ameba TV is presently streamed worldwide in million of homes.
Ameba TV's rich, diverse content library delivers thousands of hours of educational, preschool, musical, and multilingual programming to children ages 2 to 12. The popular children's streaming TV service features award-winning shows, like WordWorld, The Cat in the Hat Knows a Lot About That, BusyTown Mysteries, and Ruby Skye PI.
More to come!
View from a Zoo – Bored with her life, a housecat seeks out adventure in this new fully illustrated picture book coming in the summer of 2013. Written by Artie, the book is being illustrated by the incredibly talented Indian artist Sunayana Nair Kanjilal. More to come as the book's release date gets closer….
COPYRIGHT © 2013 ARTIE KNAPP
Use of any of the content on this website without permission is prohibited by federal law
Blog:
The Children's and Teens' Book Connection
(
Login to Add to MyJacketFlap
)
JacketFlap tags:
bedtime stories
,
children's books
,
Children's picture books
,
Contemporary fiction
,
book reviews
,
books for young readers
,
books that teach a lesson
,
books that teach children a lesson
,
children's books that teach a lesson
,
Circle and Square
,
friendship
,
love
,
Sally O. Lee
,
The Children's and Teens Book Connection
,
Add a tag
By: C. C. Gevry, on 5/17/2013
Sally O. Lee is back with another imaginative, unique creation. When circle meets square, circle is curious if square is always the same: brushing his teeth, bouncing a ball, at bathtime, and in other situations. Square assures circle that he's always the same no matter what he's doing. Simple in nature, this story is one of friendship and acceptance. Parents could even use this book as a teaching point for how their love remains constant no matter what happens.
A delightful story coupled with Lee's adorable artwork is waiting for your young reader in Circle and Square.
Rating:





Paperback: 34 pages
Publisher: CreateSpace Independent Publishing Platform (March 12, 2013)
Language: English
ISBN-10: 1482676850
ISBN-13: 978-1482676853
I received a free copy of this book from the author. This review contains my honest opinions, for which I have not been compensated in any way.
By:
Melissa Wiley
, on 5/17/2013
Blog:
Here in the Bonny Glen
(
Login to Add to MyJacketFlap
)
JacketFlap tags:
Art
,
Photos
,
Add a tag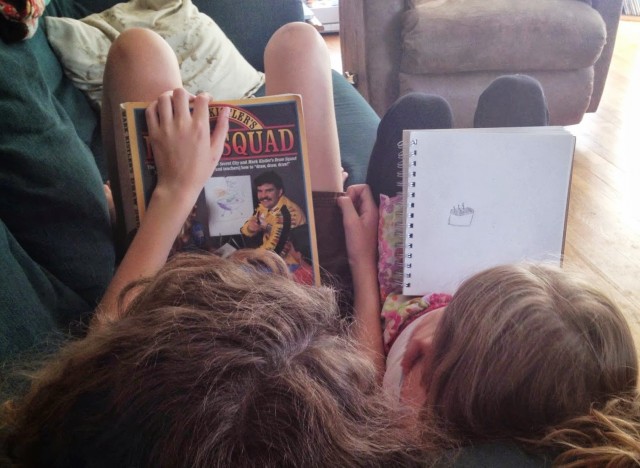 By: Jerry Beck, on 5/17/2013
Blog:
Cartoon Brew
(
Login to Add to MyJacketFlap
)
JacketFlap tags:
Advertising
,
Martin Allais
,
Oreos
,
Owl City
,
Studio Animal
,
Add a tag
If there's anything that can both dazzle my senses and make me crave Oreos, it's this 90-second animation for Oreo's new "Wonderfilled" campaign, directed by Martin Allais and his production company Studio Animal. Animated to a jaunty tune performed by Owl City, the spot is filled with wonderfully stylized animation, a fantastic sense of design, fun transitions, and eye-popping colors from beginning to end. And much like the classic commercials of yesteryear, it makes me WANT to buy the product it's selling.
CREDITS
Global Marketing Communication:  Jill Baskin
Brand Marketing Director: Janda Lukin
Agency Credits
Chief Creative Officer: Joe Alexander
Group Creative Director: Jorge Calleja
Creative Director: David Muhlenfeld
Creative Director: Magnus Hierta
Senior Art Director: Brig White
Planning Director: John Gibson
Managing Director: Steve Humble
Senior Broadcast Producer: Kathy Lippincott
Broadcast Producer: Heather Tanton
Broadcast Junior Producer: Caroline Helms
Production Company: Studio Animal
Director: Martin Allais
Producer: Maria Soler Chopo
Illustration: Martin Allais
Storyboards: Martin Allais
Animatic: Pere Hernández, Javi Vaquero, Matt Deans
Animator: Pere Hernández, Javi Vaquero, Pablo Navarro, Dani Alcaraz
Tracing and color:Ezequiel Cruz, Macarena Ortega, Eva Puyuelo, Joel Morales
Compositing: Santi Justribó Martin Allais
Music
Music (performed by): Owl City (Adam Young)
Voiceover talent: Owl City (Adam Young)
Original Music and Lyrics: David Muhlenfeld (English Major, LLC)
By:
Wendy Orr
, on 5/17/2013
Blog:
Wendy Orr's author journal
(
Login to Add to MyJacketFlap
)
JacketFlap tags:
trauma in YA lit
,
Singapore writers
,
SIngapore illustrators
,
Singapore authors
,
Asian festival of children's content
,
guide on book to film
,
Add a tag
I'm very excited to be going to Singapore next week for the Asian Festival of Children's Content. I first heard of the festival when I met R. Ramachandran, head of the Singapore Book Council, at the Bookaroo Festival in New Delhi – another extraordinary event. After seeing one of my sessions he said he'd like to invite me to the AFCC, and so now I'm busy preparing talks and handouts, looking forward to catching up with friends, meeting authors only known through facebook or twitter – and browsing through the Lonely Planet Guide to Singapore! (Though I have a feeling that the latter may be wasted, as the Festival itself looks too good to stray from.)
I have the pleasure of speaking with Susanne Gervay about our books Butterflies and Peeling the Onion in Challenge, Trauma and Recovery in YA Fiction, with Shirley Lim moderating. Susanne's done a great post on the festival and participants:
http://www.sgervay.com/blog
.
WA writer and friend Dianne Wolfer will be moderating my session from Book to Blockbuster. To go along with the talk, I've been busy preparing a handout of hints for what to expect if your work is optioned.
Finally, I'll be joining Vatsala Kaul Banerjee, Renee Ting and Kathleen Ahrens in the writing critique: First Pages.
But wait, there's more: On Tuesday 28th, at 8:50 am I'll be interviewed on Channel News Asia, and at 11:00 am I'll be be on 938 Live.
It sounds like a busy and exciting week. Thanks very much to the National Book Development Council of Singapore www.bookcouncil.sg R. Ramachandran, Kenneth Quek, Stephanie Tanizar and everyone else involved for making it all possible.
(And a week from now, I'll be on the plane...)
By:
Melissa Walker
, on 5/17/2013
Blog:
readergirlz
(
Login to Add to MyJacketFlap
)
JacketFlap tags:
rgz salon
,
holly thompson
,
lyn miller-lachmann
,
the language inside
,
Add a tag
Rgz SALON member Lyn Miller-Lachmann has been the Editor-in-Chief of MultiCultural Review; the author of the award-winning multicultural bibliography Our Family, Our Friends, Our World; the editor of Once Upon a Cuento, a collection of short stories by Latino authors; and the author of Gringolandia, a young adult novel about a refugee family living with the aftermath of the Pinochet dictatorship in Chile. Her most recent novel, Rogue--a spring/summer Junior Library Guild selection for middle school--is out this month!

We're honored to have Lyn here as part of the rgz SALON, a feature where top kidlit experts clue us in to the best YA novels they've read recently. Today, she discusses The Language Inside by Holly Thompson:


"
Emma Karas is a 'third culture kid.' Her parents grew up in the United States, but she calls Japan home even though she is not ethnically Japanese. When her mother is diagnosed with breast cancer and decides to return to the U.S. for treatment, Emma is uprooted from her Japanese friends and her efforts to help survivors of the 2011 earthquake and tsunami, and dropped into a world that she doesn't understand. The stress causes her to suffer severe and frightening migraines. To take her mind off her mother's health, her parents' separation due to work, and her loneliness, she volunteers at a nursing home near her grandmother's house in Massachusetts. There, she meets Samnang, a volunteer of Cambodian heritage with a troubled past, and Zena, a middle-aged poet with 'locked-in' syndrome. As she becomes comfortable in her new surroundings, she feels guilty that she is not helping her friends in Japan as they rebuild from the tsunami. Ultimately, this thoughtful, good-hearted teenager finds herself torn and having to make choices that weigh her own needs and the needs of others.
"Thompson is a poet and novelist from the U.S. who lives in Japan, Her second novel in verse is a strong follow-up to the acclaimed Orchards, which mostly takes place in her adopted home. The elegant and heartfelt poetry in The Language Insideallows the reader to explore Emma's internal transformation as she navigates different cultures and the people in her life. Emma writes, 'it's not just losing / Japanese words / and phrases / it's as if I've lost / half of myself here / but no one knows / because I'm a white girl' There is very little dialogue, but through Emma's eyes we see other characters clearly and Emma's changing relationships with them. The most original aspect of this powerful and compelling story is Emma's interaction with Zena via poetry, as we see the growing friendship between two people who, in distinct ways, understand that 'lonely is when the language outside / isn't the language inside.'"
By:
Some days need more hours.
Some meals need more wine.
Gardens need more flowers
If their bulbs are in decline.
Some walls need more hangings.
Some food needs more spice.
Banjos need more twangings
So their music will entice.
Some homes need less clutter.
Some rooms need more light.
Bread may need more butter
So the taste will be just right.
Some jokes need more laughter.
Some 'hoods need less crime.
Since it's time I'm after,
By:
Gail Gauthier
, on 5/17/2013
Blog:
Original Content
(
Login to Add to MyJacketFlap
)
JacketFlap tags:
2012
,
Reader response
,
fantasy
,
Add a tag
I've had a very up-and-down relationship with the
Artemis Fowl books
. I was
enthusiastic about the first book
. Though I loved Holly Short in book two, I thought there were
issues with point of view
. Third book...
disappointing
. Evidently I didn't even want to write anything here about
the fourth book
. With the fifth book, I was
happy again
. Happier, anyway. It appears that
I missed book six and wasn't crazy about book seven.
Was there a book in which Artemis went into space?
Oh, well, the series/serial is done now, and the wrap up,
The Last Guardian
, is quite good. We do have the choppy story line in which we swing back and forth between worlds/characters, which has appeared in earlier books. The side trip regarding Foaly's wife seemed totally unnecessary, for instance. It did give us a chance to be with Foaly, though, and who doesn't like Foaly? I also liked Artie's little brothers. Does anyone else see potential for an early reader series about criminal genius preschoolers?
The Artemis Fowl books are fantasy thrillers with humor, and with this concluding volume we are provided with a big thrilling threat for Artie to overcome. I think the actual ending of the book gives readers a chance to have their cake and eat it, too, which I'm not complaining about.
By: Sue Bursztynski, on 5/17/2013
Pic by Eva Rinaldi


Wednesday night I went with friends to my local cinema, the Classic, to see Star Trek:Into Darkness. The photo is not from the Classic. It's from the Australian premiere of the film, with, left to right, Karl Urban( who would have thought "Eomer" from LOTR would make such a fabulous Dr McCoy?), Zachary Quinto, director J.J Abrams and Chris Pine. We got the director AND Kirk, Spock and McCoy! I placed this photo, which I think appropriate, instead of a movie poster because the pic, by a lady called Eva Rinaldi, is on Wikimedia Commons, with permission granted to use as long as you attribute, while the film company would make all sorts of fuss. And it's a nice photo - my, they are tall boys! Or J.J Abrams is very short, though he makes up for height in talent.
I can't say much about the movie without spoilers and I won't assume everybody has seen it already, so I will say only that I thoroughly enjoyed it, both for the action and for the cheeky references to other things. The cheekiness started at the beginning, with a sequence on "Nibiru", the supposed Doomsday planet that was going to wipe out Earth last year. There was a scene which made reference to another Trek movie, in reverse, and a villain we have seen before, though in the interim he has developed a British accent, as has another character whom we saw as distinctly American last time. And a lot of action. The main actors have grown into their roles and settled in comfortably and if we can no longer have Shatner, Nimoy and Kelley, their younger versions are doing a very good job of convincing us. There were times when I could close my eyes and almost see the original Spock and McCoy and if Chris Pine's voice isn't quite Shatner's his mannerisms are.
Just go and see it.
So, why am I talking about a movie and a TV show not remotely connected with books, on my book blog?
When I was growing up, I was developing a love of science fiction, as was my older sister. It was her shelves I raided for my spec fic, although I had already come to it through Verne and Wells. I was looking for visual spec fic as well, because I love my SF/F any way I can get it. The only thing on at the time I was watching was Lost In Space. Since growing up, I have discovered that to be classic sixties pop culture and a hoot. And it featured some of the people I would later see/hear in Star Trek, such as Stanley Adams(Cyrano Jones in Trek) and composer Alexander Courage, not to mention a certain Johnny Williams( yes, THAT John Williams!). And irritating little "Will Robinson" would eventually appear as a lovely alien in the wonderful, intelligent series Babylon 5.
But at the time, I could only see the silliness of the story lines and longed for real SF. And one night, I got it. I saw a TV show with characters I could care about and stories that made sense to me(and when they didn't I could have fun arguing with friends about them). And best of all, it had real SF writers - classic ones such as Jerome Bixby, Theodore Sturgeon, Norman Spinrad, a story pinched from Fredric Brown, Harlan Ellison(whose script was, admittedly, rewritten completely and didn't he complain about it for years, but didn't refuse his Hugo award for it ;-D). Heck, Larry Niven wrote an animated episode! And there were new writers such as David Gerrold, who has since gone on to fame, fortune and Hugo short listings. With the spinoffs, they stopped hiring SF writers, for reasons David Gerrold told a couple of us in an interview some years ago, for a publication that never happened for reasons beyond our control. If I ever find my transcription of it I will ask him again and perhaps finally publish it here.
Anyway, I became a fan. I love lots of things about the spinoffs but it was the original that won my heart and still is.
It was Trek that helped me learn to write short stories - back then, my only writing was a bunch of woeful novels that I will never, ever try to sell. I wrote about 150 fan stories, some of it other universes, but mostly Trek. One of the sub universes I created for my fan fiction, with a friend, appears briefly in Wolfborn, my first novel. It was a planet called New Wales, populated with descendants of Arthur's people, plus some terrestrial animals now extinct on Earth, such as the Shetland unicorn, which tended to turn up and embarrass young men with its affectionate greetings. If you've read the novel, you will remember a scene in which the hero, Etienne, meets his friend Armand in the Otherworld, along with his hill pony Dapple, who is actually a unicorn, but her horn only shows up in this world. This is terribly embarrassing to Armand, who has been bragging about his skills with girls. Dapple the unicorn was a tribute to a unicorn called Maggie, who embarrassed Pavel Chekov in one of my fan stories.
One of these days I will do a novel set on New Wales - I had planned one years ago, when Patricia Kennealy Morrison beat me to it with her series set on a New Wales-like world with similar origins. But it has been years. And her novels weren't funny. Mine will be.
The thing is, Star Trek has helped me as a writer and a reader, so I don't apologise for mentioning it here. If you haven't seen the original series, it's easily available on DVD. Watch it!
Display Comments
By:
Shawna JC Tenney
, on 5/17/2013
Blog:
Shawna JC Tenney
(
Login to Add to MyJacketFlap
)
JacketFlap tags:
Add a tag


Here's a video I made to inspire artists to use Pinterest to gather reference and inspiration!
By: Maria Gill, on 5/17/2013
Blog:
KidsBooksNZ
(
Login to Add to MyJacketFlap
)
JacketFlap tags:
Picture Book
,
Add a tag
10 Kooky Kiwi
, pictures by Deborah Hinde, sung by Pio Terei, Maori lyrics by Kotuku and Te Okahurangi Tibble; Scholastic NZ
Picture books containing a song and a CD are all the rage these days. They're not true picture books in the literary sense (the English words for this song were written by Scholastic NZ) but they're great fun and bound to be a boon for pre-school and new entrant teachers. This one is based on the Ten Green Bottles tune, with a focus on some brightly-coloured and accident-prone kiwi. "Three kooky kiwi playing hide and seek ... And if one kooky kiwi forgets to hide his beak, there'll be two kooky kiwi playing hide and seek." The cartoon illustrations are appropriately zany, as befitting rainbow-hued kiwi with weird hairdos. The bouncy song is ably rendered by Pio Terei and accompanying guitar, and having it also sung in Maori is a bonus.
ISBN 978-1-77543-145-9 $19.50 Pb
Reviewed by Lorraine Orman
By:
Mitali Perkins
, on 5/17/2013
Blog:
Mitali's Fire Escape
(
Login to Add to MyJacketFlap
)
JacketFlap tags:
Awards
,
Add a tag
Please come celebrate authors Anna Boll and Kathy Quimby, winners of this year's
PEN New England Susan P. Bloom Discovery Award
. The event starts at 6:30 pm on Sunday, May, 19 at University Hall at Lesley University in Cambridge. It's free and parking is available. Both authors will read from their winning submissions and refreshments will be served afterwards. Come mingle with other authors, members of the PEN NE Children's Book Committee, and the winners. (I'll have the privilege to introduce Anna and her work during the event.) Hope to see you there!
By: Ello, on 5/17/2013
Blog:
Hello Ello 2
(
Login to Add to MyJacketFlap
)
JacketFlap tags:
Add a tag
Tomorrow - Saturday, May 20th - is the Gaithersburg Book Festival!

And I'm so proud to say that I'm going to be speaking there! I'll be speaking with my friend Jessica Spotswood, author of Born Wicked (a book Oldest adores, btw), at 2:15 in the YA Pavilion. If you are in the area, I really hope you can come by! We will be talking about worldbuilding, strong females, and outcasts.

And then at 3pm - I'll be signing in the author's tent. I really hope some people show up so I won't be lonely! ;o)

So if you are anywhere in driving distance of Gaithersburg, I really hope you will come and say hi! The festival has amazing authors there and is a Don't Miss event!!


Yesterday, Seymour Simon spoke to all children, all grades, at a Pennsylvania elementary school. Here's what the school librarian had to say about it:Dear Seymour,Your time at Lower Gwynedd was a gift to our students as well as us oldsters! We were all mesmerized. You modeled the thrill of discovery and thinking as writing… writing as thinking. Your use of comparisons in the "space" presentations made complex numbers and concepts something we could understand. I do not doubt that every child will go home tonight and fly at least one paper airplane. It was a thrilling day for us and one that I hope will plant the seeds for future scientists and writers and educators. Thank you so much.Holly CarlsonLibrarianLower Gywnedd Elementary School
By: Trudy Zufelt, on 5/17/2013
Having an older sister in charge wouldn't be so bad if she actually paid attention to you.
When a boy is left in the care of his sister, he tries to get her to read his tiger book to him. Instead, she is too busy reading her own book. With ear buds planted in her ears, nothing will distract her. When she finally takes a break to give her brother a bowl of soup, he finds a ferocious tiger escaping with the steam from his bowl. The boy declares war on the tiger using the things in his kitchen while his sister cares only that his soup gets cold.
Bright colors evoke the warmth of Indian fabrics. The image of the tiger cowering on a table from the deluge of kitchen implements coming at him will give the young reader the thrill of victory and keep him glued to the pages long after he reads the words.
Recommended to Highly Recommended (4 1/2 stars)
Publisher: Peachtree Publishers (April 2013)
ISBN-13: 978-1-56145-696-3
Ages 4-8
Purchase from the following retailers.
**Disclosure: Review copy received from publisher at no charge. No monetary compensation was received. My review is based upon by honest opinion and is not influenced by outside sources.
Giveaway Details:
Winner will receive a copy of
Tiger in My Soup
. Use the Rafflecopter form to enter. By entering, you acknowledge you have read the terms on the form and agree to them. Contest ends 5/30/2013 at 11:59 EST.
a Rafflecopter giveaway
Display Comments
By:
So I stopped to get us a bite to eat for a late lunch and I heard some concern from the kiddos: 9yo: So did you mean to just order that? 10yo: Yeah, I mean, they don't know what you really need if you don't tell them the right amount. Me: Yes. I meant to …
Display Comments
By: Jerry Beck, on 5/17/2013
Blog:
Cartoon Brew
(
Login to Add to MyJacketFlap
)
JacketFlap tags:
Animators
,
Costa Rica
,
El Cumpleaños Esotérico
,
Guillermo Tovar C.
,
Interdimensional Studio
,
Nadia Mendoza A.
,
The Esoteric Birthday
,
Add a tag
For this week's crowdfunding profile, we travel to Central America where the husband-and-wife team of Guillermo Tovar C. and Nadia Mendoza A. is working feverishly to complete Costa Rica's first full-length animated feature
">The Esoteric Birthday (El Cumpleaños Esotérico)
. They have been working on the film for the past two years, and plan to finish it by this December. They describe their unconventional-looking movie as an "experimental digital" animated film:
The Esoteric Birthday tells the story of the coming of age of a peculiar little girl who is about to become a powerful witch. She has to undergo a ceremony of initiation that involves a series of dangerous trials. It all takes place in a fantastic and mysterious tropical island, with over 50 characters, like a group of intergalactic witchdoctors, a religious sect of wild animals, two cannibal Amazonian warrior twins, and lots and lots more.
Guillermo and Nadia, who operate as Interdimensional Studio, are asking for $25,000 for the post production which includes sound design, original music, and hiring a small crew of local animators for lighting, texturing and compositing. The entire 70-minute film will be released online at no charge after its festival run in 2014. The rewards they are offering include drawings from the pre-production phase and having a donor's face drawn into the film as a background character. They have currently raised just over $4,000 with 51 days left in their campaign.
LINK to The Esoteric Birthday Indiegogo campaign
By: Maral Sassouni, on 5/17/2013
Blog:
(Maral Sassouni's Secret Blog)
(
Login to Add to MyJacketFlap
)
JacketFlap tags:
Add a tag
Of course, once all the flowers start blooming, it's very difficult not to be inspired!
And then there's...
Raccoon yoga
Have a wonderful weekend!
By:
Brooke Boynton
, on 5/17/2013
Blog:
Brooke B.
(
Login to Add to MyJacketFlap
)
JacketFlap tags:
Add a tag
Display Comments
By:
Roberta Baird
, on 5/17/2013
Blog:
A Mouse in the House
(
Login to Add to MyJacketFlap
)
JacketFlap tags:
octopus
,
Texas
,
www.robertabaird.com
,
children's illustration
,
digital art
,
IF
,
illustration
,
Illustration Friday
,
roberta baird
,
animals
,
children's book art
,
houston
,
liquid
,
a mouse in the house
,
artwork
,
Add a tag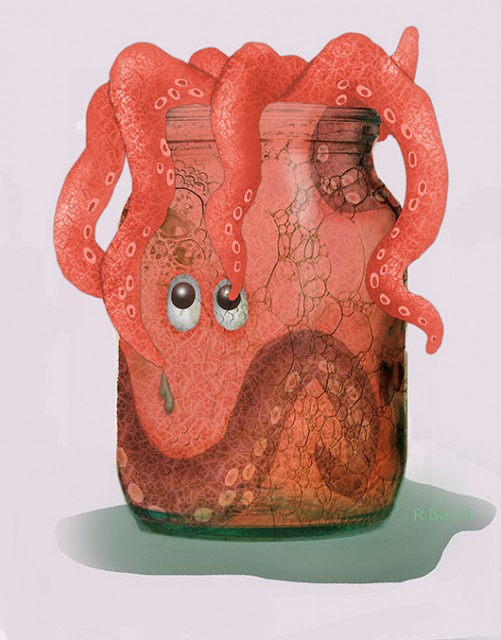 Gurggggggle swish…. slluuuuudge glump.… thorp…. bloop, bloop, bloop, bloop…..
By:
Jen Robinson
, on 5/17/2013
Blog:
Jen Robinson
(
Login to Add to MyJacketFlap
)
JacketFlap tags:
Board Books
,
Newsletter
,
Reviews
,
Add a tag
Book: Splish, Splash, Splosh!
Author: David Melling (@DavidMelling1)
Pages: 22
Age Range: 2-5
Splish, Splash, Splosh! by David Melling is a medium-sized board book with padded cover (part of a series from Tiger Tales Books). It's an appealing counting book featuring Splosh the duck (a character first introduced in a book published in the UK) and his nine duck friends.
The text is bouncy and read-aloud-able, with rhymes for each pair of numbers. Like this (across two page spreads):
"ONE fluffy duck goes waddling
one day.
TWO fluffy ducks have found
a place to play!
It's a fun book to read aloud. But it's Melling's illustrations that will delight toddlers. We see Splosh in an inner tube, hesitating to jump in to the pool. We see the other ducks, in swim caps, goggles, and even flippers bouncing around, bumping into one another. We see Splosh balanced in his inner tube, which hangs from a tree (after a diving board mishap), and a clearly irritated bird poking a hole in said inner tube.
The illustrations are just the right mix of silly and simple. There's a plain white background, and little texture to the illustrations. Melling's focus is all on the ducks, their swim paraphernalia, and the pool. And, on the last page, water splashing everywhere.
Splish, Splash, Splosh! would be a great bathtime book for two-year-olds, or just a fun counting book for slightly older preschoolers. The padded cover and brightly colored letters in the title will catch the eye of young children, who sense immediately that this is a book for them. The sturdy construction, not to mention the quiet humor, will appeal to parents and librarians.
Publisher: Tiger Tales Books (@TigerTalesBooks)
Publication Date: March 2013
Source of Book: Review copy from the publisher
FTC Required Disclosure:
This site is an Amazon affiliate, and purchases made through Amazon links (including linked book covers) may result in my receiving a small commission (at no additional cost to you).
© 2013 by Jennifer Robinson of Jen Robinson's Book Page. All rights reserved. You can also follow me @JensBookPage or at my Growing Bookworms page on Facebook.
By:

Author & Illustrator: Timothy Young
Publisher: Schiffer Books
Genre: Children
ISBN: 978-0-7643-4387-2
Pages: 32
Price: $16.99
Schiffer Books
Buy it at Amazon
Picture books can be trouble! If you read about the boy with the purple crayon and draw on your own walls, your mom will be angry. If you eat green ham, you'll barf. And wishing really hard won't bring you to the jungle. So this boy has had enough! He's getting rid of all his picture books.
But wait, he really does like this one. And this one. And this one. In fact, he really likes them all! He won't ever toss these books in the trash. They're each special, and he's going to read them all right now.
I Hate Picture Books! incorporates scenes and concepts from many of the best picture books of the last few decades. This cute story is a fun reminder of the joy these books continue to give us.
Reviewer: Alice Berger
Yesterday I visited a terrific bunch of kids at Lower Gwynedd Elementary School in Ambler Pennsylvania. Afterward, I received a lovely thank you note from Rachel N. Rachel wrote: You have visited my school, Lower Gwynedd. I enjoyed your visiting and all of your books. I really hope that you will visit us next time again. Have a nice day! Thank you, Rachel, for this lovely note. Then, I started to receive letters like these two: Hi, it's Margaret. I have a question to ask you. What is your passion about writing? your fan, Margaret Hi. I'm Shawn from Lower Gwynedd Elementary. I was really fascinated by your presentation today!! I wanted to tell you a few questions. One is what inspired you to be an author. Two is how do you get the ideas for all of your books? And three is what is your favorite subject to write about? Thanks for reading this BYE!! From: Shawn Both Margaret and Shawn are asking about my life as a writer - how I got started, how I decide what to write about, and why I continue to want to write (my "passion" for writing). No one in particular encouraged me to be an author. I don't think it ever occurred to anyone in my family that you could actually make a living as a writer. I have always loved writing, and started doing it when I was in second grade. Mostly, in those early days, I was writing because I wanted to get my friends excited about the things I was interested in, like planets and space. When I got a little older, I read a book called THE SEA AROUND US, by Rachel Carson. She is a wonderful writer, I absolutely loved the book, and by the time I finished it, I had realized that I wanted to write about the natural world. I started writing for children because that is where my area of expertise was - I was a middle school science teacher for many years. I get the ideas for my books from observing and reading about the world around me. I have loved nature since I was a young child. Although I grew up in the Bronx - a very crowded part of New York City - the natural world was all around me. There is weather in the city, just as there is in the country. You can see the sun, moon and stars from a rooftop in the city. And I explored a vacant lot on my street, which wasn't exactly a park, but still had birds, earthworms, small plants, and trees. In fact, when I grew up one of the first books I wrote was called SCIENCE IN A VACANT LOT.I don't think I can say that I have a favorite subject to write about. I simply write books about things that I find interesting and exciting. And of course, whenever I want to write about a subject, I need to study. I start by looking at research that other people have done. What experiments have they run? What animals have they observed? By studying all the work that others have already done, I learn about the subjects that I write about in my books. As the great scientist Sir Isaac Newton once wrote, "If I have seen further than others, it is because I have stood on the shoulders of giants." And that brings me to Margaret's question about my passion for writing. I suppose I love to write because I love to learn, and I get excited about sharing what I am learning with others. Although being an author is my job, it has never felt like "work." As long as kids like you guys enjoy reading my books, I'm going to keep writing them! Editor's Note: Seymour Simon cannot respond personally to every letter that he receives (or he would never have time to write books!). However, he has created a section on his website calledFAQs, which stands for "Frequently Asked Questions." Readers can find the answers to virtually all their questions by looking at theFAQ sectionon SeymourSimon.com
By: Jerry Beck, on 5/17/2013
Blog:
Cartoon Brew
(
Login to Add to MyJacketFlap
)
JacketFlap tags:
Cartoon Brew Podcasts
,
Alan Foreman
,
Bill Plympton
,
Cheatin'
,
Desiree Stavracos
,
FFAF
,
Frenzer Foreman Animation Forum
,
Joel Frenzer
,
Add a tag
Today on the Frenzer Foreman Animation Forum, Bill Plympton's producer Desiree Stavracos visits the program. She talks about what it takes to produce cartoons for America's King of Indie Animation, shares the genesis of Plympton's upcoming animated feature Cheatin', reveals Bill's favorite kind of pencil, and teaches the proper way to communicate with artists.
LINKS RELATED TO THIS EPISODE
DesireeStavracos.com
Bill Plympton's Website
Bill Plympton's Tumblr
Ticonderoga Pencils
By: Cathy and Louise, on 5/17/2013
Blog:
The Nonfiction Detectives
(
Login to Add to MyJacketFlap
)
JacketFlap tags:
Add a tag
A Lucy Book of Sloth by Lucy Cooke   Margaret K. McElderry Books, 2013. ISBN: 9781442445574 Grades K-4 The reviewer borrowed a copy of the book from her library. Are you looking for a way to draw more readers to the nonfiction sections? All you need to do is put A Little Book of Sloth on display, and the readers will flock to the 600s. We've had it available in the collection a short time, and
By: Naomi Bates, on 5/17/2013
Blog:
YA Books and More
(
Login to Add to MyJacketFlap
)
JacketFlap tags:
booktalk
,
booktalk notes
,
Add a tag
I had my last booktalk of the year in April, strategically before state testing so the students would have something really good to read. Here are the notes for the books I talked for 9-12th grade:

Miracle by Elizabeth Scott (real life read): Final Destination, the movie. PTSD
Leading question: Other than war, what are some other instances where people can suffer from PTSD?


Zoe Letting Go by Nora Price (real life read): famous journals in history
Leading question: Why do people keep journals? How would you react if someone read yours?

Legend by Marie Lu (dystopia): current hot topic issues Americans face today that deals with government (gun control)
Leading question: Do you trust the government 100%? Why or why not?

Darkwater by Catherine Fisher (fantasy): stories about the Devil throughout history (Devil and Daniel Webster, Faust
Leading question: how many of you have ever heard this song? Do a little Charlie Daniels. Explain how this is recurrent theme throughout literature.

The Diviners by Libba Bray (supernatural): haunted places in our area
Leading question: Anyone ever heard of la Llorna? How about Chupacabra? Regional legend ghost stories. Are they true or not?

Eve & Adam by Michael Grant and Catherine Applegate (science fiction): protein folds mystery and the gamers who helped solve it.
Leading question: What would the perfect teen look like (in your mind?) Is it ethical or not to "play" with genetics?

Finnikin of the Rock by Melina Marchetta (fantasy): Talk about Kony or Saddam Hussein
Leading question: What causes people to become refugees? How can they start over again?

Falling for You by Lisa Schroeder (girl reads; novel in verse): signs of an obsessive person (taking up all of your time, needing you in his life in order to live, constant contact, telling you what to wear/look like)
Leading question: Where is the fine line between a relationship and obsession? Has anyone ever heard of a crime of passion?

Fateful by Claudia Gray (historial supernatural): Titanic exhibit in Ft. Worth; the 2015 launch of the replicated Titanic
Leading question: How long have werewolves been around? How did they get from Europe to America?

Scandalous: 50 shocking events you should know about (so you can impress your friends) by Hallie Fryd (non-fiction): Look at cover and talk about two events: Elvis and his shocking antics: Nancy Kerrigan and Tonya Harding. How the impacted history. Yes, history does have a dark and dirty side, and this book has the stories the textbooks leave out.

Infects by Sean Beaudoin (supernatural tongue-in-cheek):Zombie talk (fast, slow, what infected them, how to kill/evade them)
Leading question: Have you ever had a case of food poisoning?

Trinity: a graphic history of the first atomic bomb by Jonathan Fetter-Vorm (non-fiction): How many times was the A-bomb detonated? Where? One of the best kept government secrets of its time. Oppenheimer was the creator, but how did he feel about this thing he created? Why did the U.S. choose Nagasaki or Hiroshima?

The Raft by S.A. Bodeen (real life read; thriller): Life of Pi; the effects of dehydration
Leading question: Besides food and water, what would be the most important thing to have on a lifeboat in the middle of the ocean?

Breathe by Sarah Crossen: air quality alerts; the most polluted cities in the world
Leading question: Do all people need the same amount of oxygen to survive? What about those that live in mountains vs. prairies dwellers? Athletes or sendentary people?

The Raven Boys by Maggie Stiefvater (supernatural): Different ways of divination (tea leaves, magic ball, tarot cards)
Leading question: Do psychics have the abilities they claim or not? Ever watched Long Island Medium or Psychic Detective on television?

Second Chance Summer by Morgan Matson (girl reads): hindsight; spending your entire summer with your parents and siblings
Leading question: Ever had one of those moments when you know you screwed up but didn't do anything about it? Ever wished for a do-over?

Zoo by James Patterson (adult fiction): story about the chimpanzee that turned on its owner and caused substantial facial damage
Leading question: If you had a pet you loved and it turned on you, what would you do?

Ten by Gretchen McNeill (mystery): movie the Elevator; Agatha Christie
Leading question: What's the best thing about being on an island? The worse?

The Turning by Francine Prose (psychological mystery): long-distance relationships
Leading question: If you were offered a summer job that paid big time, would you give up all phone and internet access the entire summer?

Before You Go by James Preller (real life read): Three things guys think about (food, girls, hanging out) and the nothing box they are all equipped with
Leading question: What is the best summer job for a teen? Are they different for guys and girls?

Visit Sunny Chernobyl: and other adventures in the world's most polluted places by Andrew Blackwell (non-fiction): brief history of the infamy of Chernobyl; current disasters that pollute the earth (Fukishima). Talk briefly about one other place in the book (India river) and end with the fact the Texas made the top five list of the most polluted places on earth.

My Friend Dahmer by Derf Backderf (non-fiction): Which is more difficult, elementary or junior high? How about junior high or high school? Talk about Jeffrey's history in school and the demons he had to battle. Describe his social life and his relationship with his friend Derf. Then talk about what happened 10 years later, when Derf saw him on television...




By: Gaby317, on 5/17/2013
Blog:
Starting Fresh
(
Login to Add to MyJacketFlap
)
JacketFlap tags:
Add a tag
Display Comments
By: Jerry Beck, on 5/17/2013
Blog:
Cartoon Brew
(
Login to Add to MyJacketFlap
)
JacketFlap tags:
Artist of the Day
,
CRCR
,
Nicolas Dehghani
,
Add a tag
Nicolas Dehghani is an artist in Paris who draws and creates animated productions as part of the CRCR collective.
He tends to use textured, thick black and gray lines/washes over saturated but limited color palettes. The subjects in his work are confidently stylized and drawn.
You can see more of Nicolas's work on his blog.
By:
Jen Robinson
, on 5/17/2013
Blog:
Jen Robinson
(
Login to Add to MyJacketFlap
)
JacketFlap tags:
Twitter Links
,
Add a tag
Here are highlights from the links that I shared on Twitter this week @JensBookPage.
Book News and Events
Very cool! RT @tashrow: S&S Children's to Relaunch John Christopher http://buff.ly/10vTE8c #kidlit
This is tempting. @WaldenPondPress is giving away a complete set of their books for Children's Book Week http://ow.ly/kZBs9 #cbw #kidlit
Hey look! Stephanie at Views from the Tesseract wrote about one of my all-time favorites: Escape to Witch Mountain http://ow.ly/kV6aS
Book Lists and Awards
RT @JrLibraryGuild: Recommended summer reading lists from our friends at the @HornBook http://ow.ly/l4g35
This week a ton of @SylvanDell ebooks are on sale for $0.99, @bethanyntt has a list: http://ow.ly/l4GQm #kidlit
50+ Great Adventure Chapter Books for Girls @JennyEvolution http://ow.ly/l1Vd9 #kidlit #cbw
Fun list of 5 recommended Sci-Fi/Fantasy series from @allieacts at Teens Wanna Know http://ow.ly/kUyc0 #yalit
Diversity (or lack thereof)
Frustrating but important to talk about: 2013 Middle Grade Black Boys: Seriously, People? — @fuseeight http://ow.ly/kV5DK
Thoughtful stuff by author @varianjohnson on race in #kidlit: Where are all the black boys? http://ow.ly/l6J5s
eBooks
RT @tashrow: Microsoft Is Considering Purchasing Nook From Barnes & Noble: Report http://buff.ly/10tCs49 #ebooks
Growing Bookworms
In celebration of Children's Book Week, @BooksBabiesBows is promoting@ReadAloud_org #literacy campaign http://ow.ly/l1voP #cbw
Tasha gives thumbs up to @zoobeanforkids new website dedicated to helping parents find #kidlit http://ow.ly/l4G3W
Top Ten Reasons it is Good if Your Teacher is a Reader by @katsok @NerdyBookClub http://ow.ly/kZC2m #literacy #kidlit
RT @ncfliteracy: Need effective/easy ways to promote reading through child's early yrs? Get Cultivating Readers PDF http://ow.ly/hiB5q
Kidlitosphere Events
The Chocolate War Week Begins — hosted by @lizb @catagator @bkshelvesofdoom http://ow.ly/kZBIu #kidlit #yalit
Cool! @MsYingling will be taking on the organization of @MotherReader 's 48 Hour Book Challenge this year http://ow.ly/kZAf8 #kidlit
Zoe announces new monthly themed carnival: I'm looking for a book about... inventors and inventions | @playbythebook http://ow.ly/kZyqk
© 2013 by Jennifer Robinson of Jen Robinson's Book Page. All rights reserved. You can also follow me @JensBookPage or at my Growing Bookworms page on Facebook.
By:
Courtney Autumn Martin
, on 5/17/2013
Blog:
C.A. Martin's Slumberland Studio
(
Login to Add to MyJacketFlap
)
JacketFlap tags:
writing
,
Add a tag
I've been wanting to write for a very long time now. And I don't mean blog pots---I mean actual writing-- as in a story of my own. I don't think you can read as much as I do and love reading as much a I do and not eventually, somewhere deep down, start to think that maybe you, too, have a story to tell.
The urge to write is a funny thing to a person who doesn't write. It's like a lifelong vegetarian suddenly getting a craving for pot roast. You've never eaten it before, so it's pretty freaking strange that your body (or imagination) is telling you that you want it.
Writing has always been an awesomely cool idea to me. But having never done it before, it remains a Schrödinger's cat of mystery. If I never open the box I'll never know if I'm a good writer or a bad writer. Of course it's a defense mechanism to protect the gee-golly hope that maybe I am a good writer! This is a problem. Because unless I actually try it, my writing will not just be an unknown neutral, it will be both good AND bad, as both exist as true until proven otherwise.
But how do I try? How do I begin? Writing a story is so unbelievably daunting. How do authors know where to begin and where they want to end up? How do they craft the plot? How do they imagine all those beautiful little moments that reveal character or move the story along? How do I write a story if I don't know exactly where I want to go with it? There are so many unknowns and that is SCARY.
It was then, in this moment of panic-- that I had a moment of clarity:
Writing a story is and always will be infinitely intimidating.
So stop thinking about it that way, and find a new way to look at it:
Think about writing as taking a trip.
When you go on vacation, you know where your initial destination is, you know who you're traveling with, and you know when you expect to return. The rest of it---the unplanned, the unknown, is THE REASON you take the trip. You'll see a new place, and have new experiences. Things will happen. By the end of the vacation, you will have amassed a story to tell. It could be dull, it could be thrilling. Either way, you will have a beginning, middle, and an end. If you knew every detail that would unfold before you took the trip, you probably wouldn't feel the need to go anymore. The mystery of possibility makes the trip fun to live through. The same is true for the one writing the story, and the one reading the story.
We're both embarking on a trip with my characters. We know where our journey begins but we don't know what we'll go through together before we get back. We'll see new places, meet new people, be thrown into unfamiliar situations. The way we handle ourselves will inevitably reveal character. The things that happen will become plot.
Write, and things will happen. That's all there is to it.
So yesterday afternoon, lead by a force deep down in my gut that I could no longer ignore, I tried IT. Pencil to paper. Excited by possibility, terrified by expectation...
And lo and behold---
WORDS CAME OUT.
By: Ray Rhamey, on 5/17/2013
Blog:
Flogging the Quill
(
Login to Add to MyJacketFlap
)
JacketFlap tags:
Flogometer
,
Add a tag
I'm off to do my Killer First Page workshop at Write on the River in Wenatchee this weekend. It should be an interesting session--34 people submitted first pages. Even though the workshop is a little over 2 hours long, we'll have to go through them at a rate of about every 4 minutes. It'll be a true immersion. I'm looking forward to it.
Submissions invited: If you'd like a fresh look at your opening chapter or prologue, please email your submission to me re the directions at the bottom of this post.
---
The Flogometer challenge: can you craft a first page that compels me to turn to the next page? Caveat: Please keep in mind that this is entirely subjective.
Note: all the Flogometer posts are here.
What's a first page in publishingland? In a properly formatted novel manuscript (double-spaced, 1-inch margins, 12-point type, etc.) there should be about 16 or 17 lines on the first page (first pages of chapters/prologues start about 1/3 of the way down the page). Directions for submissions are below.
A word about the line-editing in these posts: it's "one-pass" editing, and I don't try to address everything, which is why I appreciate the comments from the FtQ tribe. In a paid edit, I go through each manuscript three times.
Storytelling Checklist
Before you rip into today's submission, consider this list of 6 vital storytelling ingredients from my book, Flogging the Quill, Crafting a Novel that Sells. While it's not a requirement that all of these elements must be on the first page, they can be, and I think you have the best chance of hooking a reader if they are.
Evaluate the submission—and your own first page—in terms of whether or not it includes each of these ingredients, and how well it executes them. The one vital ingredient not listed is professional-caliber writing because that is a must for every page, a given.
Story questions
Tension (in the reader, not just the characters)
Voice
Clarity
Scene-setting
Character
---
Laura sends the first chapter for Yellow Bike, a YA romance.
"I just don't see why you couldn't make it work," Violet rasps. She pours Jell-o with the precision of someone measuring liquid explosives. Her long plastic fingernails shine red, white, and blue, the commemorative paint chipping from last week's holiday.
I smile and sigh. "It wasn't my call, Vi," I say. "I was all for making it work. He was not." I spin the stool around and clunk another roll of silverware into the bucket on the counter. The brunch rush is over- two couples linger over coffee. Both are Violet's tables. "'We're in high school,' remember? 'We're not married.'" I laugh but it still smarts a little. I re-adjust my apron and start on my next silverware roll.
"Plus, he has a crooked smile," pipes in Fannie's voice from the grill. She pokes her rosy, round face into the pass-through window. "He's a charmer for sure, but you can't trust a boy with a crooked smile."
"Exactly! Thank you, Fannie. See that, Vi? Crooked smile."
"What was wrong with that boy from last week?" Violet has found her one true love- Rex, her husband of twenty years- so now she and Fannie are determined to find mine.
"He was…" He was covered in ATV-thrown dirt and he called me 'Babe.' And I think he was thirty. He tipped 78 cents. "He was… something else."
The concept of personal matchmakers is pleasing in theory. In practice, it's turned out to (snip)
Would you turn Laura's first page?
Nope
I like the writing and the voice, and that we're starting with a real scene. The banter is well done. The only things missing from the story list above are story questions and tension. Oh, there's the question of whether or not she will eventually succeed in romance, but that's hardly compelling at this point. The dialogue delivers backstory in a fun way, but it's still backstory, and thus set-up.
In the chapter, a handsome couple of guys her age come in and she waits on them. One is drop-dead handsome. The twist at the very end of the chapter that would have gotten me to keep turning the page is that she discovers that he is deaf. That promises complications and a social issue to deal with. If there was a way to get that on the first page, it would be a strong opening. We would all be wondering how she was going to handle that, a good story question.
I will admit that I'm not the target reader, and this opening might engage a female YA audience just fine—but getting tension and a story question on the page would be so much stronger. Brief technical notes:
"I just don't see why you couldn't make it work," Violet rasps. She pours Jell-o Jell-O with the precision of someone measuring liquid explosives. Her long plastic fingernails shine red, white, and blue, the commemorative paint chipping from last week's holiday. What is she pouring the Jell-O into? It turns out into serving glasses on a tray. Give us the whole picture.
I smile and sigh. "It wasn't my call, Vi," I say. "I was all for making it work. He was not." I spin the stool around and clunk another roll of silverware into the bucket on the counter. The brunch rush is over- two couples linger over coffee. Both are Violet's tables. "'We're in high school,' remember? 'We're not married.'" I laugh but it still smarts a little. I re-adjust my apron and start on my next silverware roll. The last sentence really doesn't contribute. Save it for tension. Also, I wasn't sure what a "roll of silverware" was, but I did get "silverware roll" as silverware rolled up in a napkin. This detail could be clearer.
"Plus, he has a crooked smile," pipes in Fannie's voice from the grill. She pokes her rosy, round face into the pass-through window. "He's a charmer for sure, but you can't trust a boy with a crooked smile."
"Exactly! Thank you, Fannie. See that, Vi? Crooked smile."
"What was wrong with that boy from last week?" Violet has found her one true love--Rex, her husband of twenty years--so now she and Fannie are determined to find mine.
"He was…" He was covered in ATV-thrown dirt and he called me 'Babe.' And I think he was thirty. He tipped 78 seventy-eight cents. "He was… something else." The style publishers use is "Chicago," in which numbers under 100 are generally spelled out. While this dialogue does go to character—her taste in boys—it's about someone who isn't in the story. Why not make it someone who is?
The concept of personal matchmakers is pleasing in theory. In practice, it's turned out to (snip)
I'd give up the fun details and description to get a serious story question on the page.
Comments, please?
For what it's worth.
Ray
---
Free sample chapters—click here for a PDF

"I'm a writer want-to-be working on my first novel. I've read four creative writing books and I think that Ray's book has been the most helpful and easiest to understand." HMS
Submitting to the Flogometer:
Email the following in an attachment (.doc, .docx, or .rtf preferred, no PDFs):
your title
your complete 1st chapter or prologue plus 1st chapter
Please format with double spacing, 12-point font Times New Roman font, 1-inch margins.
Please include in your email permission to post it on FtQ.
And, optionally, permission to use it as an example in a book if that's okay.
If you're in a hurry, I've done "private floggings," $50 for a first chapter.
If you rewrite while you wait for your turn, it's okay with me to update the submission.
© 2013 Ray Rhamey
By:
Eric Orchard
, on 5/17/2013
Blog:
Eric Orchard
(
Login to Add to MyJacketFlap
)
JacketFlap tags:
Add a tag
A morning warm up doodle of the wizard Radagast from Lord of the Rings I did earlier this week.
By: Leila Roy, on 5/17/2013
Blog:
Bookshelves of Doom
(
Login to Add to MyJacketFlap
)
JacketFlap tags:
Books - Classics
,
Books - YA
,
Add a tag
My re-read of The Chocolate War continues!
Previous installments are here and here.
Chapter Twelve: In which Jerry has his last perfect moment in a long, long time.
Jerry's at football practice, and his frustration about—and this is my interpretation, as he hasn't actually articulated the feeling—being rudderless and acted UPON rather than being the ACTOR in his own life, as well as being dismissed as insignificant and a nonentity by all of the forces who use him continues: What infuriated Jerry was that Carter toppled him gently, lowering him to the ground almost tenderly as if to prove his superiority. I don't have to murder you, kid, it's easy enough this way, Carter seemed to be saying. Long-windedness cut short: FORESHADOWING.
Then the next pay is successful, and Jerry has a moment of "absolute bliss"... but then he goes inside to change, he finds a letter from the Vigils taped to his locker.
Chapter Thirteen: The first day of the chocolate sale.
The Room Nineteen prank isn't sitting well with The Goober. At first, he felt like a folk hero and he enjoyed the butt-patting popularity, but there are rumors that Brother Leon is carrying on an investigation and that Brother Eugene has had a nervous breakdown. Also, there's this: The room would never be the same again, of course. The furniture creaked weirdly, as if it would collapse again without warning. The various teachers who used the room were uneasy—you could tell they were apprehensive. Once in a while, some guy would drop a book just to see the teacher flinch or leap in panic. So. Things that are broken—like, completely, utterly destroyed—and then mended... are never quite the same again. UNSETTLING THOUGHT, INDEED. By which I mean: FORESHADOWING.
And then Brother Leon does role call, and asks each boy if he will participate in the chocolate sale, and every boy in the room says yes... except Jerry. And, as you might expect, even though this sale is supposedly entirely voluntary, refusing does not go over well: "You may pick up your chocolates in the gym, gentlemen," Brother Leon said, his eyes bright—wet bright. "Those of you who are true sons of Trinity, that is. I pity anyone who is not." That terrible smile remained on his face. "Class dismissed," Leon called although the bell had not sounded.
Chapter Fourteen: Time passes. Boys sell chocolates. 
I love the structure of this chapter: Cormier shows the passage of time with brief vignettes of random students selling chocolates interspersed with scenes of the daily battle of wills between Brother Leon and Jerry in homeroom. His ability to create three-dimensional, believable characters with just a few paragraphs is lovely, as is his trust in his audience to be able to keep up with the rapid pace of the scene changes. 
Using The Goober as our window to those homeroom scenes is another great choice on Cormier's part: he's already been shown to be more sensitive to and aware of tension and conflict than many of the other students, so his view of the situation is especially perceptive.
Meanwhile, the kid who was appointed Candy Treasurer is pretty sure that Brother Leon is cooking the books...
Chapter Fifteen: In which we find out what Archie is holding over Janza's head.
And, in a word, is is nothing: he's just PRETENDING to have a photo of Janza masturbating in a school bathroom. I don't even. (If it'd been a different character, this situation never would have worked, but as Janza is, as Willow Rosenberg would say, ID BOY, it makes complete sense to me that he would wander into a bathroom and think, "Hmmm, broken lock, no real privacy, well, now's as good a time as any.")
The Archie/Janza scenes are always interesting; Janza acts like he thinks he's Archie's equal, but clearly knows that he isn't—he craves acceptance, but would never ever admit it; Archie very definitely looks down on Janza, but respects the fact that his unpredictability and inherent brutality makes him dangerous.
I just noticed, too, that Archie and Jerry are the only two characters who are regularly referred to by their first names. Oh, wait, Obie, too.
Chapter Sixteen: In which a random student has a devastating flash of insight.
Brother Leon holds a bad grade over David Caroni's head to find out what the deal is with Jerry Renault: Were teachers like everyone else, then? Were teachers as corrupt as the villains you read about in books or saw in movies and television? He'd always worshipped his teachers, had though of becoming a teacher himself if he could overcome his shyness.
Which, of course, makes me think of River Phoenix's monologue in Stand By Me about stealing the milk money. Like I said, devastating.
Anyway, now Brother Leon knows that Jerry's Vigil assignment ends tomorrow, and that he will say 'yes', start selling chocolates, and all will be right with the world.
Chapter Seventeen: In which Jerry does the unthinkable.
Links!
Kelly: Guest Post: Why The Chocolate War Matters by Angie Manfredi
Liz: The Chocolate War Read A Long Part Three
By: ARIS, on 5/17/2013
Blog:
Aris blog
(
Login to Add to MyJacketFlap
)
JacketFlap tags:
girl
,
watercolor
,
sky
,
frog
,
stars
,
illustration
,
children
,
kreml
,
moscow
,
moon
,
Add a tag