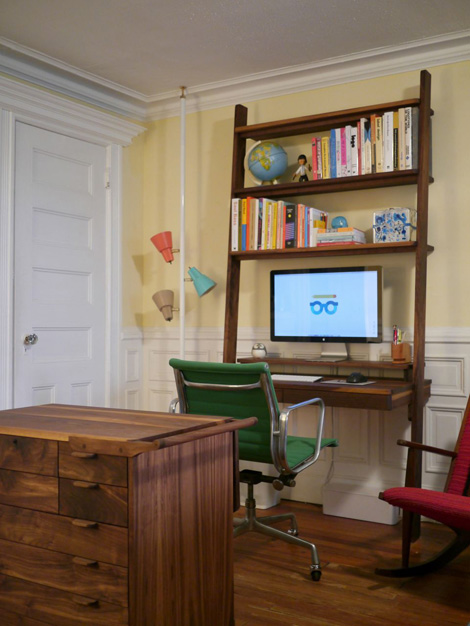 I first discovered Ed Nacional at the end of 2009 as he was completing his studies at Parsons. He had recently taken on a design internship for the New York Times and was beginning to explore his capabilities as an illustrator. I was instantly attracted to his his bold no-nonsense use of type and stylish yet minimal use of color. Since then, I have enjoyed watching Ed grow as a designer and seeing the projects that have resulted from his efforts. Others have taken notice as well, as popular brands and platforms like Skillshare and Wanelo have sought Ed's expertise and artistic sensibilities in developing their identities. In today's installment of the Design in Process series we chat with Ed about his workflow, his passions outside of the office and more!
Lets start off with a little bit about your background. Where are you from originally? When and how did you become interested in design?
I was born and raised in Calgary, Alberta, Canada. The city is nestled between the rocky mountains and the prairies. I had a fairly standard suburban childhood and lived in Calgary till I was 23 and moved to New York City.
Growing up I always loved to draw and make things. Most of my time was spent doodling and playing with lego. My Dad has always been a tech junkie, we grew up with a Comodore 64 and we had a computer in our house before any of my friends did. So all through my childhood and high school I was interested in art, drawing, craft and computers. Once I found out that Graphic Design was a real job, I knew it was a good fit for me based on the interests I had. I jumped right into learning graphic design after high school and 14 years later I am still doing it and loving it.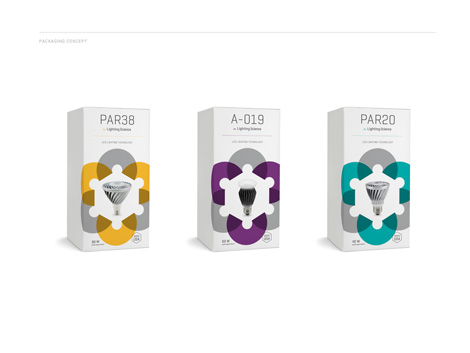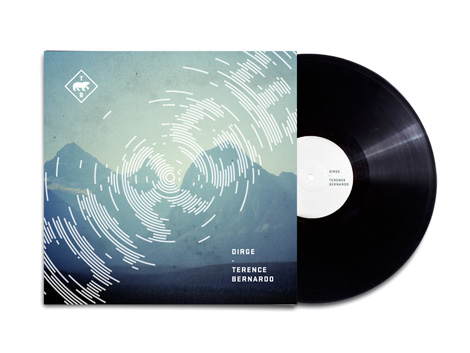 Could you walk us through one of your projects? Please describe your workflow, including the tools, from pen and paper to software and devices.
I find my time is almost evenly split between working on designing brand identities and illustrating for editorials and advertising. I will try to talk broadly about my process for both design and illustration.
Whether I am working in design or illustration the project starts the same. I begin with getting as much information I can from the client and really trying to get a sense of the subject, environment, users/customers/viewers. I do a lot of research into the subject matter. This research is fun because I get to learn something new but more importantly it's an integral part of the project as I get better perspective and view on the subject. I am full prepared by the time my pencil hits paper or my hand moves a cursor. Once I have the information and research complete, I jump into sketches. I draw rough ideas and often write lists and notes to help brainstorm ideas.
I personally dont have the most refined sketches and my sketchbook pages aren't works of art like some other designers and illustrators I know. My sketches are often simply to remember ideas and to explore high level concepts.  I am usually embarrassed to show people my sketches.
You can see in these two examples just how rough my sketching is and how far it comes when completed.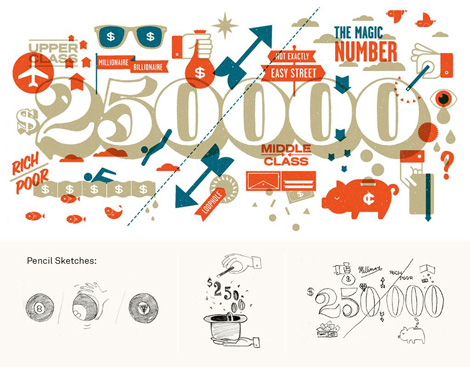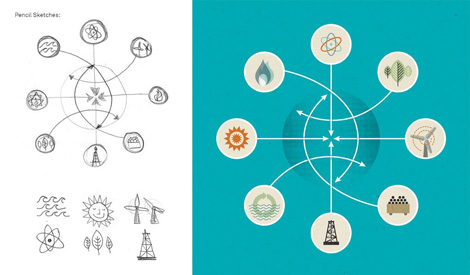 Although I always like to sketch it doesn't always happen solely on paper. Sometimes I draw on the ipad, or directly in Adobe illustrator where I create rough layouts.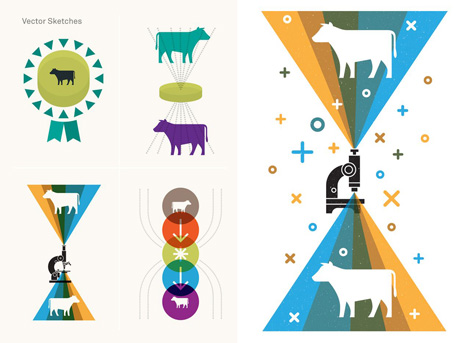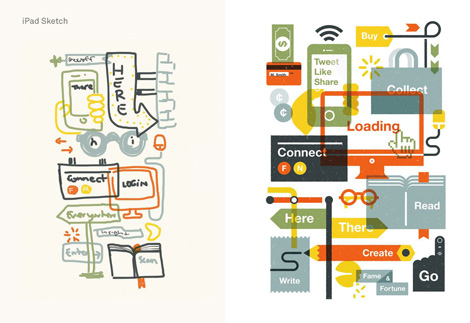 Often times my rough sketches end up very close to the final product, other times it happens all organically while pushing shapes around in illustrator by refining and iterating. Since a lot of my work is complex layouts with many pieces, a lot of my process is re-arranging shapes till the energy and balance feels right.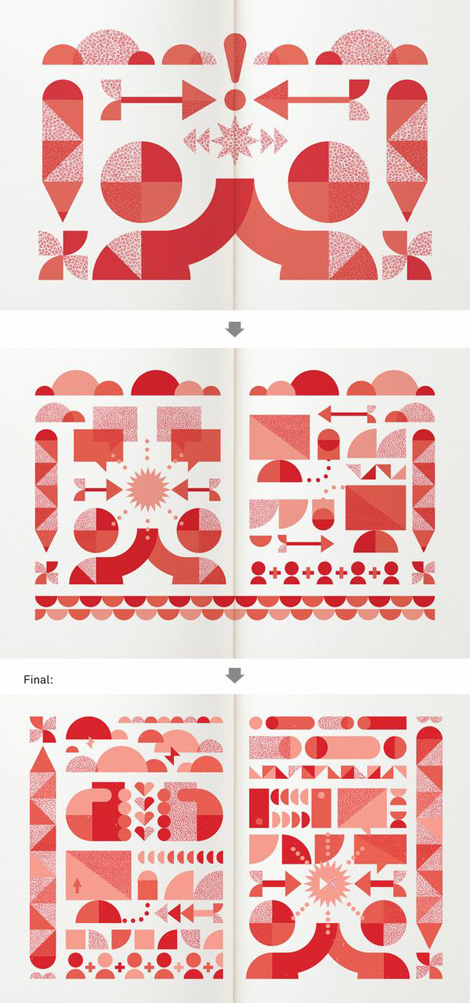 In this illustration for the Kern and Burn book I started with a simple and layout made up of only a few shapes. The theme of the illustration was "Make Work with Friends" so I wanted to push the feel of collaborative energy of working with friends so I kept pushing and adding more. By the end the layout was much more dense and complex. You can see the progression.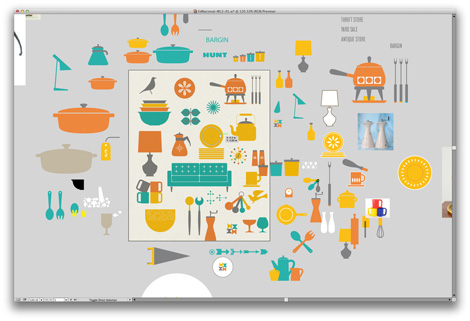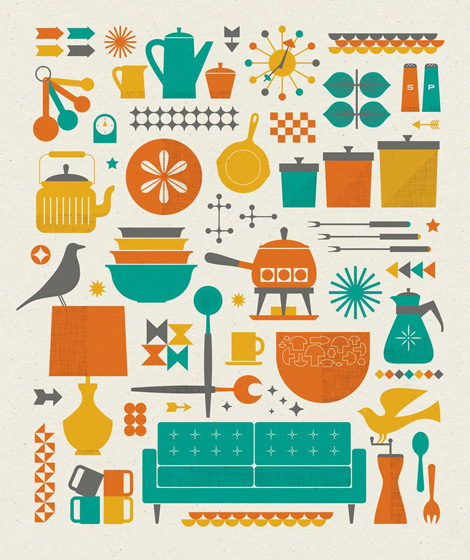 For this illustration for Uppercase's Work Life 3 Book I drew a large number of objects and graphics and then spent a lot of time arranging and re-arranging them until it had the feel I was looking for. This process is very iterative and takes quite a while to get where I feel its balanced and had a good flow.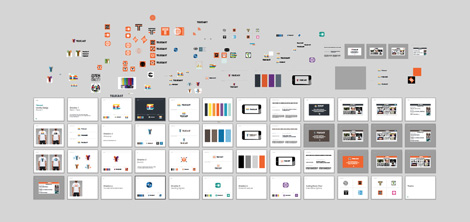 Here is an very compressed and edited example of a first round of identity directions followed by the final outcome.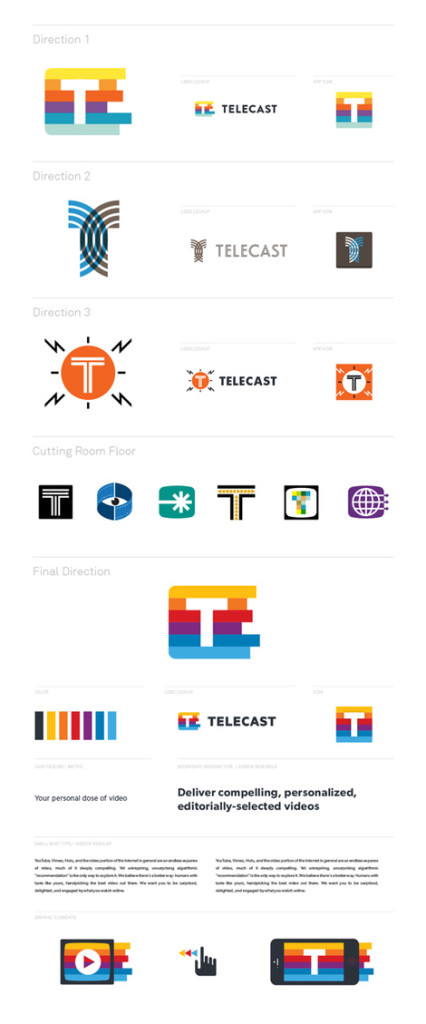 You can see here my illustrator art boards are filled with iterations. I choose the best of the best and present a couple to the client.
How has your process evolved since you first started designing?
Back when I first started designing I didn't do a lot of research, sketching or any of the important conceptual thinking. I was all style and no substance. Over the years I have been learning and exploring that balance of concept and style. Each project and situation is completely different, sometimes I am creating something that concept is most important and style should not interfere or overshadow. Other times I am creating something that is more complementary to a story or brand and the piece is allowed to be more style based and ornamental. The more work I do the better I get at understanding this, when I first started I didn't have a clue.
Another large difference in my work that has changed is that up until recently I considered myself only a designer. Â It was a couple of years back while working as an assistant art director at the New York Times and commissioning illustration and working with illustrators daily was when I decided to explore illustration. Illustrating complex editorial articles really pushed my thinking in new ways. I have carried over what I have learnt in illustration to my design work and vice versa. This was a huge help and turning point in understanding that same balance I just talked about with concept and style.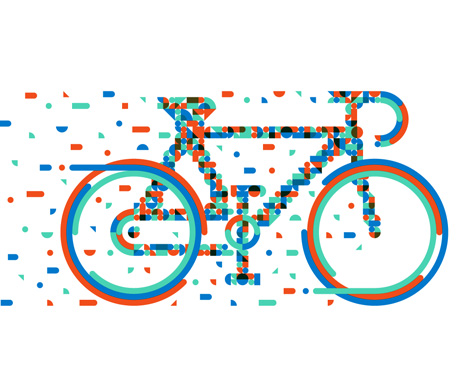 Are you a creature of habit or do you like to try new technologies, applications, and features?
As you have seen in my process examples I am constantly trying new ways to work and I am never afraid to test out other methods to figure out what works best. I feel I am learning more and more with each project I do so often I will use a new project to learn a new subject and sometimes even a new technology. I am some what of an early adopter and love trying out the new physical gadgets as well as applications that relate to my design and illustration work. I'm always looking to streamline my workflow so I often research and keep up to date with technology. Although I love chasing new products and applications I also have a large collection of vintage design books and surround myself with furniture and art from the past. I feel there is definitely a way to keep up to date with what's happening but also embrace the past and process of the designers of past eras. I feel this balance is important in my work and my life.
What are your passions and interests outside of design and why?
I have many passions that still closely relate to different aspects of design. My wife and I share a strong passion for vintage housewares and furniture. We are always collecting and hunting for new items at flea markets, garage sales, estate sales and thrift stores. I also enjoy taking a break from the computer and work with different printmaking techniques like screen printing and letterpress. I have also recently started to learn more about woodworking and furniture design. These passions are still directly related to the work I do and are still strongly connected to my love of design.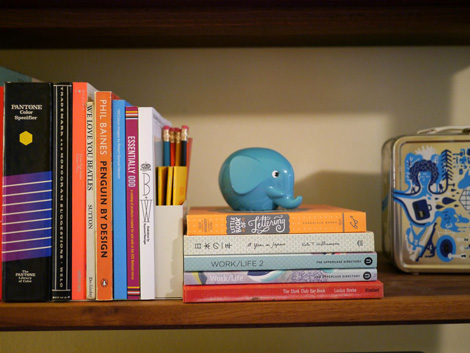 More outside of the world of design, I enjoy exploring cities on foot. New York City is always changing and there is so much to see and experience while walking through different neighborhoods. There are so many great small shops to visit and amazing restaurants to try. In my free time you can find my wife and I walking around our city or taking trips to explore other cities. We love this urban exploration but at the same time we also love the outdoors and nature. We have just purchased a 1847 farmhouse in the Catskills (Upstate New York) and are excited to explore rural life by furnishing and renovating our home as well as tending to our land. This is a new chapter in our lives and we are going to be able to dive in deeper into some of our other passions and interests that revolve around living in the country. We are hoping to have the best of both worlds and indulge in our interests both in city life and the great outdoors.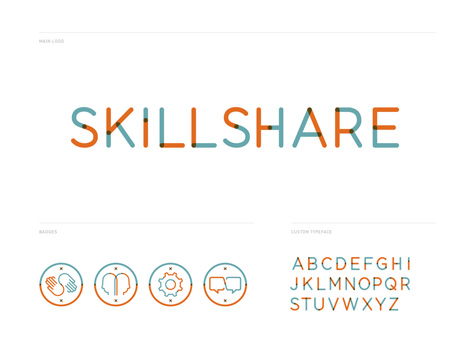 Identity work for Skillshare
——
We would like to thank Ed Nacional for taking time to share with us. You can see more of his work at Ednacional.com. Catch him on Twitter and Pinterest as well.

This interview is part of the #designinprocess series brought to you by Adobe. Read all of the interviews here and follow along on Twitter and Pinterest at #designinprocess and #newcreatives.
——
Also worth viewing

Mike Cina Interview
Brent Couchman/ Moniker SF Interview
Ty Mattson Interview
Not signed up for the Grain Edit RSS Feed yet? Give it a try. Its free and yummy.

Share on Facebook
Sponsor // Webydo: The leading online design studio that enables designers to create, manage and publish their client's websites completely code-free.
Add a Comment