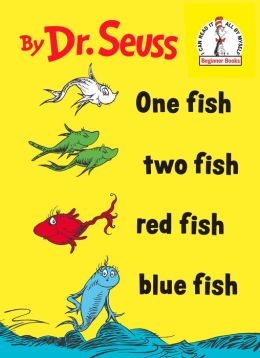 One Fish Two Fish Red Fish Blue Fish. Dr. Seuss. 1960. Random House. 60 pages. [Source: Library]
First sentence:
One fishtwo fishred fishblue fish.Black fishblue fishold fishnew fish.This one has a little star.This one has a little car.Say! What a lot of fish there are.
Premise/Plot: Does this book have a plot? I'm not sure it does! It does have a premise however. "From there to here, from here to there, funny things are everywhere" (9). "From near to far from here to there, funny things are everywhere" (55). " Readers find plenty of funny things within the pages of the book. Classical Seuss rhymes make this one lovely.
My thoughts: I like this one very much. Some pages are more memorable to me than others perhaps. For example,
Who am I?
My name is Ned.
I do not like
my little bed.
and
My hat is old.
My teeth are gold.
I have a bird
I like to hold.
Have you read One Fish, Two Fish, Red Fish, Blue Fish? Did you like it? Did you love it? I'd love to hear what you thought of it! Both what you liked, and what you didn't like.
If you'd like to join me in reading or rereading Dr. Seuss (chronologically) I'd love to have you join me! The next book I'll be reviewing is Green Eggs and Ham.
© 2015 Becky Laney of
Becky's Book Reviews
Add a Comment