I'm really enjoying
Picture Book Month
, which is the first annual celebration of my favorite kind of book. As part of the celebration, I want to share with you a new book from
Tiger Tales
--a small independent publisher that happens to
only
make picture books.
Naughty Toes
, written by
Ann Bonwill
and illustrated by
Teresa Murfin
, was actually first published in April 2011 by Oxford University Press in the United Kingdom. Tiger Tales then published it a few months later, in September 2011, in the United States. Here's the cast of characters from the book:
Chloe is the narrator and main character. She dances with gusto...but not with much grace.
Belinda is Chloe's big sister. She's a natural ballerina.
Madame Mina is the girls' ballet teacher. She makes Belinda the star of the ballet show and casts poor Chloe as a rock!
Mr. Tiempo plays the piano during ballet class. Chloe and her creative spirit make him smile again and again.
"Float like clouds!" says Madame Mina, and I spin around the room like a dust cloud, clap like a thundercloud, whoosh like a rain cloud...SMACK! straight into Anthony.
"What were you thinking?" asks Madame Mina. "I was a cloud with gusto," I say. Before I hang my head, I think I see Mr. Tiempo smiling.
By:
Betsy Bird
, on 11/20/2011
Blog:
A Fuse #8 Production
(
Login to Add to MyJacketFlap
)
JacketFlap tags:
Uncategorized
,
books to films
,
books to television
,
Crockett Johnson
,
Don't Let the Pigeon Drive the Bus
,
Ezra Jack Keats
,
George and Martha
,
Harold and the Purple Crayon
,
James Marshall
,
Kevin Henkes
,
Lilly's Purple Plastic Purse
,
Make Way for Ducklings
,
Mo Willems
,
Robert McCloskey
,
Add a tag
I can't pinpoint what it was that made me think of this.  In this day and age with children's picture book characters appearing as television and movie characters every other minute, to say nothing of the new deals being made with the names of classics we all grew up with, it's a lot easier to pinpoint the ones that haven't been appropriated by the entertainment industry. With producers more than willing to suck every little last bit of goodwill from a property, here is a list (insofar as I know) of the characters that haven't been seen in their own television shows / CGI films.  Oh, and I should note that when I say these haven't been adapted I am not referring to the multiple very clever stage shows made of each one of these.  Theater is the classy version of what I'm envisioning here:
- The Very Hungry Caterpillar by Eric Carle : Not that you can miss him.  If you don't own Caterpillar bedsheets or hand puppets then maybe you have him on your curtains and wallpaper.  I'm no different.  My child is proud to sport Caterpillar shoes and eats from Caterpillar plates.  Still, we haven't yet seen the Caterpillar Saturday morning cartoon show.  And it would be soooo easy to do so.  The Caterpillar and his friends (The Very Quiet Cricket, the Very Grumpy Ladybug, the Very Lonely Firefly, etc.) have a variety of preschool-friendly adventures, usually involving counting, colors, and days of the week.  Oh, you just know some exec has pitched this to Carle himself.  Fortunately the fellow doesn't need the dough.
- Peter and friends from the books of Ezra Jack Keats : They have been adapted into books by authors other than Mr. Keats, and in the 70s there were some pretty awesome live action short films made of their stories.  However, there's been nothing recent, which raises my suspicions.  Is there a belief that stories about inner city kids wouldn't sell or are the characters too enmeshed in their era to be timely?  I suspect the former but I'm naturally suspicious.  Could just be the Keats estate is full of classy folks unwilling to sell out.
- The Pigeon from Don't Let the Pigeon Drive the Bus by Mo Willems – Or Elephant and Piggie for that matter.  This isn't entirely surprising, of course.  Mo's not exactly a small town rube.  He knows the television world well having worked there for a while (to say nothing of this) and I wouldn't be surprised if the multiple folks courting him have been rebuffed mightily over the years.  Like Carle, Willems doesn't need 'em.  His Pigeon does well enough on its own.
- Harold from Harold and the Purple Crayon by Crockett Johnson – Short animated films of Harold have been made, but I live in fear that . . . oops.  Didn't see this.  Just found out about 7 Comments on It's Only a Matter of Time: Licensed Properties That Haven't Made the Leap to Film, last added: 11/22/2011
Display Comments
Add a Comment
By:
andrea joseph
, on 11/20/2011
Blog:
andrea joseph's sketchblog
(
Login to Add to MyJacketFlap
)
JacketFlap tags:
zines
,
ballpoint zine
,
ballpoint
,
AJ
,
drawings
,
how to draw like a loon
,
Add a tag
Here's the last of he classified ads that will feature in my next zine. You know, last year I made a post where I vowed to never ever launch a new zine before Christmas. I am such an idiot. I really am.


Plus, on the subject, I was going to list 'How To Draw Like A Loon' today but after consulting my part time manager/shop keeper/advisor, Tim, I was advised not to. It is currently at the printers and he suggested that I do not list it until I have it in my hands and it's ready to go. That way, I shouldn't be making future posts where I apologise for it being late. Like I usually do.


Also, I would like to take this opportunity to ...er....ahem....apologise to all those who have been waiting to see their classified ads for bloody ages. I....er...welll.....uh....ahem....you know?
Display Comments
Add a Comment
By: Silver Knight, on 11/20/2011
Blog:
Art of Faerywinkle
(
Login to Add to MyJacketFlap
)
JacketFlap tags:
Add a tag
By: Kathy Temean, on 11/20/2011
Blog:
Writing and Illustrating
(
Login to Add to MyJacketFlap
)
JacketFlap tags:
Advice
,
Conferences and Workshops
,
need to know
,
Getting a book contract
,
networking
,
Susan Shaw
,
The Boy From the Basement
,
Add a tag
For the last few weeks I have been working on author Susan Shaw's website.  Her first published book was THE BOY FROM THE BASEMENT published by Dutton Books.  The funny thing is in 2002 I went to an PA SCBWI First Page Session in Doylestown, PA and her first page was one of the pages read.  I did not know who wrote it, but it starts out with a boy locked in the basement with no food, clothes, blanket by his father.  It was very dark and shocked me at the time.  I was writing picture books and hadn't read any middle grade or young adult novels, so I wasn't familiar with what was being written.  Of course now, I am writing middle grade and young adult, but that little boy has stuck in my mind for all these years.
Then Eileen Spinelli recommended me to Susan and I was face-to-face with the story.  Yesterday, I asked Susan if she attended that First Page Session and she said she did and told me how it ended up being contracted by one of the editors attending.  You can read the first few pages on Amazon.  The writing pulls you right in, so I have added to my Christmas "wish list" of books.  To view Susan's other books go to: www.authorsusanshaw.com .
This got me thinking of the importance of getting yourself and your work out there.  You never know where meeting someone will lead.  If you are a regular reader of this blog, you know I try to shout out your successes.  But I think it is good to remind you of how serendipitous success can be.  We have had members sell a book with literally an elevator pitch.  One writer had her first contract come from meeting someone in a funeral line.  Other member found her agent by having a friend introduce her to this big agent at a house party.  So many times an editor will call me to ask if I could contact the person who wrote a first page that they really liked.
If you read this week's Illustrator Saturday, you already know that Micah hit on this when he said, "My girlfriend at the time, (now wife) and I went to see about purchasing a cat from a woman named Star. I had a pocket-sized portfolio that held a bunch of paintings and whatnot. Somehow she ended up seeing the portfolio and said I should meet with her friend Sue. We ended up not getting her cat, but it was the beginning of a long and wonderful working relationship with Sue who wrote "Even Superheroes Get Diabetes" and "The Princess And The Peanut."" – which Micah has illustrated.
It is easy to stay home and write or illustrate, but there is more to getting published.  You have to put yourself out there.  Meet people, not just the editors and agents, but also fellow writers and illustrators.  I know someone who talked about her book to another writer and that writer was sitting at lunch with an editor who said they were looking for a cowboy picture book.  That is exactly what the other writer had told she wrote.  That writer immediately ran over to the cowboy picture book woman and took back her manuscript to the editor.  The cowboy picture book landed a contract that week.
See what I mean about success being serendipitous? Heck, who would ever expect going out to look for a cat or talking to the person behind you in a funeral line could end up with getting a book contract?
Even if you plan to self-publish, you still need to go to conferences and network.  You want to get your name out there and really need to learn everything you can about the publishing industry, since you will be doing it on your own.  Don't just jump in and self-publish a b
Display Comments
Add a Comment
By: Rodolphe, on 11/20/2011
Blog:
Le MoNdE dE RoDoLpHe
(
Login to Add to MyJacketFlap
)
JacketFlap tags:
Nouvelles/ Short stories
,
English
,
Add a tag
By: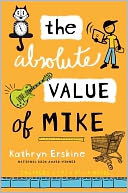 Ask any writer.  We have to cut scenes all the time.  For fun, and for a taste of the wacky characters if you haven't read The Absolute Value of Mike, here's an outtake from the book, a scene where Mike celebrates his birthday (in the final copy, Mike has already turned 14 but, as I said, it's an outtake).  Keep in mind that it's a draft version, too, because it was cut before I got too far into the book.  (Please excuse the weird formatting when I pasted it below.)  Anyway, I hope you enjoy seeing an early, pre-cut chapter!
Venn Diagrams
–diagrams using overlapping circles to reveal the attributes that groups have in common
I didn't really need a birthday party.  I never had birthday parties at home.  After Dad gave up on giving me math and engineering toys, he just gave me an Amazon gift certificate for a hundred dollars every year.  Except this year.  I guess he forgot.  Not that I cared.  Sasha was always super jealous of the Amazon certificate because for his birthday he got presents that were funny or clever.  Homemade chocolate chip cookies for a year.  A cheap watch with an electronic chess game.  Slingshots along with a bag of giant marshmallows for ammunition.  To be honest, I liked his better.  And anyway, he always got a nice present on his adoption day.
But Moo needed a party.  She was in a funk over having to go see Dr. P.  She'd been spending way too much time in Tyrone's back seat, just sitting there, "watching" movies.  I tried to act all excited about the Buzz Lightyear paper cups and plates she'd gotten for a quarter at the flea market, but then she obsessed over what to put on them because she couldn't make a regular cake if Past was coming.  I tried to get her to relax so I found a tie in Doug's closet and put it around my neck.  It worked.  Moo grinned when I walked into the kitchen in my LOST SOULS T-shirt and tie.
Until she jumped at the knock on the door.  "They're here!  Mike, you answer it, OK?"
Gladys looked hot, as usual, and Past, well, I didn't really notice because I was too busy looking at Gladys.
"Come in, come in!" Moo cried from the kitchen.  "Poppy, say hello to everyone!"
Poppy snorted, folded his arms, and looked up at Felix on the wall.
Gladys looked at Poppy like she'd rather give him a kick in the crotch than say hello.  But she said hello, anyway.
Poppy only grunted.
"Right back at ya, big guy," Past said.
I finally smelled the casserole Past was carrying.  It didn't smell bad, but it didn't smell wonderful, either.
"It's eggplant and tofu with low fat cheese," Past announced proudly.  "Let's eat!"
"Oh," said Moo, "eggplant and . . . toe food, well—"
"TOFU," Past repeated.
"That's lovely, too, dear.  Bring it in.  We'll all enjoy it, I'm sure."
Enjoy was probably not the right word, but we sat down at the kitchen table and got through it, at least.  Gladys even said she liked it because she was vegetarian.  Maybe being vegetarian helped.
"Now," said Moo, after she'd put the dinner dishes in the sink, "as a special treat, I got each of you your own—" she squished her shoulders up to her ears and grinned—"POPPY!"
I glanced at Past and Gladys, and figured my face looked as horrified as theirs.  Our eyes all drifted toward the pass-through.
I heard Poppy grunt, then the crinkle of a paper bag behind me and I turned to see Moo pulling out some red tissue paper wrapped tubes.
"Oh!"  I breathed a major sigh of relief.  "Poppers!"
"What?" Gladys asked.
"You pull both ends and they pop open really loud, and inside there's a toy and a paper crown."
"
Display Comments
Add a Comment
By:
Holiday Gift Guide Day 19 - Gourmet Gift Baskets - Christmas Gift Basket Classic

There are always a few people on my list that I think are absolutely impossible to shop for. Whether its my parents or grandparents, because they already seem to have everything, or my neighbor that I don't know very well, some people are just hard to shop for.

A Great idea for the hard to shop for on is a gift basket from Gourmet Gift Baskets.

They have gift baskets for a chocolate lover like me, gift baskets for my kids, even gift baskets for my grandpa the fisherman.


Gift Baskets can range anywhere from $25 to $300, so there is something in every price range.
To Celebrate the Holidays Gourmet Gift Baskets is giving one of you a
Christmas Gift Basket Classic
(retail $60) Gift Basket.
The Gift Basket contains
Almond Pecan-dy Crunch by Morley Candy Makers
Chocolate Chip Pecan Cookies by J&M Foods
Dipping Pretzels by East Shore Specialty Foods -
Robert Rothschild Farm Raspberry Honey Mustard Pretzel Dip
Salted Peanuts in Box by Feridie's
Signature Dark Chocolate Bar by Lake Champlain
Buttered Peanut Crunch by Old Dominion Peanut Company
Metropolitan Trail Mix by GourmetGiftBaskets.com -
Parmesan Artichoke & Garlic Cheese Biscuits by Salem Baking Company -
Chocolate Covered Cherries by Marich
I am very thankful for those chocolate cherries. Delicious!
And since this week is all about being Thankful and Giving Back, Gourmet Gift Baskets needs your help to give back to our Military. To participate all you have to do is review their selection of
Christmas Gifts
on YOUR Blog. The topic of the Blog Post should discuss the Christmas gift selection and how it would be a great gift for someone. For every Blog Post Written between Nov. 21st and Dec. 9th, Gourmet Gift Baskets will Donate
2
Baskets to the Military. And I'll Give you 10 Extra Entries into the Giveaway Here!
To Win -
Complete Any of the Entries on the Rafflecopter form Below! You must either follow Gourmet Gift Baskets on Twitter or Facebook in order to Win this Prize,
*Note* Javascript must be enabled to view the form. If you are on the main page of my website, you may have to click read more to see the form.
<a href="http:/
Display Comments
Add a Comment
By: GreenBeanTeenQueen, on 11/20/2011
Blog:
GreenBeanTeenQueen
(
Login to Add to MyJacketFlap
)
JacketFlap tags:
Add a tag
It's that time of year!! The holidays are upon us and there is nothing I love more than reading holiday themed books! Every year I try to find some holiday books (I especially love holiday romances!) so I thought I would share the fun in challenge form.
Here are the challenge rules:
-Challenge will begin November 21 and end December 31.
-There are three levels to the challenge:
-
Rudolph
-Read 1-4 Holiday Themed Books
-
Buddy the Elf
-Read 5-9 Holiday Themed Books
-
Santa Claus
-Read 10+ Holiday Themed Books
-Books read must be holiday themed-(Thanksgiving, Christmas, Hanukkah, Kwanzaa, etc) and can be directly related to the holidays (i.e. 'Twas the Night Before Christmas) or set around the holidays (i.e. Christmas Eve at Friday Harbor)
-Books can be any format (hardcover, paperback, ebook, audiobook, graphic novel/comic, etc)
-Childrens, YA and Adult titles count. Yes, picture books will count for this challenge! I have some go-to picture books I always read around this time of year! Which means...
-Re-reads are allowed! As is overlap with other reading challenges.
-Extra Credit Level!
Mrs. Claus
-Watch any number of Holiday Themed movies and post about them
-Prizes!! Yes, there will be prizes! One entry for every link you include on the challenge linky. Prizes will be awarded throughout the challenge (candy and books!) and the grand prize is a book of your choice (up to $10) from the Book Depository.
By:
Joan Lennon
, on 11/20/2011
Blog:
An Awfully Big Blog Adventure
(
Login to Add to MyJacketFlap
)
JacketFlap tags:
a writer's life
,
Joan Lennon
,
awards
,
For Fun
,
Add a tag
Once upon a time, there were two poets. For the sake of anonymity, we will call one Emily and the other Sylvia. They were both extremely good writers - modern yet accessible, challenging yet mellifluous, edgy yet musical. They each kept a wary professional eye on the other's successes and failures. Because they were decent human beings, they tried to rejoice at the former and not to rejoice at the latter. Sometimes they managed this better than other times, but still, they tried.
For many years their areas of special interest did not overlap, so they did not tend to be up for the same awards or invited to the same festivals. Emily focussed largely on urban subjects; Sylvia's work was strictly metaphysical. But then – an example of convergent evolution – both Sylvia and Emily became interested in birds. Perhaps they both received literature from the RSPB during the same mailing campaign. Perhaps they both were given bird feeders as Christmas presents by totally unrelated relatives. Whatever the reason, both writers began to produce reams of poems about our feathered friends …
… until the inevitable happened. They were both short-listed for the RSPB Bird Poet of the Year Award.
On learning that one has been short-listed for anything, a writer's invariable first thought is, What shall I wear? This is because they are not normally dressy people. Pyjamas, baggy track tops, elderly jeans – these make up the usual uniform of work-from-home writers. The two poets hadn't a thing in their wardrobes appropriate for such an occasion.
So, after thinking, What shall I wear? Emily went out in search of an outfit that would be as beautiful as the subjects of her poems. Something feathery, colourful, suggestive of wings and flight.
After thinking, What shall I wear? Sylvia also went out in search of an outfit that would be as beautiful as the subjects of her poems. Something suggestive of flight and wings, colourful, feathery ...
On the fateful evening, they arrived at the award ceremony, both a little late, just in time to go onto the stage and be introduced to the audience.
They were dressed identically.
Sylvia turned to Emily. "Nice dress," she said.
"Thank you," Emily replied. "So's yours."
"Symbolic?" asked Sylvia.
"Absolutely," said Emily with a cautious smile. "The old form and content thing."
"Where would we be without metaphor, eh?"
"Damn straight."
There was a short pause. Then Emily crooked her arm, inviting Sylvia to link up with her.
"The grand entrance?" she murmured. "As if we'd planned it?"
10 Comments on A Common Dilemma - Joan Lennon, last added: 11/22/2011
Display Comments
Add a Comment
By: BookMoot, on 11/20/2011
Blog:
Book Moot
(
Login to Add to MyJacketFlap
)
JacketFlap tags:
books to screen
,
Add a tag
View Next 25 Posts