Katie and I met via the blogosphere several years ago. We've followed a similar agent to sale to publication time frame. I'm happy to share Katie and her book, Wildflowers in Winter, with you today.


What inspired you to write this story?

In the wee hours of the morning, while nursing my son, the voice of a twelve-year old girl came into my head and wouldn't leave. So I sat down and wrote the prologue, only I didn't have any story to go with it.


At the same time, I was thinking a lot about my best friend growing up. We'd lost touch in college. Her life went in one direction. Mine went in another. And I remember thinking that even though we'd grown apart, even though we didn't know each other that well anymore, our memories and our past bonded us. I also remember wondering what, if anything, might draw us together again. All these thoughts made me want to write a story that explored the bonds of friendship.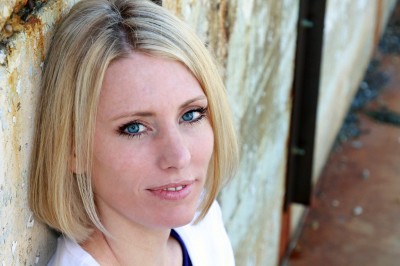 So I decided to squish those two stories together and Wildflowers from Winter was born.
What was your publication process like, from initial idea to sale?
14 Comments on Katie Ganshert Interview+Giveaway, last added: 5/21/2012
Display Comments
Add a Comment
By:
50 Book Pledge | Book #16: The Phantom Tollbooth by Norton Juster
I'm thrilled to be hosting Ursula Poznanski on The Pen Stroke today for a stop on her whirlwind Erebos Blog Tour. 
Welcome Ursula!
What inspired the world of Erebos?
On the one hand, I had watched some YouTube videos of current games and I had played myself (Diablo, for example). I wanted the "look" of the game to be recognizable and attractive to gamers. On the other hand, I had something very real to inspire me, something very crucial to the plot. This element needed to be hidden inside the game, so in a certain way it formed the world of Erebos, too.
How important was it that your characters be able to practice free will?
I wanted to give them the possibility to stop playing whenever they wished to—not without obeying the rules that are connected with backing out, of course. The game needs enthusiastic players, not forced ones.
How difficult was it for you to tow the line between the virtual world of Erebos and the real world of London?
That was pure fun, no difficulty at all. I loved switching between the worlds, accompanying Nick and Sarius by turns. I really loved to write everything that took place in London—I had a city map on my desk and Google Maps opened in my browser, so it almost felt like being there myself.
Why did you choose Greek mythology for the foundation of Erebos and its founding characters?
I was looking for a dark deity with an impressive name, so I came across Erebos. It would have been a terrible waste not to use all the cross connections that offered themselves, once I had found the "name of the game" and so I happily integrated them into the plot.
Were you ever hesitant to employ such incredibly dark imagery in Erebos?
No. I really felt that the game had to be dark. It had to have a threatening look and to be appealing and mysterious at the same time. Erebos doesn't pretend to be an innocent amusement—it shows its spirit from the very beginning, but of course the players do not take that seriously.
A special thanks to Ursula for dropping by The Pen Stroke!
Erebos Blog Tour Schedule:
March 25: YA Bookshelf, www.yabookshelf.com
March 26: Bookosaur, www.thebookosaur.com
March 27: GreenBeanTeenQueen, www.gree
Add a Comment
By:
Aline Pereira
, on 11/14/2011
Blog:
PaperTigers
(
Login to Add to MyJacketFlap
)
JacketFlap tags:
Books at Bedtime
,
Middle Grade Books
,
Reading Aloud
,
United States
,
Jules Feiffer
,
Norton Juster
,
The Phantom Tollbooth
,
The Phantom Tollbooth Turns 50
,
Yearling Books
,
Add a tag
Right now for our bedtime reading, my daughter and I are revisiting an old classic — The Phantom Tollbooth by Norton Juster (illustrated by Jules Feiffer), Yearling Books, 1961.   I encountered this novel when I was in grade five;  it was recommended to me by a friend.  I remembered reading it and loving it.  It's a witty and clever book by halves, and I don't think I 'got' everything in it at the time I read it, but following the adventures of this idle and bored schoolboy protagonist Milo "who didn't know what to do with himself — not just sometimes, but always"  was compelling.   In reading it now with my daughter, I am enjoying the story again with so much more gusto — this time getting, of course, all the many puns and double entendres throughout the book.  My daughter is less enthusiastic.  As she puts it herself, "I like listening to it because it puts me to sleep."   (Mind you, this fact alone makes it a worthy bedtime read for the parent!)  But while she dozes off, I often continue reading aloud for the sheer pleasure of the story which speaks to the book's attractive charm and longevity.
The Phantom Tollbooth celebrated the 50th anniversary of its publication this year.   There's a Youtube video I watched recently of Norton Juster and Jules Pfeiffer talking about the genesis of the book.   A commemorative annotated edition of the book is now available, and a  documentary film, The Phantom Tollbooth Turns 50, is currently being produced, set for release in 2012.   I didn't discover all this information, until after I'd selected this book for our bedtime reading ritual, so I was quite surprised by the serendipity of my choice and hope that my daughter might remember this book fondly herself when she begins reading to her children in the future.  (If she doesn't, Grandma certainly will!)
Add a Comment
By:
Carmela Martino and 5 other authors
, on 11/16/2011
Blog:
Teaching Authors
(
Login to Add to MyJacketFlap
)
JacketFlap tags:
Reading as a Writer
,
Carmela Martino
,
Writing Workout
,
The Book I Finally Read
,
The Phantom Tollbooth
,
Leonard S. Marcus
,
Add a tag
Here on the TeachingAuthors blog, we've been discussing the classic children's books we never read till adulthood. The series was inspired, in part, by Esther's interview with Leonard Marcus in honor of the release of The Annotated Phantom Tollbooth last month. When Esther first told me about the new book, I felt a twinge of guilt--I'd never read the original Phantom Tollbooth. So I suggested this topic to motivate me to finally read Norton Juster's masterpiece. If you're wondering what classics and must-reads you may have missed, be sure to check out the links in the Writing Workout below.


I wasn't reading yet in 1961 when
The Phantom Tollbooth
was first published, but that was no excuse for my not reading this classic. When, as an adult, I became interested in writing for children, I began reading voraciously in the field. Madeleine L'Engle's
A Wrinkle in Time,
which
Mary Ann blogged about on Monday
, was one of the many children's books I came to as an adult that I fell in love with. (Unlike Mary Ann, I'm somewhat of a Math geek, which made me love L'Engle's book all the more!) Yet, despite a number of fellow children's literature enthusiasts telling me that
Tollbooth
was one of their all-time favorites, I never made time to read the book, until
Esther's interview with Leonard Marcus
inspired me to do so a few weeks ago.
I'm happy to report that I thoroughly enjoyed the book. The wordplay and puns are great fun, but the Math geek in me was especially happy to see the book's celebration of numbers. I was also impressed at how Juster wove important themes about the value of education and action into such an entertaining read. One of my favorite paragraphs (among many) was:
"You must never feel badly about making mistakes," explained Reason quietly, "as long as you take the trouble to learn from them. For you often learn more by being wrong for the right reasons than you do by being right for the wrong reasons."
I believe the combination of entertainment and enduring themes contributed to making
The Phantom Tollbooth
such a classic. I'm grateful to Leonard Marcus for bringing this book back into the spotlight. In case you missed the short video in which Norton Juster, Jules Feiffer, and Leonard Marcus discuss the book's creation, I've embedded it below, or you can watch it at
YouTube here
.
Are there any classic children's/young adult books you missed reading as a child or teen? If so, please share their titles in the comments below. And if you need suggestions of children's/YA books now considered "must reads," see the
Writing Workout
below.
Display Comments
Add a Comment
By:
Betsy Bird
, on 2/1/2012
Blog:
A Fuse #8 Production
(
Login to Add to MyJacketFlap
)
JacketFlap tags:
Uncategorized
,
Battle of the Kids' Books
,
C.S. Lewis
,
Chris Raschka
,
Dewey Decimal System
,
Fusenews
,
G.K. Chesterton
,
Gwenda Bond
,
Infographics
,
J.R.R. Tolkien
,
Jack Gantos
,
Matilda
,
Maurice Sendak
,
Megan Whalen Turner
,
Neil Gaiman
,
Oliver Jeffers
,
stage adaptations
,
tattoos for every occasion
,
The Phantom Tollbooth
,
Wait Wait Don't Tell Me
,
Add a tag
And then it's February.  How the heckedy heck did that happen?  Looks like 2012 is already establishing itself as the Blink and You'll Miss It year.  Well, let's get to it then.
First and foremost was the announcement of Battle of the Books 2012.  Or, as I like to think of it, the place where Amelia Lost gets its bloody due (if there's any justice in this world).  We're now in the earliest of the early days of the battle, but stuff's on the horizon.  I can smell it.
In other news there was an SCBWI (Society of Children's Book Writers and Illustrators) meeting here in New York this past weekend.  I didn't attend because, apparently, if it's way too convenient I'm absent.  After checking out the recap on this blog, however, I clearly need to change my priorities.  Though I had to miss the cocktail party on Friday I did attend Kidlit Drink Night which was PACKED, dudes.  Packed to the gills!
In her post Ms. Turner mentions the Mythopoeic Society.  By complete coincidence I stumbled over yet another link involving that society in question.  Neil Gaiman reprints an old speech he gave to the society in 2004 on C.S. Lewis, Tolkien, and Chesterton.  A great look at how good fantasy can influence kids.  Also a good look at how bad television programs lead kids to books.  I believe it.
Well The Today Show may have passed up the chance to talk to the Newbery and Caldecott winners but leave it to NPR's Wait Wait Don't Tell Me to speak to Jack Gantos for their Not My Job game.  Someone must have tipped them off to the fact that the man is the world's greatest interview.  Love the Judy Blume reference.  And though I thought I knew his Hole in My Life story, clearly I missed some details.  Thanks to Susan Miles for the link.
Of course Jack and Chris Raschka were interviewed by SLJ about their respective wins.  That's good news about a Dead End in Norvelt companion novel.  Ditto the idea of Raschka working on a Robie H. Harris title.
Display Comments
Add a Comment