And here's another catch up post of long overdue mini reviews.
The Shadow Ellysium by Django Wexler
B / B+
This short novella served its purpose as a teaser to generate interest in the Shadow Campaigns series. I loaded The Thousand Names on my Kindle – now I just need time to read it!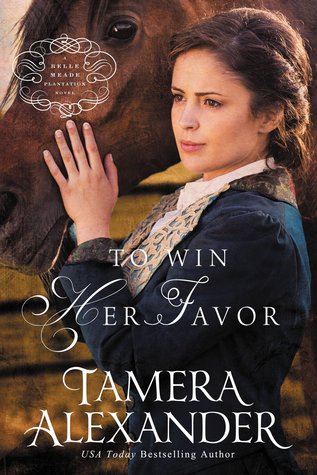 To Win Her Favor by Tamera Alexander
B / B+
This inspirational romance caught my eye because of the horse on the cover. Maggie is dismayed when her father arranges her marriage to Cullen, an Irish immigrant. She's reluctant to marry a complete stranger, and an Irishman at that. She's also fearful that he'll object to her training her mare to run in an upcoming race.
I enjoyed the development of the romance, as well as the details of daily life on a farm in post Civil War Tennessee. The author doesn't shy away from describing the prejudices and terrible treatment of the Irish and African Americans. At first I had a hard time with Maggie because her thoughts and views mirrored those of her neighbors, but as she got to know Cullen and the farm hands working for them, she began to finally see them as individuals deserving respect. And the horsey bits were entertaining.
Hit! by Deliah S Dawson
C-
This just did not work for me. I can't help but think that a huge banking conglomerate would have a better solution for deadweight borrowers than having them assassinated, or forcing them to be assassins. Meh, I didn't care for HIT.
Mad About the Major by Elizabeth Boyle
B
Fun read with a Ferris Bueller's Day Off vibe. Lady Arabella escapes the suffocating confines of her father's estate to grab a small taste of freedom before she's forced to marry a stodgy old bachelor. Her father is furious with her because a handsome stranger made a spectacle of her at a ball, and now he's adamant that she marry before she's completely ruined. She runs into the rakish Kingsley, the stranger from the ball, after he almost runs her down with his carriage. Arabella convinces him to accompany her on her day of freedom, arguing that he owes her three favors for his behavior at the ball. What follows is an enjoyable romp through London, as Arabella and Kingsley fall for each other during their unusual adventures. I really enjoyed this.
Add a Comment