Strawberries. Oreos. Marshmallows. Yum! Can these things possibly be made any better than they already are? Sure! How? Cover them in chocolate of course!


Today is a very special day. It is "Happy Chocolate Covered Anything Day". Let's take a moment to celebrate.

Oh! Chocolate!
Eating chocolate isn't the only way you can celebrate today, though I would never tell anyone not to eat chocolate, I wanted to recommend a few "candy" related books for chocolate lovers.
First things first.
Charlie and the Chocolate Factory
. Roald Dahl's classic book about Charlie, who can barely afford to buy a chocolate bar. With a little luck, and help from his Grandpa Joe, Charlie finds a coveted "Golden Ticket", an invitation to tour Mr. Willy Wonka's chocolate factory.
The factory has been closed to the public for so long, that there are all sorts of rumors about Mr. Wonka! Along with five other children who have also found the tickets.
However, Mr. Wonka himself
is
quite strange, and the chocolate factory is a dangerous place for misbehaving children.
Can Charlie make it to the end of the tour in order to claim the great reward? If you haven't read this one already, today is a great day to pick it up. If you have read it, re-read it! Or maybe you would like to try one of the books below.
The Candymakers,
By Wendy Mass takes a page from
Charlie.
There is a chocolate factory, and a contest, but the children invited to visit are competing for creating a new type of candy.
Another big difference is that the children in Mass's story are all generally good kids, even if a few of them have an agenda for winning the competition.
Fans of
Charlie
will likely enjoy
The Candymakers,
but there is enough originality in this sweet tale to keep readers hungry enough to keep the pages turning until the very end.
Sue Stainton's
The Chocolate Cat
, is a beautifully illustrated book that tells the story of a cat, a chocolate maker, and a town in need of inspiration.
When the chocolate maker creates chocolate covered mice with a little something extra, he doesn't think twice. His cat, however, knows there is something special about this new creation.
When the townspeople begin to eat these adorable chocolate masterpieces, they are suddenly stuck with amazing ideas, that spice up their formerly drab lives.
The popularity of the chocolate mice brings new business to the chocolate maker, and new friends to talk to the cat, which just proves that chocolate can improve lives!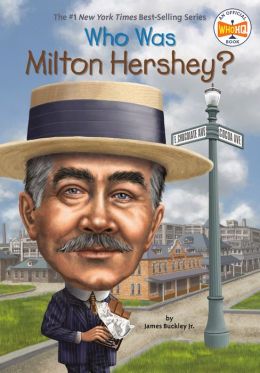 Prefer non-fiction? How about a book about Milton Hershey? Featured here is
Who Was Milton Hershey,
by James Buckley Jr..
While this book is a part of the popular
Who Was
series, the library has
several books about Hershey
, which is great, because he was a fascinating historical figure.
Aside from founding one of the most popular chocolate companies in the world, Hershey was a generous man who really wanted to spread joy to all. Hershey built schools, supported his work force, and made chocolate affordable at a time when it was a luxury reserved for the very wealthy!
Isn't that the (chocolate) icing on the cake?
So grab one of these books after you enjoy your chocolate covered anything! Just make sure to wash your hands first. We all love chocolate, but best not to leave fingerprints on the pages!
Posted by- Miss Jessikah
Add a Comment