By Peter J. Henning

A report filed by the Special Counsel to the Senate Select Committee on Ethics accuses former Nevada Senator John Ensign of a number of violations related to the end of an affair he had with the wife of a top aide who was also a long-time friend of his family. The aide, Douglas Hampton, was indicted on charges of violating the federal conflict of interest rules this past March, and there is a good chance Mr. Ensign will also be targeted by federal prosecutors.
Much like his former Senate colleague John Edwards is a target of an investigation based on payments to a former mistress, as I discussed previously, Mr. Ensign's problem was not so much the affair but how he tried to keep it quiet through a secret pay-off. After ending his intimate relationship with Cindy Hampton, who worked as treasurer of his campaign committee, Mr. Ensign terminated both Hamptons and arranged for them to receive $96,000 from a trust fund controlled by his parents. How that payment should be characterized will be crucial in determining whether the former senator will be indicted by prosecutors from the Public Integrity Section of the Department of Justice, who have been investigating him for over a year.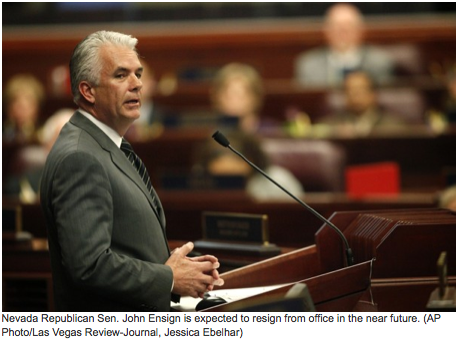 The Special Counsel's report reads almost like a prosecution memorandum, setting out the facts of the relationship between Mr. Ensign and the Hamptons, and offering assessments of whether his conduct constituted a violation of federal criminal laws. The former senator does not appear to have set out to purposely violate federal law, but his efforts to keep the affair quiet by placating the Hamptons with money and work for Mr. Hampton may well have led to Mr. Ensign to commit criminal acts.
The charges against Mr. Hampton involve alleged violations of 18 U.S.C. § 207(e)(2), which makes it a crime when a highly-paid member of a senator's staff within 1 year of leaving the position "knowingly makes, with the intent to influence, any communication to or appearance before any senator or any officer or employee of the Senate, on behalf of any other person" in which the former staffer seeks action by a senator or staff member. Mr. Hampton had numerous contacts with Mr. Ensign, who assisted him by contacting government officials on behalf of Mr. Hampton's clients.
While Mr. Ensign might try to plead ignorance of what Mr. Hampton was doing, the Special Counsel's Report goes into great detail about how the former senator pressured companies to hire his former aide, all part of an effort to keep Mr. Hampton from speaking out about the affair with his wife. There does not appear to be much "plausible deniability" here for Mr. Ensign, so proving his knowledge and intent to provide assistance to Mr. Hampton would not appear to be difficult. In addition, a charge of conspiracy is quite possible, based on the interactions of Mr. Ensign and Mr. Hampton.
A more difficult issue, and one with much greater potential ramifications, is characterizing the $96,000 payment to the Hamptons after being terminated from their jobs with the Senate office and campaign. The money came from an Ensign family trust controlled by t
Add a Comment