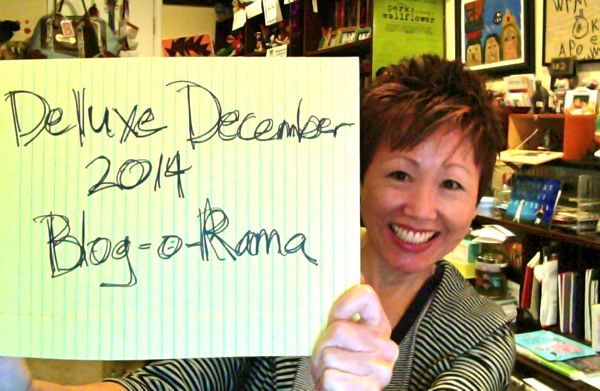 Wow, it's been a looooong time since my last blog. I would have blogged sooner, and I don't want to make any excuses, but aliens abducted me and I was orbiting Mars and the view was so pretty, plus there was a lot happening on my desk, and I got distracted.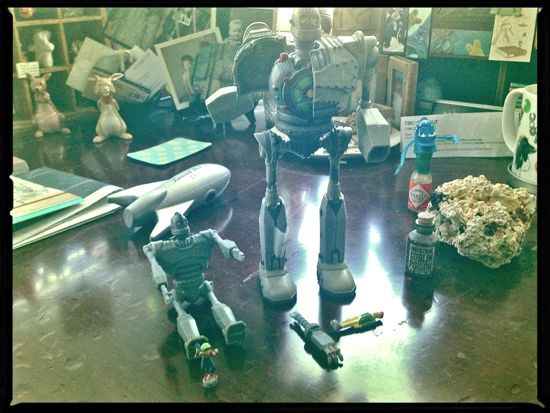 And then Newbery and Prinz committee member and kidlit scholar Rob Bittner visited from Canada and distracted me with food . . .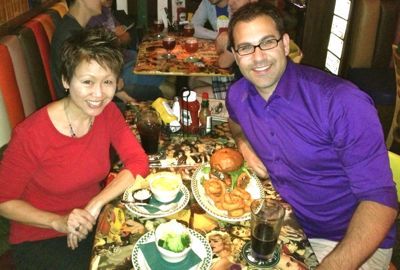 So okay, let's see what Peepy and I have been up to. Yes! We visited the Twin Cities to keynote at the Minnesota SCBWI (Society of Children's Book Writers and Illustrators). It began with a faculty dinner . . .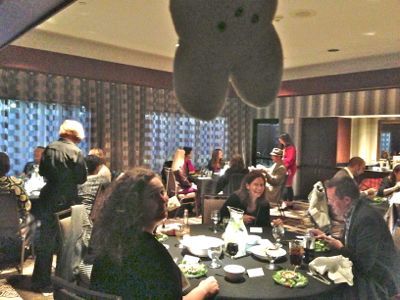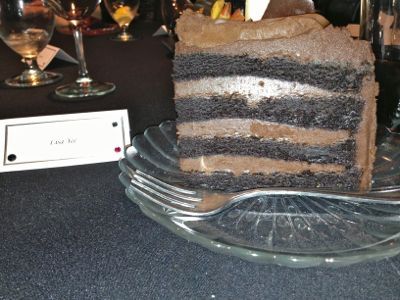 Then this the next day . . .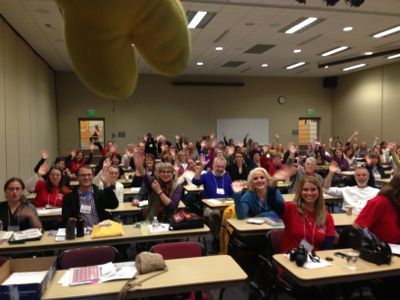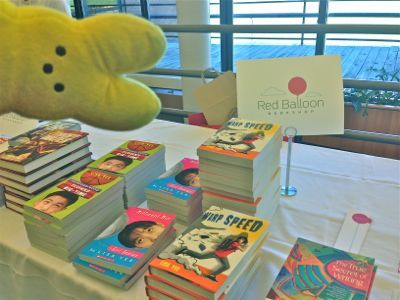 It's always fun seeing author Bruce Hale and Arthur A. Levine Books/Scholastic Associate Editor Emily Clement and discussing math and metrics and stuff . . .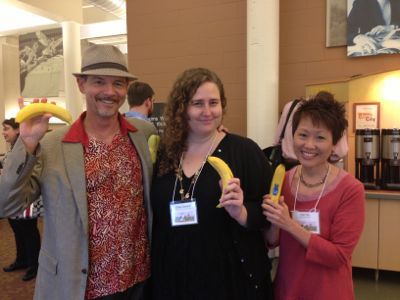 Why, lookit -- there's the ever popular picture booker, Kelly Light!




My writing workshop students were muttering bitterly to themselves because I made them write and write, and then write even more. And more. And more* . . .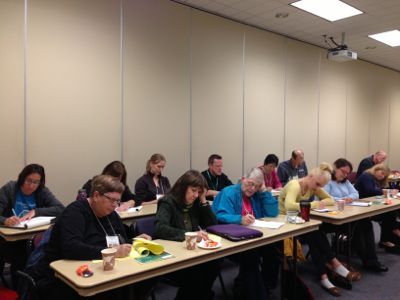 *They did a fabulous job!!!!

Hello? Excuse me, but where do children's literature types hang out in the Twin Cities? Apparently at local favorite haunt Psycho Suzi's . . .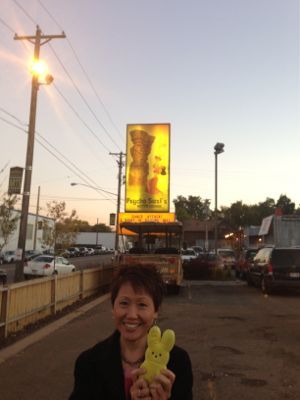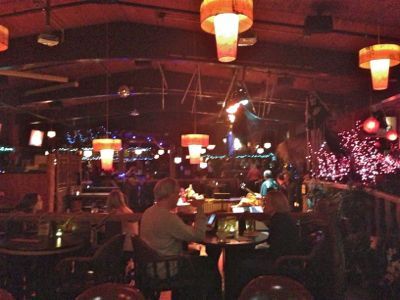 Ah hem. Someone was given Minnesota swag!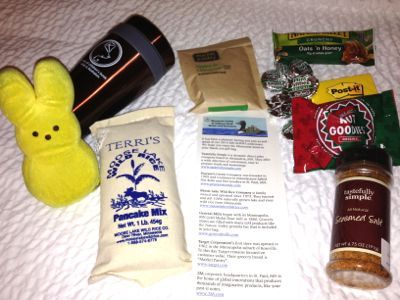 If you like books (and who doesn't???), you MUST visit the Kerlan Collection at the University of MN. This children's literature and research collection is curated by the amazing Lisa Von Drasek a.k.a. ALVD . . .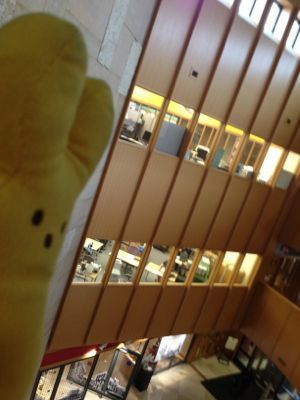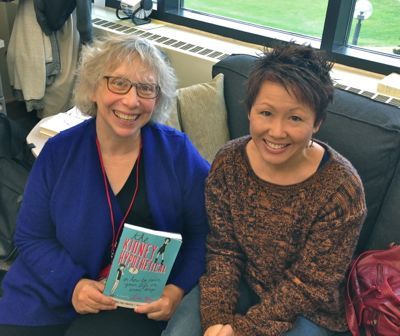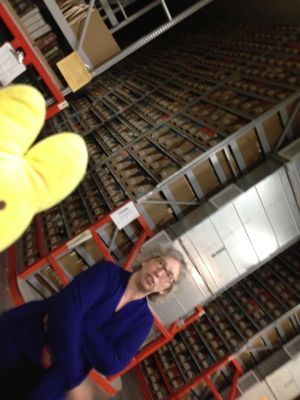 Here you'll find, thousands of original papers from some of the biggest names in children's literature. Plus, my papers are there, too . . .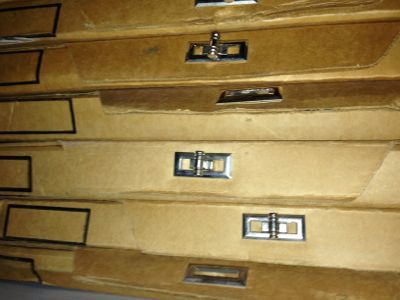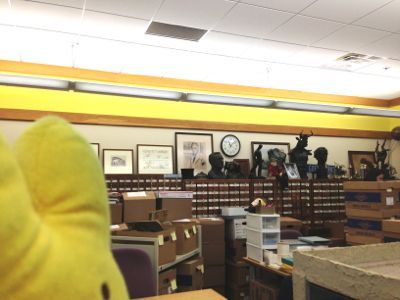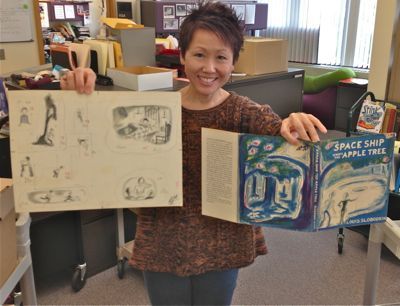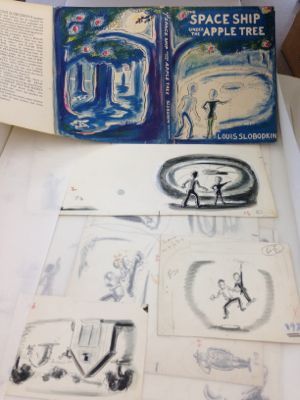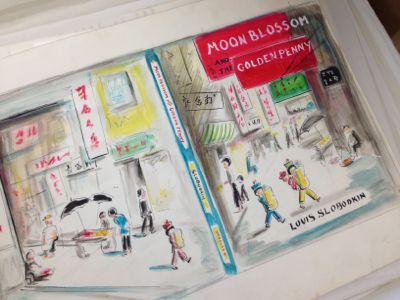 We interrupt this blog to bring you yet another Dan Santat lunch. This time we are celebrating the publication of BOBBY VS. GIRLS (ACCIDENTALLY) in China . . .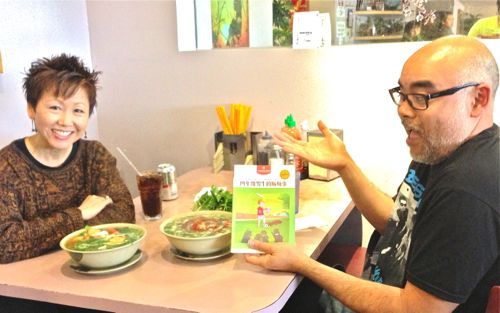 And now back to your regularly scheduled Kerlan update . . .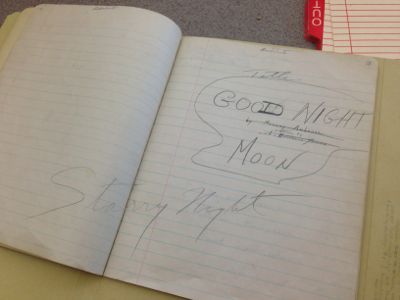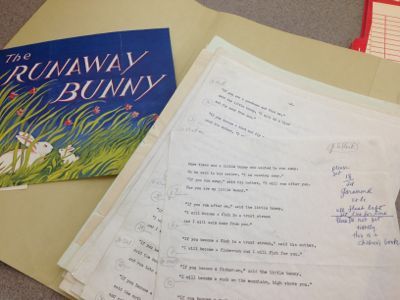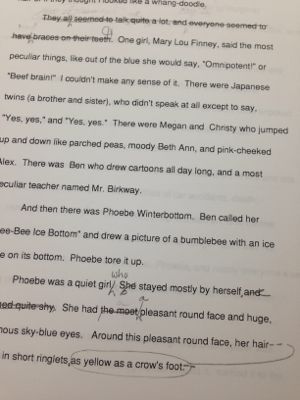 My dear friend, and fellow Sid Fleishman Humor Award Winner David LaRochelle was with me at The Kerlan . . .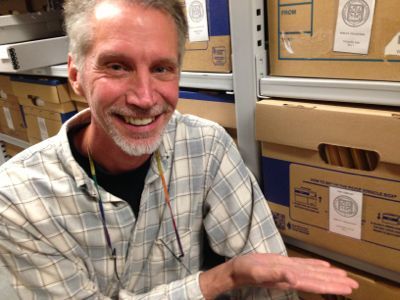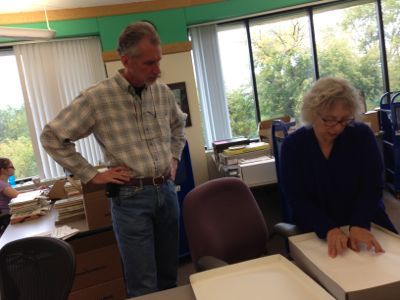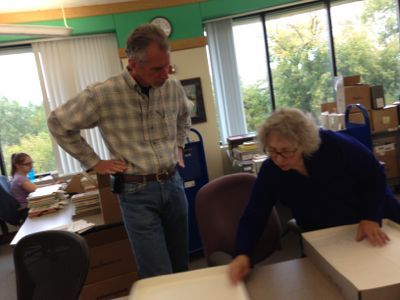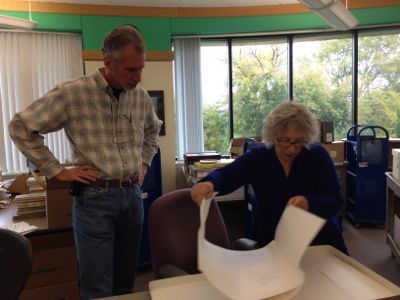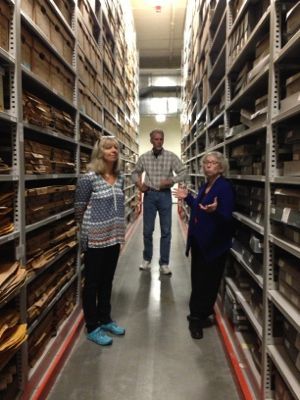 Here's more . . .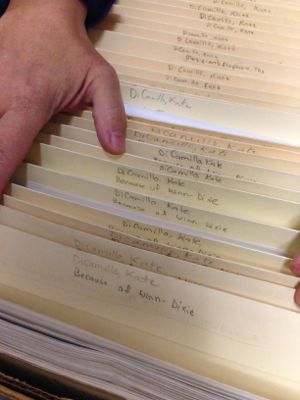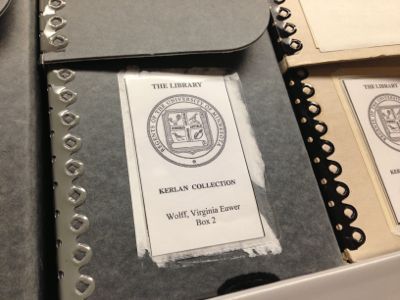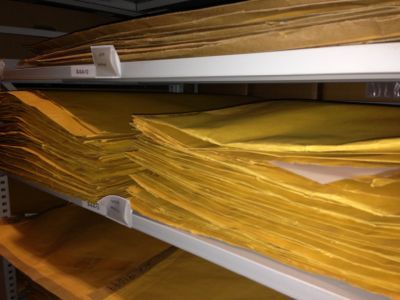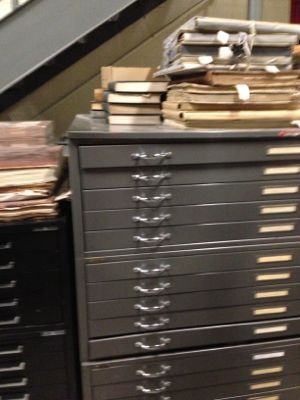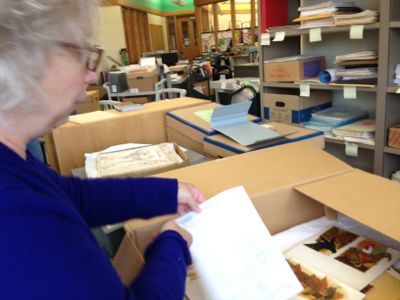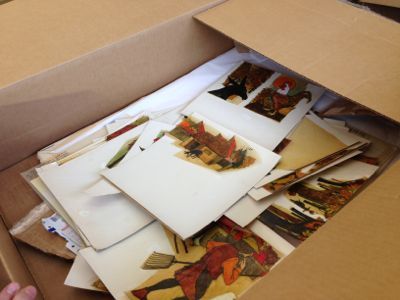 Paula Danzinger blurbed my first novel!!!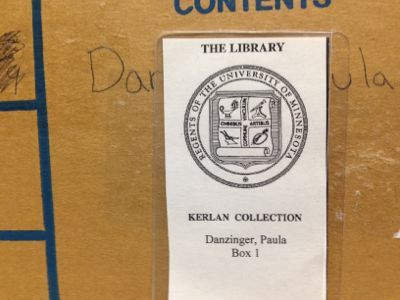 Later, it was lunch with David, author Cheryl Blackford and Lisa Lisa . . .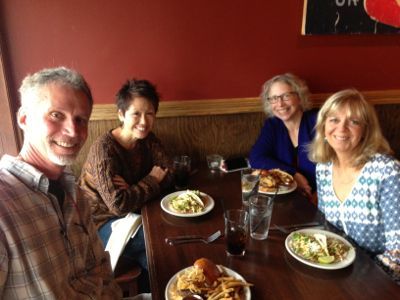 After, David and I visited the famed Red Balloon children's bookstore, talked to bears, and then had a tasty snack . . .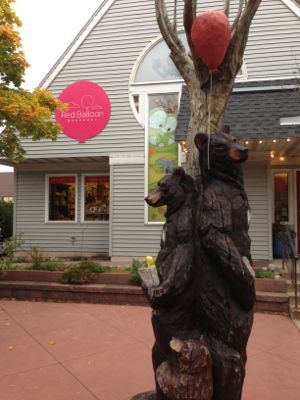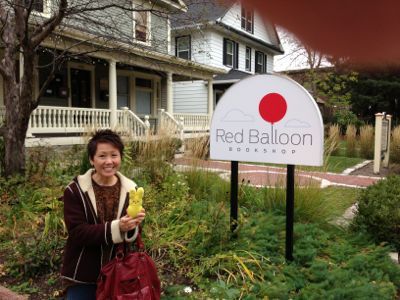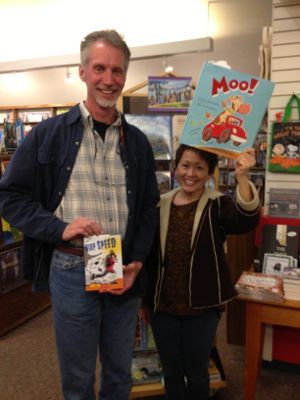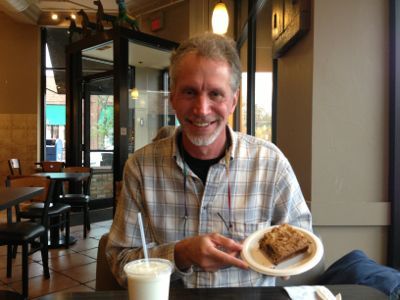 On another day, it was food 'n' fun with children's lit scholar and professor Sarah Park Dahlen . . .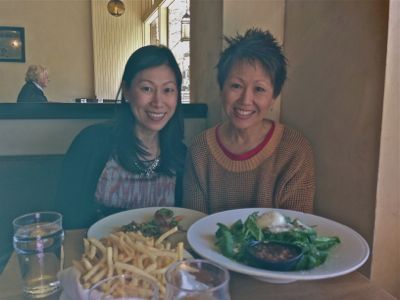 Sarah asked what I'd like to see and I said, "The library! Children's books! Colin Firth as Mr. Darcy!" And so we did (two of the three). Here's the Minneapolis Central Library . . .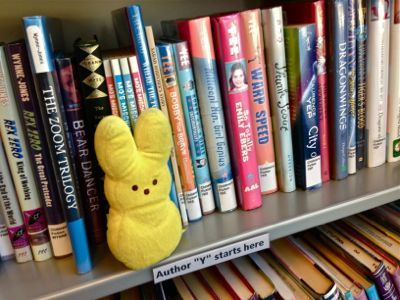 Then it was time for a Wild Rumpus and ice cream!!!!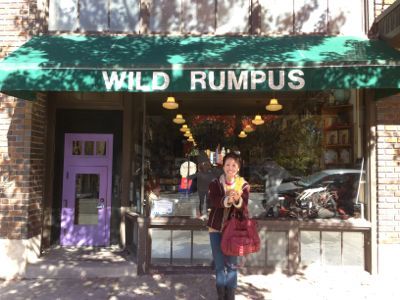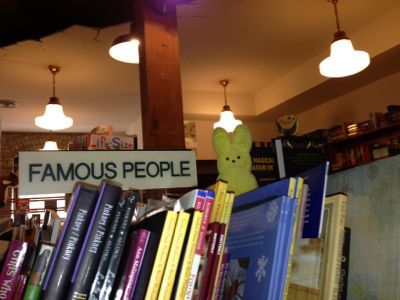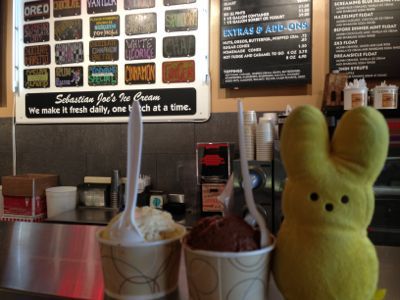 Back in Southern California a gaggle of authors and illustrators met for dinner to impress Australian author Rachel "R.A." Spratt, who misbehaved and put Peepy in peril . . .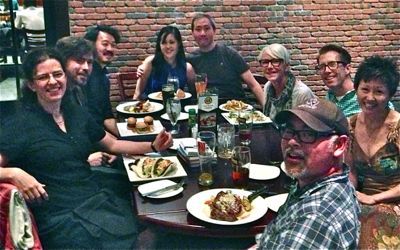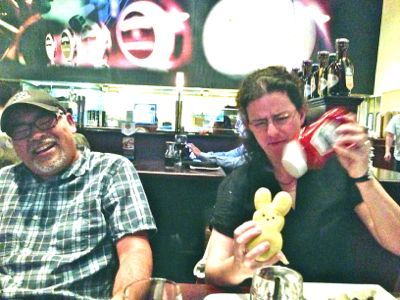 After dinner it was time for lunch with authors Susan Patron, Amy Goldman Koss and Ann Whitford Paul . . .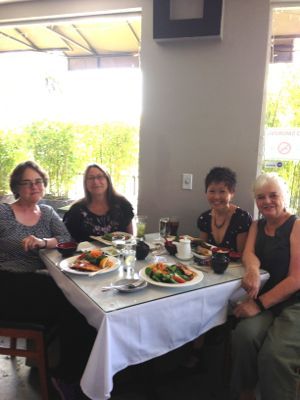 What's that?!!! Why, it's Kelly Milner Hall's newest book, GHOSTLY EVIDENCE. And look who has a story in it!!!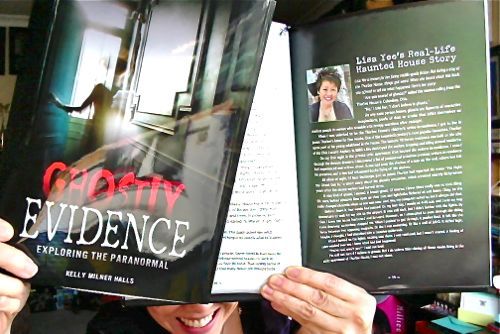 Close to home, we visited Clairbourn School and super librarian, Anita Knight. Here we are with author/illustrators Dan Santat (I think he's stalking me) and Salina Yoon . . .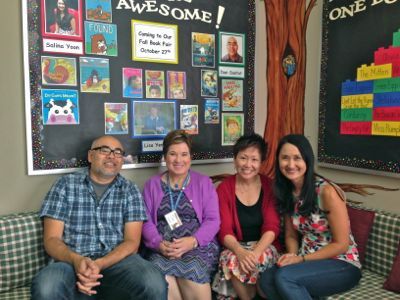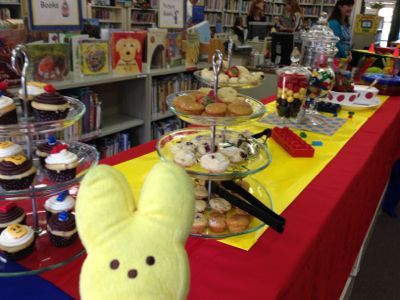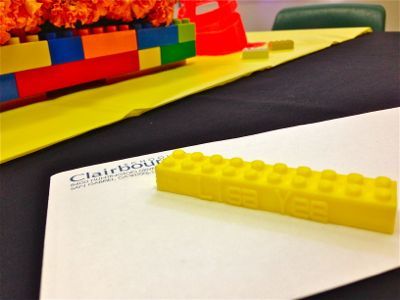 (The Lisa Yee Lego was made with a 3D printer!!!)

I spoke to the middle school students . . .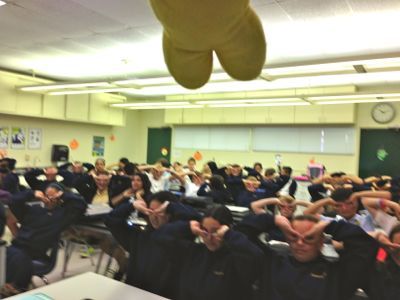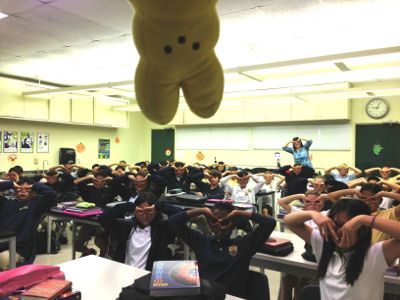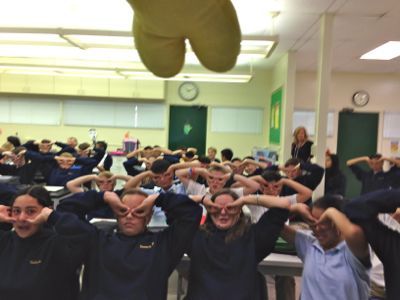 Then before or after or later there was lunch with author Michael Reisman . . .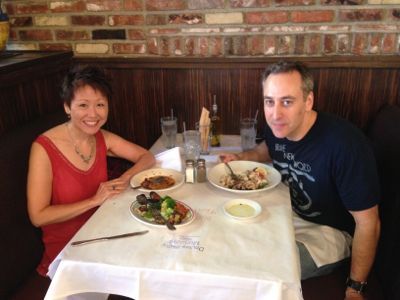 Speaking of postcards for my upcoming YA novel, THE KIDNEY HYPOTHETICAL or how to ruin your life if seven days, there are these . . .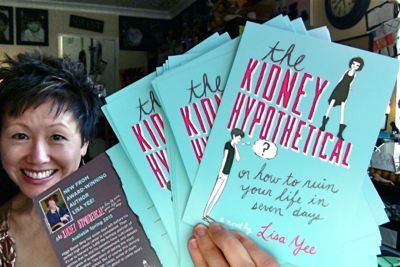 What's that? Oh, a (yet another) literary lunch with Dan Santat and a literary dinner with my agent, Jodi Reamer . . .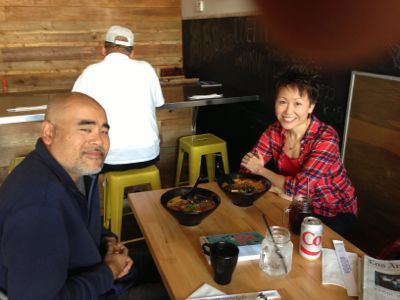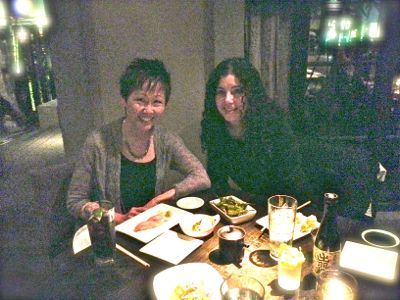 What? What's that? Lunch with someone other than Dan? Yes! It's author Amy Goldman Koss!!!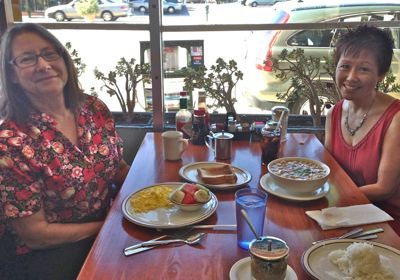 This year I judged the PEN USA awards (along with Amy) and attended the fancy schmancy awards ceremony in 90210 . . .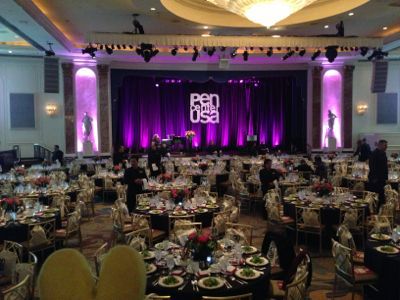 Oh yeah, the Girls are all here. Lena Dunham with celebrity Peepy and Moi . . .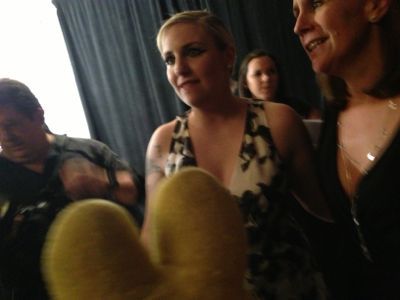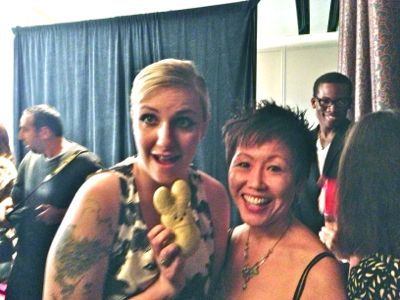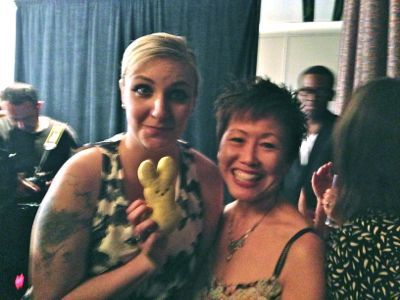 There's Amy Poehler. She gave the Lifetime Achievement Award to me!!! Oops. I meant Norman Lear . . .




That's John Cusak on stage (not sure why he was there) . . .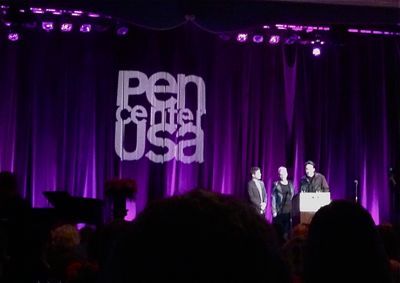 Look!!! It's PEN winner Margarita Engle who wrote the magnificent THE LIGHTNING DREAMER, CUBA'S GREATEST ABOLITIONIST. The book made me weep, and it made my heart sing. GO READ IT!!!!




What's that? Why it's literary PEN swag . . .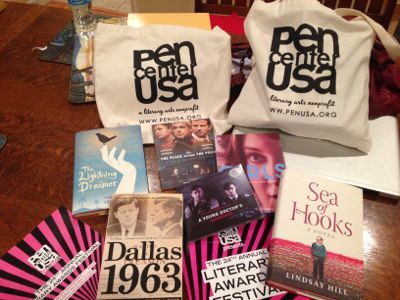 Yoo hoo! It's Children's/YA judges, Amy Goldman Koss, with Margarita and Moi . . .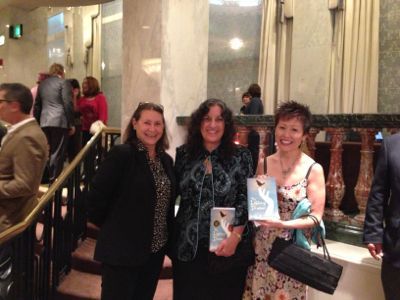 (Insert a clever transition of your choice here)

Suddenly, it was time for the . . . Hollywood Children's Book Fair!!!!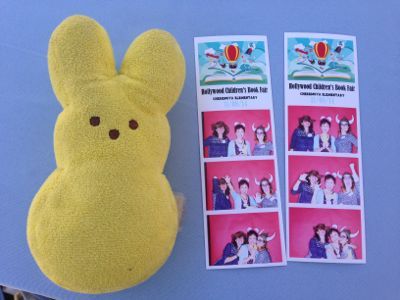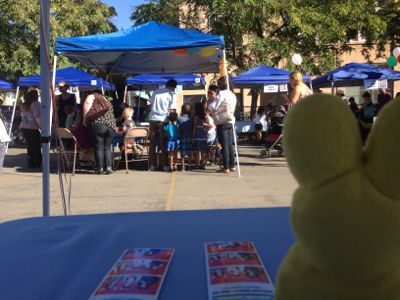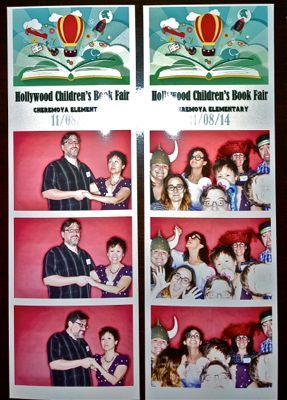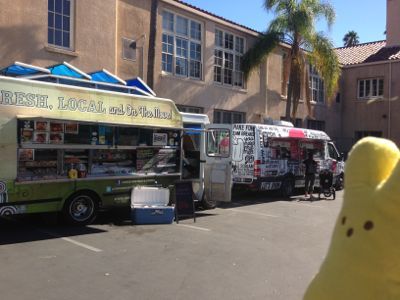 Beautiful and brilliant Book Fair producer Anji Williams presented me with this!!!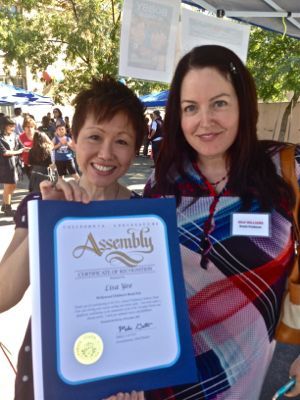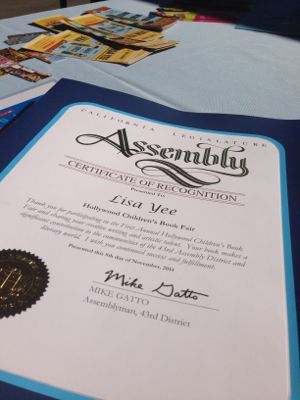 And there's author(s) Cecil Castellucci and Scott Bly and Kristen Kittcher. . .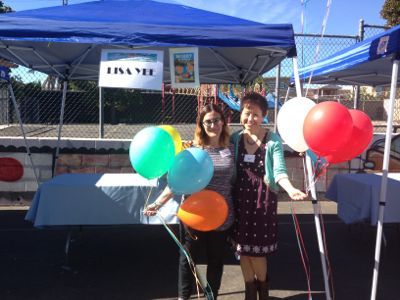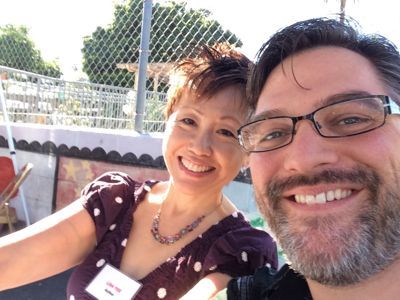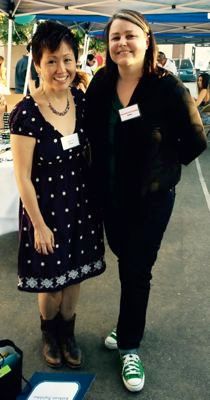 We emoted on the stage, reading from MILLICENT MIN, GIRL GENIUS with author Scott Bly playing Stanford Wong . . .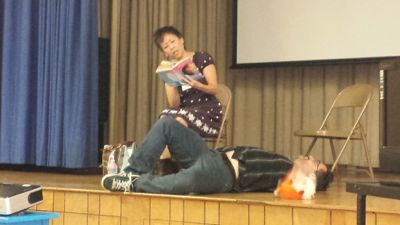 What's that? Another Dan Santat lunch?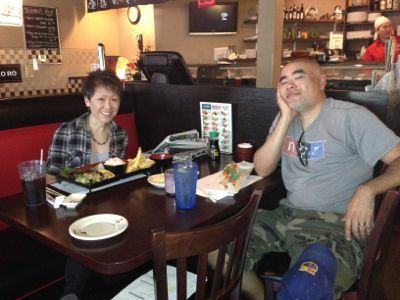 Google, gaggle, gobble . . . yes!!! I took part in the International Reading Associations VERY FIRST Google Hangout (to spice things up, the events that appear in this blog are not in chronological order) . . .




Whoop! I hopped a plane and headed to Texas -- Austin, to exact, for YALSA!!! And look who I ran into, author/professional YoYo-er Jonathan Auxier and Rob Bittner . . .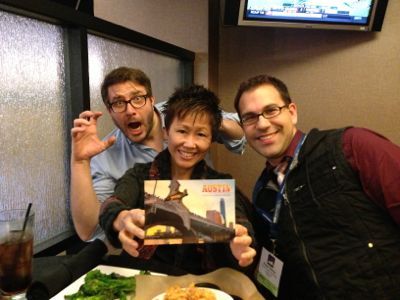 I got carried away with YA author Andrew Smith, and was reunited with other YA-ers Malindo Lo, Sara Zarr and Justina Chen, and oooooh, spooky author RL Stine and Scholastic's non-spooky Lizette Serrano . . .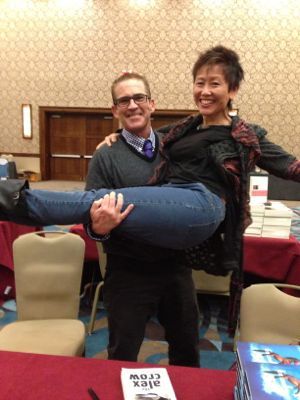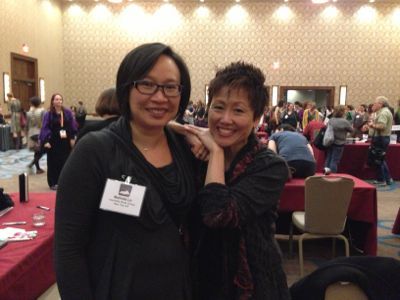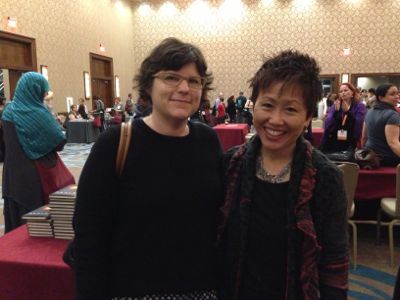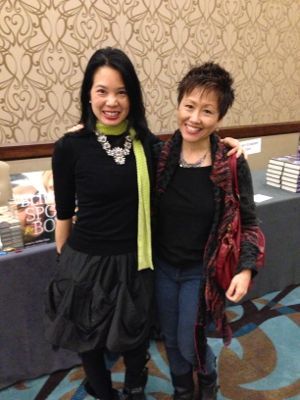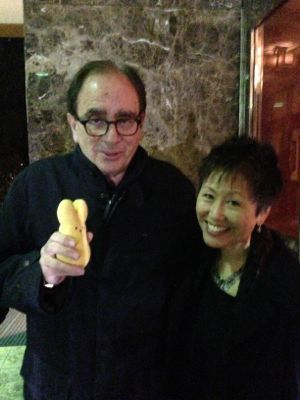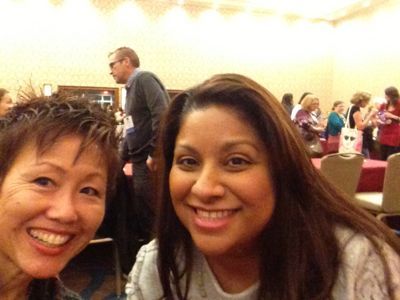 Now, here's the haps. Jonathan Auxier saw me in my Audrey Hepburn as Holly Golightly costume . . .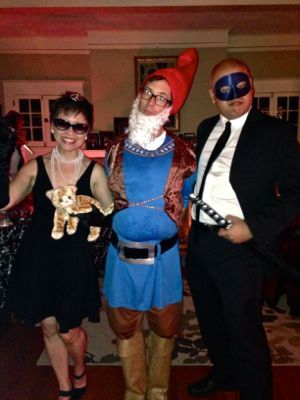 (Above: Me and animator/author/illustrator Bob Boyle with Dan Santat)

He bet me that if appeared on our YA panel dressed as Holly, he would sing all his comments to the tune of Moon River.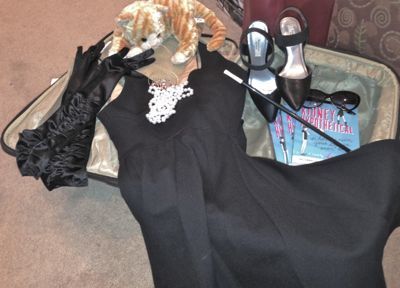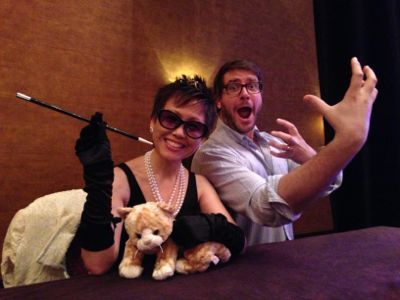 And I did, and he did!!!

Here's proof . . .



The view from the stage . . .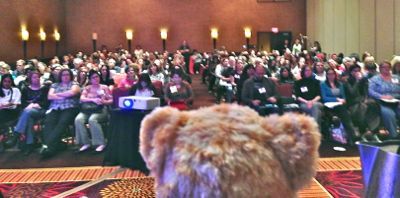 And here are the other panel members . . .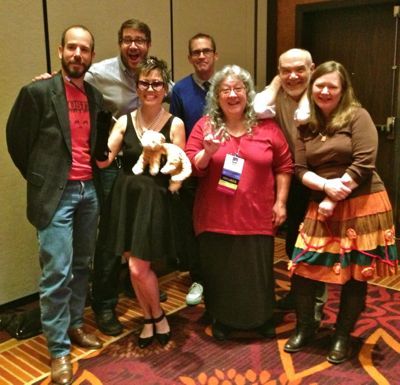 Oops, got carried away by Andrew Smith again . . .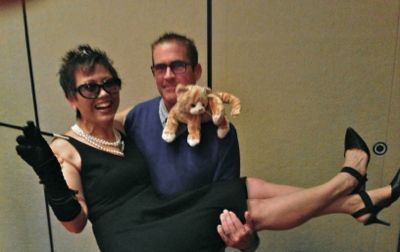 And it's Audrey with Kelly Milner Halls and Bruce Coville, and Chris Barton . . .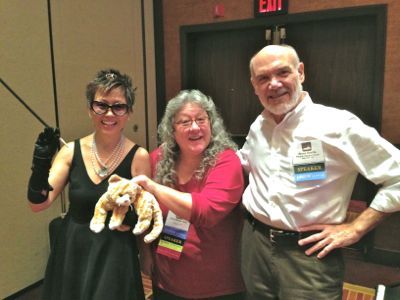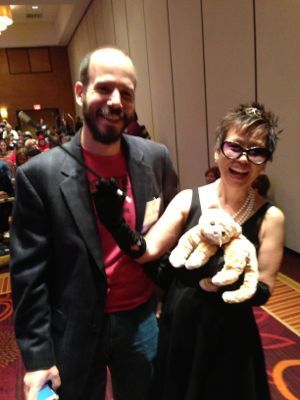 Finally, it was time to head home. (Austin was my last trip of 2014.) Who better way to share airport BBQ with than RL Stine?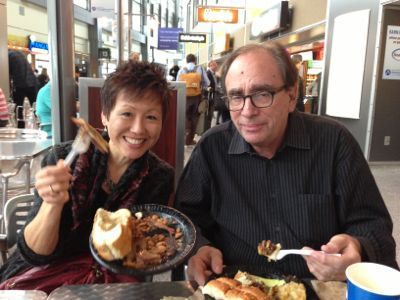 And finally, finally, someone (ME!!!) helped NPR select the Best Children's/YA Book of 2014 . . .





Here are the best of the best. And to see which ones were my picks go here for picture books/kids books and here for YA, and roll your curser over the titles to see who picked what, and why the book was selected!

For example: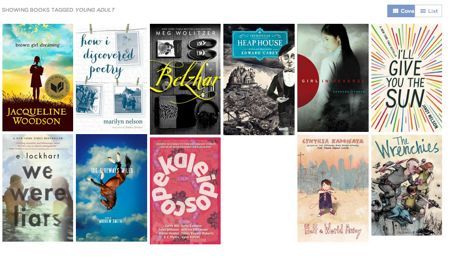 HAPPY HOLIDAYS!!!!!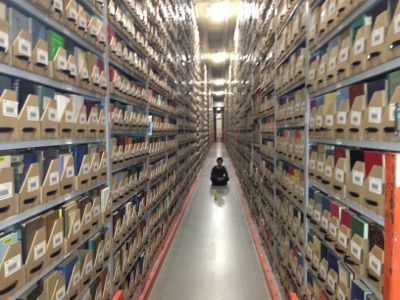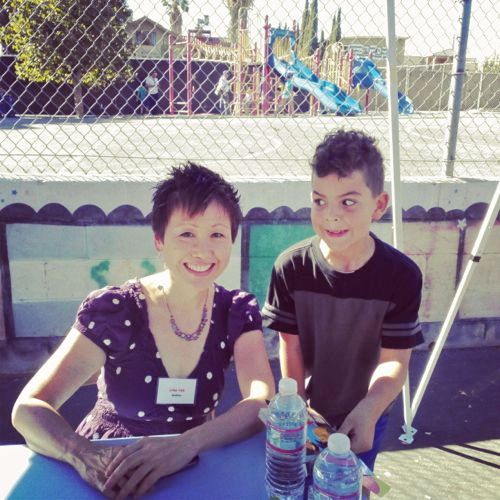 (I LOVE this photo of me and a fan at the Hollywood Children's Book Fest)

===========================

What's that? Yes! If you'd like an autographed book (they make great holiday presents!), order from Vroman's, tell them who you'd like me to sign it to, and they will mail it to you!"





Disclaimer: No proofreaders were harmed (or even used) in the creation of this blog.

Want to check out Lisa's NEW AND IMPROVED website? Simply CLICK HERE.

Interested in having Lisa speak at your school, library or conference? CLICK HERE for more information.

Lisa Yee

Subscribe to Lisa Yee's Blog and get her fresh baked blogs e-mailed to you!

Email:



Or you can click this for a RSS feed...
Add a Comment