JacketFlap's Book Widget Program is a powerful way to spread the word about great children's books. We call it "viral book marketing" because anyone can install these widgets on their blog or web site in less than a minute.
About JacketFlap's Book Widget Program
Each JacketFlap Book Widget is customized for a Publisher and loaded by JacketFlap with a number of books. It is then displayed on JacketFlap and features a different book every time it loads on a web page.
Click here
to see the book featured in the Widget at the right change when the page reloads. There are links below the book cover where viewers can click to learn more about the book, its author, and illustrator, and they can even discuss the book with other book lovers. Links are also displayed to take interested buyers directly to places where they can buy the book on Amazon or their local bookstore (via Booksense).
The "Viral Book Marketing" Effect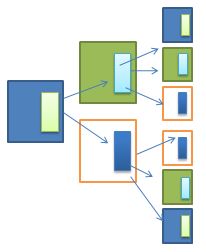 The promotional effect is multiplied greatly, as the widgets can easily be customized and installed on most blogs and web sites. A Publisher can encourage its authors and illustrators to install a widget on their personal blogs and web sites to cross-promote their work across many author and illustrator web sites. These widgets are also very popular with blogs of children's librarians and other book-related blogs. An added incentive is that people installing these widgets can earn affiliate commissions at Amazon and Booksense for any books purchased by people clicking on the widget. It's a nice way for them to make some extra money while spreading the word about great children's books! As an example of the viral effect, a Widget JacketFlap recently created for the Cybils book awards has already spread to more than 125 web sites.
How to participate in JacketFlap's Book Widget Program
We can have a book widget created and running for you in as little as 24 hours. To get started, email
[email protected]
with your name, phone number, and company name. We'll get back to you immediately.
To see how easy it is to customize a widget so that it blends into any web site, try clicking different colors below to change the look of the Class of 2k10 Widget on the right: