In a series of "round ups" we have been summarising the many movies, plays and other projects associated with Harry Potter alumni. The YA cast from Potter includes the trio and J.K. Rowling's 'Big Six', so it's unsurprising that they're on all sorts of exciting endeavours!
Aside from being UN Women Goodwill Ambassador and leader of a feminist book club, Emma Watson (Hermione Granger) is – as we know – an amazing actress. She's currently in cinemas starring as 'Lena' in The Colony – a thriller based around the cult Colonia Dignidad.
She recently interviewed The Circle co-star Tom Hanks on feminism and the movie industry – the movie is based on Dave Egger's book, and is set for initial release this year.
Emma is also set to portray the iconic leading lady Belle in Disney's live-action remake of Beauty and the Beast in 2017. Even 'the original Belle', Paige O'Hara, is excited to see her take over the role!
Daniel Radcliffe (Harry Potter) has recently appeared in is currently in cinemas as a villain in Now You See Me 2, and has just started in his theatre role in Privacy, which features Edward Snowden.
A new trailer and poster for Dan's upcoming spy-thriller Imperium have recently been released, which you can view below – he will be portraying nervous undercover FBI agent / white supremacist, Nate Foster. The film is set to be released in August. Entertainment Weekly reports:
"The director says — worryingly — that the more he learned about the topic, the more timely and relevant it seemed. "We're witnessing a surge in far-right groups all across Europe; in some cases they're nearly winning national elections," says Ragussis. "We have a stereotype of what it means to be a white supremacist, but when I began collaborating with Michael and doing my own research, I was stunned by the depth and the extent of this movement."
Ragussis made every effort to authentically portray the experience of going undercover, as well as the modern-day white supremacist community. "There's a large white supremacist rally in the middle of the film that we had spent months researching and planning," the filmmaker explains. "There were so many details that had to be captured to try to make it real and authentic. I'd read about them, seen them, watched videos of them — but to actually see it come to life by our own hands was something I'll never forget. Someone even called the news and erroneously reported a Klan rally in their neighborhood! So to that extent, I suppose we did our job.""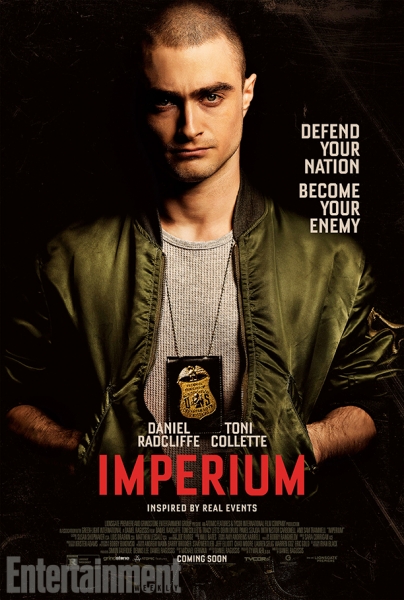 Dan will also star in Jungle – a psychological thriller based around the story of Yossi Ghinsberg's memoir of his trip to the Amazon, which was included in The Discovery Channel's I Shouldn't Be Alive.
Rupert Grint (Ron Weasley) is set to star in Sick Note with Nick Frost (Shaun of the Dead, Hot Fuzz), after his recent performance in Moonwalkers with Fantastic Beasts actor Ron Perlman
Tom Felton (Draco Malfoy) has been cast as a series regular in CW's The Flash. He will be portraying Julian Dorne – a Central City Police Department crime scene investigator. Read more here.
Bonnie Wright (Ginny Weasley) recently wrote, produced and directed short movie Medusa's Ankles with Potter co-star Jason Isaacs, which is set for release this year. She also raised money for Film Aid by making her own 'Come Dream With Me' t-shirts, which got the support of many Potter co-stars, and even J.K. Rowling herself!
Matthew Lewis (Neville Longbottom) is currently starring in  Me Before You alongside Sam Claflin (The Hunger Games), Emilia Clarke (Game of Thrones) and Jenna Coleman (Doctor Who).
He is also (almost) confirmed to be  co-starring as 'Lenny' in Terminal, along with Margot Robbie , Simon Pegg, Mike Myers and more. The film is being produced by Harry Potter producer, David Barron. Read more at Matthew lewis.com here.
Alfred Enoch (Dean Thomas) will be returning to CB's hit show How to Get Away With Murder for its third season on September 22nd.
Evanna Lynch (Luna Lovegood) and Katie Leung (Cho Chang) recently took the Ilvermorny sorting tests on Pottermore, both being sorted into the same house as J.K. Rowling: Thunderbird:
I feel like I just cheated on Hogwarts, but ok. #Thunderbird #Ilvermornysorting pic.twitter.com/B2pbgHtB86

— Evanna Lynch (@Evy_Lynch) July 3, 2016
A photo posted by Katie Leung (@_katieleung_) on
Evanna also appeared at the premiere of David Yates's new film The Legend of Tarzan:
Katie Leung is set to star in The Foreigner – a film based on 1992 novel The Chairman, and co-starring Pierce Brosnan and Jackie Chan.
Lastly, Jessie Cave (Lavender Brown) has continued to make videos on her eponymous Youtube channel (here). She also appeared in Call the Midwife, and is set to star in Modern Life Is Rubbish, directed by Daniel Gill, who is known for being assistant Director on Harry Potter and the Deathly Hallows: Part 1.
Hope you're looking forward to all these upcoming features from our favourite YA Potter actors as much as we are! Be sure to take a look at the adult actor round ups, split into Part 1 (here) and Part 2 (here)!
Add a Comment