.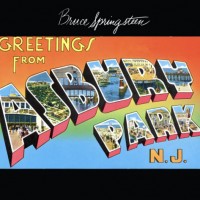 Asbury Park, like Nebraska, tends to get a bad image from Bruce Springsteen.  Just as Nebraska hasn't produced many serial killers since Starkweather, Asbury Park has  revitalized itself since the Boss sang about The Fourth of July.
But amongst the new constuction along the shore, it has kept some of that outsider charm, and that's why it was a great place to hold a comic con.
Aside from tourbus visits to Atlantic City (where we never ventured from the casinos or boardwalk), I haven't ventured very far into New Jersey.    But Cliff Gailbraith  decided to host a comics convention in a bowling alley not too far from the boardwalk in Asbury Park, and that was all the excuse this peripatetic explorer and comics fan needed to venture down the Jersey Shore!

After some stupid mistakes with Jersey Transit, I arrived  at Asbury Park at about 1 PM.  On the ride down a gaggle of teenagers was talking about Asbury Park, how dicey it was after night.  But the city is rebirthing itself, and while there are many empty grassy lots surrounded by glittering chain link fencing, there is also a lot of new construction.  I've lived in downtown Washington, DC; I've been a minority in minority neighborhoods of New York City.  My "street smarts" radar never once activated.  It was a pleasant stroll, both in the afternoon, and at eight o'clock at night.
The bowling alley… is a living-history museum from 1963.  The big plastic booths for bowlers still exist, and the interior hasn't changed much since it first opened.  Aside from a stage set up over the middle lanes, the rest were pristine, and off limits to tables and street shoes.  The show itself was set up in the public area behind the foul lines, creating an intimate experience.
How intimate?  Thirty-five tables.  Michael Carbonero had a large booth featuring all sorts of cool collectibles, as did The Comic Book Shop! of Wilmington, Delaware.  The Artist (bowling) Alley occupied the performance stage, and while the quantity was small, the quality was spectacular!  Jamal Igle!  Evan Dorkin and Sarah Dyer!  Steve Mannion!  Stephanie Buscema!  The comic book philosophers Ryan Dunlavey and Fred Van Lente had the table right next to the entrance (Fred was working on a late afternoon tan as the sun streamed through the doors), right next to Cliff "Rat Bastard" Gailbraith.  (That's the name of his comic.  Cliff's a great guy!)
How awesome was this show?  Well, there was a 1960s Batmobile parked outside for photographs, along with a Romero Joker (not to
Display Comments
Add a Comment