"Let's go and see everybody," said Pooh. "Because when you have been walking in the wind for miles, and you suddenly go into somebody's house, and he says, 'Hallo, Pooh, you're just in time for a little smackerel of something,' and you are, then it's what I call a Friendly Day." ~ A.A. Milne, The House at Pooh Corner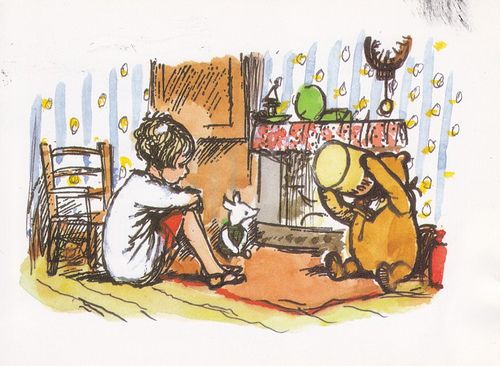 Hallo, my windblown, winter-weary but eternally good-looking friends! Are you out of hibernation yet?

Just in case you're in dire need of a little smackerel of something, I've cooked up a special batch of Pea-Bean Alphabet Soup, with a recipe from the new and revised Winnie-the-Pooh Cookbook (Dutton, 2010).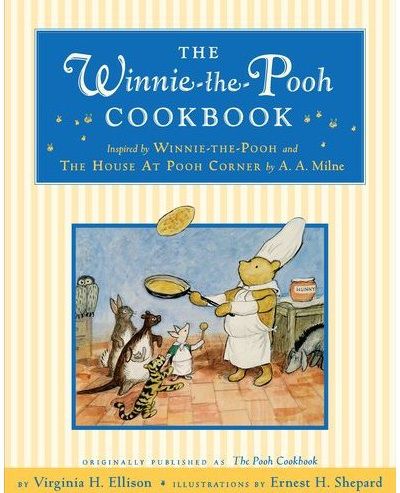 Is anyone familiar with older editions of this cookbook -- one with recipes by Katie Stewart (Methuen, 1971) and the other with Virginia Ellison's recipes (Dutton, 1969)? I have not seen Ellison's older edition, and wondered whether the Pea-Bean Alphabet Soup recipe was in it, or if it was newly added this time around. Years ago, I purchased the Katie Stewart edition in London; looks like different culinary writers were used for the British and American versions. Cool, but a little confusing, since both books have the exact same cover.




In any case, the new Pooh Cookbook, just released in October 2010, is quite lovely, as it contains full color illustrations from Winnie-the-Pooh and The House at Pooh Corner, as well as the eight original pen-and-ink drawings by Ernest H. Shephard commissioned by Dutton in 1966. Like its predecessors, the new cookbook is sprinkled throughout with excerpts from both Pooh books and features approximately 60 tasty recipes, all guaranteed to feel yummy in your tummy: Breakfasts, Smackerels, Elevenses & Teas, Provisions for Picnics & Expotitions, Lunches & Suppers, Desserts & Party Recipes, Winter Delights and Honey Sauces.

My Katie Stewart cookbook contains things like Chocolate Rock Cakes, Honey and Raisin Scones, Cottleston Pie, Bread and Butter Pudding and Watercress Sandwiches, etc., but it doesn't have any soups! So I was tickled pink to find three soups in Ellison's new book: Tomato, Corn and Shrimp Chowder, and the aforementioned Alphabet Soup, which got my full attention right away. ☺

I cheated a little on the recipe, making it in the crock pot rather than simmering it on the stove, so my finished product probably wasn't as thick as the stove version. But that's the beauty of soup -- it's hard to ruin, allows for all kinds of experimentation and variation in ingredients, and always hits the spot. The resident bears had fun adding the alphabet pasta and spelling out the characters' names. Hope you'll try this hearty soup sometime; while it's cooking you can read a Pooh story, and once you've had some soup, you'll be all set, tiddely-pom and tra-la-la, rum-tum-tiddle-um-tum.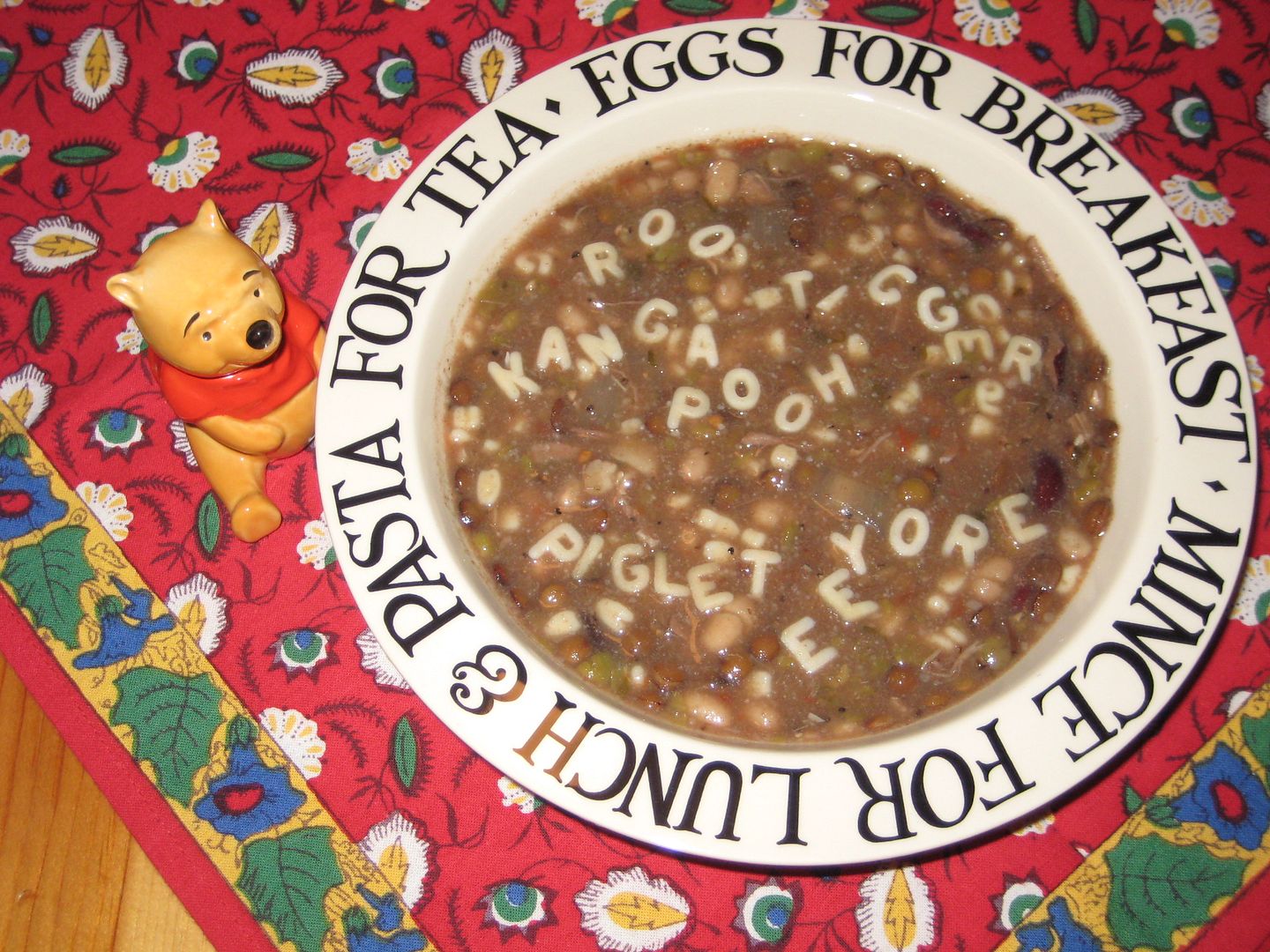 PEA-BEAN ALPHABET SOUP
(makes approx. 10 servings)

3 T each of dried beans, such as red, Great Northern, garbanzos, pintos, or black for a total of 15 tablespoons
5 T lentils
4 T split peas, green or yellow
2 quarts water
2 beef bones, ma
Add a Comment