Last night my new book Vern and Lettuce was well and truly LAUNCHED! Yay!!!!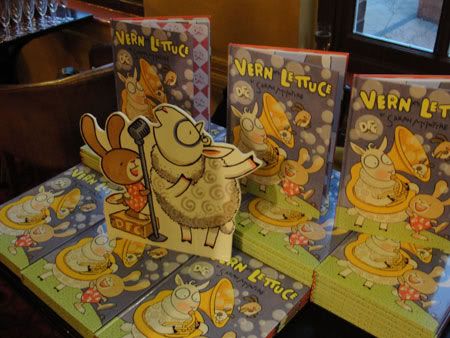 This is the first published book I've both written and illustrated myself (in the past I've illustrated books), so for me it was a very big deal! I realised Vern and Lettuce go to several parties in the story, so I've included some footage among the other photos: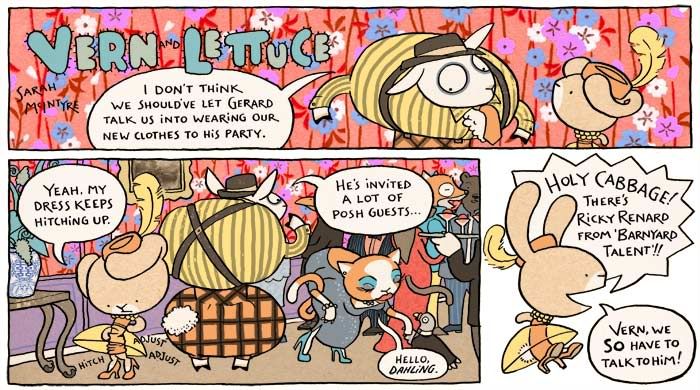 I know just what Lettuce felt like, my dress was a bit hitchy, too. Thanks, Philipa Dickinson, the very enthusiastic MD of Random House for coming along to show your support of the DFC Library series! It's great to know Random House is going nuts about comics. Hurrah!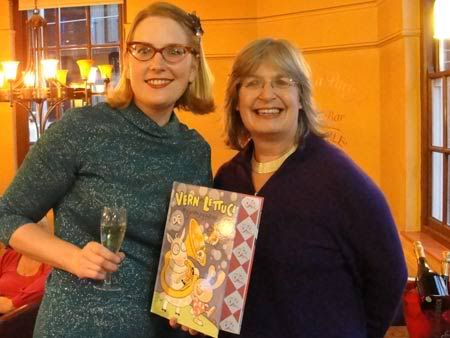 Yours truly and Random House MD Philippa Dickinson

A big thanks to the book's editor (and editor of Morris the Mankiest Monster) Hannah Featherstone. (My other two comics editors, while the strip ran weekly in the DFC magazine, were Ben Sharpe and Will Fickling). And thanks to best-ever publisher David Fickling!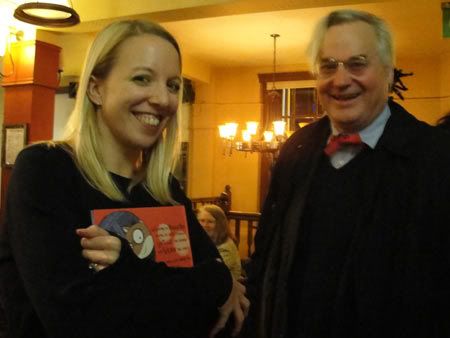 Editor Hannah Featherstone and publisher David Fickling

My super-talented, super-organised studio mate Lauren O'Farrell co-hosted the evening with me, as it was part book launch, part Stitch London craft event. So people sat down to tables full of craft supplies and MADE SHEEP! Best thing ever. Thanks, Stitch London people, for all your goodwill and support! Here's the DFC Library's Spider Moon creator Kate Brown, and her husband Paul Duffield (who also makes comics).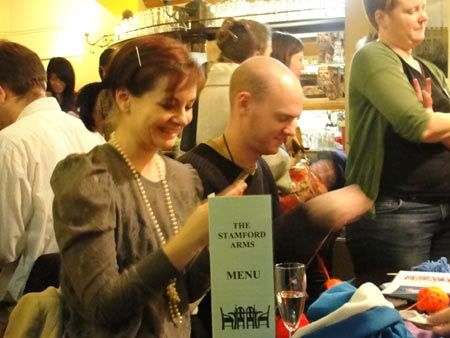 Kate Brown, Paul Duffield and Sarah (GingerKnits on Twitter) from The Bothered Owl crafts team

In that photo, you can also glimpse a menu of the Stamford Arms, who not only do excellent food and drink, but they were incredibly helpful and generous hosts. The manager, Conor, is the loveliest guy you'll ever meet and the two illustration students who worked the bar really looked after us. If you're ever in need of a party venue that's warm, comfortable and conveniently near Waterloo Station, the Stamford Arms is your best bet. (The knitters have known this for a long time already.)

Here's the poster image I made (which I never actually got around to printing up, so here it is!)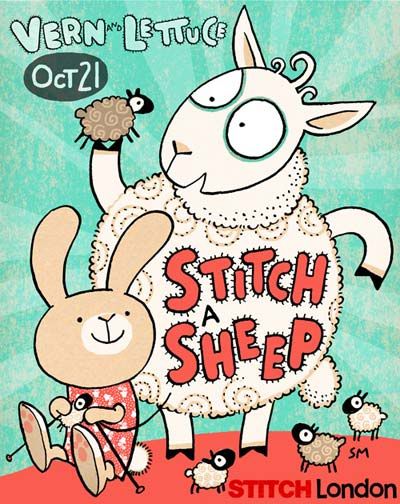 And look! Lots of lovely handmade sheep! I didn't manage to get any photos during the award ceremony, but Lauren took some, so I'll post those later. Congratulations to everyone who came away with their own sheep! They were great.


Stitch a Sheep results (one h
Add a Comment