Damn you get sick and a week is gone and you have a whole week's worth of cool stuff you meant to share a long time ago. We're not even going to try to organize this.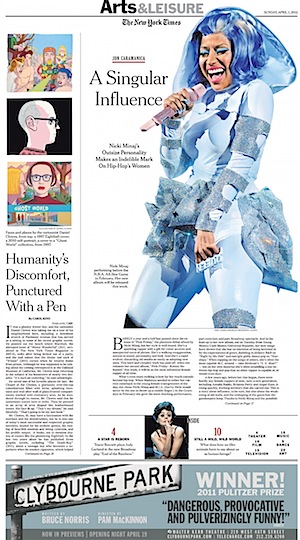 § First off, 2012's zeitgeist was nailed to the wall with the Sunday Times Arts section which featured Nicki Minaj and Daniel Clowes. That's the world we live in and we couldn't be happier than a truffle-hunting pig!
§ Speaking of that Clowes profile:
Judging from his work one might expect Mr. Clowes to be a dyspeptic misfit himself, hunched over a drawing table in some squalid cartoonist's lair. Instead he lives in a spacious California Craftsman house with Erika, his wife of nearly 17 years, their adorable 7-year-old son, Charlie, and an equally winning beagle, Ella. And though his studio is crammed with vintage comic books, pulp magazines, comics encyclopedias and Mad magazine memorabilia, everything is neatly organized and artfully decorated with Arts and Crafts furniture.
§ Have we linked to the cool Where They Draw blog yet? So many joyfully cluttered artist's spaces.
§ Kevin Czap went to the Chicago Zine Fest 2012and found it good:
Unlike other comics shows I've been to, the Zine Fest was split in such a way that the majority of the programming was held on Friday and we exhibited on Saturday only. This had the obvious benefit of not forcing the zinesters to choose between manning their table to make a buck or have their minds blown by the stellar readings and other events. Seriously, from noon til midnight, I was in DIY heaven. Most of the day was devoted to readings (including a Youth Reading featuring a bunch of teens and preteens too precious for words), great for the audience but also a great tactic for exhibitors because afterwards my list of tables to check out had grown several times longer.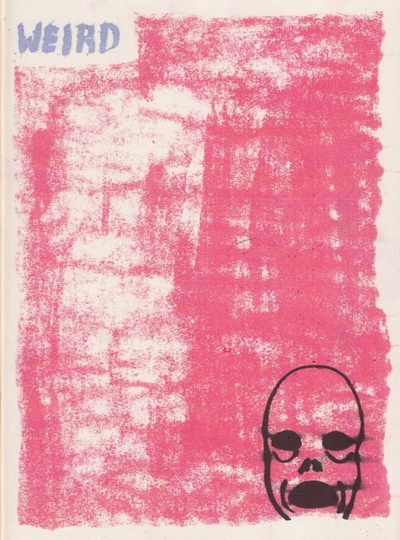 § Domino Books has some cool new arrivals such as Weird Magazine edited by Noel Freibert.
§ Comics College reaches Scott McCloud , and no, you do now have to read THE NEW ADVENTURES OF ABRAHAM LINCOLN.
§ Kevin Eastman tried to auction off a copy of TMNT #1, First Printing, 1984 signed by Kevin Eastman and the IDW original cover art, but the reserve was not met.
§ Art Spiegelman recalls the Garbage Pail Kids
Display Comments
Add a Comment