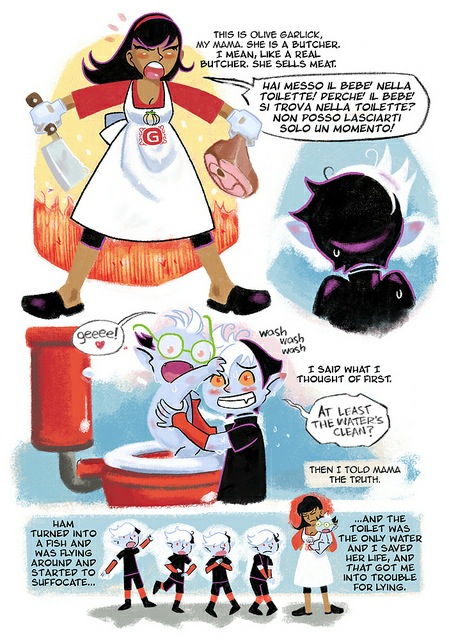 Lea Hernandez's Kickstarter for The Garlicks is ending today and it doesn't look like it's going to make it—it's currently only $15000 in to a $40K goal. We're not Kickstarter experts by any stretch of the imagination but in this case, it is a clear case that just being good isn't enough to get funded, because this was clearly a great-looking project.
Johanna Draper Carlson has some further thoughts, pointing out that the basis of the project wasn't for everyone: the $40,000 was primarily to fund production of the strip, although there were the usual premiums. Johanna feels these kind of projects aren't at an advantage:
I am more comfortable funding a project where the work already exists, one where the creator needs print costs. This doesn't apply to Lea's case, but one of the reasons why is that, if rewards deliver within a couple of months, I'm protected if something happens and I don't get what's promised. Within 3-6 months, I have the ability to do a credit card chargeback in the worst case, if the provider flakes out. On a more personal level, it's more rewarding to get a book or other rewards within a couple of months, as though it was similar to a preorder. Otherwise, it feels like throwing money into the wind.

Of course, if you have the resources to be charitable and make donations, supporting favorite artists without concern for what you get in return, then this isn't a worry for you. But at that point, Kickstarter reminds me of a popularity contest.

I would advise those planning Kickstarters to note that something in the range of $4-8,000 is more likely to be achieved than asking for multiple tens of thousands of dollars. Sure, there are plenty of success stories, but they've been run by people with huge followings and a long-term track record of delivering products of known quality. Also, anthologies, which have a much bigger crew of contributors working to get the word out. A Kickstarter is, on many levels, a measurement of trust, and if you don't have enough dedicated followers and a solid, substantial track record of doing what you say you will, you may not succeed.
Hernandez shows up in the comments to clarify that the money wasn't just for living expenses:
As for supporting me for a year: well, yes. I'm not asking for backing for JUST that. The amount covers production AND printing AND fees AND taxes AND the cost of incentives AND postage.

There's a breakdown of where the money goes on the front page. A later update details where my money I earn monthly (in the form of a page rate, not a lump sum) will be spent. It's a modest and responsible budget that ensures THE GARLICKS doesn't go off-track because I've under-funded and have to stop working on it to take other work or a job in case of an emergency.
Also on the front page, I mention that the money is to be put in a protected account that is ONLY drawn on when tasks are finished or bills must be paid. I worked this out with a respected financial adviser, Liz Schiller (former president of Friends of Lulu), to ensure that money would be spent ONLY whe
Display Comments
Add a Comment