#5 in the Poetry Potluck Series, celebrating National Poetry Month 2012
To behold her sweet, angelic countenance, it's hard to imagine this author could be capable of such naughtiness. But I suppose it's further testament of Linda Ashman's brilliance that she was capable of creating the nastiest, most obnoxious brats in the history of alphabet books. Just one more reason to love love love the work of one of my favorite children's authors working today.
You may wish to keep a safe distance from the "guest" Linda has brought along to the Potluck. Catastrophic Coco has stepped out of the pages of Linda's cautionary collection of miscreants, M is for Mischief : An A to Z of Naughty Children (Dutton, 2008), which as some of you may remember, I was brave enough to review here.
Though I'm a little nervous at having Coco in my kitchen, I admit to finding her oddly irresistible, as I do the other 25 characters in the book, which is an unforgettable feast of alphabetical disorder. While Coco's busy cooking up chaos, I'm going to fill up on Linda's tempting dish.
Linda: I started writing this book eons ago when my son Jackson was two years old (he's 14 now).  He really enjoyed stories and poems about bad behavior, which gave me the idea for a collection about naughty kids.  I thought it would be fun to organize it around the alphabet, using lots of alliterative words for each poem (I spent a lot of time with the dictionary while working on this project!).  This one is Jackson's favorite.  In fact, he just recited it the other day.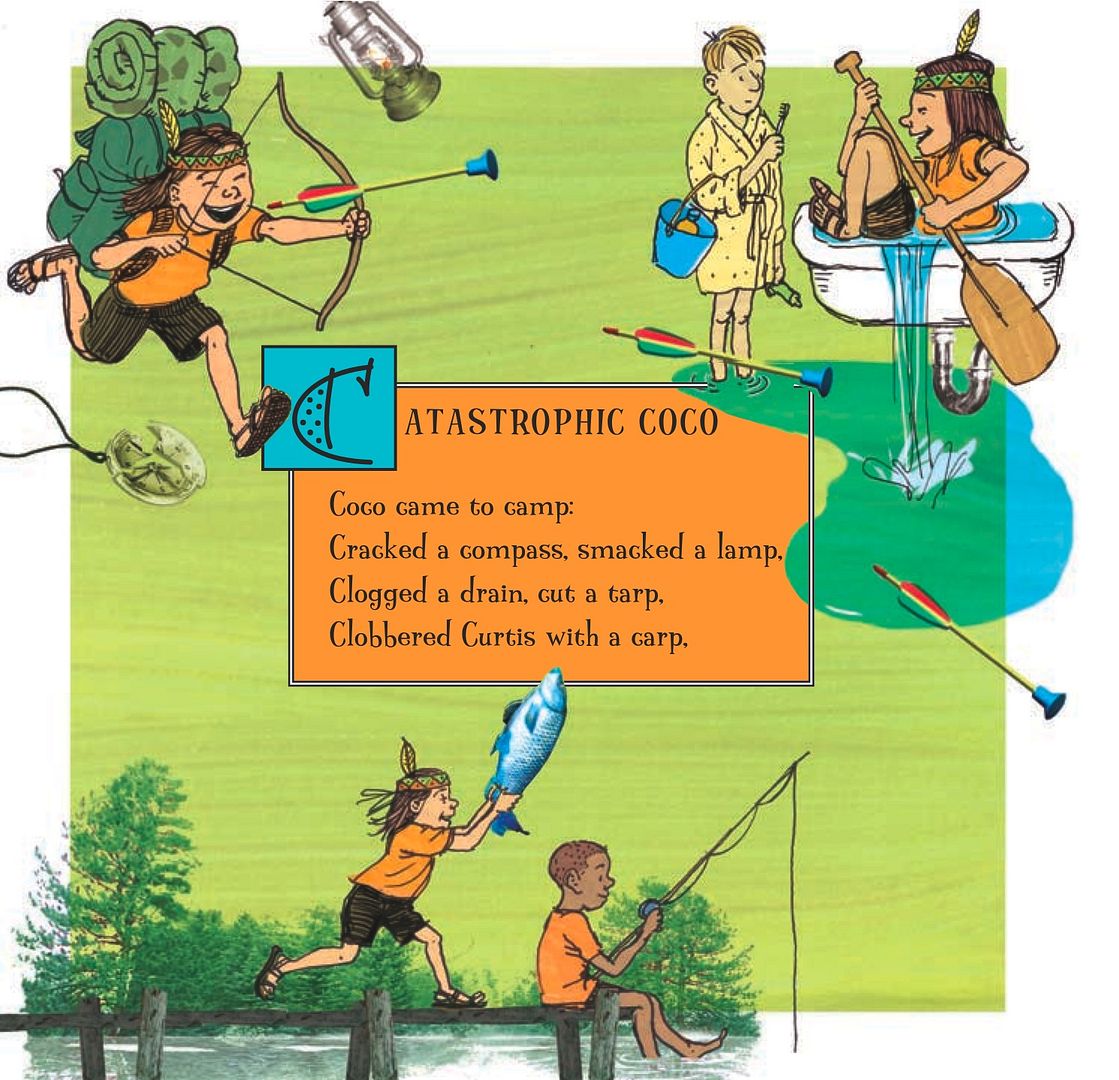 Catastrophic Coco

Coco came to camp:
Cracked a compass, smacked a lamp,
Clogged a drain, cut a tarp,
Clobbered Curtis with a carp.

Crumbled cookies, crushed a cake,
Crashed a kayak in the lake.
Called the counselor a cow.
Coco's cab is coming now.

Copyright © 2008 Linda Ashman
********************************
Our family doesn't eat meat, so I'm always looking for easy, tasty and relatively healthy recipes.  I adapted this one from a recipe I found in Vegetarian Times magazine.  It's our standard potluck dish, and even avid carnivores seem to gobble it up.  I'm not a precise cook, so these measurements are approximate.  Feel free to adjust to your own taste, and to use other greens (it's great with Swiss chard and kale, too).
6 Comments on making mischief with linda ashman, last added: 4/5/2012