"Paris" © 2009 Lizzy Stewart. All rights reserved.


Bonjour! Comment ça va?

J'ai faim -- quelle surprise!

Picture Books about France, Part One, with a few punitions, satisfied my hunger for a leetle while. But now, I am in the mood for my morning cup of Darjeeling, a warm croissant, and more stories set in the land of pâtisseries, artistes and les animaux!



photo by timmertaugh.

C'est vrai. In my quest to find the best picture books with a French setting, many included dogs and cats. Remember Bonaparte, Metro Cat and Zaza the dachshund? In this second batch, we have three cats as main characters. Does this mean the French have an inordinate love for les chats -- or is there something innately "French" about cats that make them ideal for these particular types of stories? Perhaps authors who like writing about France just happen to also be cat lovers. I haven't been to Paris in years, but I sense there are a lot of stray cats wandering around the city. Oh well, Marie Antoinette has her loyal pug, Sébastien, so that evens things up a bit. ☺

On this lazy summer day, I'm quite happy to share my croissant with you. I'll break it in two (see those crisp brown flakes scattering?). Lovely how the dough pulls apart just so, and when you bite into it, there's that gentle crunch before the divine butter rush. Have fun sharing these books with the short people in your life (you can keep your half of the croissant all to yourself). Bonne Journée!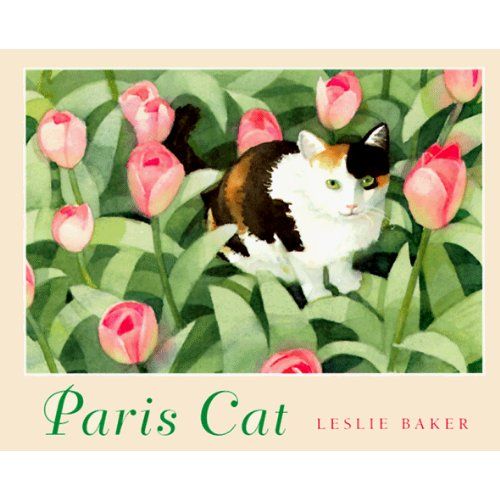 PARIS CAT by Leslie Baker (Little, Brown, 1999). If you ask Alice the calico cat, Paris is full of dogs. On her first visit to the splendid city, she spots a mouse, and can't resist chasing after it, despite Annie trying to call her back. So, it's dart this way and that, scamper and scurry down one street after another, past shops, through an outdoor market ("Mmmmmm . . . cheese . . . sausages . . . fish"), down the banks of the Seine. The mouse is soon forgotten when Alice's fun is foiled by dogs dogs dogs everywhere. To escape, it's in and out of the Louvre, off a bridge!, tumbling onto a bateau-mouche. Now Alice is exhausted. How will she ever find Annie? Such a lively tail, accompanied by lovely soft-edge watercolor illos. A catnap completes this purry fine cat's eye view of Paree. ☺




PASTRY SCHOOL IN PARIS: An Adventure in Capacity by Cindy Neuschwander, pictures by Bryan Langdo (Henry Holt, 2009). What better way to learn about math than by whipping up something delicious? Because twins Matt and Bibi show real baking talent with their brownies, their parents d
Add a Comment