This past weekend, I had the pleasure of attending Dallas Comic Con. James and Oliver Phelps, or sometimes more well known as Fred and George Weasley, have attended Dallas Cons quite frequently in the past few years. Two years ago, I was actually fortunate enough to meet them. This year, however, I only got to see them from afar as they took the stage for a Q&A session. Along with their Q&A session, they had a couple photo ops and were out on the floor for autographs in their down time.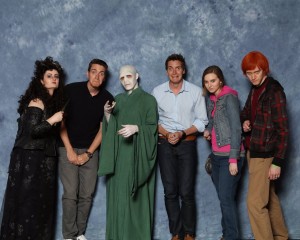 When I met James and Oliver, they were both very kind and inviting. I got a photo op and an autograph with them both. As the line in front of me progressed and I finally made it into the photo op room, I was struck by how happy they both looked. It was one of the very first times I got to meet people at Comic Con, back when I was still treating them like gods instead of humans and acted like the human disaster I am when I met them. Despite my awkwardness, they greeted me with grins and didn't force me to be too sociable as they placed their arms around me and we took the photo. The autograph was much the same except I had a little more time to greet them and ask them how they liked Texas.
Here's the aforementioned photo from two years ago:
This Con's Q&A was particularly entertaining. The Phelps Twins are always entertaining. I was quite impressed by the fact that they chose to stand the entire time, I definitely do not have the energy to stand for 40 minutes while being interrogated by fans of varying degrees of craziness. No offense, I do believe I have quite a high degree of craziness myself.
They ran onstage after the interviewer announced them, greeting the cheering crowd, but then ran off again with a quick "hang on." They came back a few seconds later, James wearing a Texas Rangers baseball cap and Oliver in a ridiculous cowboy hat. The crowd loved it.
As I mentioned before, James and Oliver are very polite people. Right off the bat, they thanked everyone for being so kind to them and pointed out how glad they were that no one had collapsed at their signing table yet.
Just to clarify for the crowd, the interviewer tried to name which twin was which, but he ended up getting them wrong the first time! To be honest, the only way I could tell is I knew that James was standing on the left and Oliver on the right…
Now, since it was a forty-minute long panel, I'm not going to write about the entire thing. I will, however, put the video that a friend of mine took at the end!
To start, I'd like to kill a rumor that circulates through the fandom quite a bit. "I heard that y'all would sometimes switch roles, sometimes, on set. I was wondering, what is the longest stretch of time that y'all went without getting caught." This question has come up at both of their panels that I've been too. Sorry to burst your bubble, but they never switched roles. They knew that, if they had done, it would have taken a lot of time and money to refilm those scenes and they didn't want to be a nuisance to the other people working on the film. They did admit to doing it during rehearsal though.
Fan questions at Q&A panels aren't always the most entertaining. They can be very repetitive and, sometimes, a bit stupid. But occasionally you get that fan who has thought long and hard about their question before asking it, making sure it was unique and interesting.
"If you could do anything besides acting in the film industry, what would it be?" This is a question I had never heard before! And since I am a film student I was very curious to hear their answers. There are hundreds of people with hundreds of different jobs that work on a single movie. Cameramen, video editors, sound editors, directors and assistant directors, producers, etc. You have an encyclopedia of options for working in the film industry. James said that he'd want to be "Grip", or a person who mounts and moves the camera on a track. Oliver, on the other hand, seemed quite content with acting, but did say he was interested in the makeup department.
"What one scene from the books do you wish they would have put in the movies?" As fans, we all have several different scenes from the books that we were quite upset weren't put in the movies. Not only scenes, but characters as well. The actors had to put up with the differences without complaint but they must have had opinions too, right? Well, James and Oliver both agreed that they wanted the swamp scene from the fourth book to appear in the movie, but they knew there was a chance it wouldn't show up.
"What was your favorite book and movie?" I always feel that a persons favorite Harry Potter installment can tell you a lot about their personality. That and I am a very nosy person and just like to know these things about people. James knew immediately that his favorite book was the Prisoner of Azkaban. He informed the crowd that it was the book he was reading when they were cast as the twins. He seemed to add as an after thought that his favorite film was the Goblet of Fire and Oliver picked it up there saying that was his favorite book. James and Oliver like to tease each other quite a bit, which is evident when Oliver informs the crowd that his favorite film is The Deathly Hallows Part 2.
I guess I should stop boring you with my perspective on their panel. But watch the video of the full thing below! You don't want to miss any of their bickering or stories of pranks they pulled on and off set!
Add a Comment