Breastpumping
My commute to work
Taking a shower
The three block walk to return my library books
Sleeping
Leaning on my similarly exhausted husband and staring vacantly at something on a screen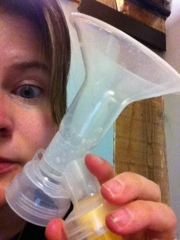 Related posts:
Oxford shannon Says: October 18th, 2005 at 1:47 pm e Awesome!...
Spain! Ham! Spain! Thanks to the noble efforts of our catsitter friends,...
Freebase Hack Day II: The Return of Hack Day Librarian? Data junkie? Obsessive compulsive? Come to the Freebase hack...
Add a Comment