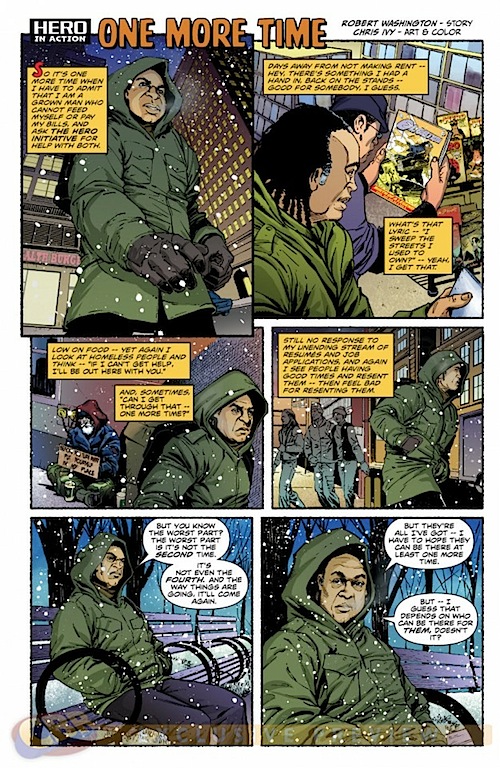 In all the hubbub of the last few weeks I haven't been able to write about the passing of Robert L. Washington III, a comics writer who was a key part of Milestone comics. He co-created Static and helped write Blood Syndicate and other comics for DC and Valiant. And then, things got slow. And Washington had troubles, years of them. And on June 7th at the age of 47, he died of multiple heart attacks.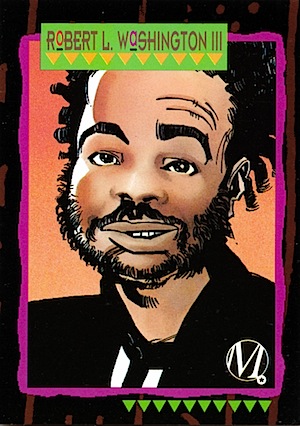 Just before his death, he'd been helped out by the Hero Initiative, as shown in the above comic which he wrote for a Hero Initiative anthology. Washington had ben living marginally on part time jobs…and when he died, as you may have read, there wasn't enough money left to bury him. Some folks have been collecting fund to give him a proper funeral; I've given and I would hope some of you reading this will follow that link and make a donation.
I remember Robert Washington. To be honest, he was pretty unforgettable, with a booming voice and an easy laugh. He also wore hats quite a bit, which always stood out. When Milestone was riding high, we were convention pals, of the casual sort you make, making jokes at BarCon, saying hello in artist alley. It was apparent to me that Washington was a "character", like many of the people in creative businesses, but all the same, I didn't expect him to die in a pauper's grave.
Just a few weeks before his death, Ashley Soley-Cerro
interviewed Washington for CBR. It's painful reading, for what was and what could have been.
What was a day in your life like when you had steady comic book work?

Phenomenal — I woke up when I wanted, did what I wanted, stopped by the office one week to drop off a script and a week later for the check. It was really great lifestyle. As long as you turn in the work, your lifestyle is completely your own. I will beat you up to get back to it. That was the early 90s until about 1998.

What was a typical day like before reaching out to the Hero Initiative?

Going on the Internet, which I could barely afford to — I don't have a computer, so I use one at an Internet café. I'd collect cans for money for bus or train fare.
This is the part that we all need to write in big letters on our walls however:
Looking back at your career and life, what would you stress to young writers and artists?

Have a backup plan. That goes for everyone that wants to go into media. Being really talented isn't enough. Do something that'll bring you a regular income in any other industry, you can work your way back into media. The people I know in my situation have no fall-back

Display Comments Add a Comment