Some rambling thoughts that have been rumbling around my head this week. Don't expect it to make any sense.
TCJ has been running a roundtable this week focusing on Jack Kirby and Charles Hatfield's new book on the same, with critics including

Jeet Heer, Jonathan Lethem (novelist and comic book writer), Glen Gold (novelist and comic art collector), Sarah Boxer (cartoonist and critic), Doug Harvey (art critic), Dan Nadel (co-editor of The Comics Journal website), and Robert Fiore (comics critic).
As you may have noticed, this is a 1998 home run derby level lineup of comics critics. But unlike other such critical conclaves, it's not a total sausage fest by virtue of Boxer's inclusion. But, it turns out….she's not exactly in the Kirby cheering section:
I've been watching the Kirby lovefest from the sidelines — not with envy, but with a kind of fascination. Why I can't I dive in? Why does my son want to? (I see a superhero comics fan in the making and I am horrified but interested too.) There must be a reason. Hatfield's chapter "How Kirby Changed the Superhero" speaks to the point. And it also seems to explain my physical revulsion for almost all of the Kirby superheroes except, perhaps, the Silver Surfer, a giant phallus on a surfboard.
BURN. Yeah, why DON'T girls like Jack Kirby, huh?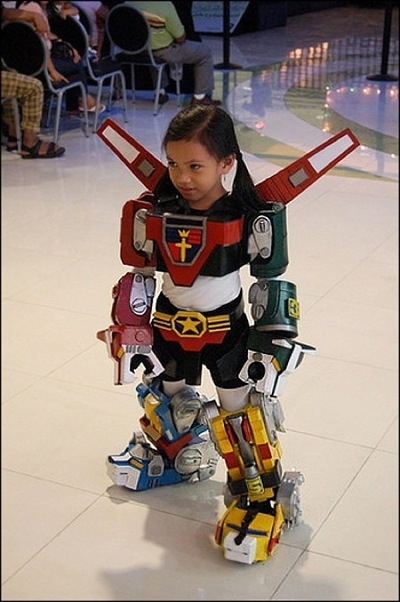 Oh wait, they do.
Okay okay that's the Power Rangers Voltron, but still…
Anyway, even if women aren't writing their scholarly tomes on Devil Dinosaur, Moviefone got an incredible amount of heat for a dumb piece that was originally entitled GIRL'S GUIDE TO 'THE AVENGERS that was so sexist and condescending that they had to post a disclaimer:
[Editor's Note: As you can see, we've gotten a lot of heat for this article. It was meant to be a satirical piece, and obviously, it did not come across that way. There are plenty of female superhero fans, and our intent was not to make them feel marginalized. We've changed the headline to reflect the focus as we originally intended it (but did not communicate as well): One woman's perspective on the Avengers]
This after, for instance, a 13-year-old girl (or someone purporting to be one) posted this:
I am only thirteen and I find this offensive. If you seriously believe you did something wrong, take it down. It doesn't read as satire. And yes my dumb female mind knows what that is. It presents an unfair stereotyped view of the female sex. Now, I know some people might need a refresher. In that case I suggest the internet. It is an awesome resource for things like this. The Internet and sites like comicvine helped me understand comics when I started reading a year ago. It isn't really all that hard to figure out what is going on.
The Discriminating Fangirl, aka Pamela, spoke out for the legion of empowered female genre entertaiment fans