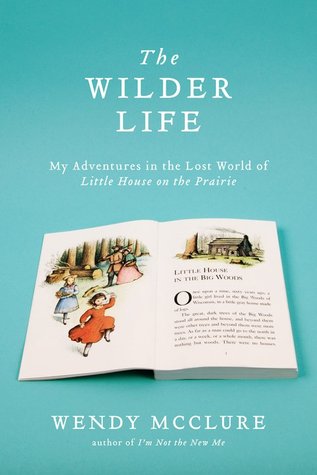 For those of you who've followed here a while (and even for those who are rather new), you might have caught that I'm a Laura Ingalls Wilder fan. My book, MAY B., was partially inspired by my desire to create my own strong pioneer girl who would feel, in the spirit of Laura Ingalls, both familiar and brave.

If you, too, are a Laura fan, you have to get a hold of Wendy McClure's THE WILDER LIFE: MY ADVENTURES IN THE LOST WORLD OF LITTLE HOUSE ON THE PRAIRIE. As an adult, Wendy rekindles her Laura love and determines she'll learn as much as she can about the Ingalls and their world. Wendy embarks on a butter-churning, midwestern-prairie trekking adventure, where she visits all of Laura's homesites (excluding the Wilders brief stay in Florida), experiments with homesteading techniques (sourdough starter, anyone?), and digs deep into what is real, what is fiction, and what is memory.
Those of us who grew up loving Laura Ingalls have memories of our own. For me, I remember Laura being the first author I "knew." Sure, I'd been exposed to plenty of books before the Little House series, but it was while listening to my father read that I came to understand Laura the girl and Laura the writer were the same person. I was convinced that Laura had actually typed each page in my book, stuck everything together, and sent it to the bookstore.
Wendy's book covers a lot -- the television series fans vs. the book fans (some of us are both, but lean more one way or the other), the way Laura's books are more fictitious than many realize (For example, LITTLE HOUSE IN THE BIG WOODS actually covers the time before and after LITTLE HOUSE ON THE PRAIRIE; the Ingalls, like many pioneers, had to backtrack before being able to move west again), and the expectation -- and disappointment -- a fan might experience while visiting, as Wendy calls it, Laura World. How much of the books comes from true events? How much of our memories of the Ingalls were partially formed by our own childhood impressions? Where is a fan left in the midst of it all? And why did TV Pa solve so many problems by throwing punches?
For this Laura fan, this book was incredibly satisfying. Wendy, like it or not, you've made a new friend.
Has anyone else read THE WILDER LIFE? What were your impressions? If your name happens to be Stephanie and you babysat me as a girl, don't buy your o Display Comments Add a Comment
By: Erik Brooks, on 5/9/2011
Blog:
E is for Erik
(
Login to Add to MyJacketFlap
)
JacketFlap tags:
Wendy McClure
,
good news
,
Albert Whitman
,
Add a tag
Phew! I'm up to my ears in a picture book project right now and have been completely neglecting the blog... So it goes, and as it should be. Anyway, soon enough I'll have some nice work-in-progress to show for my efforts.
In the mean time, my editor at Albert Whitman had her new book,
The Wilder Life
, featured on
All Things Considered
this afternoon. Congrats on a very nice interview Wendy!
And here's another Q & A session with
A.V. Club Chicago
.
Add a Comment