This week, someone will own a piece of Harry Potter film history.  Prop Store, a source for movie collectibles, will be holding its world-wide live auction on Wednesday, September 23rd.  In August, Entertainment Weekly reported on the upcoming sale, and now, Moviefone and others have articles about it.  Nearly 500 items related to film production, including props and costumes for numerous franchises and cult classics, will be sold.  Three auction lots in the catalog this year are from the Harry Potter films.
The first item, #178, is a Harry Potter and the Sorcerer's Stone movie poster signed by Daniel Radcliffe, Emma Watson, and Rupert Grint.  The auction catalog says, "This poster was acquired directly from a crew member who worked on location with the key cast members on the film."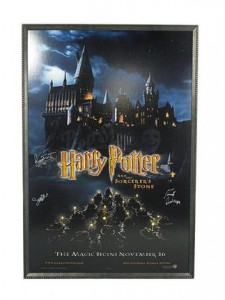 The second item, #179, is a Hogwarts acceptance envelope with its wax seal (that may or may not have a letter inside).  It is one of the many envelopes in the scene where a tornado of owls and post swirls through the Dursley's house.
"Made from marbled-effect paper, Harry's address is printed in green on the front of the envelope with the Hogwarts crest printed on the reverse. This hero envelope features an actual red wax Hogwarts seal rather than the many printed envelopes that were also used in the scene. The envelope remains sealed with paper seemingly contained within," says the auction catalog.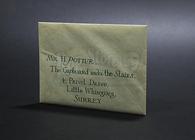 The third lot, #180, is two scarves given to crew members on the sets of Harry Potter and the Prisoner of Azkaban and Harry Potter and the Goblet of Fire.  They are both in Gryffindor house colors and have embroidered logos from the respective films.  The Goblet of Fire scarf is in a color-block similar to Harry's Triwizard Tournament uniform.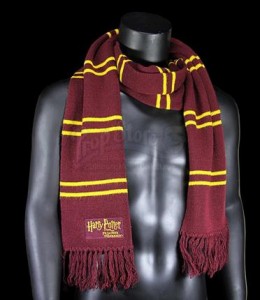 Wednesday's auction will include a live webcast, and bids will be accepted in person, online, and by phone.  Will someone finally get a Hogwarts acceptance letter?
To see the full catalog of items for sale, see here.
Add a Comment