Excalibur Auctions will be selling off a Sirius Black 'wanted' style poster from the promotion of Harry Potter and the Prisoner of Azkaban film in just a few days time.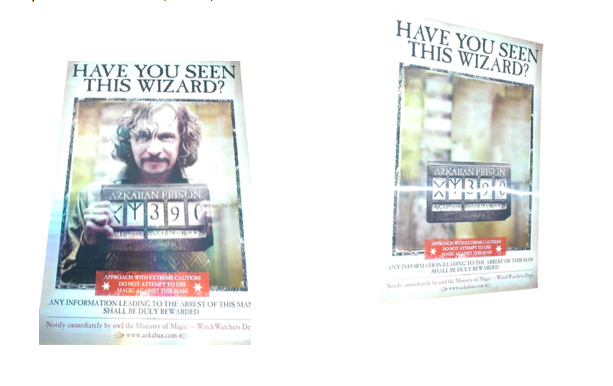 The promotional poster is one of less than ten of this kind known to be produced for the film, leading Excalibur Auctions to call this 'one of the rarest posters ever produced to publicise the films'.
It is particularly unique due to its lenticular design, meaning that the images changes depending on which angle you view it from. Sirius Black (Gary Oldman) is in the shot if you view the poster from head on, and he disappears if you angle the poster slightly differently. Clearly this format was much more expensive to produce, leading to the remaining posters being coveted!
The poster is predicted to sell for £4,000-£6,000, and the auction will take place at The Village Hotel in Elstree, Watford on Saturday 28th May 2016 at 10:30am. Live bidding will occur in the room, with internet bidding available at The Sale Room and Invaluable.
The auction will also feature a Star Wars Episode II Yoda lenticular poster, a 1920s Sherlock Holmes window card and many James Bond themed items (including original Quad posters from Dr No and From Russia With Love.
More information can be found on the Excalibur Auctions website, here.
Add a Comment