SnitchSeeker recently made an early visit to the brand new exhibit (opened July 16th) at the Warner Bros. Hollywood Studio Tour – Stage 48: Script to Screen.
This is a $13 million addition to the tour, which takes about two hours to complete, moving from set to set on the archetypal navigator of the Hollywood film industry: a golf cart. Giving guests a deep and interactive look into the film-making process, the Stage 48 exhibit shows the different stages involved in production, casting, costume design and script writing through a variety of interactive stations. Key moments of the tour are given by Deadline:
'Highlights include the Central Perk coffeehouse from Friends and a green-screen setup that let guests fly on Harry Potter's broomstick. Other enhancements include recorded messages from the stars of 2 Broke Girls, Pretty Little Liars, and The Ellen DeGeneres Show. There's also newly assembled video montages of scenes from productions filmed on the Warner Bros backlot.'
Of course, SnitchSeeker's main concern on their visit was to explore the Potter sections! Much alike the Warner Bros. Studio Tour – The Making of Harry Potter in Leavesden, Stage 48's special effects area features green screen booths where visitors can ride a broomstick. SnitchSeeker writes:
'Guests don a Hogwarts robe and are seated on a broomstick. Then they're able to watch themselves – via a monitor – as they fly through various parts of London and the English countryside on their way to Hogwarts Castle. Souvenir photos of the experience are available for purchase.'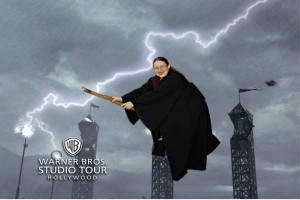 This interactive experience also allows you to place yourself within film scenes from The Dark Knight and Gravity.
Other stations explored by SnitchSeeker involve a motion capture station, featuring Dobby the House Elf, who copies your actions on a screen. This is reportedly much alike the 'moving skeleton' spell involving the interactive wands in Knockturn Alley at the Wizarding World of Harry Potter in Orlando.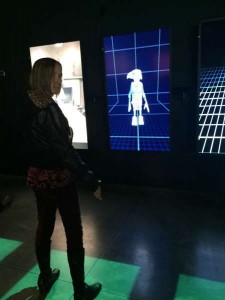 Emma Watson and Daniel Radcliffe's audition tapes are also included in the casting section, and Mr Weasley's enchanted Ford Anglia is 'flying' (or hanging from the ceiling) in the sound stage. SnitchSeeker also writes that there is a video by set designer for the Potter films, Stuart Craig.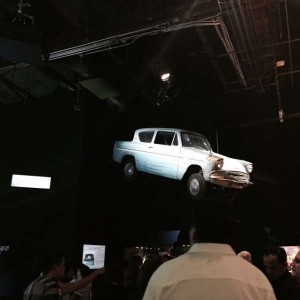 Last but not least, SnitchSeeker explored the gift shop for the Hollywood tour, selling loads of Harry Potter merchandise. They say:
'We spotted some new Potter goodies there, including Pigwidgeon plushes, Gryffindor Quidditch duffle bags and light up Swords of Gryffindor.'
You can read more, see more photos of the exhibit, and watch videos of the interactive stations in SnitchSeeker's article here, and take a look at their  photo gallery including loads more photos here.
Thanks to SnitchSeeker for such an in-depth look inside the new Stage 48: Script to Screen!
Add a Comment