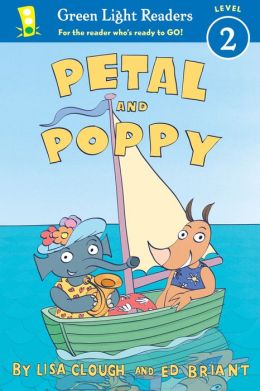 Petal and Poppy. (Level 2, Green Light Readers) Lisa Clough. Illustrated by Ed Briant. 2014. Houghton Mifflin Harcourt. 32 pages. [Source: Review copy]
Poppy is not here. It is time to practice my tuba. Bah-bwab-baah! Bwah-bu-baah! Ack! Petal is practicing. It is time to go scuba diving!
Petal and Poppy are best friends. (Petal is the elephant. Poppy is the rhinoceros.) They are best friends, but, they are very different from one another. In this first book, readers learn that Petal can be a worrywart, and that Poppy is very understanding.
Poppy goes scuba diving. Petal comes along. She brings her tuba. She alternates playing her tuba and panicking about Poppy. Is Poppy okay? How about now? And now?
Did I like it? Sure. I didn't
not
like it. With the exception of Elephant and Piggie, I am unlikely to get EXCITED about any early readers I pick up.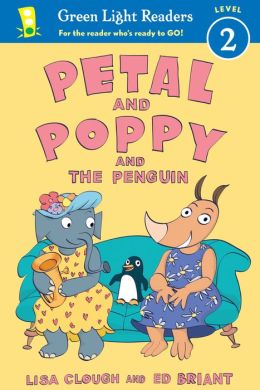 Petal and Poppy and the Penguin. (Level 2, Green Light Readers) Lisa Clough. Illustrated by Ed Briant. 2014. Houghton Mifflin Harcourt. 32 pages. [Source: Review copy]
Someone has stomped on my flowers. Uh-oh--a storm is coming! Boom! Honk, honk! Who is there? Ahhh! A monster!
Was there really a monster? Or was Petal, the elephant, just panicking again? Poppy, the rhinoceros, is such a good and understanding friend. Poppy will "save" Petal from the monster outside who is stomping on the flowers. Who is the monster making spooky sounds? A penguin, of course! It is called Petal and Poppy and The Penguin after all. These two take the penguin in. Petal very reluctantly. But these three may be great friends yet.
I liked this second book better than the first. I'm not surprised. I think with series books it can take a few books sometimes for readers to make a connection with characters. The third book in the series will be released at the end of August. Petal and Poppy and the Spooky Halloween.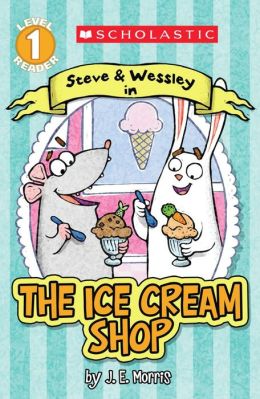 Steve & Wessley in The Ice Cream Shop. (Level 1 Reader) J.E. Morris. 2014. Scholastic. 32 pages. [Source: Review copy]
Steve walked down the street. Steve walked by an ice cream shop.Did someone say "ice cream"?Steve liked ice cream.Steve liked ice cream very much.
I like Steve. I do. He may not be very bright or smart. But there is something about him that is just likable. (Maybe he reminds me of Pinky?) In this book, Steve really wants ice cream. He wants it bad. One thing is standing in his way. The door. It won't open. Steve is very frustrated. What is the deal with this door?!
Wessley is much smarter than Steven. He realizes that some doors you push, and other doors you pull.
I liked this one fine. The second book in this new series will release at the end of August. The Sea Monster.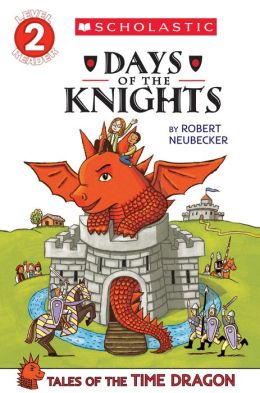 Days of the Knights. (Level 2 Reader) Robert Neubecker. 2014. Scholastic. 32 pages. [Source: Review copy]
"What's up, Joe?" asked Lilly. "I'm doing a report on the Middle Ages." Joe shrugged. "With knights and queens and castles? What fun!""I guess so," mumbled Joe."I'll help you research," said Lilly. She tapped the keys on the library computer...
In Days of the Knights, readers meet Lilly, Joe, and Red the Time Dragon. Red the Time Dragon is their personal guide to the middle ages. Lilly and Joe learn a handful of facts about the middle ages during their brief stay. Red the Time Dragon also manages to find time to lead a peasant revolt against Sir Vile, a selfish knight.
I don't know what to think about this new series. I really don't! The second adventure is Racing the Waves. It releases in late August.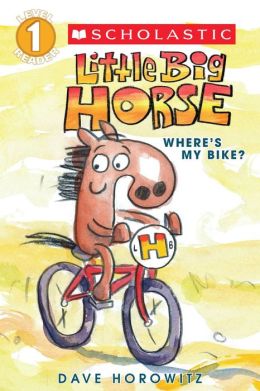 Little Big Horse: Where's My Bike? (Level 1) Dave Horowitz. 2014. Scholastic. 32 pages. [Source: Review copy]
I can't wait for class to be over. Finally.To the bikes!Where is my bike? I left it right here.
Someone has stolen his bike! Who did it? Why? What motivated the crime? Will he get his bike back?
This one is very simple. Of all the books I'm reviewing today, this one is the simplest. Simple can be a good thing. Young readers need access to simple books with big font.
I liked it well enough. I liked the illustrations. I liked reading the emotions on the faces of the two characters we meet.
Drop It, Rocket! (Step 1) Tad Hills. 2014. Random House. 32 pages. [Source: Review copy]
Rocket and the little yellow bird love words. They love their word tree, too. "Are you ready to find new words for our word tree?" asks the bird. "Yes, I am!" says Rocket.
Readers may be familiar with the character of Rocket already. Rocket is the star of several picture books: How Rocket Learned to Read and Rocket Writes a Story.
This story is simple and repetitive. Rocket wants to learn new words and add new words to the word tree. He brings new things--new objects--to his friend the yellow bird. The bird tells him to "drop it" each time. Rocket is usually a good dog, so he obeys. New words are added. But what happens when Rocket does not want to drop it?
I liked this one. I liked the problem solving. It's a cute story.
© 2014 Becky Laney of
Becky's Book Reviews
Add a Comment