Bloomsbury has announced that it will be releasing a deluxe edition of the anticipated illustrated Harry Potter and the Philosopher's Stone. Bloomsbury laid plans for the illustrated books in 2012. Since the first press release announced that Jim Kay would be providing the artwork for an illustrated version of J.K. Rowling's masterpieces, sneak previews and images have been slowly released.
New from Bloomsbury comes a press release, along with more pictures, of the a gilded, cloth-bound, deluxe edition of Harry Potter and the Philosopher's Stone. This deluxe edition will be published after the initial release of the illustrated books (October) on November 5.
Additional features of the deluxe edition include a pull out double-sized picture of Diagon Alley, exclusive to this edition, purple cloth cover and slipcase, gilt with gold along the edges of top grade paper, as well as the cover, head and tail bands, and two ribbon page markers. An image of the deluxe edition can be seen below.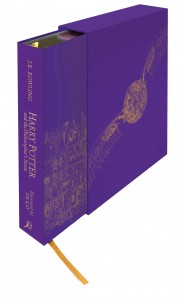 The deluxe edition will be exclusively sold at Bloomsbury from November 5, 2015 until March 2016. At that time, the book will be available through other retailers. Sold alongside the standard illustrated edition which will cost 30 pounds ($40 in the US, or $21 on Amazon), the deluxe edition will cost 150 pounds ($270 for US buyers). Bloomsbury is offering a 10% to bring the price down to 135 pounds.
The Press Release reads:
The deluxe illustrated edition of J.K. Rowling's timeless classic will feature an exclusive pull-out double gatefold of Diagon Alley; intricate foiled line art by Jim Kay on a real cloth cover and slipcase; gilt edges on premium grade paper; head and tail bands and two ribbon markers. It is the ultimate must-have edition for any fan, collector or bibliophile. This edition will be sold exclusively from the Bloomsbury.com website until March 2016 when it will be made available to retail outlets.


This special edition is an utterly enchanting feast of a book and something to treasure for a lifetime. Brimming with rich detail and humour, Jim Kay's dazzling depiction of the wizarding world and much loved characters will captivate fans and new readers alike. In oil, pastel, pencil, watercolour, pixels and a myriad of other techniques, Jim Kay has created over 115 astonishing illustrations.
The Harry Potter books will grow in size to accommodate all the new images. Published through Bloomsbury, one can hope that the deluxe edition of the illustrated Philosopher's Stone will be available through Scholastic or Amazon come March 2016.
Thanks to MuggleNet and Hypable for bringing this news story to our attention.
Add a Comment