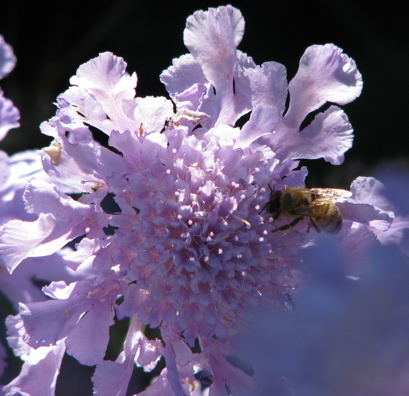 A book arrived yesterday that made me giddy. Scott saw me squealing over it and wanted to know what all the excitement was about. I tried to think how best to explain it to him.
"Okay, imagine that John Lennon and Elvis Presley were pen-pals. Say they had a lively correspondence, letters flying back and forth for years and years. Now imagine that this book is a collection of those letters."
He raised his eyebrows. "Who are they really?"
I sighed happily. "Katharine White and Elizabeth Lawrence."
Scott: "Um…?" But he knows me well. "Gardening?"
"Yes. Only my two favorite gardening writers EVER."
"Like you had to tell me that."
Everything about this book makes me smile. Editor Emily Herring Wilson's introduction begins,
Gardeners are often good letter writers, and whether they write to describe what's blooming today or to remember a flower from childhood, their letters are efforts to preserve memory. After they have put away tools in the shed, they write letters as a way to go on working in the garden. Because it is impossible to achieve the kind of perfection they dream of, they try to come to terms with their dreams by talking back and forth about their successes and failures….
Katharine S. White was, of course, the esteemed New Yorker editor whose occasional gardening columns are collected in the first horticultural tome ever to win my heart: Onward and Upward in the Garden. I had only to read her opening essay, the famous 1958 column that both celebrates and gently mocks gardening catalogs, critiquing them like works of literature, to know that here was a kindred spirit. Evidently Miss Elizabeth Lawrence, a knowledgeable and enthusiastic Southern garden writer (whose Gardening for Love I quoted the other day), felt the same spark of recognition. In May of 1958, Elizabeth wrote Katharine White a letter to say how much she'd enjoyed the New Yorker column, adding,
I asked [my friend] Mrs. Lamm if you were Mrs. E. B. White, and she said you were. So please tell Mr. E. B. that he has three generations of devoted readers in this family. My mother's favorites were the one about leaving the mirror in the apartment vestibule, and the one about homemade bread. My niece adores Charlotte's Web.
The mirror and bread essays ("Removal" and "Fro-Joy") can be found in E. B. White's One Man's Meat, and if you know me at all, you know this sort of interwoven rabbit-trailing fills me with utter glee.
That first letter from Elizabeth to Katharine is fun, folksy, and smart, full of suggestions for other garden catalogs Mrs. White might enjoy. Several of her recommendations became fodder for subsequent 'Onward and Upward' columns. For nearly twenty years, until Katharine's death in 1977, the two women wrote back and forth. So far, I have only read the first two of these letters. There must be hundreds of them in this book. I'm positively aflutter over the idea of such riches.
Add a Comment