.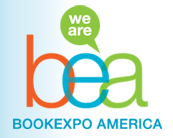 Book Expo America 2012 just concluded here in New York, and once again it's been an interesting trade show.  Some stuff was normal, some was new, and overall, I felt it was a good show.  My thoughts and discoveries follow.
✐
One interesting, if under-reported, improvement was the "Power Reader" program.  On Thursday, the last day of the show, when most attendees are winding down, BEA invited "power readers" to attend.  Twelve local independent bookstores and the New York Public Library invited their best customers to pay $45 to attend the show on Thursday.  What did they get?  I quote:
Discover new and upcoming books before they hit the stands
See and meet your favorite authors
Talk to publisher about favorite books and authors
Mix and Mingle with other book lovers and share your passion for reading
Get autographs and advanced reads of unique books (quantities limited)
Get tons of giveaways from exhibitors.  [62 different promos]
Get a FREE POWER READER SWAG BAG at registration, filled with goodies like:

An advance copy (before books even hit shelves!) of an upcoming title from one of today's hottest authors, including Debbie Macomber's Inn at Rose Harbor, Dean Koontz's Odd Apocalypse, and Karin Slaughter's Criminal
A special edition copy of Justin Cronin's bestselling sensation The Passage
A sampling of recipes from beloved QVC host David Venable's first cookbook, In the Kitchen with David®
A Janet Evanovich magnet
A Debbie Macomber keychain
A sneak peek guide with the early scoop on forthcoming releases from bestselling authors
When BEA moved to the middle of the week (Monday-Thursday, instead of Wednesday-Sunday), I thought that BEA would be planning a weekend "Book-Con" for the general public.  After all, Reed runs BEA, and they've got experience running New York Comic Con at the same location. They could arrange booths so that a wall could be set up to reduce the size of the show (or they could fill booths vacated by trade exhibitors with retail exhibitors the next day).  The possibility of a huge weekend crowd (if 100,000 attend NYCC, how many romance, mystery, and science fiction fans would attend a book show, especially to discover new titles and meet authors (just like Comic-Con!)?) might reinvigorate the show, encouraging lapsed publishers to return to the show (or risk ending up on a waiting list, like at San Diego).
Would it be hard for publishers to shift from trade to retail?  Not really.  Most of the mainstream publishers sell books at the American Library Association shows.  Ever
Display Comments
Add a Comment