ETA 5/22/12: I'm keeping this book list up to date on Pinterest nowadays, linking each book to its Goodreads entry. It's much easier to just pin a book than to keep this list up to date. For the running lists (broken down by age group and genre) and more, go here: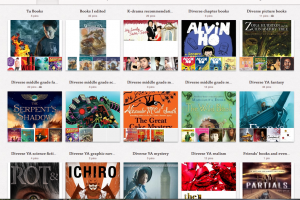 ETA: I've finally gotten the ability to edit the post back, so I've put as many of the suggested books into the list now as I can. Suggestions always still welcome. This is a continuous project.
I've gotten a lot of great suggestions to add to the list, but my website seems to still be broken, and my own computer has a dead motherboard (well, it did when I started writing this last week—thankfully, it's now fixed). I'm still figuring out why WordPress won't let me edit any of my old content.
So, in the interest of having one place that people can use as a resource, I'm going to copy everything into this entry. Rather than divide the list by what I've read and what I haven't, which was just more a personal exercise last year in wondering whether my own reading habits had reached past my own culture, I'll divide the list by age group and genre (fantasy/SF). What that means is that I am not making a comment on how good I think a book is or recommending it/not recommending it—there are several books on this list I haven't had a chance to read yet. It's simply a list compiling what's out there. I've also added books that I've discovered over the last year or that have been suggested to me in the comments. Go to the previous booklist post for comments on some of the books in this list.
Middle Grade Fantasy
Where the Mountain Meets the Moon, 2009, Grace Lin
Moribito: Guardian of the Spirit, 2008, Nahoko Uehashi, and its sequel, Moribito II
City of Fire, Laurence Yep
The Tiger's Apprentice, Laurence Yep
Dragon of the Lost Sea, Laurence Yep (and pretty much anything else written by Laurence Yep)
Zahrah the Windseeker, Nnedi Okorafor-Mbachu
Chronus Chronicles, Anne Ursu (someone mentioned this and I haven't read them—are the main characters people of color or is it set in a non-Western culture? from its Amazon listing, it seems to star a white girl and use Greek mythology, which are great, but don't fit the definition we're using here)
The Red Pyramid, Rick Riordan
Sword and Wandering Warrior, Da Chen
The Conch Bearer, Chitra B. Divakaruni
Circle of Magic quartet, Tamora Pierce
Circle Opens series, Tamora Pierce
Pendragon series (?)
Un Lun Dun, China Mieville
Lavender-Green Magic, by Andre Norton
Dragon Keeper and Garden of the Purple Dragon, Carole Wilkinson
Moonshadow: Rise of the Ninja, Simon Higgins
The Magical Misadventures of Prunella Bogthistle, Deva Fagan
Magic Carpet, Scott Christian Sava
Marvelous World #01: The Marvelous Effect, Troy Cle
Ninth Ward, Jewel Parker Rhodes
Middle Grade Science Fiction