Like many of those in the Potter Universe, Rupert Grint is a big supporter of charities. This time he is showing support for those battling cancer, by contributing to a charity event called World's Biggest Coffee Morning. The charity's website states:
Catch up over a cuppa, enjoy some gorgeous treats – and the money you raise at your Coffee Morning will help us make sure no one has to face cancer alone. Sign up for your free Coffee Morning Kit, filled with everything you need to host a brilliant get together.
According to the site, last year's fundraiser brought in over 25 million British pounds. You may sign up and donate to support the cause on the charities website. If you are in short supply of baking ideas, Rupert Grint has come to the rescue. Rupert showed his support by contributing a recipe to the site's baking ideas. The recipe for Rupert's Stem Ginger and Dark Chocolate Biscuits can be found on the website, here.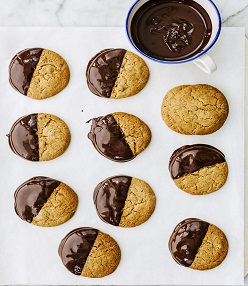 They look delicious.
The Ice Cream Man recommends doing so while watching the Celebrity Taste Makers episode starring Rupert Grint.
Add a Comment