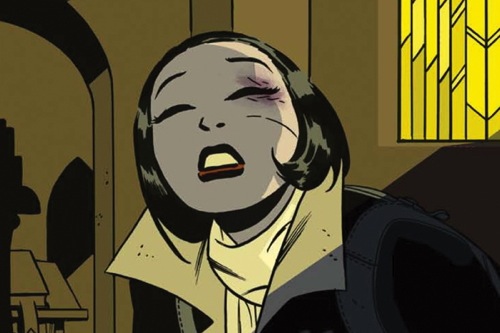 A while ago, a few very select comics press outlets were invited to the NY and Burbank offices of DC Comics to look at the pages of the BEFORE WATCHMEN prequels. Of course, only the tip top of the comics media were allowed in: MTV Geek, IGN, CBR, , Comicvine, and Mancave for 670 The Score Chicago Sports Radio.

We call shenanigans! Anyway, caveats were entered, impressions gleaned. Writers were not allowed to actually discuss plot points but rather give overall thoughts and gestaltic reactions.
Valerie Gallaher writes for MTV re the Comedian:
There was quite a lot of that issue to peruse — and while I cannot discuss the exact subject matter surrounding the story, I can assure you that it will probably be quite the controversy. If "Comedian" keeps going down the narrative road I think it will travel, I suspect we will all have a lot to talk about regarding it in the months ahead.
Joey Esposito
at IGN, notes that there is lots of continuity:
Rest assured, the Before Watchmen books that are particular standouts – my favorites were the aforementioned Minutemen, Comedian, and Ozymandias – find a new approach to these characters that fits firmly in Watchmen continuity without stepping on the toes of events we've previously witnessed or read about. You'll find yourself surprised by the plots of some of these books, and even giddy at the well-placed easter eggs for things that have a payoff in the original classic.
Mancave's Alex Zalben on Rorschach:
WHY YOU WANT IT: If you like to feel dirty, you will love this book. Artist Lee Bermejo is an insanely good visual storyteller – the script was separate in this book, and we understood everything that was going on. The opening page is Rorschach's mask depicted in the clouds over New York City, and it only gets better from there. Plus, if there's one character we want more from in Watchmen, it's Rorschach. Poor guy needs a little love.
Someone named ComicVine
goes all bullet points
on Ozymandias and the rest:
Written by Len Wein with art from Jae Lee. On sale July 4.

• I have goals to achieve. Dreams to make c

Display Comments Add a Comment