It's inauguration day here in the US, and also the 50th anniversary of JFK's famous inaugural address. ("Ask not what your country can do for you – ask what you can do for your country.") So today, the American National Biography is proud to spotlight the life of John Fitzgerald Kennedy.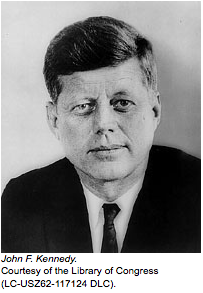 Kennedy, John Fitzgerald (29 May 1917-22 Nov. 1963), thirty-fifth president of the United States, was born in Brookline, Massachusetts, the son of Joseph P. Kennedy, a millionaire businessman and public official, and Rose Fitzgerald Kennedy, daughter of Boston mayor John F. Fitzgerald. John Kennedy's education stressed preparation for advancement of a Catholic in an Anglo-Saxon, generally anti-Catholic society. He entered Harvard College in 1936. Kennedy, known to his friends and family as Jack, was an indifferent student at first but became more interested in his studies following a European summer vacation after his freshman year. A longer stay in Europe in 1939 led to his senior honors paper, "Appeasement in Munich," which was published the following year as Why England Slept. Kennedy graduated from Harvard cum laude in 1940.
Kennedy enlisted in the U.S. Navy in September 1941. In 1943 a PT boat under his command in the South Pacific was sunk during a night attack by a Japanese destroyer. Kennedy and ten other survivors spent three days afloat in the ocean, during which Kennedy towed a wounded sailor for miles, gripping his life jacket in his teeth while swimming.
After his brother Joseph was killed in the war, Kennedy took on the responsibility of pursuing his family's political ambitions. In 1946 he won a hard-fought Democratic primary election in the Eleventh Congressional District of Massachusetts, a Democratic stronghold. He was easily elected in November and reelected in 1948 and 1950.
Kennedy's congressional record was undistinguished. He suffered from an assortment of physical difficulties, the most severe of which was diagnosed in 1947 as Addison's disease, an illness caused by an adrenal gland malfunction that weakens the body's immune system. His illnesses were partly responsible for his inattention to legislative duties, but his belief that public awareness of his condition would damage his prospects led him to conceal them. Congressional colleagues saw Kennedy's casual style as that of a playboy, the frivolous son of a rich man.
Kennedy's major legislative distinction was as a staunch supporter of federally funded housing, an issue of concern to the many war veterans in his urban district. He voted against the Taft-Hartley Labor Relations Act of 1947, which was bitterly opposed by organized labor. In 1952 Kennedy ran for the Senate and, in a classic contest of Irish-Catholic against Yankee, defeated incumbent Henry Cabot Lodge, Jr. The next year he married Jacqueline Bouvier ( 0 Comments on Ask not what your country can do for you… as of 1/1/1900