Bloomsbury has announced the date and theme of it's Harry Potter Book Night in 2016.
The first annual Harry Potter Book Night was held this past February, and saw over 10,500 parties organized in the UK, with the Twitter #HarryPotterBookNight trending for most of the day. When Harry Potter Book Night returns, Thursday, February 4th, 2016, even more excitement and more parties are expected. It will be bigger and better. Because of it's success, international publishers have decided to join in and bring Harry Potter Book Night to fans all over the world.
Bloomsbury explains their choice in theme for Harry Potter Book Night 2016, saying:
Whether it is the disarming Expelliarmus or the dreaded Avada Kedavra, spells are at the very heart of all of the Harry Potter books, making them a perfect focus for the second Harry Potter Book Night.

With an updated event kit themed around spells and lots more exciting elements yet to be announced, once again fans of all ages will have the chance to celebrate J.K. Rowling's wonderful novels – and pass the magic on to young readers who haven't yet discovered these unforgettable books.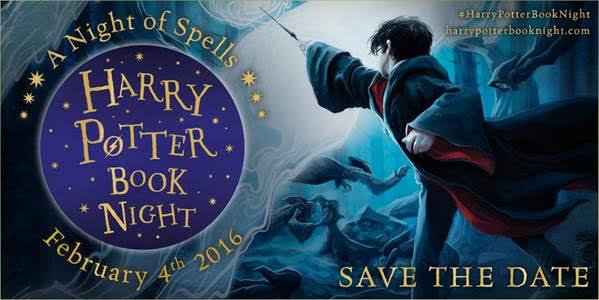 To get the latest news on Harry Potter Book Night 2016, have access to kits, and more, visit the Harry Potter Book Night webpage. Those who registered for exclusive news letters last February should still be on the list to receive them. Mark your calendars, spread the word, get excited and get ready for HARRY POTTER BOOK NIGHT 2016: NIGHT OF SPELLS! (Capitalization 100% necessary.)
Add a Comment