Today, thousands of girls aged 8-12 years flocked to the Excel Centre in London to audition for the role of 'Modesty' in Fantastic Beasts and Where to Find Them, due for release in November 2016.
J.K. Rowling also tweeted about her excitement to find the girl perfect girl to play the 'haunted young girl with an inner strength and stillness':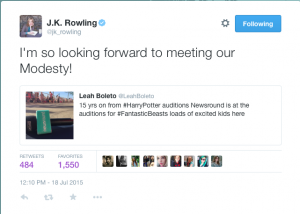 Various Potter stars also gave their best wishes to the girls in the queue, including Evanna Lynch, who posted an encouraging message on her Facebook earlier this week, urging people to audition: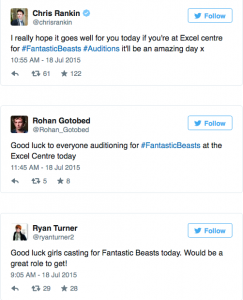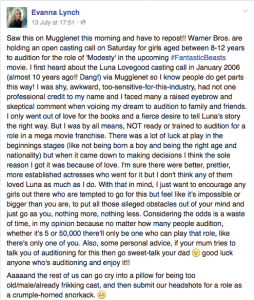 Here's a first-hand breakdown of the day:
9:00am: Word around the HUGE queue was that people started to gather at around 5am, so by the time 9:00am hit (the time the queues opened), 4000 people were already raring to go.
10:00am-12:30pm: Temperatures were running high, and patience among the young hopefuls running thin. Security guards passed round water, suncream and umbrellas, with water tanks, an ice cream van and a snack bar nearer the front of the outside portion of the queue.
News reporters and various camera crew members were circling the crowds from all angles, and interviewing those in line – as in this video from BBC's Newsround, and this video from Sky News. Others tweeted their photos of the queues:
13:00pm: 9:00am arrivals reached the section (inside and air-conditioned!) portion of the queue. An absolute blessing. Casting Information Forms were handed out and filled in.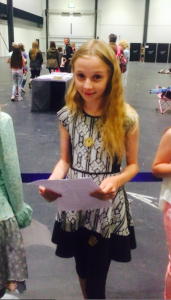 14:30pm-15:00pm: After around six hours of queueing, 9:00am arrivals were finally taken in for their audition, which went as follows:
Staff took groups of ten children aside at a time, telling them not to be nervous. Girls were then broken into smaller groups to have their photos taken.
For their head-shots, girls were lined up in front of whiteboard and told what face to pull (e.g: straight face, smiley face, 'eyes shut' face). A casting crew member then took the groups aside to stand in a circle and take it in turns to tell the others their name, age and birthday. They were then asked a few questions (e.g: 'If you had one superpower, what would it be?')
Children then handed in their Casting Information Forms, and received a certificate to say they had taken part.
The audition was a 30-50 minute process on average. RadioTimes said that an estimated 14,000 children queued up outside the Excel Exhibition Centre.
We are all very excited at The Leaky Cauldron to see who's going to be cast as Modesty. Join us in wishing good luck to those who auditioned!
Add a Comment