After the Celebration of Harry Potter last weekend, the celebrating and partying continues! Tonight, February 4th, is the night of the second annual Harry Potter Book Night. This is a night of celebrating the Harry Potter books and the significance they've made on our individual lives, and the entire publishing industry and literary world as a whole.
There are many celebrations taking place in bookstores, homes, and various other settings around the U.K. and the U.S. Last year, only Bloomsbury publishing provided party kits of the nights events, but expanded the celebration to other countries through Scholastic.
This year's Harry Potter Book Night also has a special theme–"A Night of Spells." In theme, Bloomsbury hosted a poll to find Harry Potter fans' favorite spell from the series. Participants could choose from the following top ten list. Expecto Patronum won!
1. Expecto patronum – to summon up a Patronus
2. Accio – to call an object to you
3. Wingardium Leviosa – to levitate objects
4. Expelliarmus –to disarm your opponent
5. Lumos – to ignite one's wand-tip to provide light
6. Alohomora – to open locked windows and doors
7. Avada Kedavra – to bring about instant death
8. Sectumsempra –  the incantation for one of the Half-Blood Prince's spells
9. Obliviate – to make the subject forget
10. Riddikulus  –  to make a Boggart take on a comical appearance and eventually explode
The night is still very young, and the Harry Potter Book Night website has a map of events and activities to participate in. You can find ideas and different celebrations here. Pottermore wrote up about the celebration, wanting to hear about fan's celebrations. We also want to know! Please share with us your plans for the night!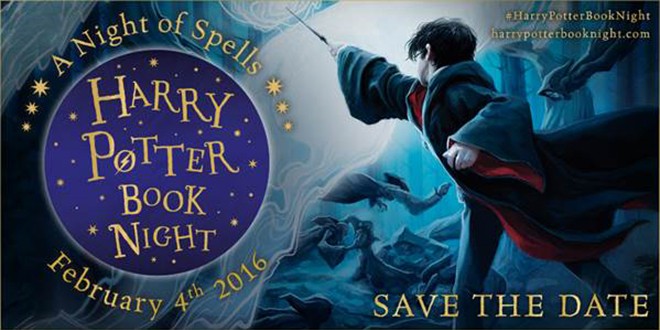 Add a Comment