The first official promotion picture of Daniel Radcliffe as the Grand Theft Auto creator Sam Houser in Game Changer was published in the August issue of Edge Magazine and the article can be accessed from Snitchseeker. The BBC2 production is set to air sometime in September.
Game Changer focuses on the rising prominence of the Grand Theft Auto series as well as the efforts of activist Jack Thompson (played by Bill Paxton) in attacking GTA for its violence and sex. The BBC2 production is written by James Wood and directed by Owen Harris.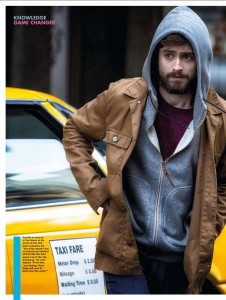 When talking about the process of getting into the character of Houser, known for his shunning of publicity, Radcliffe states:
"Normally when I go to approach a character, the concerns are: where is he from? What was his upbringing like? And how different was it from mine?".
Radcliffe also points out to the similarities he shares with Houser – upbringing in the same part of London and at least one parent in the entertainment industry – saying that he feels like his sensibilities are similar to Houser's.
Despite the legal action taken by Rockstar to shut down the production of Game Changer, claiming BBC is using its intellectual property without a warrant, the film is set to premiere at some point in September at BBC2.
Add a Comment