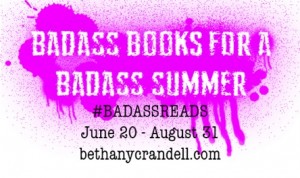 20 YA AUTHORS + 25 BOOKS UP FOR GRABS =ONE BADASS SUMMER
 #BADASSREADS
The awesome (and badass) author Bethany Crandell has organized a huge summer giveaway and it is officially ON! I've heard from a lot from readers that they love how badass my main character Tora is from my BURN OUT series, so I was honored when Bethany asked me to participate. You can see all the books below that you can enter to win. Good luck and enter by August 31st!
7 PRIZE PACKS INCLUDING:
IT'S A MAD, MAD WORLD PRIZE PACK 
SPLINTERED, UNHINGED and *ENSNARED (*AUDIO BOOK) AG Howard 
PLUS an UNTAMED postcard w/three paragraph sneak peek!!!
AGAINST THE ODDS PRIZE PACK 
LANDRY PARK, Bethany Hagen
DEFY, Sara B. Larson
GATES OF THREAD AND STONE, Lori M. Lee
NIL, Lynne Matson
THE USUAL SUSPECTS PRIZE PACK
PRISONER OF NIGHT AND FOG, Anne Blankman
MURDER COMPLEX, Lindsay Cummings 
LIARS, INC., Paula Stokes (hard copy) 
SAND BETWEEN MY TOES PRIZE PACK
NO PLACE TO FALL, Jaye Robin Brown
SUMMER ON THE SHORT BUS, Bethany Crandell 
PLAYING NICE, Rebekah Crane 
THE SUMMER AFTER YOU + ME, Jennifer Salvato Doktorski
GRITTY BOYS OF SUMMER PRIZE PACK 
TAP OUT, DARE ME, PRESS PLAY 
Eric Devine
SPELLS, SPIRITS and SWOONS, OH MY! PRIZE PACK
INTO A MILLION PIECES, Angela V. Cook
ASPEN, Rebekah Crane
THE ONE THING, Marci Lynn Curtis (hard copy) 
DAUGHTER OF CHAOS, Jen McConnel   
OF BREAKABLE THINGS, A. Lynden Rolland
MAY THE FORCE BE WITH YOU PRIZE PACK
EXTRACTION, Stephanie Diaz (hard copy)
BURN OUT, Kristi Helvig
ANOMALY, Tonya Kuper
ALL BOOKS WILL BE SIGNED BY THE AUTHOR!
(paperback unless otherwise stated)
*Giveaway is US ONLY*
Add a Comment