If you saw my Facebook post, you know we've had a really hard week in our household. One of our two canine "children" died, leaving the human children, the other dog, my hubby, and myself devastated. This is Gennie: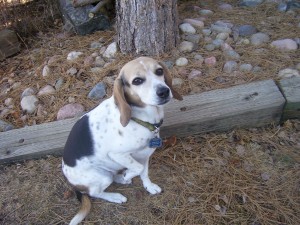 When we rescued her through Colorado Beagle Rescue, she was 2-years-old, emaciated and timid. We nursed her back to health and had 11 more amazing years with her. Out of our dogs, Gennie was my "velcro" dog. She followed me upstairs if I went to get laundry, downstairs if I went to get a glass of water, and everywhere else in between. She also loved to nap with me on the rare days I got a few minutes to rest in the afternoon. Her favorite spot though, was next to me on the couch while I wrote. Whether during the day while the kids were in school, or at night after they went to bed, this is where you'd find Gennie: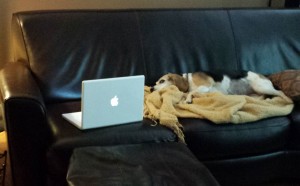 I joked once in an interview that though I dreamed of writing in a fancy home office/library, I'd probably still just sit on my couch with my pups. I wrote several novels with Gennie by my side, and the loss of her stings as I write this post with only empty space next to me. This was my first loss of a dog, and it's been beyond heartbreaking. I've so appreciated all the supportive hugs (both virtual and real), emails, cards, texts, and gifts. The stories that people have shared with me about their own losses have helped my own healing process, and my heart goes out to those who have lost a beloved animal member of their family. As a very wise friend told me, the sadness won't ever go away but the pain will lessen with time. She thinks the time will even come when I'll want to open my heart to another dog in need. Right now, I'm focusing on loving up our other pup who is missing her "sister," as well as answering tons of questions about death by my kiddos. I'll get back to posting writing-related things next week when some of the sadness has dissipated. Thanks for understanding.
Add a Comment