Newly welcomed star of' Fantastic Beasts and Where to Find Them, The Theory of Everything Oscar winner and Red Tony Award winner Eddie Redmayne has been appointed Officer of the Most Excellent Order of the British Empire.
His contributions to drama were honoured as part of Queen Elizabeth II's Birthday Honours yesterday.
Others appearing on the list of those honoured included Benedict Cumberbatch and Gordon Aikman, whom J.K. Rowling, who received the Order of the British Empire (OBE) in 2001 for her contribution and services to children's literature, offered support for in her recent tweet: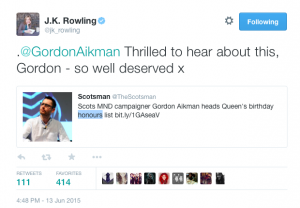 The recent reveal of Eddie's leading role as Newt Scamander in Fantastic Beasts was exciting to say the least, so as we welcome Eddie to the Potter family, join us in congratulating him on this achievement!
Add a Comment