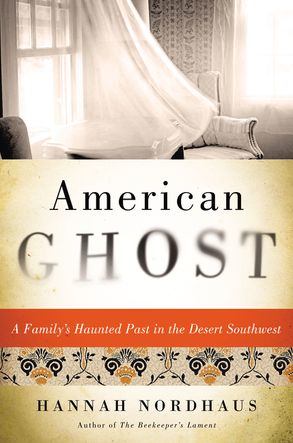 Now this is a book on family history you don't find to often! Hannah Nordhaus has roots that go far back in New Mexico history and her great great grandparents owned one of the finer homes in Santa Fe. Now a hotel (and out of the family's hands), the hotel has been famously haunted for decades supposedly by Nordhaus's gg grandmother, Julia Schuster Staab who died in 1896. American Ghost is the story of how the author went looking for Julia, both her ghost and her truth.
German Jews who relocate to Santa Fe is a pretty interesting family history without much added to it, but Nordhaus finds out a lot more as she looks for the reasons why Julia left Germany. Because the Staab family was so prominent in New Mexico history, newspaper coverage is abundant and there are also letters, diary entries and some personal histories along with general records that Nordhaus is able to mine for information. She also goes in a different direction as well and tries to communicate with Julia's ghost.
At first, the "ghostbusting" chapters seemed odd to me, like the author was padding the narrative. But slowly she makes it clear that her attempts to reach out to the ghost, (and find out of there even is a ghost), are also a bit about finding herself or perhaps finding how she feels about her ancestors. These chapters also provide a bit humor which is welcome as Julia's life has some truly tragic downturns and, as expected, not all of the family left Germany so there is some enormous sadness found there.
I have read several books about finding your family but this is the first one where a family member is a famous ghost which is really fairly outrageous when you think about it. I will admit I am envious of Nordhaus however--she has so much family history to fall back on, such a solid place to start from and I have only the tiniest shreds in comparison. But that envy did not reduce my ability to enjoy American Ghost a lot or glean some tips from her search.
Add a Comment