.
by J. Parker Adair, special to The Beat
The Virgin Experience, Day Two [Saturday, April 14]
Whether you're going to Disney World, a comic book convention or being drug to a shopping mall for a White Sale (whatever that is), it's imperative you have a plan.
I had one of those for Saturday's events at C2E2. It took less than an hour to completely forget it.
One of my big goals was to spend some time in the documentary room as there were some pretty cool screenings. The first one started at 11 a.m.; I never made it there.
Flash back to 9:30; we were way early after a morning panic. This time we had taken the C2E2 shuttle rather than the CTA bus. The shuttle pulled us right into the bat cave. Realizing we still had more than 30 minutes until the doors open, we avoided the cattle call line and went for breakfast at this fancy Scottish restaurant called "McDonald's".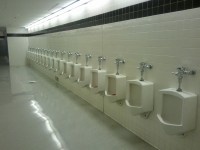 Immediately after, I went to admire the bathroom. It was quite impressive with 20 urinals! [Editor's note: It was!  I even took a picture!]

After some exploring, we discovered a mystical escalator that took us directly into the dealer room without having to go through the main entrance. It was an epic entrance as the crowd just appeared out of nowhere, not even noticing our conspicuous arrival.
Excited by my new environment, I must have dropped my plans on the escalator (or let them fly out of my brain), and I was in for … "The Day of the Dealers!" Dunn dun dunnnnnnn.
I brought $200 cash with me for the trip, anticipating spending a lot of time in panels and screenings and having no idea that the dealer room was the lost chapter of Homer's Odyssey. By 1 p.m. it was all gone. I'm sure some of that was spent on food and cab fair, but most of it was spent on the floor.
Having run out of cash and smartly leaving my card in the room, I made my way down to the Quidditch demo. Being the Harry Potter nerd I am (for the midnight showing of "Half-Blood Prince" I dressed as Arthur Weasely dressed as a muggle). On my way down, I nearly got knocked over by a guy dressed in all gold, running up the stairs. Not at all abnormal, and I knew I was on the right path.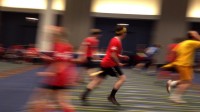 The game was pretty fun, but the best part came when members of the audience got to play. Oh, yeah! Having been a keeper in both soccer and lacrosse, I thought felt this was my strongest position. It was then I learned how much strategy there is in determining the line up for a quidditch match.
While I can now write a term paper on Quidditch coaching, I will leave out the boring details. I let in too many goals due to my inability to block the taller shots (I knew the Clean Sweep 5 was a bad broom choice) but ran the offense like NBA legend John Stockton. With the game in the balance, I decided to switch spots and play chaser. Clea
Display Comments
Add a Comment